Betterspot VPN Router Reviews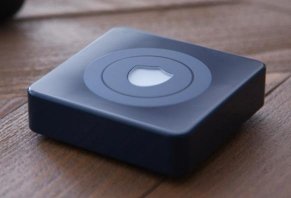 By encrypting your data through Betternet's servers, the portable Betterspot VPN Router provides anonymous online access and plug-and-play connectivity.
What Is Betterspot VPN Router?
To help provide the freedom to access information online, the portable, affordable Betterspot VPN Router connects to any Wi-Fi enabled device and allows you to surf anonymously, while keeping your web activity private and secure.
And with plug-and-play connectivity, you can be set up in three steps:
Connect Betterspot to the Internet, whether via LAN or Wi-Fi
Via the smartphone app or by itself, choose your server location
Finally, select the appropriate network mode (VPN, Direct, and Tor)
By encrypting your incoming and outgoing web activity on all internet-connected devices simultaneously, the Betterspot VPN Router promises to provide access to geo-restricted content, as well as blocked web pages and social networks when traveling around the world.
When it comes time to update, Betterspot will take care of it automatically, and the company claims their support is "here to help you for as long as it takes."
Anonymous surfing? Easy setup? Affordability and portability? Is there a catch with the Betterspot VPN Router, or should you go ahead and place your order? In this article, we'll help you find some real-world answers.
A Closer Look at the Betterspot VPN Router's Functionality
On the outside, Betterspot features an ABS polymer case with two Ethernet ports and a micro USB in the back. On top, there's a multi-color LED that displays the router's status and power is provided via a micro USB port.
There is no built-in battery, so you'll need to use a powerbank or USB adapter.
Once plugged in, the company claims you just need to turn Betterspot on, and it will work with zero configurations (no manual is needed), which is why we're told it provides on-demand service.
Betterspot also works with Wi-Fi (any 802.11 b/g/n 2.4GHz network—5GHz isn't available) or Ethernet connection and secures all kinds of devices, platforms, and operating systems, including Windows, OS X, Linux, Android, iOS, Windows Phone, Ubuntu, and Blackberry. The website indicates that 10 to 15 devices can connect at the same time and that transmission speed is 300mbps.
Once activated, it will allow you to accomplish three primary goals:
Surf anonymously,
Change your physical location, and
Keep your web activity private and secure.
In order to accomplish this, Betterspot uses Hexa protocol, which only takes a few milliseconds to create a secure tunnel, supports IPv4 and IPv6, and is "designed with no signature, so controlling organizations are not able to track or block it."
If you choose, you can also turn VPN off through the app to make Betterspot work like a regular router, which is what we'll discuss next.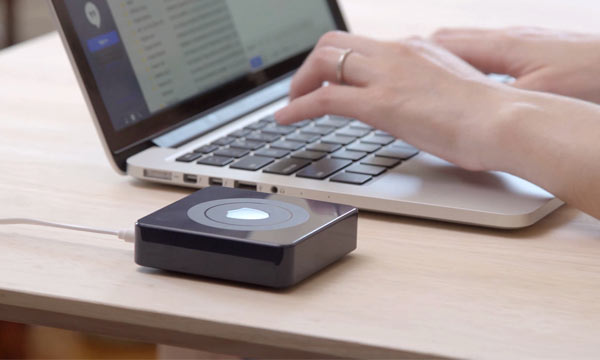 With a portable size, affordable price, and on-demand service, the Betterspot VPN Router claims to deliver an anonymous and secure web-surfing experience. Image credit: Betterspot Technologies Inc.
How Does the Betterspot VPN Router App Work?
Upon release, Betterspot's iOS and Android apps promise to install on just one device, while other devices will automatically connect.
Once connected, you'll be able to select between three different modes: VPN, Tor, and Direct (functions like a normal router).
When in VPN and Tor modes, you'll be able to choose the traffic you may or may not want to pass through. And with a paid subscription, you'll also be able to select your favorite server including the U.S., UK, Canada, Netherlands, France, Australia, Germany, Japan, Singapore, and Hong Kong.
The company claims to limit the number of users on each server to provide the highest quality service.
Should you run into any issues, the company claims their support staff can help with product support and consulting services.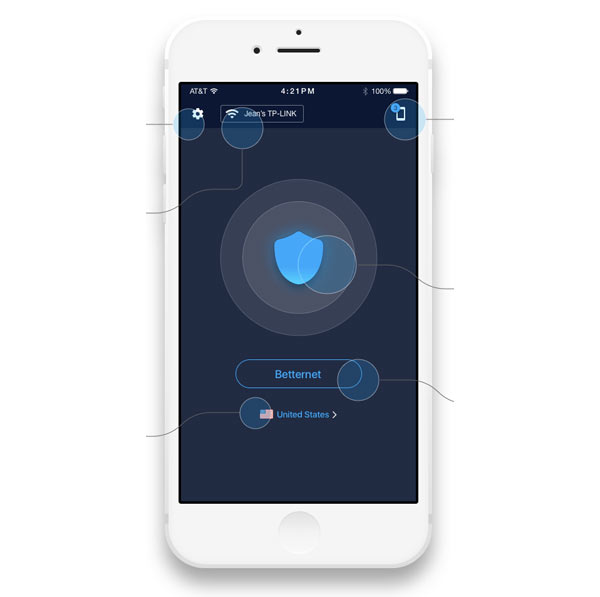 Using Betterspot's app, you'll be able to change settings and view network connection and server location, as well as the number of devices being monitored. Image credit: Betterspot Technologies Inc.
Now, this all sounds pretty cool. But just what is a VPN and why should anyone have one?
What is a Virtual Private Network (VPN) & Who Needs One?
There's no reason to get overly technical here, but we should at least discuss the basics behind virtual private networks.
Lifehacker tells us that when you normally surf the web, not only can your browsing habits be tracked, but so can personal information like "your age, income, family's ages and income, medical history, dietary habits, favorite websites, your birthday," and so forth.
To prevent this from happening, a device like Betterspot runs your connection through different private servers, which then encrypt your information before it's read by a third-party website. This allows you to effectively surf the web anonymously and gain access to geo-restricted content.
As you might imagine, VPNs are popular not only with individuals looking to browse anonymously but also by journalists and political dissidents.
Traditional VPN services with the most reliable networks tend to require some sort of subscription; typically somewhere between $5 and $10 per month. You may also have to download software to different devices.
How does all of this relate to Tor? The Onion Router (Tor) is a non-profit organization that operates a network of servers used to disguise your identity and encrypt your information. Simply download their browser for free and you're good to go.
In other words, Tor is a free, public (versus private) virtual network.
Despite this ultra-low cost, Gizmodo tells us that speed can suffer greatly with Tor, especially when dealing with audio and video files. Further, they claim that just using the Tor service could raise the eyebrows of various law enforcement agencies.
If this doesn't sound like a solid option, what will you pay for Betterspot?
How Much Does the Betterspot Smart VPN Router Cost?
The Betterspot VPN Router is currently available for preorder through Indiegogo:
Lifetime Plan: $283 - Includes 1 Betterspot device, lifetime Premium Service, TOR access, and free shipping (Retail $375)
2-Year Plan: $179 - Includes 1 Betterspot device with 2-year Premium Service and TOR access
1-Year Plan: $135 - Includes 1 Betterspot device, 1 year of Premium Service, and TOR access (Retail $155)
Betterspot Basic + Gift: $109 - Includes 1 Betterspot device, 1 month of Premium Service as a gift, and TOR access (Retail $125)
All orders receive one month of free VPN Premium service as a gift. Compared to the free TOR access, Betterspot tells us their Premium Service is more reliable, offers higher speeds, and allows you to choose server locations.
Currently, delivery is estimated sometime during May 2017.
Indiegogo only offers refunds within 10 days of placing your order, as long as the crowdfunding campaign hasn't ended.
Have additional questions? You can send an email to support@betterspot.com.
While the Betterspot VPN Router wasn't released at the time of our research, can we learn anything from existing online reviews?
Are There Any Customer Reviews For the Betterspot VPN Router?
The Betterspot VPN Router got its start through an October 2016 Indiegogo campaign, where the device raised nearly $385,000.
Digital Trends had an opportunity to review a prototype unit, noting that at about three inches across and less than an inch tall, it featured an attractive—yet easy to hide—design that was simple to setup and use. It connected "just fine" to a variety of devices (they noted that it's been tested with up to 25 simultaneous clients).
Remember the encryption-related speed decrease we discussed earlier? According to the article, their download speed dropped by as much as 90% and upload speed as much as 40%. They also noted that Betterspot delivered a limited wireless range.
Ultimately, they concluded:
"If you're interested in the Betterspot primarily as a way to get around geo-restrictions, then it certainly worked for us. However, just like every other VPN, Betternet is engaged in a cat-and-mouse game with Netflix as it tries to block VPN proxies, so there will inevitably be outages from time to time. Betternet promises they won't last long."
Pro tip: Digital Trends reported that Betterspot's original estimated shipping date was December 2016, so it appears some delays have occurred (this is common among crowdfunding campaigns). The company's COO provides regular updates on Indiegogo to keep backers informed about what's going on.
Trusted Reviews also had an opportunity to review a pre-release model, claiming it was easy to use, but that speed performance wasn't great.
Unlike Digital Trends, however, they weren't able to access Netflix with Betterspot. They still thought that it worked well as a security tool for web browsing and the occasional video.
Who Manufactures the Betterspot VPN Router?
The Betterspot VPN Router is made by Betterspot Technologies Inc. based out of Vancouver, BC, which is headed by COO Ramin Behzadi. Interestingly, the device's trademark was filed under RAM CAN Enterprizes Inc.
As a company, Betternet (Betterspot's parent company) had been providing free VPN services for more than five years with 40+ million global users at the time of our research, which is based on their proprietary Hexatech protocol.
Previously, Ramin worked as Founder and CEO for Semantile and SideBuy Technologies Inc.
How Does the Betterspot VPN Router Compare?
If you're in the market for a VPN router, you'll find dozens of different options from household name manufacturers like Linksys, Asus, Netgear, and Cisco, typically ranging in price somewhere between $50 and $150.
One of the biggest differences between Betterspot's VPN Router and these other options is that it's much smaller, allowing you to take it with you wherever you go.
However, if you search online for "portable VPN router," you'll quickly learn that Betterspot has one close current competitor, the Tunneler by Anonabox. How does it compare?
The reality is that these two devices likely have more in common than differences, including support for nearly all devices and operating systems, Tor access, a small, portable size, the ability to change server locations, and 802.11 b/g/n 2.4GHz network accessibility.
Given this, let's quickly take a look at their differences:
| | Betterspot | Tunneler |
| --- | --- | --- |
| Price/Subscription | $109-$283 | $79.99/ $6.55-$11.52/mo |
| VPN Service | Betternet | HideMyAss & VyperVPN |
| Speed | 300Mbps | 150Mbps |
| App Access | Yes | No |
As we discussed earlier, it's important to emphasize that there are dozens of other VPN services out there, although they may not work with as many devices and operating systems as these options, and may not provide app access.
However, with no initial purchase and seemingly lower monthly subscription fees, they could provide more bang-for-your-buck, especially if you only need to encrypt a device or two.
Let's carry this thought over to the final section as we wrap things up.
What's the Bottom Line About the Betterspot VPN Router?
Given all your choices, how can you decide which option is best for you?
PC Mag notes that, when choosing a VPN service, you want to focus on "reputation, performance, type of encryption used, transparency, ease of use, support, and extra features. Don't just focus on price, though that is an important factor."
They also recommend starting with a short-term subscription if possible, and looking for "bonus features like ad-blocking, firewalls, and kill switches that disconnect you from the web if your VPN connection drops."
Finally, make sure to read through their Terms and find out exactly what the service does, what information it collects, and what its responsibilities are.
From these perspectives, while you won't get any additional services with Betterspot or Tunneler, they seem to meet all the other criteria. Are they equally easy to setup and use?
Tunneler is priced meaningfully lower—and since it's already released, you will likely receive it much sooner than Betterspot. It also comes with a 30-day refund policy if you're not satisfied, versus Betterspot's 10-day policy through Indiegogo.
In the end, the Betterspot VPN Router "may be one of the most modern, exciting, convenient and user-friendly VPN routers on the market," as mentioned on their website. We'll just have to wait until it's released to know for sure.
Is Betterspot VPN company on the rocks?

By Richard E.

,

Ontario, Canada

,

Nov 11, 2018
Verified Reviewer

I pre-bought two Betterspot VPN Routers when the company was raising money via crowd share. When it finally showed up at my door, it worked pretty well, although it did slow my bandwidth noticeably. It was subsequently promised that OTA updates, this would improve. To date, it has not. I notice that the router is no longer in stock anywhere, including Amazon and the manufacturer. The last response I got from the company concerning the speed. Issue some months ago was incoherent. Now the VPN locations which used to number 11 or 12 is down to 4, and they are slow and intermittent. Does anyone know what is actually going on here? Are these guys under the bus already?

Bottom Line: No, I would not recommend this to a friend

---

Advertisement

---