Beverly Hills MD Vein Veil Concealing Cream Reviews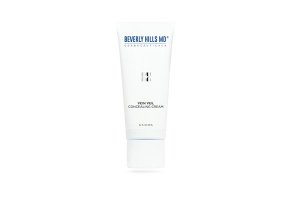 Beverly Hills MD Vein Veil is a skin care serum specially designed to help eliminate the appearance of unsightly spider veins on the skin. Will it deliver? Let's find out.
About Beverly Hills MD Vein Veil Concealing Cream
Claiming to use a revolutionary, two-part approach, Beverly Hills MD Vein Veil promises to eliminate the appearance of spider veins on the skin. The product combines a luxury, non-transfer concealer with a strengthening agent that bolsters the walls of your veins and the surrounding skin, which the company says will allow you to control these unsightly blemishes without ever setting foot in a doctor's office.
They go on to say that the product is specially formulated to be used anywhere on the body where spider veins are present, including the legs, ankles and feet, as well as on the face and arms. The product is said to be ideal for all skin types and age groups, though they do mention that in some cases, the veins may be too advanced to be dealt with using their formula.
Regardless of how prevalent your spider veins may be, one thing's for sure; dealing with these unsightly blemishes isn't fun. So, with that in mind, is Beverly Hills MD Vein Veil the proven solution you've been searching for? In order to best answer this question, let's first start by taking a brief look at what spider veins are, and what causes them in the first place.
What Are Spider Veins?
When talking about the skin, you'll probably see the terms "varicose vein" and "spider veins" used together, so what's the difference between the two? In short, varicose veins are larger, swollen blood vessels, while spider veins are much smaller, and spindlier, like the legs of a spider.
About half of all Americans over the age of 50 suffer from these malfunctioning veins, which allow blood to pool and build in their passages, giving them their darker color. In a moment, we'll take a look at how Beverly Hills MD Vein Veil claims to eliminate these colors, but first, what actually causes them?
WebMD lists that any of the following can increase your risk of developing spider veins:
"Heredity
Occupations that involve a lot of standing, such as nurses, hair stylists, teachers, and factory workers
Obesity
Hormonal influences of pregnancy, puberty, and menopause
The use of birth control pills
Postmenopausal hormonal replacement
A history of blood clots
Conditions that cause increased pressure in the abdomen, such as tumors, constipation, and externally worn garments like girdles."
The good news is, by and large, these veins pose no real threat to your health. That said, because of their unwelcome appearance, there are several treatment options available, including sclerotherapy, which involves injecting a compound that collapses the veins, as well as laser therapies and more traditional cutting techniques for surface-level veins.
Of course, these all require you to undergo a medical procedure, so what about over-the-counter treatment creams like Beverly Hills MD Vein Veil? Can it be an effective option for dealing with these skin nuisances?
Are the Beverly Hills MD Vein Veil Ingredients Effective?
On the product's website, we aren't shown a full list of ingredients, or in what concentration they are found in. We reached out to customer service, who told us that they would provide this information via email. As of this writing, that message hadn't arrived.
Based on what we are shown, however, it appears as though the product has two central components:
The all-day, custom shade concealer, which masks the appearance of the veins
A skincare ingredient referred to as MDI Complex, which is said to use a process called enzyme equilibrium to strengthen the venous walls and surrounding skin, improving the long-term health of your veins.
The concealer is pretty self-explanatory, but what about this MDI Complex? Developed by Lucas Meyer Cosmetics, it's claimed to reinforce the collagen networks in your skin, preventing damage and reducing the appearance of varicose and spider veins in the process.
Outside of the company's own study linked above, however, we did not encounter any other, independent clinical trials exploring the effectiveness of the substance.
Potential Beverly Hills MD Vein Veil Side Effects
Based on the single study listed above, it seems as though no major side effects have been reported for MDI complex, but because we don't have a full list of the ingredients included in Beverly Hills MD Vein Veil, we can't say for certain whether or not you are likely to experience any potentially adverse effects when using the product.
On their website, the company says that it should be safe for use on even the most sensitive skin, but to their credit, they mention that if you have a history of reacting to even the gentlest formulas, it may be a good idea to perform a simple patch test before using it for the first time.
Who Are Dr. Payman Danielpour and Dr. John Layke?
On the product's website, we're introduced to Dr. Payman Danielpour and Dr. John Layke, co-owners of the Beverly Hills Plastic Surgery Group. The two appear to have a mostly positive reputation on sites like Yelp.com, Vitals.com and HealthGrades.com, and both have an extensive background training at universities around the country.
As for their company, Beverly Hills MD, we've reported on several of their products in the past here at HighYa, and as of this writing, they held a 4.5 out of 5 star rating out of 360 customer reviews.
Beverly Hills MD Vein Veil Pricing & Return Policy
On the product's website, we're shown that it's available in four different concealer shades; fair, medium, tan, and rich. Of these, each is available in three quantities:
One tube - $49
Two tubes - $86
Three tubes - $117
Shipping appears to be free on all orders over $39, covering each quantity. The return policy states that each order is eligible for a 60-day money back guarantee, no questions asked. That said, you'll be responsible for any shipping fees associated with getting the product back to the manufacturer.
Purchasing a Spider Vein Concealing Product Similar to Beverly Hills MD Vein Veil
Beverly Hills MD seem quite confident in the abilities of their spider vein products, but are there any other options available online that are worth considering? During our research, we found that the most popular choice by far seemed to be products that utilize vitamin K cream, including several options undoubtedly available at your local drug store.
Though WebMD lists that Vitamin K is unproven for eliminating spider veins, competing products containing this ingredient are available for as little as $10 online and at local pharmacies like CVS and Walgreens, so it may make sense to give them a try first if you're looking to spend as little as possible, considering this is something you'll need to use each day.
Outside of these basic options, there are a number of specialized formulas similar to the Beverly Hills MD offering, including several on Amazon that list their full and complete ingredients.
Determining which of these, if any, is best for you will likely come down to finding the product that most closely matches your skin tone if concealers are used. Other than this, keeping an eye out for any ingredients you've had adverse reactions to in the past is always a good idea as well.
Finally, if you're just looking for a quick fix, one could reason that any concealer that matches your skin tone will work in a pinch. You just won't be getting the potential (but ultimately unproven) benefits associated with the vitamin K found within Vein Veil and similar competing products online.
The Bottom Line: Is Beverly Hills MD Vein Veil Right for You?
When all is said and done, can you truly count on Vein Veil to eliminate the appearance of your spider veins? Considering the product primarily uses a concealer to achieve this, we think the answer is most likely yes.
Of course, the real question is whether or not the addition of MDI complex in the product's formula can provide you enough benefits to justify the higher price tag, relative to a simple concealer or vitamin K cream available locally.
Although we discovered that the company behind the compound does have a clinical study, we didn't encounter any independent research about it ourselves, and without this, we can't say for certain that it'll deliver the results described on the website.
Despite this, as mentioned above, the company appears to be a legitimate operation, and HighYa readers have reported enjoying their services in the past (if the customer reviews on our site are any indication). Coupled with the comprehensive 60-day return policy, this may be reason enough for you to give the product a chance, if you're so inclined.
If you do decide to pull the trigger, just keep in mind that should you find that it isn't for you in the end, you'll still be required to pay any shipping fees associated with returning it to the manufacturer.