Bidding Owl Reviews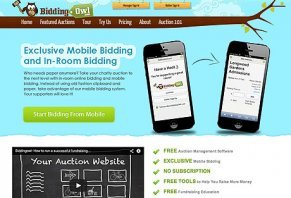 About Bidding Owl
If you're involved with a non-profit or charitable organization, Bidding Owl is a cloud-based auction management system that claims to help you quickly set up your auction's website, and to effortlessly manage all aspects of it. This includes managing donors, items, and solicitors, printing bid sheets, tracking your fundraising, and more.
But is Bidding Owl really worth your time? Let's round up the facts and find out.
Bidding Owl Details
As an all-in-one auction management solution, Bidding Owl claims that—unlike traditional live and silent auctions—their fully customizable online auction manager can help you receive donations 24 hours per day, which ultimately helps you raise more money for your cause. In fact, Bidding Owl claims that they can help with all aspects of your auction, including:
Prior to the auction – Build your auction website in minutes, accept donations (credit cards, checks, and even cash), sell tickets, and promote your sponsors online. Your website is fully customizable, including the ability to change fonts and background colors, add your logo, and manage as many users as you need. In fact, Bidding Owl claims to even include a radio auction interface.
During the auction – Provide mobile bidding options (smartphones, tablets, and laptops), record events, and alert bidders via text messages during the auction.
After the auction – Process invoices, process payments, print gift certificates, and more.
Once you've set up your auction, Bidding Owl will allow it to be viewable for as long as you wish prior to its start date, which can help prospective bidders gain a better understanding about the items you'll be auctioning. In addition, once your auction starts, it can remain live for any length of time you desire.
As a bidder, Bidding Owl claims to provide you with the ability to browse all online and live auctions across several categories, including Food & Fun, Music, Services, Travel & Entertainment, and more. After clicking on an auction's listing, you'll be taken to its home page, where you'll find a description (e.g. what you'll receive if you're the high bidder), the end date, currency, current bid, and bid increments (e.g. $25). To place a bid, simply enter your amount in the text field, and press the Bid! button to apply.
Bidding Owl Pricing
Whether you're looking to be a bidder or to start an auction, signing up for Bidding Owl is completely free of charge.
However, as an auction holder, Bidding Owl will charge you 5% of the highest bid as a fee. For example: If you auctioned a one-hour massage and the highest bid is $150, Bidding Owl will charge you $7.50 once your auction has ended.
Also, keep in mind that if you check out through PayPal, you may be subject to their 2.9% (minimum) fee.
What Do Other Consumers Have to Say About Bidding Owl?
Bidding Owl is based out of Gaylord, MI, and holds an A- rating with the Better Business Bureau, with no complaints filed within the past three years.
Outside of the Better Business Bureau, Bidding Owl seems to have an almost wholly positive online reputation with previous customers, who cite ease of use and low cost as the primary compliments. In fact, we were unable to locate a single negative review during our research.
What's the Bottom Line About Bidding Owl?
Let's be honest; it's hard to beat saving money, which is especially important for non-profit and charitable organizations. But the good news is that—at least when it comes to Bidding Owl—low cost doesn't have to mean difficult to use or ineffective. In fact, every online customer review we read talked about how simple and straightforward the website is to use, and how well they've covered the online auction process from A-Z.
With this in mind, whether you're a charity, non-profit, or an individual looking to start an online auction, it appears that Bidding Owl should be at the top of your list.
Great inexpensive option for small online auction

By Carolyn J.

,

California

,

Nov 21, 2019
Verified Reviewer

Our organization made a very last minute decision to put on a silent auction, when the fate of our fundraising event was in jeopardy due to planned PG&E power outages in northern California. I looked at about a half dozen software options for doing this (I was surprised at how many were out there) and was shocked and dismayed by the high initial costs. We anticipated proceeds in the $6000 range, so those initial fees, plus %, plus credit card fees, seemed to eat up a lot of our potential proceeds.

I was ready to go with one of these options when I found Bidding Owl. I was able to set up the account, create an online auction and enter our 50 items in less than 24 hours. Taking the photos was the hardest part. We created a QR code so people could scan it and go directly to our auction. A few people had trouble signing up as bidders at first, but that seemed to be user error.

The things I liked about Bidding Owl:

1. Low fees, obviously.

2. That we could set up with our already existing PayPal account instead of having to establish with a third party credit card processor.

3. That we could accept payments other than credit cards...bidders did not have to enter a credit card in order to set up their bidding account (though this does mean some extra work in getting paid by those bidders it does save us PayPal fees to get paid by check).

4. That it was a central location to store our auction donation data. We did not use it for our onsite silent auction, but I think I would next time. It can print the bid sheets and track the information. I am going to enter my donor details so I have it for next year.

5. Buy it Now feature, which we used a lot.

Here are the things that would make it even better:

1. Ability to place a reserve price.

2. Some better reports for managing everything once the auction is over. I had to keep track of what was paid and what was picked up and there didn't seem to be an easy report for this. At some point I exported all our items and just kept updating an excel sheet...or maybe I missed something?

3. A way to generate emails to bidders during the auction.

4. A way to package multiple donations into a single item for bidding. We had one item that was two very nice things, a rafting trip and cabins, from different donors, and I would have like to be able to highlight them both equally.

5. As a bidder, I wish that the system would go back to the page of the last item I clicked on, instead of always going back to the beginning. This seems to be a problem with other software also.

All in all, it was a good experience. I think that online auctions are a really good companion to a fundraising event for our type of organization as they allow more people to participate. I have participated as a bidder in online auction using other software and I think that the Bidding Owl look and format were every bit as good. The site looked good on both phone and computer, and was easy to use. And the fee structure makes it low risk for an organization to try it out...you only pay on what you raise.

We will use Bidding Owl again.

Bottom Line: Yes, I would recommend this to a friend

---

Fifth auction just completed

By Cheryl A.

,

Florence, AZ

,

Oct 16, 2019
Verified Reviewer

I've used Bidding Owl for the past 5 years for an annual auction. We started with 100 or so items and have grown to almost 600 this year, and 200 bidders. Our auction lasted 8 days. Over the years, I have found BO has made some great updates - such as adding max bidding. We get a lot of comments on how "polished" our site looks and our donors are happy with that. For me, the best thing is that customer service is great and very responsive to any question from me or from one of our bidders. I'll continue on to auction 6 next year!

Bottom Line: Yes, I would recommend this to a friend

---

Advertisement

---

Quick and friendly customer service

By Stewart C.

,

Bryant, AR

,

Mar 31, 2019
Verified Reviewer

I recently experienced a problem while trying to bid on an auction item through Bidding Owl. I sent an email to Bidding Owl and in less than 20 minutes I received an answer to my questions and assurance that they would address the issue with the auctions chairperson. In this day and age, it is nice to see such great customer service and support.

Bottom Line: Yes, I would recommend this to a friend

---

Phenomenal value and customer service

By Kevin W.

,

Vancouver, British Columbia, Canada

,

Nov 9, 2018
Verified Reviewer

I decided to give an online auction format a try for our annual office United Way fundraiser auction.

While I was a little confused with the options (so many things you can tweak), I was able to figure it all out.

I didn't have any complaints from our employees about the site, auction totals went up, and took a lot of the work off of my shoulders compared to an offline auction. Well worth the 5%.

It could have been a negative experience due to the slightly confusing slate of options, but the customer service experience was fantastic. Joanne answered my call both times and knew how to answer my question before I even finished asking them. Also went above and beyond to tweak a few things I hadn't asked for to make my auction even better. A great example of how a dedicated customer service expert can make or break a customer experience.

The phenomenal value on the 5%.

Bottom Line: Yes, I would recommend this to a friend

---

Advertisement

---

Great, low cost online auction site

By Deborah S.

,

Seaside, OR

,

Oct 3, 2018
Verified Reviewer

We're gearing up for our fourth annual nationwide online auction, using Bidding Owl as our platform. Using Bidding Owl has enabled us to reach our nationwide audience in a way a silent auction/gala could not. Last year we were able to attract 100 bidders and 60 corporate donors. We raised a bunch of money that we use to operate our nonprofit. Heck of a lot cheaper than eBay!

Bottom Line: Yes, I would recommend this to a friend

---

Great online auction site and software

By Dylan Kurtz

,

Northern, VA

,

May 4, 2018
Verified Reviewer

Bidding Owl was so incredibly easy to use! It's a great site to manage auction items, bidders, donors, sponsors and more for an amazing price. Bidding Owl's customer service was top notch! They were always there to answer questions and help us. Whether you are an online expert or novice, first-time fundraiser or a professional fundraiser, you will love this site and software.

Bottom Line: Yes, I would recommend this to a friend

---

Reasonable rates, good results!

By Pat Boldt

,

Norco, CA

,

May 22, 2017
Verified Reviewer

We used this as a fundraiser for a dog club National Specialty. While the learning curve to set it up took some time and had its challenges in not being real flexible at times, it was nicely done and well worth the 5% fee. Bidding Owl tracks all bids; prepares invoices, email reminders to send out, so the administrative work is mostly done for you.

The bidders do have to go back and forth to the site as there is no MAX bid, which would make life easier. But in the end, it was very well received and accomplished exactly what we wanted. Support staff was WONDERFUL!

Bottom Line: Yes, I would recommend this to a friend

---

If I could give this zero stars…

By Jennifer P

,

Washington

,

Aug 19, 2016
Verified Reviewer

I was actually shocked to see a bill from Bidding Owl after my experience with them. Everything about this experience was terrible, from the picture hosting (there is no way to edit or modify your pictures and everything was posted sideways) to the fact that they can charge after the fact without disclosing pricing or the fact that they'll take 5% of non-profit fundraising money after doing absolutely NOTHING.

We had nothing but problems with them, and for the most part, my auction tanked when in years past it's been our highest rated fundraiser.

Customer service is non-existent and the phone number on the site doesn't work (but has recently been changed from a 1-800 number). I emailed them to complain yet there's no response.

This screams "scam" and I'm considering filing a complaint with the FTC.

Bottom Line: No, I would not recommend this to a friend

---

Good results, reasonable rates

Asheville, NC

,

Nov 23, 2015
Verified Reviewer

We used Bidding Owl to raise funds for my daughter's small middle school group to go on a service learning trip to Peru. It was pretty easy to use and we got great results. Not many frills, but it was straightforward and they only charge 5% of your auction winnings. Also, they have good support when questions came up. Overall a good experience, and we'll be using them again this year when my other daughter's group is raising funds to go to Costa Rica.

Bottom Line: Yes, I would recommend this to a friend

---

OK But Not Great

By Alex Gadd

,

New York, NY

,

Jul 13, 2015

This site seems easy to use, but has a few limitations which left our experience less than ideal.

The plusses are clear - easy to engage, reasonable fee, online/offline capability, and responsive customer service all were enticing.

The negatives were disappointing, however. The online/offline aspect of the service wasn't flexible enough to accommodate our specific auction set-up, and it wasn't very clear how to resolve the disconnect, which left some of our audience confused. Also, and this was the biggest downside - the service doesn't offer "max" or "automatic" bidding, like eBay, where a bidder can enter the maximum he or she wants to bid, and then the system raises that person's bid by the bidding increment as other bidders enter a bid. This meant that people had to keep coming back to the site if they had been outbid and wanted to bid higher. We have been told we lost a lot of bids because of this. The reporting is fairly rudimentary and, again, inflexible, when data should be so eminently flexible to present. Reports weren't intuitively designed to report on what we wanted to see - who bid what for which items. Finally, the site interface was only moderately adjustable, and the default interface is pretty clunky.

To summarize, you get what you pay for with this utilitarian site. It could be a lot better, but it was still functionally good. I think my organization will try a different service next time we do a fund-raising auction.

Bottom Line: No, I would not recommend this to a friend

---

Excellent Customer Service

Our event was held on a Saturday night and we had to contact tech support for help with checking out, ending auction, etc. and they were extremely helpful and walked us right through. I would highly recommend Bidding Owl and will use again next year.

Bottom Line: Yes, I would recommend this to a friend

---