Big Boss Oil-Less Fryer Reviews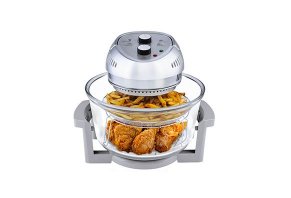 The Big Boss Oil-Less Fryer claims to help you enjoy all your favorite fried foods, but without as much unhealthy grease, as well as with reduced calories.
About Big Boss Oil-Less Fryer
The Big Boss Oil-less Fryer claims you will have the delicious taste of deep fried foods using just a spritz of oil. They say you can enjoy fried chicken or french fries up to 3x faster than regular deep frying and without the mess or extra calories.
The Big Boss Oil-Less Fryer website is brought to you by Digital Target Marketing, a marketer-for-hire that specializes in ASOTV products. There is no specific information available on the company behind it.
How Big Boss Oil-Less Fryer Works
The Big Boss is essentially a giant 16-quart glass bowl with a heating unit that attaches on top. They claim it uses a halogen light, convection, and infrared heat to "deep fry" foods. They also claim it's easy to use, but advise you to read the manual and follow the cooking instructions in the recipe book.
For example, for fried chicken, they claim you should take the pieces, dipped in your favorite breading, and place inside the bowl on the provided tray. Then, they tell you to set the timer and temperature (400 degrees for 25 minutes) and that's it—no pre-heating is required.
The manufacturer also makes a similar claim for french fries, saying they can be cooked with a setting of 450 degrees in 15 minutes. In fact, they also claim that your meal will be done three times faster and that you can make fish sticks, popcorn shrimp, steak, hot wings, kabobs, and chicken strips (for some recipes, they suggest using a small spritz of oil with the provided pump-sprayer.)
Despite how fast it cooks your food, the company claims the Oil-Less Fryer's halogen light makes the food crispy on the outside, the convection element circulates heat evenly, and the infrared technology cooks from the inside-out which they say keeps it moist and delicious. Finally, they tout the Big Boss Oil-Less Fryer saves energy and is self-cleaning, but offer no other specific information.
The Big Boss Oil-Less Fryer is also claimed to provide "heart healthy" foods that have less oil, fat, grease, and calories. To outline this, one portion of french fries normally has 425 calories, but the Big Boss results in just 130 calories. They also state one portion of fried catfish has just 120 calories instead of 260 when you deep-fry. On top of this, you can also use Big Boss to broil, dehydrate, air-fry, bake, and cook meal-in-a-bag options.
Big Boss Oil-Less Fryer includes:
Base
16-quart glass cooking unit
1300-watt heating unit with timer
2 wire racks
Mesh rack
Tongs
Extender ring
Oil sprayer bottle
User manual
Recipe book
Big Boss Oil-Less Fryer Pricing, Shipping, and Returns
Big Boss OIl-Less Fryer is sold on the company's website for either 5 payments of $19.95 or one payment of $99.75. Either way, S & H is free. If you do not like the Big Boss, you can return for a full refund, but you must pay to ship it back to the manufacturer.
Bottom Line: Is Big Boss Oil-Less Fryer a Scam?
Many people seem to like their Big Boss Fryer, especially those with dietary restrictions, once they get the hang of using it. There are complaints, however, about its large size not being countertop or storage friendly; that it emits a lot of heat and takes longer than advertised; that it cooks some items unevenly; and that it's essentially just baking foods like a standard convection oven, versus frying like a deep fryer. We do appreciate the free shipping and return policy, so if the Big Boss Oil-Less Fryer sounds appealing, you don't have much to lose to try it (other than a few dollars in return S&H charges).
Great

By Cin H.

,

Portland, OR

,

May 7, 2019
Verified Reviewer

We got the Big Boss Air Fryer over a year ago and it is still going strong. Some of the decals have smeared and worn off but well after we were used to the settings. I wish the timer were digital because the clicking sound is annoying, but the air fryer works fantastic. We have it in our counter in the corner and use it multiple times per day. I honestly don't think we will ever stop using it. The glass bowl is great because it can go directly into the dishwasher and you can see your food while cooking and none of the others we looked at have that option. Helps keep things from getting too cooked. We have never used oil at all. We love it.

Bottom Line: Yes, I would recommend this to a friend

---

Works great but...

By Keith-Cordell R.

,

Vancouver, British Columbia, Canada

,

Mar 28, 2019
Verified Reviewer

I have had this unit for eight months. The way it cooks is great, so is the confidence once you get used to it. However, there are some annoying issues, such as the decals for time wear off very easy, and I was only using warm water. I will most likely get another convection unit, but because of the decals on the dial and timer, it will most likely be another brand.

I will recommend this to a friend with the advisory of the decals wearing off.

Bottom Line: Yes, I would recommend this to a friend

---

Advertisement

---

Big Boss Fryer

By Liz E.

,

Florida

,

Mar 23, 2019
Verified Reviewer

I bought the Big Boss Fryer back in November and the fan did not turn on. I was very disappointed. I decided to reorder it since some friends made a 15-pound turkey and it was the best turkey by far. This time it worked. I am very impressed. I have had fish sticks, bacon, thick pork chops, French fries and even made 2 large yellowtail fish and it came out as we fried them. I love this product!

Bottom Line: Yes, I would recommend this to a friend

---

Don't work and cost to return is half of the price paid.

By Dwight W.

,

Shelton, NE

,

Jan 21, 2019
Verified Reviewer

We received Big Boss Fryer as a gift from our children. It doesn't work out of the box. We are instructed to return it for a replacement by our children. It will cost over $42.00 in shipping to return for replacement. In a dilemma, we can't pay shipping cost and don't want to disappoint children when they ask about it. I would not recommend based on that reasoning.

Bottom Line: No, I would not recommend this to a friend

---

Advertisement

---

Bakes great

By DC B.

,

Sacramento, CA

,

Dec 31, 2018
Verified Reviewer

I've baked whole chickens and they came out delicious, and took about 1 hour and 20 minutes. I had to turn the chickens over, so one side didn't look raw. It cooked fries ok, but it took about half an hour. The fried chicken was ok if you like it "finger licking good," but I like mine crispy. Maybe it'll get better as I use it more. I remember when I got my first air fryer everything I cooked was disastrous and I didn't touch it for months. Finally, I challenged it again and now can't do without it.

Bottom Line: Yes, I would recommend this to a friend

---

Great Customer Service!

By Arla M.

,

Winnipeg, Manitoba, Canada

,

Nov 25, 2018
Verified Reviewer

I bought my Big Boss Oil-less Fryer a while back.

I had stored it in the closet and the bowl broke. I called the customer service department to see if I could get a replacement. The glass bowl arrived quickly and did not have a bill with it. I am waiting for my credit card bill to see if there is a charge on there. The customer service was polite, efficient and hopefully, I do not have a charge on my credit card. A happy customer who is eating better!

Bottom Line: Yes, I would recommend this to a friend

---

A user of this type of ovens for 30 years

By Chuck T.

,

Ontario, Canada

,

Jun 29, 2018
Verified Reviewer

I have been using these super useful tabletop ovens for half my life.

As a rule, they are extremely versatile and easy to use. I cook for two people and they do a great job. The first oven I had lasted 10 years (not a Big Boss). Eventually, they started to burn out in 5 years then down to 2. This brings me to the Big Boss.

About 4 years ago I needed a replacement. The only oven I could find locally was a Big Boss at Walmart. I just wanted regular heating with the halogen. So I bought it.

It took a while to get used to it. But it was faster and did a good job once I got used to it. Two years later it died. I purchased a new one. This one lasted 8 months. I was going to call customer service but needed a replacement right away so I ordered from Walmart online. This one died in 4 months. Ok, just call customer service, right? Wrong. The phone number and website are gone. The contact name on mine was Deni. I checked Amazon and there are now numerous brands of this type of ovens.

So now a review of when it was working.

These ovens are amazing. You can cook 2 steaks in about 15 minutes. Bacon in 10 minutes. Amazing burgers in under 15 minutes while cooking the bacon at the same time. Best part - all the oil and grease ends up in the bottom of the bowl. I keep a pie plate on the bottom just to catch the droppings. You will not believe how much fat gets collected in a month. I use this for most of my cooking and heating. I use it every day. It cannot cook pizza, but it does a great job reheating it. By the way, if you are using this oven, I use a low rack sitting on a pie plate. I find using the high rack tends to burn the food and the heating element turns off and on to many times.

As a conclusion, this type of oven is amazing. A very useful replacement for a frying pan and normal oven. I await my new unit (not a Big Boss) from Amazon. I recommend this type of oven. They cost under $100 these days, and if I get a year's use before they burn out, I feel its money well spent.

I highly recommend this type of oven, just not the Big Boss model. Unless they send me their correct contact information and replace the 2 heating elements that lasted less than a year.

Bottom Line: No, I would not recommend this to a friend

---

I love it but...

Deltona, FL

,

Apr 28, 2018
Verified Reviewer

I use this fryer/oven all the time. It works great except for french fries, but it does tater tots great. I cook most meats in it. Some people are complaining that it is not really a fryer, but the ones that are "fryers" have a Teflon coating inside and I have birds that the fumes emitted from that would kill my babies. I got the Boss due to no Teflon coating of sorts at all.

The problem I have is the top of the control face where the temperature and time is written washes off. I've had to rewrite it on every time I clean it. Also, I wish you could unscrew the glass dome cover from the heating elements to clean it more efficiently.

All in all, I love this cooker.

P.S. I didn't receive a spray bottle with mine.

Bottom Line: Yes, I would recommend this to a friend

---

Not happy

Oklahoma City, OK

,

Mar 10, 2018
Verified Reviewer

My sister Marilyn gave me this Big Boss for Christmas. My husband and I work out of town and sometimes are working two weeks at a time. By the time I got to open it, it was over 30 days because of our jobs.

I used it for the first time last week and it didn't work; the fan wouldn't blow so it would get hot and shut off.

I called the company and told them it didn't work and they said because it was over 30 days and out of warranty, it was mine to do whatever I wanted to with. I asked them to give me the manufacture's phone number, and they gave it to me.

It ended up being the shipping company. I send it to them, and they send it to the company, and I couldn't get any more information than that.

I wouldn't buy anything from this company, and my sister said she's never again going to either.

Bottom Line: No, I would not recommend this to a friend

---

Big Boss Oil-Less Fryer

By Ricks

,

Ohio

,

Jan 9, 2018
Verified Reviewer

It doesn't work what so ever, and I'm sending mine back. I tried to make some chicken and it wouldn't even get hot. I tried for over 2 hours and still nothing. A Big Boss scam, that's all this is.

Bottom Line: Yes, I would recommend this to a friend

---

Big Boss halogen, counter top oven, great.

I just received my Big Boss from Amazon.ca, great stuff. I already have two Flavorwave Turbo Ovens, one of which I have already replaced the halogen light, after about three years if use, got a package of 5 and 7/8" diameter (150mm) lights from China, where all of these things are made (the lights cost $75 CAN). It's back up and running, and I use it every day.

I got the other Flavorwave and this Big Boss to use as proofing ovens for letting bread dough rise in. NO, I don't use the halogen light for heating or warming, just use the units as small proofing ovens, I use 25-watt standard bulbs in each along with a digital thermostat to keep the temperature down around 80 F or 25 C. Works great. Besides, I have extra ovens if I ever need them.

Bottom Line: Yes, I would recommend this to a friend

---