BillFixers Reviews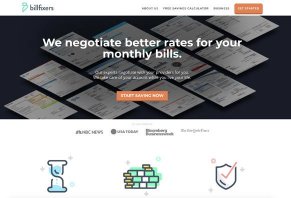 BillFixers is a bill negation service that works on your behalf to bargain for lower rates on services you use the most, including cable, internet and satellite. Their fee is 50% of your savings for 12 months.
About BillFixers
Four years ago when I was living in Florida I could've used BillFixers, a bill negotiation service that bargains with companies to get you lower rates, special offers or better service at discounted rates.
I was on the phone with my internet service provider, CenturyLink, immersed in a 90-minute sparring match with a customer service rep. Why? Well, about four months earlier I was offered awesome internet download speeds at an even better price.
I took them up on their deal because my monthly bill would've been just a few dollars more than what I was currently paying for much slower internet.
Well, four months later I noticed that I was being charged $15-$20 more per month than I was initially quoted. Yes, I was getting the faster internet but it wasn't at the quoted price.
So, I called CenturyLink and, guess what? They told me that the offer I was given over the phone wasn't valid in the state of Florida. You can imagine my surprise: I was angry beyond belief. How could they pitch me an offer that wasn't even valid in my state?
And, furthermore, what made them think they could keep charging me a higher rate without notifying me that the initial price they offered me wasn't legit?
To me, it was an airtight case. CenturyLink would refund me the money. But that's not how it went down. They claimed it was my responsibility to look at my bill and notify them of the error within 30 days.
After more than an hour of getting angry and talking to multiple supervisors, I got the refund.
You, thankfully, don't have to do that, claims BillFixers, a Tennessee-based company started by two brothers who have made bill negotiation their life's work.
How do they do it? Which bills can they negotiate and which ones are they unable to negotiate? How much does it cost? These are the types of questions we're going to answer over the course of this review.
How BillFixers Works
Unlike all the financial apps we've reviewed, BillFixers is an entirely human process in which a negotiation specialist is assigned to your account. You upload your bills to your account and your negotiator looks them over and then contacts the company.
In some cases, the companies with which BillFixers are dealing with will require you to add BF as an authorized user on your account.
Once BF starts working on your behalf, you can expect, according to their website, one of several outcomes:
Your bills are lowered
Your bills aren't lowered
You get offers for extra services
You get offers for downgrades that reduce costs
In the event that, say, your cable company says they can decrease your bill by $20 if you cut your internet speed in half, BF won't automatically accept the deal. They say that they will contact you first by email to notify you of the offer and then wait for your approval or denial.
No changes to your services (internet speed, available channels, extra devices) are made, they say, unless you authorize them.
The Bills That BillFixer Can and Can't Negotiate
The service's FAQs page notes that BF isn't a magical service that can solve all of your bill problems. There are a specific set of bills they can negotiate and many that they can't.
Here is a list of the services they say they can work with:
Cable
Cell phone
Internet
Landlines
Satellite TV
Satellite radio
Home security and/or alarm services
Newspaper subscriptions
As for what they can't work on, here are a few of the ones they mentioned:
Past due accounts
Mortgage/rent
Medical bills
Insurance bills
Credit cards
Debt services
Car payments
Legal fees
Simply put, most of the negotiation happens on services related to your home, whether it's phone, internet, cable or alarms.
What's interesting about this is that there are some companies who offer multiple services under the same roof. For example, Comcast provides internet and land-line phone services as well as home security. AT&T and DirecTV offer internet, phone, mobile phone and satellite TV.
This presents an advantage for you, the consumer, because BillFixers most likely can leverage your loyalty or multiple services to get a price reduction.
Another reason why mobile and internet providers can be bargained with is that there is competition.
In an article about bill negotiation services, DallasNews.com contributor Liz Weston pointed out that while electric companies, for example, have no competition and therefore it's hard to negotiate your rate, companies like Comcast and T-Mobile are in the thick of a competitive race to get your service.
As a result, they are willing to bend their pricing or features in order to get or keep your business, she pointed out.
Ben Kurland, one of BillFixers founders, was quoted in the article as saying that mobile bills are easy targets for bargaining because some consumers have held on to old plans that may not benefit them as much as newer, cheaper plans.
Related: How I Cut the Cord and Keep TV, Internet, and Cell Phone Bills Under $150
The Fees You'll Pay to Use BillFixers
The pricing system for BillFixers is very simple. If they are able to lower your bill, they'll take half of what you save. So, if they negotiate your cable bill down $20, they take a $10 cut.
Here's the interesting thing about this billing system: It's only active for one year. After that, BillFixers no longer takes half of your savings.
Now, if for some reason you want to drop the BillFixers service in that first year, you can. However, it will cost you a one-time $25 fee.
How does that fee compare to other services we've reviewed? Well, in our research of financial app Trim, we found that they charge you a 25% cut of what you save. They use a chatbot to bargain with the cable companies rather than real humans.
To get a sense of how much we could actually save with BF, we used a Savings Calculator they provide on their website. We were asked what our bills were for Comcast internet ($60) and Verizon mobile ($75). Based on this information, the site said they could probably save us $11 on our internet and $9 on mobile, which totals $20 a month.
Since half of that is going to the site the first year, you'll see a savings of $10 a month until the 13th month, at which point the BillFixers cut disappears and you're getting the full discount.
Can You Get the Same Results if You Negotiate Bills on Your Own?
We were curious as to how effective BillFixers methods are; after all, my own experience proved that some situations can be handled if you've got an hour of free time and superhuman patience.
When I asked the company's co-founder, Ben Kurland, he said that the average consumer can get about 75% of the way to a discount without using BillFixers. Not bad, but here's the catch; getting that far could take you up to six hours of finding the right people to talk to.
"The problem with corporations like Comcast or Spectrum is that if you don't call the right departments at the right time and ask the right questions, they won't even have access to the best available discounts—no matter how good a negotiator you are," Kurland said. "Our team goes in armed with a full understanding of the process on the other end of the phone with these companies, direct contacts to the best departments, and our database of pricing and discounts on top of a lot of training on negotiation techniques."
Kurland went on to say that his team can "successfully save people money 94.5% of the time" but that number doesn't include people who request negotiation for things that BF doesn't negotiate.
From a financial perspective, using this company could benefit you. Let's use our earlier example of saving $20 on phone and cable/internet. The yearly savings is $240. If I used BillFixers to save that $20, then it is conceivable I could've saved myself six hours of research and phone calls to two different companies.
Is it worth $120 to save six hours? That's a question you should answer for yourself but, speaking from experience, I would've gladly given BillFixers a cut of my future savings for them to resolve the issues I was having with CenturyLink.
Our Final Thoughts About BillFixers: Pros and Cons
This company's strength is the fact that they are well-versed in negotiating with cable, internet and satellite companies. They know who to talk to, what to say and how to leverage your situation to save you money.
While the 50% fee you'll pay isn't fun, it's only temporary; after the first year, you get the full savings that BillFixers procured. Knowing that internet/cable companies tend to do two-year contracts, you need to remember that you'll have one year of fee-free service before you have to bargain again for lower prices at renewal time.
And, rather than paying for the service up-front, you get to parcel them out over the course of 12 months
As for downsides, there's no guarantee that it will take you five or six hours to get the deals you need to get. There may be a chance that you could get some decent savings with a one-hour phone call.
In that situation, it would be the smarter choice to surrender an hour and take your chances. If you fail, you can call BillFixers. If you succeed, then you've won yourself some savings without paying BillFixers for the next year.
But a word of warning. In the same way that you could try and fix a leaky faucet in an hour for about $5 worth of tools and washers, you could also watch two or three hours and a lot of patience go down the drain. Hiring a professional may cost you more but the headaches you avoid might be worth it.
Scam

By Nick R.

,

Fort Worth, TX

,

Sep 21, 2019
Verified Reviewer

When they get you a lower bill, you end up paying them instead, so whatever you save is paid to BillFixers for a year. Total scam, read the fine print...

Bottom Line: No, I would not recommend this to a friend

---

Wasn't sure what to expect, but saved money on almost all of my bills

By James V.

,

Nashville, TN

,

Jun 17, 2019
Verified Reviewer

I heard about BillFixers from a friend of mine in Nashville and was initially apprehensive about using them, but glad that I did. I generally negotiate my own bills but have gotten lazy about it and haven't done anything for the last year.

I sent in a Comcast bill, an AT&T bill, and an NES electric bill. It took about a week to hear that they had started on my bills, but only a few days from then until they finished.

I ended up saving money on both the AT&T bill and the Comcast bill, but they told me there wasn't anything they could do about the electric prices (Tennessee is ineligible for electricity negotiations apparently).

I had no issues with any of my services (I was worried I might). If you negotiate your own bills already, I wouldn't suggest having someone else do it unless you're with giving up a significant chunk of the savings. But I definitely recommend them if you don't negotiate your own bills already.

All in all, I ended up saved about $70/mo ($35 per month after their cut).

Bottom Line: Yes, I would recommend this to a friend

---

Advertisement

---

Lousy scam artists

By Nancy M.

,

Sterling, VA

,

Mar 5, 2019
Verified Reviewer

I signed up with this company after a favorable review in my paper. What a mistake.

They claim they save you money. But you can never figure out exactly what it is they saved because your bill won't show it. Every time they "claimed" they saved money I asked them to show me proof. Not unreasonable. Instead, they would say they called my vendor and "negotiated" something else and issue another invoice for "savings" that I never saw. My bill actually went UP, not down. In frustration, I called my utility and asked what my regular bill was, and had any "savings" been negotiated. They told me no. My bill had actually doubled. When I told my utility that I would cancel the service if they couldn't come up with a better rate, they sent me to the customer loyalty department who then dropped the bill down to keep my business. I negotiated the savings, not BillFixers.

Do not share your personal info with these people. I changed my password and pin number with my utility and explicitly instructed that they were not to discuss my account with anyone other than me. BillFixers says they save you time so you don't have to deal with the utility company, but dealing with them is much worse. I paid the supposed savings "invoice" just to be through with them and canceled the service. They still wouldn't stop contacting me even though I asked that they not. They even sent me an email admitting I was right, that the savings were "illusory" but the emails and dunning notices kept coming

Stay as far away from them as you can. You'll regret that you ever dealt with them.

Bottom Line: No, I would not recommend this to a friend

---