Bionic Steel Hose Reviews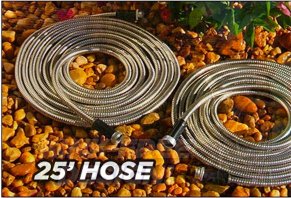 Bionic Steel Hose claims its two-layer design, ultra-strong fittings, and stainless steel outer housing can deliver better performance than other garden hoses.
What is Bionic Steel Hose?
Featuring a pressure resistant inner lining and a flexible, puncture proof, stainless steel outer housing, Bionic Steel Hose promises to deliver super-tough performance, avoid cracking in the sun, deter corrosion and rust, and to be more durable than any standard garden hose.
In fact, the commercial shows Bionic Steel Hose working perfectly after being dragged through sharp objects, grinded with a power tool, frozen in a block of ice, and even set on fire.
Despite its tough metal coating, though, we're told that Bionic Steel weighs less than three pounds and its compact, patented design will never twist, tangle, or kink, so it's perfect for homeowners and professionals alike.
But is the Bionic Steel Hose worth the money? Are there any other competing products? Is it really indestructible?
Let's kick things off by taking a look at the competition.
Is Bionic Steel Hose a Unique Product and Is There Any Customer Feedback?
Is Bionic Steel Hose swimming in competition? Not at the time of our research.
However, we recently wrote an article about Flex Steel Hose. And based on what we can tell (we didn't test either product firsthand), it and Bionic Steel appear to be identical in every meaningful respect.
What's going on here? Over there years, the HighYa team has reviewed more than 800 As Seen on TV products, and we've learned that it's not uncommon for companies to 'share' products and sell them at the same time.
Based on this overall lack of competition, we might be able to logically deduce one of two things: Either, 1) these stainless steel-wrapped hoses represent a legitimately revolutionary idea currently only offered by a couple of companies, or 2) no one else sells them because it's a flawed concept.
Unfortunately, without any online customer feedback, it's impossible to realistically understand which way the situation is headed with Bionic Steel Hose.
While we're not told exactly who it is, it appears that Bionic Steel's manufacturer also makes Forever Comfy, a foam seat cushion. Overall, customers seemed to give it a middle-of-the-road rating; some were pleased with its performance, while others complained it didn't live up to its promises.
With this said, it's important to note two things: First, since this is a completely different product, so we're certainly not saying you can expect the same with Bionic Steel Hose.
Second, this is the most common complaint among all ASOTV products, not just those from Bionic Steel's manufacturer.
Now, how does Bionic Steel compare to Flex Steel from a price perspective?
How Much Does Bionic Steel Hose Cost?
The 25' Bionic Steel Hose is priced at $19.95 plus $6.95 S&H. You can order a second during checkout for an additional $6.95 fee.
Not unsurprisingly, Flex Steel is priced similarly at $19.99 plus $7.99 S&H. Flex Steel is also available in 50', 75', and 100' lengths.
According to the commercial, additional Bionic Steel Hose sizes are also available by calling customer service at 866-304-4271. We contacted support at this number twice, although both times we waited on hold 5+ minutes without anyone picking up, until we decided to disconnect the call.
Regardless, all Bionic Steel Hoses come with a 30-day money back guarantee, less S&H. This is important to keep in mind if you plan on taking advantage of the BOGO offer.
Whether online or lining the aisles of your local home improvement store come springtime, you'll find that Bionic Steel (and its close competition) is priced similarly.
But will Bionic Steel's stainless steel exterior feasibly provide more value for the same amount of money?
How Does Bionic Steel Hose Compare to Traditional Garden Hoses?
Most consumer-grade garden hoses are constructed of vinyl, rubber, or a combination of the two (specifically, PVC).
Pro tip: Safe water drinking hoses (aka fresh water hoses) are typically made with nickel or plastic fittings and constructed of medical-grade vinyl. Bionic Steel Hose doesn't claim to meet these criteria, so don't plan on taking a sip on a hot day this summer.
Higher-end rubber hoses usually feature embedded nylon or polyester cord for reinforcement.
Because of this, as well as their thickness, they're durable and not very prone to kinking or puncturing caused by everyday use. However, they're heavy and need to be kept away from UV exposure.
Vinyl hoses, on the other hand, are often lighter and less expensive, although they're easiest to puncture and have a tendency to kink.
Given Bionic Steel's construction, it certainly seems to address the kinking issue. Will it provide more durability, though?
Again, we didn't test Bionic Steel Hose ourselves. However, we think there are a handful of important points to keep in mind:
First, whether stainless steel, rubber, or vinyl (especially if reinforced), you can freeze pretty much any hose in water and still have it work—as long as there's not frozen water inside the hose, either.
Second, grazing a regular garden hose (again, especially one that's reinforced) with a power grinder in a light, side-to-side motion probably wouldn't puncture it, either.
Obviously, this isn't something you'd want to do on a regular basis, but for demonstration purposes, we don't think this stunt in the Bionic Steel commercial necessarily amounts to anything more than ASOTV showmanship.
Finally, BobVila.com tells us that even the least expensive traditional garden hoses feature two-layer designs, while upper-end models feature six. So it doesn't seem like Bionic's two-layer construction (an inner lining and metal shell) is necessarily unique.
In fact, without this inner lining, it seems like Bionic Steel's linked metal shell would quickly leak water. More than anything then, this lining appears to be more of a functional necessity than a real-world benefit.
In the end, what does all of this mean for you?
Is Bionic Steel the Six Million Dollar Hose?
When it comes to Bionic Steel Hose, what are we looking at here? Is this some marvelous feat of engineering, accomplished only by the greatest minds in consumer products?
Or, is this some half-baked idea that a couple of companies are using as guinea pigs to test consumer demand? Again, we can't know since we didn't test it.
However, if it comes down to a choice between Bionic Steel and Flex Steel, the former comes with less expensive shipping charges, while the latter features a longer 60-day refund policy.
Either way, though, keep in mind that your original S&H charges (as well as whatever it costs you to ship them back) aren't refundable if you process a return. Just remember that, like us, you might experience some difficulty reaching customer service.
Before you go, tell us about your decision regarding Bionic Steel Hose. Did you make the right choice, or did it fail miserably? Give us some insight below in your review.
41 out 41 people found this review helpful

Metal garden hose

By Paul

,

Texas

,

Apr 25, 2017
Verified Reviewer

I have one! Used it three, maybe four times. It has a leak where the flexible metal hose joints to the coupling. It is not worth having; it craps out after just a few uses. Also, the MFG only warranties the item for 30 days. I guess they know what their product is worth! I would never buy another.

Bottom Line: No, I would not recommend this to a friend

---

18 out 19 people found this review helpful

Bought three, have failed after less than three months

I was very excited to try this. It was a new hose, and after less than one month, the fitting popped off. I took it back to Walmart and got hassled, so I fussed, and they gave me another 50-foot hose. Forty days later, the same end fitting came off. I was very. Upset, I went and bought another 50-foot, and it has been 52 days, and the fitting popped off again.

I called their customer service, and it has been just over 52 days, so now I'm out for two of these hoses. I think they're over rating them. I'm not a happy customer (912 328 9471). If it will do any good, I have my last receipt.

Bottom Line: No, I would not recommend this to a friend

---

Advertisement

---

12 out 14 people found this review helpful

Still waiting

It's been nearly a month since I purchased the hose(s). Since it said to allow 2 to 3 weeks for delivery, I haven't been thinking too much about it. But when I decided to check for a possible delivery date, I find that the product is back ordered. I called customer service, and they assured me the products will be shipped on May 30th. I will call them on May 29th to see if I get the same story. Due to the lack of notification that the product is out of stock, I wouldn't recommend dealing with this company.

Bottom Line: No, I would not recommend this to a friend

---

12 out 14 people found this review helpful

Still waiting for my hoses.. ordered 2 50' ones..

I like the aforementioned customers am sick of waiting to receive these hoses. I ordered the 50' ones so am waiting for 2 hoses. The site said on backorder. I like the idea of getting two of them and am hoping they are a whole lot more durable than one of the customers reported.

At this point, with no contact from the company as to the fact that it is on back order or when I might expect to receive it, I too have considered the Hercules hoses instead. I realize this is a holiday weekend but if I don't hear something by the end of next week, I will cancel this and look elsewhere.

I heard they had them at Walmart and they are on Amazon. Hopefully someone will get back to me. I'm unhappy by not having hoses and it's memorial day weekend with planting and yard work to do.

Bottom Line: No, I would not recommend this to a friend

---

Advertisement

---

12 out 13 people found this review helpful

Have not received my hose after 60 days

I ordered this hose in April. I called at the end of April and was told they would be shipped by the end of May. It is now June 6th and still no hose. I just got off the phone with customer service, and they don't know when it will be shipped.

Bottom Line: No, I would not recommend this to a friend

---

11 out 13 people found this review helpful

Still back ordered

By Dawn Romman

,

British Columbia, Canada

,

May 15, 2017
Verified Reviewer

I ordered WAY back in February and it is still on backorder!

I don't know if I even want it anymore, as I have bought those other hoses in the past that shrink up when you turn off the water and they only last a couple of months before they burst! How long will this one last? I don't know if I would recommend this to a friend because I do not have one.

Bottom Line: No, I would not recommend this to a friend

---

11 out 11 people found this review helpful

Not living up to claims

I have had the Bionic Steel Hose for about two weeks, and it runs in front of my garage doors. It is not holding up and flattening out where the tires drive over it. It is not living up to its claims.

Bottom Line: No, I would not recommend this to a friend

---

10 out 16 people found this review helpful

Still waiting for the product

By Jeff Kutz

,

Janesville, WI

,

Apr 27, 2017
Verified Reviewer

I ordered the Bionic Steel Hose online, not from an 800-number, on March 6th.

Here it is April 21st, and I just called Customer Service and they say it still is on back order. Customer Service has been easy to reach, with less than a 5-minute wait both times I called them.

I liked the deal of a second 25' hose for just a $6.95 shipping charge. In my last call to Customer Service, they offered to remove one of the shipping charges because my product is so late.

I have been tempted by the online Hercules Hose, which seems similar although it does not seem to have the rugged connectors the Bionic Hose has. I am only tempted because I am hoping they will ship a product faster than Bionic Hose. Also, the Hercules BOGO offer is a full price hose X2 but the same shipping charge, and you get a spray nozzle for free.

Again, I am not that tempted, but if it comes in two weeks, I might make the jump. I think I will wait another two weeks.

Bottom Line: Yes, I would recommend this to a friend

---

10 out 14 people found this review helpful

Crooks

By Teddy Hines

,

Kent, WA

,

May 16, 2017
Verified Reviewer

I got a confirmation from noreply@yourconfirmationemail.com with an order number. It was a right address, etc.

It's been well over a month and not a word, and of course, no product.

Bottom Line: No, I would not recommend this to a friend

---

9 out 9 people found this review helpful

Waste of money, terrible product!

North Carolina

,

Feb 23, 2018
Verified Reviewer

I purchased this hose 50-ft in May 2017. I used it to wash my car. This year the water is dripping down my arm. Thinking it the inexpensive nozzle I purchase a new one, which didn't help. I pulled away the metal exposing a plastic tube which was no longer sealed under the connection from the hose end connection to the nozzle, thus causing a spray of water down my arm. With a 30-day guarantee, it is a waste of $35.00 Never buy this product!

Bottom Line: No, I would not recommend this to a friend

---

8 out 8 people found this review helpful

Bionic or Titanic?

I ordered two of the Bionic Steel Hoses because I loved the concept of the hose and I hoped that it would work better than the snake-like Flex Hose that expanded when water filled it and shrank when you turned it off, as all three of those broke and leaked fairly quickly.

It took a long time to receive my Bionic hoses because they were out of stock, but once I did get them, I hooked them up, attached a nozzle to the end, turned it on, and the fitting on the end blew off and the hose leaked like crazy! I thought, well, I have another hose, let me try that one. Within one week, the fitting on THAT hose blew off!

I figured I was out the money that I spent on these hoses, but I called customer service just to take a chance and see what they said. The lady immediately offered me two more hoses or a full refund! I asked her opinion, and she declined to give her opinion, so I asked for the refund.

Good customer service policy but lousy product! They need to upgrade this item and try again!

Bottom Line: No, I would not recommend this to a friend

---