Bionic Trimmer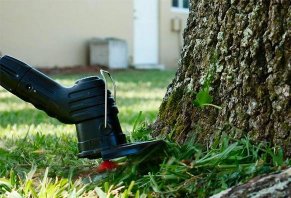 Instead of traditional plastic line, the Bionic Trimmer by Bell + Howell utilizes zip ties and also features an adjustable pole, ergonomic handle, and protective metal shield.
About Bionic Trimmer
The lightweight, portable, and handheld Bionic Trimmer uses a built-in rechargeable Lithium-ion battery to spin its replaceable zip ties at 10,000 RPM, which the company advertises will make trimming your lawn quicker, easier, and hassle-free.
Despite its battery-powered operation, the website tells us it boasts the power of a conventional trimmer, an adjustable extension pole that makes it comfortable for anyone to operate, an ergonomic handle, and a metal bar that works as a protective shield between the zip ties and solid objects. And all of this without having to worry about toxic fumes.
Together, the company advertises Bionic Trimmer will take all the stress and strain out of trimming, and leave your yard looking neat and trim in no time.
But, is this what you can realistically expect after handing over your hard-earned money? Even then, does Bionic Trimmer have any competition, and might they deliver more bang-for-your-buck?
We'll answer all of your important questions here, starting with basic functionality details and specifications you should know in advance.
How Does Bionic Trimmer Work?
It seems to be the case that we know fewer crucial details about Bionic Trimmer than what the manufacturer tells us on the website. Here are some of the most pressing:
What size Lithium-ion battery does Bionic Trimmer use?
How long will it run per charge?
How long does it take to recharge fully if empty?
How long is pole when retracted? When fully extended?
How much does the trimmer weigh?
Does it work with any standard zip ties or only the ones included with each order?
We called the customer service number listed on the Bionic Trimmer website, and a representative advised us that they only ship the garden tool. Instead, they instructed us to reach out to 800-423-4248 x233 for additional information.
With these details in mind, based on the information provided on the website and in the commercial, Bionic Trimmer works a lot like a standard trimmer, with a throttle located on the handle, a long pole that extends toward the ground, a spinning head, and a protective guard.
The most significant difference between it and standard trimmers, though, is that instead of a spool of line, Bionic Trimmer's head accepts zip ties on opposite sides of one another.
This way, the company says, you don't have to fuss with automatic feeds and the jams and tangles they can cause.
The question then becomes: Compared to line spools, will you achieve better results and faster, more convenient operation using Bionic Trimmer's zip ties?
Are Stringless Zip Tie Trimmers More Convenient and Cost Effective?
Depending on your setup, you might be able to strap zip ties to your existing trimmer and try it out yourself, as this Instructables user did.
Granted, this will likely take longer and require more elbow grease than what's advertised by Bionic Trimmer, but it can at least give you an idea of what you might expect from a zip tie-only trimmer before committing to a more significant purchase.
With this said, Samantha Burns at RunAmukAcres.com tested out a homemade zip tie setup on their weed whacker and reported it didn't cut vegetation as cleanly as spooled line, and the ties broke quickly when encountering a hard surface. She noted it was also meaningfully louder.
"In a pinch, you could certainly use the zip ties," she says. "If you have just a lawn to maintain and were only using your weed-whacker to trim things up after you've mowed, this would work just fine," she adds. "(But, if) you have a large area to manage, a large garden, and more, and you have weeds that sometimes get unruly, I feel like the weed-eater line is still the better option."
Furthermore, a package of 100 heavy-duty (120 lb. tensile strength) zip ties will cost you about $10, whereas a 40-foot spool of traditional trimmer line comes with an average price of about $5.
How Much Does Bionic Trimmer Cost?
The Bionic Trimmer is currently available at the following retailers:
Amazon: $17.89
Bed Bath & Beyond: $29.99
Home Depot: $39.99
Walmart: $26.50
Are There Other Stringless Rechargeable Trimmers Like Bionic Trimmer?
The bottom line is that we didn't encounter anything designed exactly like Bionic Trimmer during our research. So, if you're looking to match its combination of zip ties, extendable pole, ergonomic handle, and cordless Lithium-ion battery, it's currently your only option.
If your main goal is to get rid of the spool and line, though, there are several popular options potentially competing for many of the same customers as Bionic Trimmer. These include:
| | | |
| --- | --- | --- |
| Brand / Model | Price | Notes |
| Bionic Trimmer | $17.89 on Amazon, but other pricing varies based on venders | Rechargeable Li-ion battery, cordless operation, uses zip ties, adjustable pole, very few specifications known |
| AeroFlex Universal Replacement Trimmer | $29.95 | Head fits 99% of all gas trimmers, uses 4 proprietary replaceable plastic blades, 0.86 lbs |
| Sun Joe Sharper Blade Stringless Trimmer | $41.99 | Corded, 2-in-1 head adjusts between trimmer and edger, 5.6 lbs, 2-year warranty |
| Craftsman Hassle-Free Line | $40 | Special head that uses pre-cut sections of trimmer line, available at many online and local retailers |
With so few details to go on, we can't confirm the claim that Bionic Trimmer delivers similar power as a conventional trimmer, or as the corded Sun Joe model above. However, Bionic's pole appears meaningfully shorter than the others, and it only comes with a 30-day warranty/refund policy.
Still, the Sun Joe is $10 more expensive, although the AeroFlex head comes with the same price and doesn't require that you purchase an entirely new tool.
Craftsman's Hassle-Free lineup also only requires that you purchase a new head, and replacement line sections are $7 per package, compared to nearly $20 for a bag of heavy-duty zip ties.
Granted, putting a new head on your existing gas trimmer doesn't address the "toxic fumes" mentioned on Bionic Trimmer's website if this is the main goal you want to achieve.
But, even if you're looking to achieve cordless, line-free operation using all of the features provided by Bionic Trimmer, does it necessarily represent a value-laden option?
Our Bottom Line About Bionic Trimmer
I know when I'm trimming my average-sized yard, I probably have to let out the extra line from my bumper-feed weedwacker 15 to 20 times per session.
Granted, a spooled line might take a little extra work up front, but as long as my trimmer's head is in good working order, I might not have to touch it again for a couple of weeks.
Comparatively, even if zip ties were twice as strong as traditional line—which they don't appear to be, based on online user feedback—I can't imagine how inconvenient it would be to stop what I was doing each time a zip tie broke, remove the worn one, and replace it with a fresh one.
Together with the bare-bones information we're provided from the manufacturer, along with the limited support offered by customer service and the steep cost of heavy-duty replacement zip ties, it doesn't seem like Bionic Trimmer will live up to its advertising claims of making trimming faster, easier, neater, or less expensive than traditional line.
» See Also: 5 Tips for Achieving the Greenest Grass on the Block This Spring
---
Bionic Trimmer

By Gaston O.

,

New South Wales, Australia

,

Feb 19, 2020
Verified Reviewer

Overall Experience:

What a useless piece of garbage. Four hours to charge it and it only takes one piece of grass to make it cut out. I don't see how it can do any edging at all as that takes some consistent power availability. The sales promotion as all crap!

Bottom Line: No, I would not recommend this to a friend

---

Bionic Trimmer

By Gaye D.

,

Eden Hill, Western Australia, Australia

,

Jan 3, 2020
Verified Reviewer

Overall Experience:

Absolute rubbish, it has no power, just a cheap heap of crap, better of buying a pair of scissors, a real con job. So disappointed, it was supposed to be a Christmas gift, how can television stations advertise rubbish like this, they probably didn't try it.

Bottom Line: No, I would not recommend this to a friend

---

This is a trimmer JOKE!

By Frank M.

,

Old Town, FL

,

Sep 4, 2019
Verified Reviewer

Overall Experience:

What are you people doing? This is awful, just awful. I ordered the one trimmer and the second for $7.95 and the zip ties for $9.99 but I got charged $92 and 3 trimmers got sent to me. Now I am having the most difficult time reaching someone to get a refund. How do you people sleep at night?! Bionic Trimmer 400 Returns Road Wallingford, CT 06494 is the address you guys shipped these 3 piles of garbage from...LOL, really? That's fitting! Get so many returns you have a road named for it? BUYER BEWARE! I wouldn't recommend this to an enemy.

Bottom Line: No, I would not recommend this to a friend

---

Worthless

By John C.

,

Nampa, ID

,

Sep 2, 2019
Verified Reviewer

Overall Experience:

I bought two trimmers, one never worked again after I charged it and after about three short uses the second one quit working also. Junk and very fragile, not even good enough to be considered a toy. Waste of time and money, very upset with it totally.

Bottom Line: No, I would not recommend this to a friend

---

Advertisement

---

I bought one with the second one for $7.99, paid $19.98 for 100 zip ties, I would like a refund because it's worthless.

By Doris L.

,

Washington

,

Aug 14, 2019
Verified Reviewer

Overall Experience:

Not only does it take 4 hours to charge, the charge does not last long. As soon as you start the zip tie breaks right away.

And this is not a fake review. I'm 75 years old and thought it would help me with being lightweight. I would like at least part of my money back. Being on a limited income I can't just give away money. But it taught me a good lesson NOT to buy stuff off the TV.

Bottom Line: No, I would not recommend this to a friend

---

Total junk

By Eileen S.

,

Montana

,

Aug 8, 2019
Verified Reviewer

Overall Experience:

This does not work and is super cheap. Can't get hold of anyone to return. The other offers are scams! This company is a total fraud - stay away! I upgraded to the commercial trimmer and paid an additional $10.00 - which is a total scam. This company should not be allowed to do business!

Bottom Line: No, I would not recommend this to a friend

---

Very disappointed

By Bev P.

,

Pontiac, IL

,

Aug 5, 2019
Verified Reviewer

Overall Experience:

This is the worst piece of crap I ever bought. It stalls on the smallest grass, the commercials are so false, if I was the one selling this I would be so ashamed. Scissors would work better. I would never recommend buying this item.

Bottom Line: No, I would not recommend this to a friend

---

Don't bother

By Dan R.

,

Illinois

,

Aug 5, 2019
Verified Reviewer

Overall Experience:

The trimmer is unusually small, which in and of itself is not a problem. The unit is very underpowered, which is a problem. The unit is incapable of cutting even the thinnest of stems. Only bluegrass, which is not very tall, seemed to provide adequate results.

Bottom Line: No, I would not recommend this to a friend

---

Not pleased

By J P P.

,

Nettleton, MS

,

Jul 30, 2019
Verified Reviewer

Overall Experience:

Just received my trimmer, charged it and headed for the grass. Turned on the trimmer, perched near the grass and prepared for the attack. Attack?! No way! I tried trimming a very small patch on the edge of my patio. I continued to work on this 5" x 6" area for about 5 minutes and never got the area cleanly trimmed.

Would I recommend the Bionic Trimmer? NO!

Definitely not worth the effort if you have a real yard. Might work if you have no more than a few feet to trim. Don't waste your time and money!

Bottom Line: No, I would not recommend this to a friend

---

Scissors work better than this product

By Betty M.

,

Colorado Springs, CO

,

Jul 25, 2019
Verified Reviewer

Overall Experience:

SAVE YOUR MONEY AND TIME!

Cuts about 2 THIN blades of grass at a time or bogs up. Start at the top and it just spins the blades of grass around each other and cut WRONG.

Then they offer you $5-$10 to keep it - WHY THEY DON'T WORK.

Really get the scissors out, LESS frustration.

Bottom Line: No, I would not recommend this to a friend

---

Total disappointment

By Orvis B.

,

Arizona

,

Jul 18, 2019
Verified Reviewer

Overall Experience:

When I first saw the commercial for the trimmer I thought it was for some kind of adapter to use the ties. Later, I saw the commercial again and indeed it was for the trimmer. What a deal, and with the Bell & Howell name it has to be good. I even ordered the second one for $7.95. Absolute junk. Every time it touches grass it stalls. It will not trim even the thinnest grass. Works on TV like everything else but not so good when you buy one and use it yourself. I'm trying to find a phone number so I can return both of them.

Bottom Line: No, I would not recommend this to a friend

---