Biotrue ONEday Lenses Reviews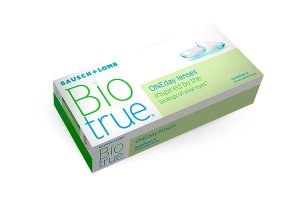 Intended for wear once per day, Biotrue's ONEday contact lenses are marketed toward those who need to maximize oxygen exchange with their eyes, along with the most moisture content.
About Biotrue ONEday Lenses
Bausch & Lomb advertise their Biotrue ONEday disposable contact lenses maintain nearly 100% of their moisture for a full 16 hours, with a surface designed to mimic healthy tears, helping you feel comfortable throughout the day while delivering consistently crisp, clear vision.
You'll also find built-in UVA/UVB protection, "High Definition Optics" technology that reduces glare and halos, and the ability to work with a wide variety of diagnoses, whether you're near-sighted, farsighted, astigmatic, or presbyopic.
"Inspired by the biology of your eyes" or otherwise, does all of this necessarily mean that Biotrue ONEday is be best contact lens option for you? Let's kick things off by taking a closer look at the basics.
How Do Biotrue's Silicone Hydrogel Contact Lenses Work?
Writing for AllAboutVision.com, Gary Heiting, OD, explains that "all contact lenses reduce the amount of oxygen that reaches the front surface of the eye to some degree. When the cornea's oxygen supply is significantly reduced — a condition called hypoxia — a number of problems such as red eyes, corneal swelling, blurred vision, and eye discomfort can occur. Hypoxia also can increase contact lens wearers' risk for a number of eye infections."
To help reduce the likelihood of hypoxia occurring, though, he points out that lenses like Biotrue, which are made from silicone hydrogel, "enable up to five times more oxygen to reach the cornea than regular hydrogel lenses."
With these details in mind, there are two different versions in the ONEday lineup:
Biotrue ONEday for Presbyopia
Although this term sounds fancy, it simply references natural vision degradation as a result of the aging process. The first signs of this typically occur after the age of 40, such as blurry fine print on a page or screen.
To help address this, ONEday's Presbyopia lenses feature a 3-Zone Progressive design that seamlessly transitions between near and far (and in between), and can work well for tasks such as reading or driving. Like all ONEday lenses, they also maintain nearly 100% of their moisture for a full 16 hours.
Biotrue ONEday for Astigmatism
Compared to the natural aging process, the American Optometric Association explains that astigmatism occurs when "the cornea (the clear front cover of the eye) is irregularly shaped … which prevents light from focusing properly on the retina, the light-sensitive surface at the back of the eye. As a result, vision becomes blurred at any distance."
To help prevent this, the Biotrue website indicates their ONEday lenses are designed to work with the unique curvature of your eye to reduce halos and glares while working with natural blinking patterns.
Could Biotrue ONEday Lenses Cause Side Effects?
In the AllAboutVision article cited earlier, Dr. Heiting reports that silicone hydrogel lenses should be acceptable for most users. However, he emphasizes that because they significantly increase oxygen exchange, this can boost eye sensitivity and make users much more aware that they're wearing lenses.
Worried about potential allergies? He goes on to explain that formal evidence of allergic reactions to silicone hydrogel lenses—whether from Biotrue or otherwise—is "essentially nonexistent."
Still, he says, "a number of blog sites and online forums contain complaints among contact lens wearers that they have developed allergy-like symptoms from wearing silicone hydrogel lenses," including "redness, discomfort, itchy eyes, or dryness symptoms."
Finally, if you have marginal dry eyes, silicone hydrogel could cause some discomfort not experienced with standard hydrogel lenses.
How Much Does Biotrue Cost & Where Can You Buy?
Biotrue contact lenses are sold through several third-party online retailers, including 1800contacts, Sam's Club, EZContacts, Lens.com, OptiContacts, Simple Contacts, and PSContacts. For a 90-day supply, prices ranged between $31 and $65 at the time of our research.
You can also sign up for a free trial of ONEday lenses on the Biotrue website, after which you'll receive a coupon via email that you can take to your doctor. You can even use the Doctor Finder tool to help you locate a physician near you.
Bausch & Lomb offers a 90-day patient satisfaction guarantee on all Biotrue ONEday contact lens purchases, which you can request by calling 800-553-5340.
What Are Customers Saying About Their Experiences With Biotrue ONEday?
Between sites like VisionDirect.co.uk, FeelGoodContacts.com, and EZContacts.com, we encountered nearly 40 combined customer reviews for Biotrue contact lenses, which had cumulatively given them an average rating of about 4.5 stars.
Compliments frequently referenced a great deal of comfort (more than one claimed they were the most comfortable lenses they'd ever worn), even when worn all day, a high level of moisture, and their ability to remain in place. The relatively few complaints often cited high price and lower optical quality than expected.
Are There Other Disposable Silicone Hydrogel Contact Lenses Like Biotrue?
Again returning to the AllAboutVision article, they report that "In 2014, silicone hydrogel lenses accounted for 68 percent of contact lens fittings performed in the United States."
In other words, this contact lens class is extraordinarily popular, so you have many different options to choose from. Some of Biotrue's top competitors at the time of our research included:
| | | | |
| --- | --- | --- | --- |
| Brand | Price (90-day supply) | Conditions | Special Features |
| Biotrue ONEday | $31 - $65 | Near-sighted, farsighted, astigmatism, presbyopia | Designed to match eyes with 78% moisture content, high-definition optics |
| Acuvue Moist | $26 - $54 | Near-sighted, farsighted | Contains LACREON, a proprietary water-holding ingredient similar to natural tears |
| Acuvue Oasys | $61 - $104 (48-week supply) | Near-sighted, farsighted | Designed to be worn for 14 days, highest UV protection in contact lens, HydraClear Plus technology to stabilize tear film and maintain moisture |
| Dailies AquaComfort Plus | $30 - $67 | Near-sighted, farsighted, astigmatism | Blink-activated moisture technology |
| Hubble Contacts | $90 | Near-sighted, farsighted, no or mild astigmatism (less than -1.00 cylinder) | Constructed from methafilcon-A hydrogen, 55% water content, UV protection, thin edge for comfort |
| Trueye | $55 - $95 | Near-sighted, farsighted | Blocks 96.1% UV-A and 99.9% UV-B radiation from the sun, HydraClear Technology for minimizing eye interactions |
| Air Optix Plus HydraGlide | $22 - $24 (6-month supply) | Near-sighted, farsighted | HydraGlide technology for long-lasting moisture, SmartShield defends against irritants |
Based on what we learned during our research (at least among manufacturers listing moisture content), at 78%, it seems that Biotrue ONEday lenses really do deliver more moisture than any other leading brand.
However, as we can see from the table above, they're also one of the most expensive options available for a three-month supply. How to figure out which is best for you?
WebMD remarks that silicone hydrogel contact lenses are, indeed, "extremely breathable" and allow "plenty of oxygen pass through to your cornea" They also "keep deposits from building up," which "means less irritation from dry eyes."
According to Kathyrn Colby, M.D., Ph.D., and cornea surgeon at Massachusetts Eye and Ear Infirmary, these 'soft' lenses are also much more pliable than 'hard' options (formally known as rigid gas-permeable lenses), which are worn by only about 10 percent of the population.
Still, they emphasize that "silicone lenses aren't for everyone, so talk with your eye care professional if you're interested in them." This could be especially the case if you "have astigmatism or a medical condition in which protein deposits form on the contact lens."
Along these same lines, Biotrue's ONEday lenses are the only option in the table above recommended for those with presbyopia, which could be meaningful if this follows your physician's diagnosis.
From there, choosing between Biotrue and another brand could mostly follow the same guidelines as many other product and service categories:
Are the lenses priced competitively?
Does the company provide at least a 30-day refund policy on their contacts, with no restocking fees or other monetary penalties?
What are customers saying about their experiences with the company, as well as with their contact lenses?
Let's pull all of these details together and come to a conclusion about Biotrue.
The Bottom Line
A 90-day supply of Biotrue's ONEday daily lenses will cost you more than many of the competitors. And if they help you comfortably see better, you'd probably consider this brand of contacts well worth it.
The reality is that finding the 'best' contact lenses for you could largely come down to trial and error. After all, it's an intensely personal decision, and no single brand or line will meet everyone's needs.
With these details in mind, Biotrue comes from Bausch & Lomb, a company that's been in business since 1953 and held an A+ rating with the Better Business Bureau.
They also stand behind their Biotrue lenses with a 90-day satisfaction guarantee, which should represent more than enough time to discern if they meet your needs and preferences.
Just keep in mind that obtaining ONEday lenses, whether through Bausch & Lomb's free trial or a third-party retailer, will require a doctor's evaluation and prescription, so be sure to factor this into your overall budget.
Horrible

By Michael D.

,

Virginia

,

Dec 29, 2019
Verified Reviewer

Save your money, never buy Biotrue (Bausch + Lomb) contact lenses. I have daily contact lenses. I bought a year's supply, but they have a very short shelf life. After about 6 months, they stop working. About 25% are blurry and give me a headache. I have to take it out and try a new one. My glasses, which are a weaker prescription, work better than the contacts.

That is not the only reason to not buy them. The main reason I bought them was the $200 rebate they offered. I never received it so I called about it. I was told it was sent, but they would send a new one. I also spoke to an online representative and called again. It's been 8 months since I bought the lenses and still haven't received my rebate.

In conclusion, the contacts don't work and you don't get your rebate. I will never buy these contacts again and I strongly recommend you don't buy. It's a waste of money.

Bottom Line: No, I would not recommend this to a friend

---

Advertisement

---