Birch Finance Reviews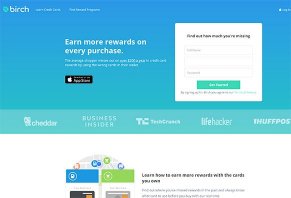 Consumers who want to maximize their credit card rewards can find a lot of value out of Birch, an app that analyzes your spending and tells you where you've missed opportunities to maximize rewards.
About Birch Finance
Birch is a free app that helps you maximize the credit card rewards available to you by analyzing your spending and providing suggestions based on that spending.
The app is so effective because it requires you to connect your bank accounts to it so it can access the spending patterns on your credit cards.
Birch was founded in 2015 by Alexander Cohen and Alex Whiteside. Cohen is a graduate of the University of Florida (finance/management information systems). Whiteside also went to school at UF, where he earned a degree in computer engineering.
Both men bounced around between tech jobs – Cohen worked at JPMorgan & Chase, too – before starting Birch.
All history aside, the main thing we always want to know about a new app is, "Does it work?" To answer that question, we downloaded the app to get a sense of how it works. We also read through the app's website and fine print to understand what we need to know.
With all of this information in mind, we put together a review of Birch that covers all the important things you need to know before downloading it.
Over the next few minutes, we're going to walk you through the sign-up process and then the heart of the app: rewards recommendations.
From there, we'll talk about what other people are saying about their experiences with Birch, then we'll wrap up with a conclusion that covers the app's strength and weaknesses.
How to Sign Up for Birch
Getting onto the app is pretty simple. You provide the standard sign-in information, and then, after that, you'll choose which banks your credit cards are associated with. Birch will then ask you to log into those banks so they can access your credit cards and track spending in your credit and checking accounts.
Birch got three of our four cards from Chase and Bank of America right: Chase Freedom Unlimited, Hyatt Visa and Chase Sapphire Preferred. For some reason, it labeled our Bank of America Cash Rewards card as the USAA Rewards Visa Signature card. While the card name was incorrect, the balance was correct.
Once you've connected your accounts, the real work begins. Birch will take you to your account preference selections, which is where you pick which rewards you want out of your card.
Now, here's a quick explanation of rewards. Credit cards earn rewards – cash, frequent flyer points, hotel loyalty points – and those rewards can be redeemed form multiple things.
With the Capital One Venture, for example, you redeem your rewards balance (cash) for travel purchases you've made with your card.
On the Citi Double Cash, you redeem your rewards balance (also cash) for any purchase. And, the Chase Freedom Unlimited has a points balance you can redeem for cash or transfer to travel partners like United, Hyatt, Southwest and Marriott.
Back to Birch. The preferences page allows you to select what kind of rewards you want:
Flights
Hotels
Cash back
Car rentals
Shopping
Gift cards
You also can choose your preferred airport (for the airline rewards), your credit score and if you want an annual fee and/or foreign transaction fees on the card.
We chose "Flights". When we tried to enter our preferred airport, we kept getting a "The results could not be loaded" message, which was disappointing. We tried it again and, after a few minutes, were able to enter Orlando.
We also selected that we wanted recommendations that didn't have annual fees or foreign transaction fees.
Once we set all the parameters, the app told us that we'd missed around $27 in rewards purchases over the past few weeks.
A few seconds later, Birch recommended to us, based on our spending, the Discover it Miles, Barclaycard Arrival Plus and United MileagePlus Club card.
Two of those cards are straight cash-back cards you use to redeem for travel purchases. The United Mileage Plus Club is a premium airline card with a high annual fee ($450) but with some pretty legit luxury rewards.
After Signing Up: How Birch Gives Its Rewards Recommendations
Okay, back to how Birch helps you understand how to maximize your rewards, which is what pops up on the next screen after the recommendations we just mentioned.
The app analyzed every credit card transaction and checking account transaction to figure out which card was best for the transaction, which card/account we actually used and how many points we gained/missed because of our payment choice.
This is really the heart of the app, as we could do without the credit card recommendations.
To give you an insider's perspective on how all this works, I'm going to list a few of the transactions Birch analyzed. The user experience has rows of purchases, with each row identifying the type of transaction, which account/card paid for it and then the transaction amount followed by a colored bar.
That bar is really what the entire app revolves around. The bar is either all red, all light blue or a combination of both. Red represents the rewards you missed out on and the light blue, the rewards you earned.
But the bar isn't showing you the number of points/miles you missed out on; it's showing you the points' cash value you missed out on. We'll explain that in a few minutes.
The Planet Fitness Annual Fee + Monthly Fee Transaction
I'm a Planet Fitness member and my payments come out of my Chase checking account. They charge yearly fees in November, lumping that with your monthly fee. The transaction amount for these simultaneous fees was $41.73.
Birch rightly pointed out that I didn't get any rewards from the purchase; it was made with my checking account, which was required at the time of signing up for my membership. Credit cards were not an option.
That bar next to the purchase amount was all red – shame on me. So, what I did was click on the little drop-down arrow next to the all-red bar. This click reveals a drop-down that tells me which card/account I used and which card I should've used, as well as how many points I could've earned with the right card.
Birch said I could've earned 42 World of Hyatt points (the loyalty program linked to the Hyatt card), and not only that, Birch provided a valuation for those points: $0.76.
This is what makes their recommendations interesting – not only do they provide the points you could've earned, but they put a cash value points, acknowledging that redeeming World of Hyatt points is more valuable than redeeming points for cash.
Here's the catch, though: the Planet Fitness fee can only be paid via a bank account, not a credit card.
The Local Coffee House Purchase
The next charge was one for $5.34 from the local coffee shop – a slice of cheesecake for the wife. I used my Chase Freedom Unlimited card, which gives me 1.5% back on all purchases. Birch nailed this one, saying I earned $0.07.
This purchase was all light blue, though; about half the bar was red. I clicked on the drop-down menu and was told I should have used my Chase Hyatt Card because I could've gotten $0.18 rewards value out of it:
Birch's Other Features
We believe the Transactions page is the most useful feature of Birch, but it's not the only one. Your account page has Overview, Missed Rewards, Spending, Calendar and Recommendation tabs that add value to the app.
However, it's important to remember that, when it comes to missed rewards, Birch can't tell the difference between transactions that could've been made with a rewards card and transactions that only happen through bank account payments; the Planet Fitness charge is a good example.
We do want to give a shout-out to the Calendar feature because it shows you all the due dates of your subscriptions. This is a nice little feature that not only shows you when you can get rewards, but also helps you keep track of when certain bills are due.
Our Final Thoughts About Birch
Having used the app, we're pretty impressed with its ability to analyze all of your spending and tell you, based on the cards you own, which card would've earned the most valuable rewards.
There is a good and bad side to this. Here's the good. You have an expert telling you how to maximize your spending. This is a huge relief for people who have multiple credit cards but don't want to spend the time planning out their purchases based on which cards have the most rewards.
The downside to the app, on the other hand, is that, for all of its rewards clout, it misses a very crucial part to rewards valuation: points transfers.
Here's how this flaw works and doesn't work. The Hyatt Visa rewards double points on restaurants, airline tickets bought from the airline and on car rentals. It's the superior card on those purchases, which is why Birch recommended we use it at the coffee shop mentioned earlier.
But on everything else, the Chase Freedom Unlimited is the better card. Take groceries, for example.
Yesterday we spent $200 at Walmart. The Chase Freedom Unlimited will earn 350 points on the purchase and those points can be transferred to World of Hyatt.
Birch values World of Hyatt points at $0.018 per point, which means those 350 points are worth $6.30. However, because Birch doesn't take transfer value into account, it would recommend us using the Hyatt Visa, whose rewards value on the same purchase would be $3.60.
This example shows why Birch isn't the best choice for consumers who use the Freedom Unlimited, whose 1.5% rewards rate can actually bring you better value on the majority of your purchases if you intend to transfer the rewards points to a travel partner like Hyatt.
In all, though, we think that Birch is a solid app that provides excellent recommendations to consumers who don't use the Chase Freedom Unlimited. And, considering that there are literally hundreds of credit cards out there, the flaw may only affect a relatively small number of people.