Bissell CrossWave Reviews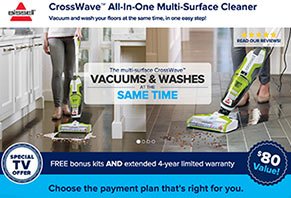 Using a multi-surface brush roller and a matching cleaning formula, the Bissell CrossWave promises to mop your floors and vacuum your area rugs in one device.
About Bissell CrossWave
You want clean, sparkling floors, but that trusty mop of yours is probably teeming with bacteria. And who wants to spread that nastiness all over their house?
On top of this, you need a completely separate vacuum if you want clean, fresh-smelling carpets as well. Or do you?
The Bissell CrossWave is an all-in-one multi-surface cleaner that promises to wash hard surfaces, clean and freshen rug areas, and vacuum in "one easy step."
To accomplish this, we're told the CrossWave uses a dual-action brush roll and a special multi-surface cleaning solution that removes debris, spills, and sticky messes as it goes—without having to sweep or clean beforehand.
And while you're cleaning, the company tells us you simply need to touch a button on the handle to "seamlessly switch from cleaning hard floors to vacuuming and washing your area rugs." All the while its two-tank technology keeps clean and dirty water separated.
After taking a look a Bissell's website, it seems reasonable to believe that the CrossWave might clean better than a sponge mop and bucket, and in less time.
But will it really deliver an "unbelievable" clean? Is it really a groundbreaking cleaning device? These are just two of the important questions we'll help you answer in this review.
How Does the Bissell CrossWave Work?
Intended for use only on sealed hardwood, other sealed surfaces, and area rugs, the Bissell CrossWave weighs about 11 pounds, uses 4.4 amps of power, and features a 25-foot cord (no automatic rewind).
We're told that CrossWave's two-tank technology ensures you're only using fresh, clean water (about 28oz), while the dirty water (up to 14.5oz) remains separated in its own tank.
Inside the clean water tank, you'll also be able to add Bissell's spring breeze scented Multi-Surface Cleaning Formula, which the company claims—when combined with the Dual-Action Multi-Surface Brush Roll—can help deliver an "unbelievable" clean to your sealed hard floors, tile, laminate and area rugs.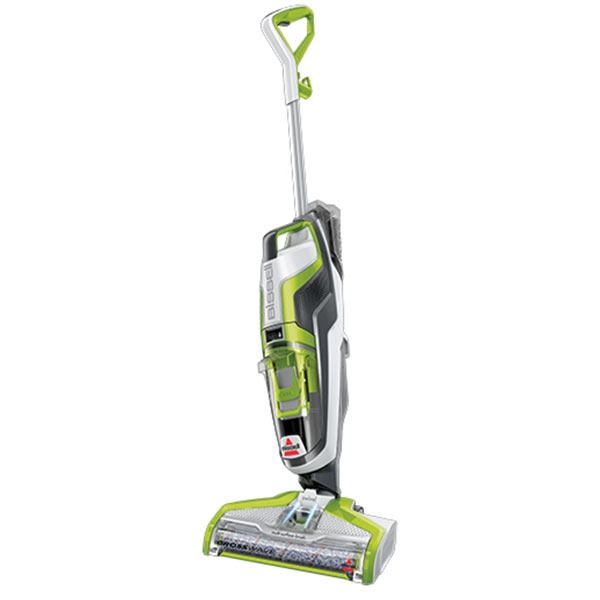 The Bissell CrossWave. Image credit Bissell.com
How? The company tells us the Multi-Surface Brush Roll rotates at 3,000 RPM, with microfibers and nylon bristles that gently scrub and sweep up dust simultaneously.
Then, its powerful suction pulls away cleaning solution as it's working, so you won't have to worry about moisture soaking through the back of your area rugs.
From a control perspective, Bissell notes that the SmartClean Fingertip buttons on its handle allow you to quickly and easily switch between hard floor and area rug cleaning, while the swivel steering helps you maneuver across your floors.
When you're finished, you simply need to place CrossWave in its Easy-Clean storage tray. This allows you to cleanse the roll and chamber by filling with water and turning the machine on.
If necessary, you can access the easy-to-remove brush window and removable brush roll for convenient cleaning as well.
For a quick overview of how the Bissell CrossWave works, take a look at Bissell's short video below:
Finally, Bissell manufactures other rollers and cleaning solutions as well, depending on the surface you're looking to clean with your CrossWave. These include:
Soft Touch Wood Floor Roll for gently cleaning delicate wood floors
Wood Floor Cleaning Formula that "reveals your floor's natural shine"
DirtLifter Area Rug Roll that removes embedded dirt
Area Rug Cleaning Formula that cleans and freshens
How much will you pay for these cleaning capabilities?
How Much Does the Bissell CrossWave Cost?
If purchased directly through Bissell, the CrossWave is priced at five payments of $49.99, or one payment of $249.95, plus free shipping.
This will include the Dual-Action Multi-Surface Brush Roll, Multi-Surface Floor Cleaning Formula, Easy-Clean Storage Tray, and a 2-year limited warranty against defective or malfunctioning parts.
However, Bissell was running a special TV offer at the time of our research that added the Wood Floor Cleaning Kit and Rug Cleaning Kit and increased the warranty to four years.
Additional Bissell CrossWave accessories could be purchased for:
CrossWave Filter: $9.99
MultiSurface Floor Cleaning Formula (32oz): $9.99
Wood Floor Formula: $9.99
Area Rug Formula: $9.99
Brush Rolls: $9.99
Outside of the company, we also found the CrossWave for sale at Amazon, Target, HSN.com, Walmart, Bed Bath & Beyond, and several other third-party retailers.
Based on what we've discussed so far, are customers pleased with their CrossWave's performance?
What Are Customer Reviews Saying About the Bissell CrossWave?
On Bissell's website, there were 23 customer reviews who gave the CrossWave an average rating of 5 stars. There, common compliments referenced quick, effective cleaning; ease of use, and overall quality.
There weren't any complaints listed on Bissell's website, but is this what customers are saying elsewhere?
38 customers provided feedback about the Bissell CrossWave on Amazon, where the floor cleaner had a 4.6-star average rating. Many of the compliments mirrored those found on Bissell's website.
On the other hand, common complaints seemed to reference that:
It takes more time than you think (and might not provide any time savings when compared to more traditional mops),
Its softer rollers don't clean as effectively as some other wet-dry vac models (more about this next), and
It goes through a lot of cleaning formula very quickly.
Finally, on HSN, 5 CrossWave customers provided their feedback, giving the device a lower average rating of 3.6 stars. Both complaints claimed that their CrossWave didn't perform as well as expected—or at least not as well as some of the competition.
Speaking of which, is there anything else out there like the Bissell CrossWave?
Bissell CrossWave vs. the Competition
When it comes to vacuums, you'll find dozens of options that can clean everything from deep pile carpet to laminate flooring.
However, if you're looking to combine 'mop' functionality with traditional vacuuming capabilities, then these options will be reduced by quite a bit.
This is because there are very few models that can address both rugs and sealed floors—and even then, you'll find some big differences in functionality. As a couple quick examples:
At $130, the Hoover FloorMate Deluxe can wash, scrub, and dry your sealed hardwood floors, but it can't clean rugs.
The Bissell Symphony, which costs $200, vacuums and steam mops, but doesn't use a roller to pick up stuck-on dirt and debris.
In fact, outside of these competitors, you don't have many other choices; at least not without bumping up to full-blown commercial models, which will cost you (at minimum) hundreds more and will likely be much heavier and bulkier.
Does this mean that the Bissell CrossWave is right for you?
Is The Bissell CrossWave Your Next All-In-One Vacuum?
As we outline in our Vacuum Cleaner Buyer's Guide, purchasing a vacuum is a highly personal process, based on factors like the type of home you live in, your budget, acceptable noise levels, power needs, available attachments, and so forth.
Based on everything we've learned here, there are a couple things we think are important to point out before leaving the decision up to you:
Will the CrossWave Work With Your Floors?
There seems to be a little confusion as to exactly which floors the CrossWave is suitable for.
On the Bissell website, the company mentions that it can also be used on laminate flooring, although this generally isn't considered a "sealed" floor type. As such, we'd recommend contacting your laminate flooring manufacturer before making any purchases.
Also, are you planning to use the CrossWave on your standard carpets (i.e. not just area rugs)? If so, the company claims it'll do the job, but they allude that other Bissell models might better meet this need:
"You can use it on wall-to-wall carpet, but for the best clean on carpet, we recommend considering BISSELL® Revolution™ Deep Cleaner.

While this product is made to clean area rugs, it is always recommended to check the manufacturer's tag before cleaning area rugs for any specialized cleaning instructions."
What's With Bissell's Cleaning Formulas?
What's not made clear on Bissell's website is the meaningful differences between each of their specialized cleaning surfaces.
In other words, would you be able to use the wood cleaning formula on rugs, and vice versa? If not, would you have to change the tank every time you wanted to clean a different area in your home?
Further, since there's already a dual-purpose cleaner, why would you purchase the wood or rug-specific cleaners in the first place?
Speaking of which, more than one online customer noted that the CrossWave goes through the water in its tank quickly, which means you might be purchasing more refills than expected.
Our Bissell Customer Service Experience
To learn more, we contacted Bissell's customer service department at 800-237-7691 and spoke with a very pleasant representative.
They told us that the company recommends using only Bissell's cleaning formulas in the CrossWave.
In addition, they clarified that the Multisurface formula handles many different surfaces (e.g. wood, tile, stained concrete, etc.), while the wood and area rug formulas are surface-specific.
The representative also let us know that if you're cleaning your area rugs using the Area Rug formula (for example) and wanted to switch to cleaning your wood floors, you'd need to drain the tank, clean the CrossWave, add the Wood formula, and then start cleaning from there.
Let's carry this thought over the next section.
How Convenient Is the Bissell CrossWave?
We talked a little about convenience in the previous section, but to add to the conversation, keep in mind that you'll have to clean the tank, hand wash the filter, and wipe down the area where the dirty water tank sits after each use.
As a result, depending on the size of the area and the number of flooring types you're cleaning, it might take you equally as long to clean your machine as it does to clean all the floors in your home.
What did you think of the Bissell CrossWave? Did it deliver an unparalleled clean? Did it provide a solid value? Give us all the details by writing a review below!
Now Read: Super Simple, Natural, & Cheap Cleaning Solutions Already In Your Kitchen
---
Machine stinks after a couple of months

By Janice M.

,

Chandler, AZ

,

Jun 9, 2020
Verified Reviewer

Overall Experience:

I've had FOUR machines in 18 months! It works at first and I loved it. After the first machine was replaced I was happy. Then it happened again...NO SUCTION! Third machine AGAIN! Now four AGAIN, STAY AWAY!

Pros and Cons:

No "pros" were specified in this review
Customer service
Attitude
Non-caring

Bottom Line: No, I would not recommend this to a friend

---

Disappointed

By George D.

,

Nova Scotia, Canada

,

Nov 22, 2019
Verified Reviewer

Overall Experience:

Not as I expected, not nearly enough power to pick up wet debris. The idea is a good one but a lot more suction is needed. I have to stop several times to clear the vacuum head or things clog up and suction becomes worst. In all, a cheap steam mop, and a vacuum would be cheaper and as quick of a job.

Bottom Line: No, I would not recommend this to a friend

---

Advertisement

---

Love the machine...when it works

By Lydia H.

,

Warminster, PA

,

Oct 4, 2019
Verified Reviewer

Overall Experience:

We loved the way this machine cleaned...yes, it does leave streaks on the tile floor but overall it really serves our needs, until it stops working. We had this happen to both the original and the replacement that they sent us. It is a known issue, so very sorry that they can't fix it to last. Warranty covered the replacement but the replacement was not in warranty when it stopped working.

Bottom Line: No, I would not recommend this to a friend

---

Do not burn your money on this machine!

By Paul W.

,

Michigan

,

Jul 26, 2019
Verified Reviewer

Overall Experience:

It is very pricey and not reliable. I only own this machine for two years. It has broken twice. First was the foot assembly. They can replace parts in there so I have to buy the whole foot assembly which cost me over a hundred dollars. The second time is the water pump which they told me also irreplaceable. I call the Bissell company, the representative offers me 20% off to buy a new machine from them. I am not that stupid to spend more money to buy another machine for the same company who makes unreliable products. When I was in their service center the tech told me that I should never pay over $100 for a vacuum. You are really not getting more benefits than a $30 vacuum. The mechanism between $30 machine and $300 aren't really that much different. I hope anyone reading this review could learn the mistake I have made. Sincerely.

Bottom Line: No, I would not recommend this to a friend

---

Advertisement

---

Thank you...this works!

By Rose B.

,

West Bend, WI

,

Jun 26, 2019
Verified Reviewer

Overall Experience:

I just wanted to say thank you for this awesome product! It works so well and I am so pleased.

I live in a rental and the kitchen galley, hallways, and dining area are all very old and porous linoleum.

I had been cleaning it with a Mr. Clean Magic Erase Mop. It's the only thing that would remove the dirt...until I saw your ad. So I bought the CrossWave and have used it for 6 weeks now and it has cleaned beautifully the first time and every time. We have a very large family of 17 grandchildren and various pets who come to visit and your product has not let me down.

I am 71 years old and I love a clean house but not at the expense of my knees and shoulders.

The only precaution I took was to use distilled water as ours is from a well and we have minerals.

Again...thank you so much.

Bottom Line: Yes, I would recommend this to a friend

---

It's not worth the money!

By Lorena C.

,

Standish, ME

,

Apr 30, 2019
Verified Reviewer

Overall Experience:

I bought this a year ago as a housewarming gift to myself. I have mostly hardwood and I have lots of area rugs. I spent nearly $300 on it and used it 4 times. It's been collecting dust ever since. It mixes the water and solids together to make a horrible mess inside the unit.

I contacted Bissell to explain my problem. They apologized and sent me a replacement part - it was the solution container! Clearly not what my complaint was. I'm writing because they run ads CONSTANTLY claiming it has a "special tank" inside to separate the water waste from the dirt. It doesn't. I've always bought Bissell products. It is also a unit that needs to be cleaned thoroughly after 20 minutes of use. I spent more time cleaning the unit than I did cleaning WITH IT! I've never been so disappointed in a product.

Bottom Line: No, I would not recommend this to a friend

---

Not as easy as it looks

By Tawan S.

,

Kentucky

,

Apr 16, 2019
Verified Reviewer

Overall Experience:

Yes, cleaning with it is absolutely amazing. The cleanup, however, makes up for the hassle. Taking it apart to clean it isn't horrible unless you don't do it right after you use it. Then when you do clean it, you can't use it until the filter air dries, which takes a day. I haven't even had to use it for a big mess yet and it isn't worth the money to me to have that instead if a vacuum and steam mop.

Bottom Line: No, I would not recommend this to a friend

---

Amazing, and yes I found a solution to work

By Cathy G.

,

Florida

,

Mar 16, 2019
Verified Reviewer

Overall Experience:

Note: solution for hard surfaces only! Use the brand product on your area rugs! Excellent machine. Amazed at every time I clean, but the solution gets expensive. For tile, hardwood, and laminate I tried (and it works great) Armstrong multi-surface cleaner. I only add about 3 tablespoons, and at Walmart, a gallon of concentrate is just about $15.00. I wouldn't, WOULD NOT recommend on your area rugs though! Not sure if safe for carpet.

Bottom Line: Yes, I would recommend this to a friend

---

No good with cat litter

By Joan S.

,

Lake Placid, FL

,

Dec 8, 2018
Verified Reviewer

Overall Experience:

Do not purchase this machine if you use clumping cat litter. This machine does not vacuum up the litter, it turns it into mush and spreads it all over your floors. The litter cakes up into the crevices on the bottom of the machine. And I contacted Bissell customer service and they do not refund money. I would have to take it back to the store. I had to redo my entire house after using this with a handheld mop that did a much better job. I was hugely disappointed. I was on the fence about buying this and I should have never bought it.

Bottom Line: No, I would not recommend this to a friend

---

Impressed!

By Gina N.

,

San Diego, CA

,

Oct 5, 2018
Verified Reviewer

Overall Experience:

I just got the cleaner today. I have the newer purple version. I have two chihuahua's, the one with short hair sheds like crazy. Daily I have been Swiffering and mopping. I thought I was doing a good job, until I cleaned with this Bissell! It makes me wonder, what have I been living and walking on all these months?

The water was filthy, and the amount of hair it picked up was quite a surprise. It was disgusting and amazing at the same time! My house smells great, and I can SEE by the dirty water, it's cleaner. I did not purchase this to "save time" as other reviews complain. I purchased it for a better clean.

Yes, you have to clean the unit. I am sure that after a few times, it will only take me a few minutes. A small price to pay for not having to sweep, then mop and the bonus is I can clean the rugs. I have already ordered more of the multi-purpose with Febreze. I'll be searching for something more cost effective, but for the meantime, I'll invest in the genuine product by Bissell.

So far...so good!

Bottom Line: Yes, I would recommend this to a friend

---

Terrible product

By Lauren N.

,

Denver, CO

,

Jul 7, 2018
Verified Reviewer

Overall Experience:

IT leaves dirty water and streaks all over the floor. After using an entire tank of clean water on my house, the vacuum only sucked up maybe 15% in the dirty water tank. I called Bissell, assuming something was wrong with my unit, and they sent me a new one. The new one did the exact same thing. I'm certain all the great reviews you see online are paid and fake or people aren't really looking at the amount of water the unit doesn't suck up.

Bottom Line: No, I would not recommend this to a friend

---