Bissell ProHeat 2x Revolution Reviews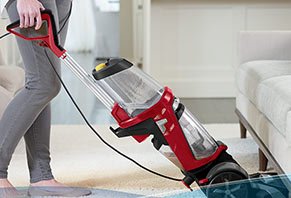 The Bissell Proheat 2X Revolution is a lightweight and powerful carpet cleaner that claims to remove even the toughest pet-related messes and stains.
About Bissell ProHeat 2x Revolution
If you've got kids or pets, Bissell knows that you likely struggle with stubborn stains—and a busy schedule. So, they created the Proheat 2X Revolution to keep your carpets looking brand new, no matter what damage your kids or pets cause.
Bissell claims that this upright carpet cleaner has the power and reliability to beat out heavy rental machines while saving you the time and expense of hiring professional cleaners.
And compared to earlier models, the Bissell Proheat 2X Revolution adds an Express cleaning mode. But before we get too far, let's quickly talk about the brand:
About Bissell
Bissell Homecare, Inc. is based out of Walker, MI and has been in business for nearly 140 years. The company holds an A+ rating with the Better Business Bureau, despite 78 closed complaints within the last three years—most of which appear to relate to poor customer service, defective products, and warranty issues.
Bissell Proheat 2X Revolution Bells & Whistles
Newly added to Bissell's line of carpet cleaners in 2015, the Bissell ProHeat 2X Revolution Carpet Cleaner comes with some standout features:
Suction & Scrub Power
According to Bissell, the Revolution's Dual DirtLifter PowerBrushes work in tandem with state-of-the-art HeatWave Technology, using 12 rows of brushes spread over dual-rotating rollers to eliminate all kinds of grime and make stains a memory.
Cleaning power can be customized, too. Bissell claims that the Deep Clean mode helps you to tackle the most stubborn grime while the Express Clean mode can help you finish up your cleaning chores quickly—even promising that carpets will dry out in approximately one hour.
One delineating factor of this unit is that it can supposedly deal with dirt and stains permanently, not just mask or cover them up with the CleanShot heavy duty spot cleaning system. Bissell claims that this targeted, on-demand solution can help remove toughest set-in stains.
Design & Performance
Bissell claims that their Proheat 2X Revolution's clever design makes it extremely convenient to use over tricky slants and curves.
The Edge Sweep Brushes allow you to clean carpets near baseboards or other areas that the Proheat 2X Revolution's already-low profile can't reach. Since the model weighs in at just under 18 pounds, Bissell claims that you won't get tired maneuvering the Proheat 2X Revolution around your entire home.
Assembly & Use
The Bissell Proheat 2X Revolution comes mostly pre-assembled, so getting it ready for work should be a breeze: 2 parts snap together, and one screw must be inserted to secure the handle.
Pro Tip: Remember that the Proheat 2X Revolution is a carpet cleaner, not a vacuum. Always vacuum before using any carpet cleaner, or your deep cleaner will most likely get clogged.
The Bissell Proheat 2X Revolution has a clean water tank capacity of one-gallon, which translates to less running back and forth to get clear water. There's an additional tank for dirty water, which is supposed to make cleaning up and dumping even more convenient.
Another noteworthy feature is a built-in heater, making it so that any solution you put into the Proheat 2X Revolution stays the same temperature during the entire time it takes you to clean your carpets.
Some models have a "pet" label as the package comes with an extra pet stain tool-head. This tool-head attachment can be purchased separately (retail value approximately $14) if it is not in the package you bought.
One thing that doesn't come standard is an attachment meant for bare floors; you'll have to purchase a separate Bare Floor Tool to use this unit on any non-carpeted areas.
Some additional technical specs for the Bissell Proheat 2X Revolution include:
Corded unit with range of 22 feet
Cleaning path of 11 inches
Hose length of 84 inches
6.8 Amps of power
Bissell Proheat 2X Revolution Pricing & Refund Policy
While the Bissell Symphony is available from at many brick-and-mortar stores, it can also be purchased directly through the manufacturer's website.
If you choose to buy the Bissell Revolution online, you can choose to make four payments of $49.95 (totaling $199.80) or one payment of $199.80. Both purchasing options include free shipping and handling, an extended 5-year limited warranty, and a free Stain Trapper Tool.
You can also choose to upgrade your purchase to one of the following options:
The Revolution Deluxe Upgrade ($249.96) comes with an additional Bissell Professional Deep Cleaning with Febreze Formula, the Deep Clean + Antibacterial Formula (40 oz), and the Pet Stain Pretreat for Carpet & Upholstery (22 oz). This option also includes the Stain Trapper tool and the Extended 5-year Limited Warranty.
The Complete Pet Cleaning Bundle ($34.96) comes with the 2X Professional Pet Urine Eliminator Formula (48 oz), Bissell Pet Oxy Boost Carpet Cleaning Formula Enhancer (16 oz), Bissell Prevent Boost Carpet Cleaning Formula Enhancer (16 oz), and the Pet Stain Pretreat for Carpet & Upholstery (22 oz).
The Ultimate Tool Bundle ($49.96) comes with the 3-n-1 Stair Tool, Sliding Crevice Tool with Brush, and 6" Stair Tool includes Brush.
Each purchase is backed by Bissell's 60-day guarantee, allowing you to return your Proheat 2X Revolution for a full refund. However, remember that when returning your purchase, you'll also be responsible for shipping and handling back to the manufacturer. This could be relatively expensive, considering that it's 15 x 12.5 x 43.5 inches and weighs about 18 pounds. It's also worth hanging on to the product's box for easier return shipping, until you're sure you want to keep your Bissell for good.
On top of this return window, the appliance also comes with a five-year limited warranty against defects in workmanship.
If you need to process a return, simply call Bissell Customer Service at 800-237-7691 or via an online contact form.
What Reviews Are Saying About Bissell's Revolution
The device raked in 4 out of 5-stars from 244 reviews on Lowe's website and 4.5 out of 5-stars from a total of 261 reviewers on Best Buy, with the most positive remarks being that it:
Is easy to use and clean
Extracts deep dirt and debris from carpets
Effectively removes odors and stains (even tough ones)
Features a manageable size and attachment storage bag
On the other hand, common complaints frequently referenced:
Smaller water reservoir and recovery tank than some of the competition, often requiring more trips to the sink
Can't adjust solution level as you clean
Spray trigger didn't work/leaky water tanks, requiring a replacement/refund
Bottom Line on Bissell's Proheat 2X Revolution
The Bissell Proheat 2X Revolution has been described by an overwhelming majority of users as providing exceptional cleaning results, making good on its promises of:
Professional grade cleaning that out cleans the leading carpet cleaning rental
Antibacterial cleaning that kills odor causing bacteria
About 1-hr dry time with powerful surround suction
A lightweight design that's half the weight of the leading carpet cleaning rental
Maneuverable, low-profile foot that is easy to navigate around and under furniture
Variable cleaning mode that allows you to select your level of clean
Potential buyers should note that the best cleaning results were achieved through the Deep Clean Mode rather than the Express Clean Mode, and with pretreating and soaking the worst stains in running them over with deep cleaner. This means that, if you're looking to purchase the Bissell Proheat 2X Revolution for its promise of saving you time, you might be left in the minority who were disappointed.
When comparing the Revolution to similar models, it's worth noting that every brand of carpet cleaner makes claims of busting stains better than the competition: The Shark Sonic, which sells for a similar price, claims to be the greatest carpet and floor cleaning breakthrough in decades—though reviewers say it works better on hardwood than carpet.
Alternatively, the Hoover Platinum Collection Carpet Cleaner offers similar tank capacity, features a built-in heater, and focuses on pet stains. However, it sells for $400.
Bottom line? Since carpet cleaners are made to, well, clean carpets, you'd be hard-pressed to find a brand who doesn't claim that there's is the best at just that. For a purchase you'll be pleased with for years, look beyond promises of stain-busting to maneuverability, ease of use, and warranty.
If you're looking for a device that offers more in-depth periodic cleanings, the Bissell Proheat 2X Revolution appears to really treat deep stains and ensure embedded dirt gets removed. Additionally, the device's light weight and low-profile help make the Revolution a carpet cleaner that owners aren't intimidated to take out and use often, for cleaning jobs big and small.
Just remember that the Bissell is a carpet cleaner, not a vacuum. If you're interested in the latter or a combo vac, check out our "Vacuum Cleaner Buyer's Guide: 3 Steps to Finding the Perfect Vacuum."
---
Poorly made product

By Richard C.

,

Rio Rancho, NM

,

May 12, 2020
Verified Reviewer

Overall Experience:

This is the second time I used the unit. 15 minutes into use of the unit, the brush belt broke.

I visited six stores who, online, stated that they had in stock a replacement belt. Not one store had a replacement belt. Target stores, where I purchased the unit, said: "We don't stock replacement parts, we only sell the units. Try Walmart, they have a bigger inventory than us. We find a lot of things there that we don't carry."

Sooo...everywhere I go and everyone I see anywhere near Bissell products I tell my story. I broke up the unit but keep it in my garage to show neighbors and garage sale customers. I am a retired New Mexico state employee and I am sure other retirees would appreciate my story.

Bottom Line: No, I would not recommend this to a friend

---

My honest opinion.

By Vijay L.

,

Vancouver, British Columbia, Canada

,

May 14, 2019
Verified Reviewer

Overall Experience:

This is a really great machine and price point, the only flaw being the capacity of its dirty water extraction tank. For every gallon of water/cleaning solution, it dispenses the extraction tank fills up around 2.5 times. Which means 3 trips to empty the dirty water tank for every trip to fill with cleaning solution.

If they can get the refill/dispense ratios closer that would be ideal.

Still a great product - 4.5 stars.

Bottom Line: Yes, I would recommend this to a friend

---

Advertisement

---

Overall Experience:

I bought this rug cleaner due to my dog who always has accidents. I was so happy with it for first 6 months. Then I needed replacement parts. I couldn't find the belts anywhere, not even from Bissell themselves. My model was already discontinued. Then the machine started leaking water out of the back. I finally threw it into the garbage can. I called Bissell to complain and they were clueless and said maybe I had overheated it from overuse. I will never buy another Bissell.

Bottom Line: No, I would not recommend this to a friend

---

Excellent cleaner

By Robert Davis

,

Asheville, NC

,

Jan 23, 2018
Verified Reviewer

Overall Experience:

This unit replaced a Hoover that I had replaced. I also had a Hoover previous to that. Both units lasted about five years. The Bissell is so superior to the Hoovers, it's just remarkable. Don't buy a full-size unit if you only need it maybe once a year, use a carpet service.

We have a dog that loves to track in mud in the winter when the grass is not covering the ground (bare spots). This cleaner works great with fresh spots or dried spots. It also freshens the carpet and brings the nap back.

Great, great cleaner.

Bottom Line: Yes, I would recommend this to a friend

---

Advertisement

---

Love It!

By Judy Griggs

,

Columbia, MO

,

Nov 29, 2017
Verified Reviewer

Overall Experience:

I just bought and used my new ProHeat 2x Revolution and loved it. It was very easy to use. Lightweight, easy to fill, and empty. It cleaned my carpet like new. I had some old barf stains from the dog and it completely cleaned them away. Best carpet cleaner I have ever used!

Bottom Line: Yes, I would recommend this to a friend

---

Worst piece of garbage ever

Overall Experience:

The first time I used the machine, I noticed it doesn't clean against the walls. It leaves about a 1/5" strip that isn't clean. This is much larger of an unclean area than any machine I've previously owned. If you mention this to the representatives at the 800-number, they'll tell you that you can use the hose and attachments to clean by the wall. I have a chronic medical condition. It's all I can do to move the furniture out and shampoo the carpet. I'm physically unable to go back on my hands and knees and use the hose tool along the walls. Unable to comprehend what I'm telling them, they again mentioned the hose tools.

The second time I tried to use the machine, the belt immediately broke. I had to order a new belt, go the wrong one, and had to reorder. I hired a professional carpet cleaning service in the meantime.

The third time I tried to use the machine (today), the formula/water will only spray one tiny strip in the center. The rest of the carpet is dry. The tank is positioned correctly, the sprayer bar is fine, and the little holes aren't plugged. But it still won't spray properly.

So in the year I've had the machine, and the three times I've attempted to use it, it only worked one time, and I wasn't impressed with the lack of cleaning near the walls.

The owner's guide says not to return the machine to the store. So I call the 800-number. They say that I need to return it to Lowes even though their papers say not to. I doubt Lowes will help me. I wasn't expecting the machine to be such a piece of garbage, so I didn't keep the box.

The people at the 800-number basically can't help me. They did offer to replace the machine with a new one of the same model. Um, it's garbage, why would I want a new piece of garbage? They said they'd refer my concerns to Corporate and someone will call me.

I'm literally so angry and hurting from moving furniture that I'm in tears. I've never encountered such a horrible piece of crap carpet cleaner in my life.

Bottom Line: No, I would not recommend this to a friend

---

Overall Experience:

I purchased this carpet cleaner after reading several positive reviews. I was able to assemble the unit without any problems. I have a dog who is aging and having an "accident" now and then. So the "pet" aspect was appealing.

The first time I used the machine I noticed that it doesn't clean next to the walls. It leaves about a 1.5 to 2-inch strip that isn't cleaned. This was frustrating. I have a chronic medical condition. Cleaning the carpets takes a lot out of me. Having to go back with the hose attachment to clean next to the walls was not what I had in mind.

I cleaned the carpet (traffic areas only) in our average sized master bedroom. Cleaned the hallway, and the staircase.

The second time I used the machine, the belt broke within five minutes of operation. So, now I have to order a new belt.

The machines I've used in the past did a better job of cleaning next to the walls. And I've never had a belt break on a carpet cleaner. So after one use, this was very frustrating. I'll be calling Bissell to let them know I'm displeased and request a refund.

Bottom Line: No, I would not recommend this to a friend

---

Terrible experience

By Paul Campano

,

West Haven, CT

,

Jun 16, 2017
Verified Reviewer

Overall Experience:

I bought this product at Walmart in June of 2016. I used it once to clean two rooms in my apartment. A year later, I took it out again, but the dirty water tank would not fill with water. I could not return the rug cleaner to Walmart because I bought it a year ago. Bissell told me to take the unit to an area electrical repair shop since it is under warranty for three years.

I cannot recommend this product to anyone.

Bottom Line: No, I would not recommend this to a friend

---