BitsBox Reviews
Claimed This company has claimed this profile, is getting alerted on any new customer reviews entering this page, and may engage in dialogue with its customers to address their matters.

Companies cannot pay money or provide goods in order to remove or alter customer reviews.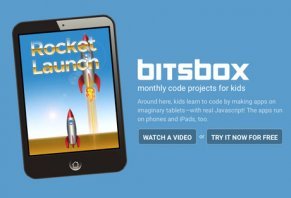 About BitsBox
Founded by Scott Lininger and Aidan Chopra, BitsBox is a subscription service that claims to deliver monthly coding projects for kids that teaches them how to build real apps for real devices. Centered around the concepts of free play, imitation, and repetition, BitsBox claims to introduce the JavaScript coding language to children in small chunks, and to keep them interested long enough to learn. In fact, BitsBox claims their materials are so engaging that your child won't even realize they're learning.
According to BitsBox, their subscription service works as follows:
After your BitsBox is delivered, which will revolve around a different theme each month, your child will browse through the included materials (a toy, play accessories, and a 16 to 20-page illustrated project book), and then choose a project they'd like to complete.
Next, your child will visit BitsBox.com and type in the code for the app they're interested in. As they're adding each line of simple code, the BitsBox website will run the app on a "virtual tablet" on your computer, so your child can experience what each line of code is doing, and how it can be changed to produce different results.
Finally, once they're finished, your child can scan the QR code in the upper right-hand portion of your computer screen, which will run the app on a real tablet. At that point, your child can enjoy all of the app's functionality. And if they change the coding on the computer, it will automatically update on the phone or tablet as well.
According to BitsBox, they approach coding like learning any other language; that is, the earlier you start, the easier it will be. In order to accomplish this, the company claims to feature a huge number of projects across all skill levels, so your child will never get bored and will look forward to getting their box in the mail each month. As such, BitsBox claims to be "the friendliest way for kids to learn to become programmers," regardless of what they want to be when they grow up.
In the very near future, understanding programming languages will be an essential skill that your child will need to master in order to compete in the global marketplace. But can BitsBox provide your child with a solid programming foundation? Consider the following:
What is JavaScript?
JavaScript "is a dynamic computer programming language. It is most commonly used as part of web browsers, whose implementations allow client-side scripts to interact with the user, control the browser, communicate asynchronously, and alter the document content that is displayed." For us non-programmers, JavaScript is basically a highly versatile coding language that can be used for everything from websites to full-on software, including all of the projects found through BitsBox.
Compared to a lot of other programming languages though, JavaScript's commands are fairly straightforward. For example, if you want to change screen color, you would write the following command (taken directly from the BitsBox website):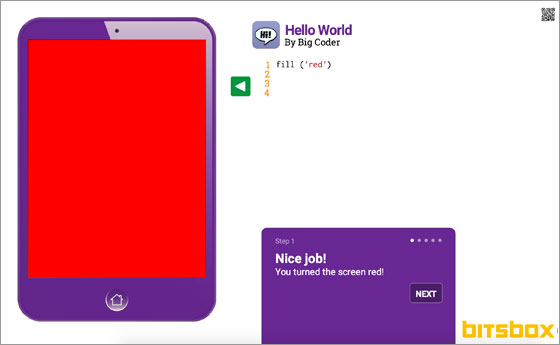 Then, if you wanted to write "hello world" on the screen, you would enter: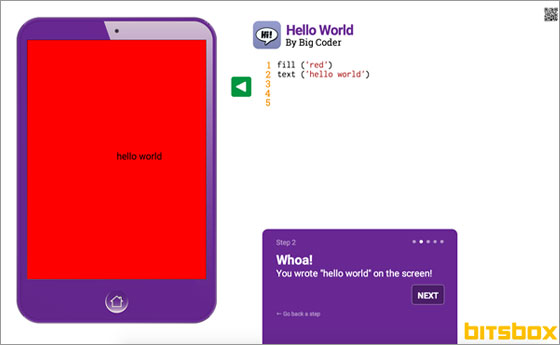 In short, many of JavaScript's commands do exactly what they say, which can provide you child with easy access into the world of programming.
Is BitsBox Right for Your Child?
Regardless of how straightforward JavaScript may be, can your child learn to code using it?
According to BitsBox, their lessons can be used as soon as your child can read and write, although the promotional video on the company's website indicates that it might be ideal for children ages 7 to 11.
The good news is that BitsBox offers several app-building exercises for free on their website, which can be a good way to see if your child is engaged before committing to a purchase. In order to give it a whirl, click on the "Try it Now For Free" button on the BitsBox home page.
Which Devices Does BitsBox Support?
The BitsBox website only indicates that their apps are supported by "phones and iPads," although there isn't any information provided about which specific phones or iPad versions this includes.
Are There Other Options for Teaching Kids to Code?
According to GreatSchools, "computer programming languages used in developing web pages and mobile apps may be the most important second, third, or fourth language your child will ever learn." And because of this importance, a slew of companies have started offering different methods of helping kids to learn programming languages, such as the toy-based approach from Wonder Workshop and Kinderlab, the "block programming" offered by companies like Scratch, and an app-based approach from companies like BitsBox.
In fact, a quick online search for "kids programming" will reveal dozens of products and services that promise to help your child learn the art and science of programming. And just like any other educational tool, some of these may work better for your child based on their individual learning style. As such, you'll definitely want to consider all your options before making a decision.
Startups Like BitsBox Often Don't Have Many Consumers Reviews
Based in Boulder, CO, BitsBox is a brand new company and didn't have any online customer reviews available at the time of our research (1/29/15). In fact, the company's Kickstarter project was just funded on January 22, 2015, after raising more than $250K based on an original goal of just $45K.
Because of this, BitsBox subscriptions won't start shipping until April 2015, so customers haven't had a chance yet to test out their service and materials.
However, BitsBox has gained a ton of media attention during their short time in business, having been featured in TechCrunch, NBC News, Forbes, CNNMoney, and BuiltInColorado, who dubbed BitsBox the "Birchbox for coding." Granted, since the company hasn't yet shipped any of their materials, these were all preliminary reviews and didn't provide much more than surface-level insight.
BitsBox Pricing & Refund Policy
BitsBox subscriptions are priced as follows:
$40 per month (on a month-to-month basis)
$35 per month if you pay for 3 months in advance
$30 per month if you pay for a year in advance
$20 for a monthly downloadable PDF version
Keep in mind that regardless of the plan you choose, your subscription will auto-renew, so you may need to set a reminder to reevaluate whether or not it's worthwhile after your first box or two.
There wasn't a refund policy or a phone number listed on the BitsBox website during our review, although most discovery commerce and subscription services will only refund your most recent shipment, so this may also be the case with BitsBox.
Will BitsBox Help Your Child Learn to Program?
Chopping to the Point: Overall, although it's a very new company, the step-by-step approach used by BitsBox seems to be an effective method of helping your child learn to code. In fact, even as adults, we found the "try it out" feature on the BitsBox website to be fun and entertaining, and we definitely learned a little bit of coding in the process.
On the other hand, the materials contained in monthly BitsBoxes are claimed to cover a range of skill levels, so there will almost certainly be some content that you child won't be able to use (or that they'll find uninteresting). On top of this, you won't be able to customize the content based on your child's skill level, either.
With all of this in mind, if your child enjoys the "try it out" feature and they can wait until April 2015, BitsBox might score a home run on the fun scale, and teach your child to program in the process.
Amazing software and materials

By Anthony D

,

Washington, DC

,

Mar 26, 2017
Verified Reviewer

Quick background. I get paid a ransom amount to code for a living. But it was a really hard and delayed journey if this service had existed when I was a kid. I'd probably be retired on a beach somewhere, teaching underprivileged kids for fun or charity.

This software and materials are amazing. I have a 9 and 11-year-old. They like playing games like Wormax.io. I was able to cherry pick various parts of their apps and tell them that this lesson teaches them how to do collision detection. This lesson teaches us how to make the worm/snake slither, etc.

Granted I have the Ph.D. in experience, but teaching is different a skill, and I'd encourage anyone to stick with it, do it with them, learn with them and try to make something with the lessons learned.

I wish computer programming was a core subject in schools, but this is a fraction of the price it would cost to do the afterschool program, and you get to do it with them, whether in person or remotely.

Bottom Line: Yes, I would recommend this to a friend

---

Teach the kids in your life to LOVE to code

I got one of these for my eight-year-old nephew, and within a few days, I got from him a link to an app he built on his own! This is the best way to teach your kids to LOVE to code.

Bottom Line: Yes, I would recommend this to a friend

---

Advertisement

---

Exciting Introduction to Coding

By Susan Carney

,

Central New York

,

Mar 27, 2016
Verified Reviewer

I'm a second grade teacher and my students thoroughly enjoy using Bitsbox. They love exploring new ways to change or update their creations. We have a sample for now and the books we've seen are gorgeous. If given the choice Bitsbox is a go to tech choice at free time.

Get it!

Bottom Line: Yes, I would recommend this to a friend

---

I can't contact the company and when I do, they don't listen.

By Sue

,

Levittown, NY

,

Dec 30, 2015

I cancelled my order and they are still sending me boxes even though I have a cancelation number. They are hard to contact and slow to respond. When I purchased a three month subscription it did not say it would renew automatically.

Bottom Line: No, I would not recommend this to a friend

---

Advertisement

---

Bitsbox has predatory practices

I just wanted everyone to know that Bitsbox informed me today that they decided to renew a subscription that I did not have. I purchased 3 months of Bitsbox for my nephew's birthday. One payment. End of story. There were options to start a subscription with them that I did not want, which is why I purchased just the 3 months. Unfortunately, they renewed that 3 month purchase without letting me know they were doing so. I was very excited about the company as it is a local start up in my area. It saddens me to see they have decided to enlist the predatory practices of large corporations that do not care about their customers. The product is cool, but the soul of the company clearly is not. If you are on the fence about purchasing this, just know that they will try to steal your money through these predatory automatic renewal practices.

Bottom Line: No, I would not recommend this to a friend

---