BleedStop Reviews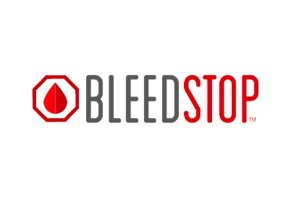 Manufactured by CoAg Medical, BleedStop's hemostatic powder is formulated from amylopectin, a plant-based polysaccharide that can quickly stop bleeding.
What Is BleedStop?
BleedStop is a clinically proven, non-stinging organic powder that promises to quickly and easily stop bleeding from everyday cuts and scrapes—and even major wound—in seconds.
It works for people on blood thinners, the manufacturer advertises, which is one reason it's used by doctors and in emergency rooms across the country. Apply the FDA-cleared, U.S.A.-made powder to any cut or wound, administer pressure, and watch it seal and the bleeding stop.
As Seen On TV personality Mike Lindell makes a big deal about BleedStop, claiming on the website it's "one of the best products I've ever seen."
But with so many competitors in the marketplace, how does it compare, and how can you decide which option will deliver the most value for your money?
Let's start from the ground up by taking a look at how BleedStop does its job.
How Do BleedStop's Ingredients Work?
CoAg Medical, the company who makes BleedStop, doesn't include an ingredients list on the BleedStop website, nor a label on its packaging. To learn more, we called customer support and were only told it contains a "complex carbohydrate, a plant-based molecule that's modified to cause coagulation."
With this said, a disclaimer at the bottom of BleedStop's promotional video indicates it contains amylopectin, a type of polysaccharide (carbohydrate) that constitutes one of the two main components found in starch.
In their Overview of Agents Used for Emergency Hemostasis, researchers explain this class of hemostatic agents—known as "factor concentrators"—"work through fast absorption of the water content of blood; [then,] concentration of its cellular and protein components results in clot formation."
In layman's terms, after mixing with blood, amylopectin quickly forms into a gel that adheres to surrounding tissues with a strong bond that acts as a scab, stopping the flow of blood from a wound, without any toxic effects to the individual. Cumulatively, this process is known as emergency hemostasis.
As we'll see in a moment, though, amylopectin isn't the only ingredient that can act as an over-the-counter hemostatic agent. Let's briefly talk about price, first.
How Much Does BleedStop Cost and Where Can You Buy?
If purchased directly from BleedStop.com, Minnesota-based CoAg Medical offered at the time of publishing a promotional code that delivers four 60-gram packs, four 20-gram packs, and two boxes of three 15-gram packs to your door for $39.98. This price includes free shipping.
This quantity is also available on Amazon at the same price, but it also comes with an additional $7.95 shipping charge.
Whether purchased direct or via Amazon, according to BleedStop's terms, "no refunds will be given on any purchases. Exchanges will be made for any products damaged in transit." You can reach customer service at 800-299-9358 or support@bleedstop.com.
BleedStop vs. QuikClot and Other Hemostatic Products
If you're in the market for a hemostatic product, BleedStop is up against some reasonably entrenched competitors that are already popular among consumers.
Furthermore, some are available in formats other than powders, while they all use different active ingredients than the powder in question.
Here are some of the most popular competitors on Amazon, as well as how their core criteria compare:
| | | | | |
| --- | --- | --- | --- | --- |
| Brand | Price | Format | Ingredients | Average Amazon Rating |
| BleedStop | $39.98 (4 x 60g packs, 4 x 20g packs, 2 x boxes of 15g 3-packs) | Powder | Amylopectin, a plant-based polysaccharide (carbohydrate) | None |
| Celox Traumatic Wound First Aid Packets | $13.50 (6 packets) | Hemostatic Granules | Chitosan, a sugar derived from shellfish exoskeletons | 4.6 stars, 345 reviews |
| QuikClot | $19.99 (2 strips) | Gauze Strips | Kaolin, a natural or manmade clay mineral | 4.4 stars, 300 reviews |
| WoundSeal | $7.95 (4 single-use packets) | Powder, Liquid | Hydrophilic Polymer (water resistant), Potassium Ferrate (an oxidizing salt) | 4.5 stars, 489 reviews |
| Curad Bloodstop Hemostatic Gauze | $13.12 (10 pads) | Hemostatic Gauze | Natural Fiber Cellulose | 4.3 stars, 292 reviews |
| Adventure Medical Kits Clotting Sponge | $17.15 | Sponge | Zeolite, a microporous volcanic mineral | 4.7 stars, 412 reviews |
What's the best method that you can use to choose an ideal option?
If the price is your top factor, we can see that WoundSeal comes with the lowest cost, but you'll also only receive four small packets of powder with your order. If you're looking to try a hemostatic product without paying a lot of money upfront, though, it could represent a viable option.
At the other end of the spectrum is BleedStop's $39.98 price tag, although it appears you'll receive the most powder for your money among these close competitors.
Like BleedStop, WoundSeal is available as a powder, as well as in liquid form. It's also the only option advertised as safe to leave in place until your wound heals.
Along these same lines, Celox is the only option in our table that's available as hemostatic granules, QuikClot and Bloodstop are the only gauzes, and AMK's the only sponge. Which one works best may depend on your application preferences.
Formulation-wise, we didn't encounter extensive clinical evidence that any one of these ingredients or application methods is better than the others for quickly clotting blood and sealing wounds. Since chitosan is derived from shellfish, though, you'll want to consult with your doctor beforehand if you have a related allergy.
Pulling all of these details together, BleedStop comes with the steepest barrier to entry from a cost perspective, but also the largest quantity of hemostatic powder. It's available in a variety of formats, so you can conveniently keep larger packages at home, and smaller versions in your car for on-the-go emergencies, if you choose.
However, BleedStop is also a newer product and doesn't currently have any online feedback. Nor does the company behind the product, CoAg Medical.
Comparatively, other popular options come with almost wholly positive Amazon reviews, with average ratings falling between 4.3 and 4.7 stars, among thousands of combined customers.
Where does all of this leave you when it comes to your future with BleedStop?
Our Final Thoughts: Should You Place an Order for BleedStop?
Although you'll receive a greater quantity, it seems like competing hemostatic powders may be a better fit than BleedStop considering its meaningfully higher price and lack of direct customer feedback.
This might especially be the case if you're looking to try out different options before making a full-size—and full price—commitment.
Furthermore, the manufacturer doesn't allow refunds unless your product is damaged or defective, so you own it as soon as you hand over your credit card number.
Granted, none of the competing hemostatic products we came across during our research used the same amylopectin polysaccharide as BleedStop, although we didn't encounter any clinical comparisons indicating it works better than ingredients found in other products.
>> Continue reading: The Importance of Self-Care for Your Overall Wellbeing
Scam

By Mary Q.

,

Pittsburgh, PA

,

Dec 13, 2019
Verified Reviewer

My sister helped my mother order this. My mother, who is 89 years old, is on anti-coagulants. I wish my mother would quit ordering crap. Anyway, they keep sending her boxes of this junk and she has never used it. I attempted to contact customer service and they said she signed up for monthly shipments. They did not care that she is 89 and can't hear unless you scream. I noticed that the My Pillow guy was on this. He is a scammer who has an F rating with the BBB. I understand his pillows are tanking, so he has now found a new way to steal money from the elderly and disabled.

Bottom Line: No, I would not recommend this to a friend

---

Saved my thumb

By Garrett H.

,

California

,

Oct 22, 2019
Verified Reviewer

I was using a boxcutter as a pry tool (stupid, I know, but hindsight is 20/20) when my hand slipped and sliced my thumb open. Blood was gushing down my hand but when I poured BleedStop on it the bleeding stopped almost immediately. When I moved my thumb it would start the flow again but more powder would stop it. By the time I got to a hospital the bleeding had stopped completely, even when a nurse removed the bandages I put on. I'm sure I would have lost much more blood if I didn't have any of this product on hand.

Bottom Line: Yes, I would recommend this to a friend

---

Advertisement

---

It's all about Customer Service

By Ed R.

,

Ohio

,

Aug 9, 2019
Verified Reviewer

I am fortunate to NOT have had to use the product yet and hope that it continues that way. My issue is with the company and their customer support. I attempted to purchase their product through their online website but issues with the site negated that. I then get three separate packages in the mail with the product without prior notification or authorization. Checked my bank statement and was charged for all three. After over one month of attempting to clear up the charges and get my money back, they kept giving me the runaround with redundant questions and "I'll talk to my manager" emails. They finally wore me down and I gave up trying to get my money back. If I knew how to contact anyone else or the BBB to flag them I would do so.

Bottom Line: No, I would not recommend this to a friend

---