Blend Reviews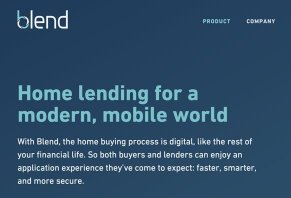 Using proprietary, end-to-end technology, Blend claims to provide an end-to-end solution that brings together mortgage lenders, loan officers, and consumers.
About Blend
Compared to the typically stressful, inefficient process involved in buying a home, Blend's technology is used by mortgage lenders to help deliver a simple, transparent, and secure experience for everyone involved.
In fact, the company claims that customers only need to answer a few questions, digitally connect their finances, and then review, sign, and submit their application.
But, exactly how does Blend accomplish this? If you're a mortgage lender, is their technology worth implementing? And if you're looking for a home loan, should you focus only on lenders that utilize it?
Over the course of the next few minutes, we'll discuss what we learned during our research.
What Problem Is Blend Trying to Solve?
According to recent numbers from Realtor.com, the average time between applying for a mortgage and actually obtaining the loan is somewhere around 30 days. However, if the process doesn't go perfectly (due to a low credit score, overwhelming debt, etc.), this can easily balloon to 45 to 60 days.
And even in a best-case scenario—as anyone who's ever applied for a mortgage will likely attest—the process can involve a lot of back-and-forths while obtaining the necessary paperwork, which can be time-consuming and lead to frustration.
But with the recent boom in financial technology (fintech), which Statista reports has now reached a $10 billion industry, several companies have started upending the status quo. In the next section, we'll take a closer look at how Blend aims to do just this.
How Does Blend Work? Our Live Demo Experience
We had the opportunity to attend a live online demonstration of the Blend platform, hosted by a company representative, who emphasized that it is still very much a consumer-oriented product, serving borrowers, lenders, and loan officers (LO).
After all, their technology can be white-labeled, so that lenders can "help alleviate pain on multiple fronts" and create a seamless experience between themselves and their clients. In fact, we were told that Blend already works with companies that control, in total, roughly 25 percent of the lending market.
During the demo, we learned that consumers only need to enter an email address and password in order to create an application hub on their system. From there, the first few screens orient the potential borrower and remind them who their loan officer is, while providing an intuitive, easy-to-use digital experience.
After all, the Blend rep emphasized that while 56 percent of loan applications are completed after business hours, 60 percent of applicants want to speak with someone during the process. And with LOs and other borrower-facing team members always listed, they'll know exactly how to accomplish this.
Speaking of information, many of the screens within Blend's guided workflow system provide contextual help (i.e., based on the current subject matter) to assist borrowers during the process—often at 'pain points' that have historically led to abandoning an application.
But if borrowers do reach out, team members can access a co-pilot feature that allows them to pull up a real-time mirror of the borrower's screen, giving loan officers the ability to enter information on behalf of the borrower, and offer any troubleshooting assistance.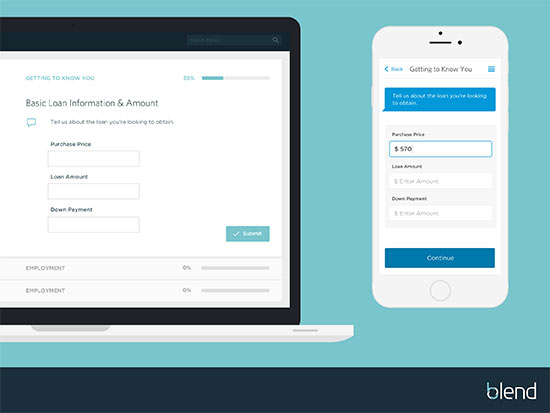 Using Blend's co-piloting capabilities, loan officers can help customers complete their applications, while adding an intuitive and easy-to-use touch to what has historically been seen as a repetitive and time-consuming process. Image credit: Blend
When entering financial details, Blend connects directly with the four largest payroll providers in U.S., allowing much of the required account information and asset statements to be automatically imported in the background (borrowers retain the full ability to choose a manual verification method if preferred).
Then, these documents are attached to the application and can be viewed under the borrower's Documents link, which will follow them throughout the process. These include:
The application (and all information entered)
E-consent
Credit consent
Surveys (which are sent directly to the product and engineering team)
Needs list (more about this in a second)
HMDA questionnaire
Blend also natively integrates with DocuSign, and is the only platform that supports multiple co-borrowers.
According to the representative, Blend will soon deploy technology that automatically identifies large deposits and potential underwriting concerns, and prompts the borrower to enter relevant notes.
To remove potential friction, the system collects data upfront to create a needs list in the background, and then request paperwork necessary to complete the application.
In fact, removing friction for everyone involved was a recurring theme throughout the presentation we attended. And by implementing all of this friction-free technology, Blend claims they can generate a pre-qualification letter to a borrower within 30 minutes.
Is There Any Difference With Blend's Mobile App?
Furthermore, the mobile platform adds even more functionality, since borrowers can take pictures of any necessary documents, while LOs can send email invites, capture a new leads, and pull credit directly from their phone to determine creditworthiness (which must be approved by the borrower, of course).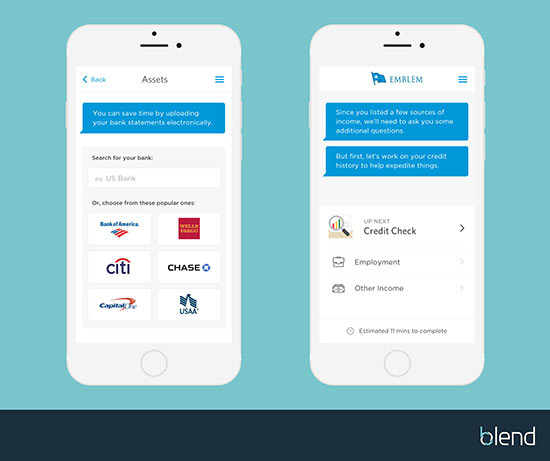 Blend's app is an extension of their desktop version, and includes all of the same functionality, including importing documents (even pictures). Image credit: Blend
How Much Does Blend Cost?
We reached out to the company about their pricing or fee structure, and received a quick response from a representative:
"In terms of cost, the company is paid on a per-loan basis, so we are completely aligned with the success of our customers."
If you have additional questions, their support team can be reached at (650) 550-4810.
What Do We Know About the Company Behind Blend?
Based in San Francisco, CA, Blend Labs, Inc. was founded in 2012 by CEO Nima Ghamsari, CFO Erin James Collard, and CTO Eugene Marinelli.
Over the past five years, according to a July 2017 TechCrunch article, the company has helped decrease the time it takes to close a mortgage by seven to 10 days. And in a more recent update, they're reported to have "tripled the number of financial institutions that use [their] technology, and in 2017 alone [they've] seen more than $30 billion in mortgage applications."
Previously, Nima worked as a Senior Fellow and Advisor to the CEO for Palantir, while Eugene was a software engineer at the same company. Erin previously worked as an advisor for Diamond Inc., Kalo, and Perpetua Labs.
Are There Other Companies Like Blend Lending?
If you're a mortgage company in the market for lending software, or a loan officer looking for an app that can help streamline your productivity, there are many different—perhaps hundreds of—choices available. Top search results included Mortgage Dashboard, Mortgage Builder, and Floify.
And if you're a consumer, there are several online-only lenders that utilize algorithm-based underwriting and are integrated with other systems to quickly pull data and documents. Some of the more popular options include Rocket Mortgage and Guaranteed Rate, to name just a few.
However, if you're looking for an end-to-end solution that encompasses most of these features, the only product we encountered during our research was Blend. We also had an opportunity to speak with a company representative, who explained the uniqueness of their business model this way:
"Blend modernizes the mortgage process with data science, automation, and sleek design — powering the digital mortgage, while leaving the lending to those who know best.

The company is partnered with numerous top-10 and -20 mortgage lenders (Wells Fargo, US Bank, Movement Mortgage, to name a few), to provide lenders with the tools they need to verify borrower information efficiently, ensuring loan quality while shortening application times.
They concluded by emphasizing that Blend also "significantly relieves homebuyer anxiety, giving borrowers a painless, digital application that shines a light on the traditionally opaque process."
Does this necessarily mean they're the right choice?
Our Final Thoughts About Blend
Whether you're providing a loan or requesting one, the bottom line is that time is money. So, by spending less time and effort applying for a mortgage as a consumer—or processing an application as a lender—everyone stands to potentially experience a more valuable transaction.
Can Blend help everyone involved accomplish this? Based on what we learned from their website, industry publications like TechCrunch, and a live online demonstration from a representative, it certainly seems feasible. And based on how quickly we received a response from the company, Blend certainly appears to be focused on informing their prospective clients.