Blink HD Home Monitor Reviews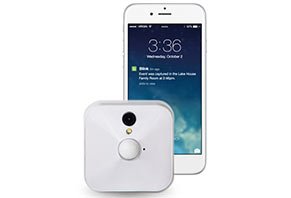 The Blink HD Home Monitoring System uses high-quality cameras, Wi-Fi connectivity, and remote storage to help you keep an eye on your home while you're away.
About Blink HD Home Monitor
Need an affordable way to keep an eye on your home while you're away? Enter the Blink HD Home Monitor.
When paired with their Sync Module, each Blink unit gives you "instant home insight" by transmitting high-definition video clips directly to your iOS or Android smartphone as soon as motion is detected, or even if it gets too hot or cold! You can also peek in on your home using Blink's Live View mode for anytime peace of mind.
And best of all, the Blink Home Monitoring system is completely wireless, so you can set it up in minutes and customize it to fit your needs:
First, plug your Sync Module into any wall outlet.
Next, launch the Blink app from your smartphone and run the Setup Wizard.
Place your Blink units wherever you like. Mount them on the wall or ceiling, or place them all around your house on bookshelves, tabletops, or any other level surface. Change as often as you like for the perfect setup!
Over the past couple of years, the home automation industry has grown by leaps and bounds. And as this technology evolves, it becomes increasingly powerful and less expensive, leading to ultra-affordable, easy-to-use systems like Blink.
But just because it's inexpensive and hassle-free, does this mean you should invest in a Blink HD Home Monitoring system? And are there some important things to consider before you do? We'll cover all of that in this review.
To begin, let's take an in-depth look at the Blink system and its features.
The Blink System: Easy Is the Name Of the Game
At its most basic, the Blink system consists of three main parts:
The wireless Blink unit, which is powered by two AA Lithium batteries (these should last more than a year) and captures 720p HD video. In addition to the camera, each unit also houses a passive infrared sensor for motion detection, as well as an LED illuminator. This, coupled with the company's "advanced low-light performance" proprietary technology, means that you'll be able to see what's going on, regardless of the time of day (or night).
The Sync Module, which uses your Wi-Fi signal to transmit information from each video unit to your smartphone. You'll also find a temperature sensor and a microphone that allows you to hear what's going on at home.
Blink's iOS and Android apps, which is where you'll receive alerts, view video clips, and watch live feeds from each camera. These apps can be downloaded to as many smartphones and tablet devices as you like.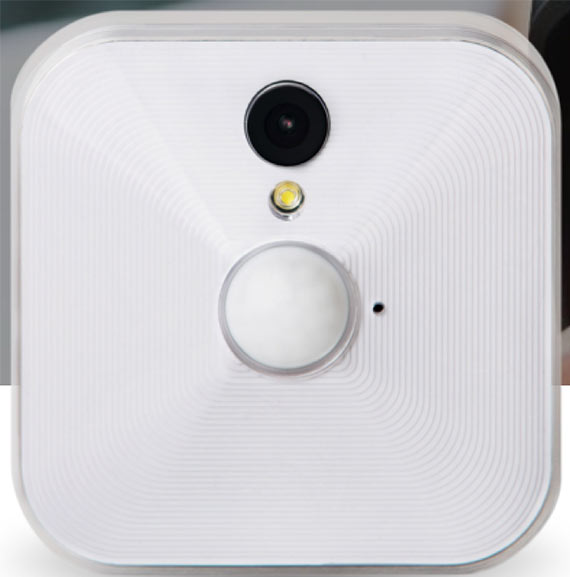 ​The Blink HD video module, with its HD camera, PIR sensor, and LED illuminator.
Using these components, you can customize the Blink Home Monitoring system to meet your needs. Because they're wireless, each video unit can be placed on any level surface in your home, and even mounted in corners, on walls, or on the ceiling using non-permanent adhesive.
If motion is detected or the temperature gets too hot or cold (you'll be able to adjust sensor sensitivity), Blink's Instant On feature is programmed to record a 5-second video clip "within a fraction of a second" (which can be increased to 10 seconds if necessary) and then send you a push alert, with the video attached. Using the built-in microphone, each clip will feature full audio, as will any live streaming views.
Where does all this video go? For now (we'll talk about upcoming features in a second), it'll be stored on the company's secure servers, which can keep up to 7,200 seconds of video (or roughly 1,440 five-second events). If this limit is exceeded, your oldest clips will be overwritten by any new ones.
The Blink Home Monitoring System will also send you a notification if your home's Wi-Fi connection is lost or if it's time to change batteries. Worried about privacy? According to the company, Blink's cameras feature a "hardware-based LED indicator and optional audio alert let you know when Blink is recording, or in Live View mode, so you'll never be caught off guard."
How big can your Blink system get? According to the company's FAQ, you can add up to 10 devices, with a "mix of cameras and alarms." But we didn't discuss any alarms yet, so what is the company talking about?
Upcoming Features For the Blink HD Home Monitoring System
As of the time of this writing, the Blink system didn't have any alarm capabilities, although the company claims you'll be able to do this soon using their standalone battery-powered unit, which will feature a 105-decibel siren that can be customized for length and frequency.
This alarm will also feature an automatic arming and disarming function that can be handled remotely through the app. You'll even be able to schedule arming/disarming in advance, "or create location-based rules to define when the system is active."
Pro tip: These "location-based rules" will be implemented through something known as IFTTT functionality. In a nutshell, this means you'll be able to program your Blink system to perform certain actions (after an alarm is triggered, for example).
Finally, remember how we talked about all video being stored on Blink's servers? Well, they eventually plan to use the Sync Module's on-board USB port to allow you to store video clips directly. You'll even be able to pull clips from Blink's servers and save them in your Module. When? As of now, sometime during Q2 of 2016.
Things You Should Keep In Mind About the Blink Monitoring System
Taking everything we've talked about so far together, we think there are some important considerations to keep in mind about the Blink system.
Blink's Camera Adjustability
First, although Blink's camera units are small, wireless, and can be placed just about anywhere, they're not able to pan, tilt, or swivel (obviously you can move the entire unit, but the cameras themselves do not move). So, if one of your cameras accidentally gets bumped (when sitting on a bookshelf, for example), you won't be able to adjust it remotely from the app.
How Big Can Your Blink System Get?
Next, we already mentioned that each Sync Module can support up to 10 Blink devices, such as cameras and alarms (once available). But what happens if you need more than this? It appears you're out of luck.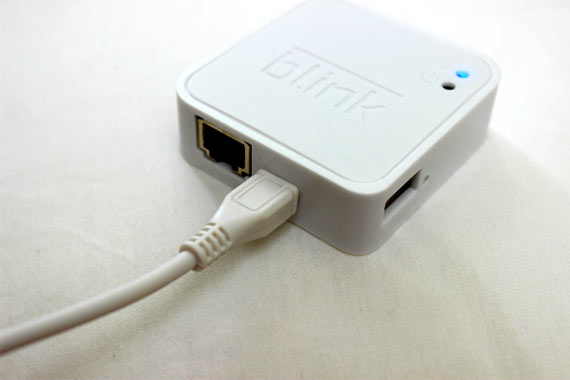 Blink's Sync Module, which acts as a hub for the entire system. Image credit: SecurityGem.com
Sure, you could probably purchase another Sync Module, but then this begs the question: Can you connect to more than one module from a single app? Or, would you have to register one hub on one smartphone or tablet, and a second hub on another?
Blink Won't Talk To Your Other Devices
Speaking of expansion, although it might be possible in the future, your Blink system won't be able to communicate with any of your other home automation products.
So, although it features IFTTT functionality, you won't be able to program a light to automatically turn on after a motion sensor is triggered (for example), or remotely turn on an appliance through the app. In our opinion, this is perhaps one of the biggest downfalls related to the Blink system, and might be a stumbling block for intermediate to advanced home automation aficionados (we'll come back to this in the final section).
The good news is that if you're a programmer, you might be able to create some of this functionality on your own through Blink's API.
You Might Have On-Board Video Storage, But…
Lastly, although the upcoming ability to store video on your Sync Module certainly sounds appealing, it also means that you'd have to go around your house and manually download video from each camera in your system. Needless to say, this could be cumbersome and time-consuming.
With these considerations out of the way, what'll you pay for a Blink HD Home Monitoring system?
Will Blink's Price Make You Do a Double Take?
How much you pay for your Blink system depends on how many cameras you'd like (each system comes with one Sync Module):
1 Camera System: $79
2 Camera System: $139
3 Camera System: $189
5 Camera System: $289
Individual Blink cameras can also be purchased for $60 a piece.
As of this writing, Blink was set to start shipping the week of January 25th, 2016. Although anyone who purchased a system during their Kickstarter crowdfunding campaign (one of the top technology campaigns for 2014, raising more than $1 million) has probably already received theirs.
Each Sync Module will include 1 USB cable and 1 power adapter, while each camera will include 2 AA lithium batteries and one mounting kit (mounting bracket and double-sided adhesive).
After your initial purchase, your Blink system won't require any contracts or monthly fees, and comes with a 1-year limited warranty.
Given Blink's features and fairly low price (at least compared to the competition), what's everyone saying?
What's Everyone Saying About the Blink Home Monitoring System?
As we mentioned above, the Blink system hadn't been released to the general public yet, although we came across multiple reviews from customers who were part of the Kickstarter campaign.
ASecureCam.com's Blink Review
After using theirs for over a month, ASecureCam.com provided a fairly in-depth Blink review. They liked the system's good video quality, long battery life, lots of useful features, and that the app is simple to use.
On the other hand, they noted that the "night vision" light is very bright, which might draw unwanted attention—something you don't want if someone has broken into your home. Also, they noted that the Sync Module must be plugged into an outlet while it acts as the hub for the entire system. So if you lose power, the system is basically useless.
Ultimately, the author claimed they'd recommend Blink to others and stated: "Blink missed the mark by requiring the Sync Module, but they nailed the price point. Finding an HD camera for under $100 is rare and the fact that the individual cameras are completely cordless is a huge advantage."
SecurityGem.com's Take On the Blink System
SecurityGem.com found that the Blink system was easy to install and featured high-quality video with no lag time (although you'll only have a 90° viewing angle). Overall, they were "thoroughly impressed" with the system, although their biggest complaints were:
The nighttime video performance left something to be desired.
Their Blink cameras would intermittently fall offline, and "The only way to resolve this is by physically unplugging the Sync module and plugging it back in." They did note that Blink's support staff pushed an update to their system, which improved performance.
When viewing video from a remote location, it can take a second for video to load.
Blink's iOS & Android Apps
From an app perspective, Blink's iOS app had an average rating of 4.5 stars on iTunes, although there were only 7 total reviews. Common compliments cited ease of use, impressive functionality, and expandability options, while most reviewers stated that they'd like to see additional features in the future.
On the other hand, Blink's Android app had only a 2.7-star average rating on Google Play, with 27 total user reviews. Most of the negativity seemed to revolve around the app's propensity to crash, which appeared to be especially problematic with Galaxy S6 and Moto X 2nd generation smartphones.
Alright, let's bring it home, shall we?
Is the Blink HD Home Monitor Right For You?
We've reviewed a lot of home automation systems here at HighYa, and it seems like the Blink Monitoring system occupies a space uniquely its own.
It's not quite a traditional home automation system, since you can't actually automate anything (such as remotely adjusting your home's temperature with Nest or Keen Home), but it's not quite a security system either (like Angee), since—at least as of the time of this writing—no alarm devices were available. And even once they are, it doesn't appear that the authorities will be notified if an alarm is triggered.
So, where does this leave you? If you're a newbie to the home automation/security scene and don't want anything too complicated until you get your feet wet, it's difficult to think of a better entry point than Blink. After all, it's one of the least expensive options available, and it seems to include true plug-and-play usability—not to mention some pretty great features that you probably won't find anywhere else at this price point.
On the other hand, if you've been in the home automation game for a while, Blink's limited expandability and the fact that it won't communicate with your other devices might have you looking elsewhere.
WiFi cameras are not good

Everyone should know that cameras that are controlled by WiFi are not dependable, including mine. My God, they are always busy, and it's hard to get a live shot. The bracket that holds the camera is cheaply made. The wind is another problem with these cameras, and you can't tighten the hinge. The photo itself is not bad, along with sound if you should happen to get a live shot. I wish they had an app for the PC so I could make out who is walking up to my door at least 30 or 40 feet away.

Bottom Line: No, I would not recommend this to a friend

---

Poor customer service, camera is okay

By Paula Fong

,

Granada Hills, CA

,

Jun 8, 2017
Verified Reviewer

I purchased the camera while they had a promotional deal for a FREE Blink XT preorder. I loved it at first but then started noticing the many flaws.

I have nine cameras mounted in and outside of my home. Many of the cameras constantly go on off for no apparent reason. The light is also not functioning on one of the cameras and does not illuminate the area. Recording delay is also problematic. I can actually jump in and out of an area before the camera actually triggers, meaning if it's mounted on my porch, a package can be delivered and stolen by a fast thief without any digital evidence!

Making matters worse, they are not honoring the FREE XT camera with purchase deal. First, they failed to send me a code. I notified them via email, and then they sent me a code that did not work. I sent off several other emails and have received no response, and it's been several months now. There is also no way to contact them via phone.

Clearly, a violation of 17200 B&P Unfair Business Practices, to offer a FREE item and then not to honor it.

Bottom Line: No, I would not recommend this to a friend

---

Advertisement

---

Does not work

I purchased this product and installed it. It worked for a couple of months and then the app stopped working. My system won't arm. I tried to reinstall the app. I tried changing the batteries in the cameras. I tried deleting the account and registering it again. There is no customer service number and no one replies to emails. They direct you to go to the troubleshooting page. My account name has disappeared from the app. I can not arm it. When I tried to delete the account and set up the system again it says my cameras are already issued to another account. This app does not work and you are stuck with useless equipment.

Bottom Line: No, I would not recommend this to a friend

---

No WiFi connection.

I tried to set this up for a week. No live customer service, just emails. Usually waited 24 hours for a response, then requests for more info from me half of which they didn't seem to get. There was no phone number to call. I'm sending it back today at my own expense.

Bottom Line: No, I would not recommend this to a friend

---

Advertisement

---

Great system

By Mark

,

London, UK

,

Sep 17, 2016
Verified Reviewer

I have been struggling with an Izon System to monitor my 2nd home for years. After replacing one device, I have given up as it triggers but never saves any video.

I purchased 3 Blink cameras and an alarm (not yet functional) through Kickstarter and, despite being unhappy at how long overseas backers had to wait, am extremely pleased with the system. Video quality is excellent and the monitor triggers every time and video always uploaded. I can even track an 'intruder' (my kids for this trial) from room to room.

I love the fact that it was easy to set up and just worked from the box. The iPhone App is very intuitive and is easy to arm / disarm the whole system or just some cameras. The schedule function is also very useful. With forthcoming IFTT functionality, this will be even better.

My only complaint is that, as the cameras trigger via a PIR (rather than image analysis on the Izon), it does not work through windows and so I cannot monitor the back door, which means that unfortunately, I need to keep the Izon camera for this.

Overall a fantastic system for the price and especially for beginners.

Bottom Line: Yes, I would recommend this to a friend

---

Excellent camera

By John

,

Portsmouth, NH

,

Feb 23, 2016
Verified Reviewer

I have had my camera for a little while now and I haven't had any issues. It really can be placed almost anywhere and the video quality is excellent. I've read reviews of the cameras going offline, that has yet to happen to me and the lag when loading up live feed is very minimal.

If I had any request it would be for a true night vision mode and not just an LED, however, for the cost and the functionality received already I just cannot complain. Looking to get another two cameras to add to my system.

A little baffled over the complaint in the review about what happens if you want more than 10 cameras. I personally would like to think the average home could be covered with 10 cameras. If someone needed more than that than they would probably want a very different system to manage their security.

Bottom Line: Yes, I would recommend this to a friend

---

I really wanted to like this but........

By AL

,

Los Angeles, CA

,

Feb 10, 2016

I had high hopes for this system. Maybe future iterations will fix the numerous performance issues I have encountered

The motion sensor fires but the videos, never show up in your clip folder nor in the activity log. Technical support saw 9 clips on my account by only 2 were showing up in my view folder and activity log
The sync module falls off line routinely, not sporadically
When using live view, the feature fails routinely. Either the camera is busy or command failed to complete
The software is painfully slow. It took over 10 minutes to alert me when the system was functioning properly.
Even though the price point is attractive, if the system is not reliable, then it is not even worth the plastic the camera is made from

Bottom Line: No, I would not recommend this to a friend

---