Blink Health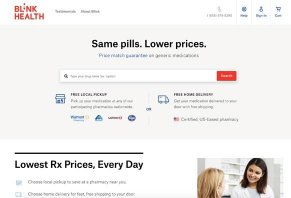 Blink Health's online prescription discount service performs well against competing sites as well as pharmacy cash prices for the most popular generic prescriptions in America.
Blink Health Review: Will It Help You Save on Your Prescriptions?
Blink Health is a free pharmacy discount service whose website allows you to search for generic and brand-name prescription drugs at pharmacies in your area, pre-pay on their site and bring your digital receipt to the pharmacy to pick up the prescription or have it delivered to your home, when possible.
What makes the service relatively unique is that you pay through their site ahead of time – no payment is made at the pharmacy. Blink also has an Android and iOS app.
"No matter if you are insured, uninsured or something in between, we offer some of the lowest prices on over 15,000 medications. Think of it as the cure for high drug prices," their website says.
Blink Health was founded in 2015 and launched in 2016 and is based on New York. Their company is led by brother duo Geoffrey (CEO) and Matthew (COO) Chaiken. Geoffrey's background includes founding Marinus Pharmaceuticals and working for investment firm Brave Warrior Advisors. Matthew has a background in finance. Both brothers graduated from Yale University.
In this review, we'll cover how the service works, talk about how the system of prescription drugs works and how Blink's pricing compares to pharmacy cash prices and two other prescription discount programs.
At the end of our review, we'll give you our thoughts on Blink Health's general strengths and weaknesses as indicated by the facts and information we analyzed during our research.
Editor's note: Blink offers brand-name drugs but, for the purposes of this review, we will focus on generics as most consumers prefer them because of their price.
How Blink Health Works
Imagine yourself heading to the pharmacy to pick up a prescription. At some point in the past few hours or days, your doctor sent your prescription to the pharmacy.
Your pharmacy then checked out how much your prescription would cost through your insurance, making sure your insurance was valid and then got the drugs ready for you when you come in to pick them up. When you get to the register, you sign one or two things and pay for your medicine.
Blink Health adds their own unique twist to that process. To use their service, you'll go to their website and create an account.
Then, you'll search their site for the generic drug you need. This is important to remember – you'll want to ask your doctor to give you the generic version of the drug you need whenever possible.
Blink works with more than 15,000 generic and brand-name drugs and around 30,000 pharmacies, so there's a good chance you'll find what you're looking for.
For example, when we did research for this review we read through a MedicineNet article from 2017 about the 10 most prescribed drugs in the country. Vicodin, an opioid pain reliever, was at the top of the list. So, we searched it on Blink and found it quickly.
Remember that there are two types of Vicodin: HP and ES. According to Drugs.com, HP is more potent than ES. This is an important distinction to make, as you'll need to confirm which type of Vicodin your doctor prescribed.
Once you've identified the right drug, the site will take you to a page where you can view the delivery and pick-up costs of your prescription.
Farther down on this page you'll find information about the drug, including how to use it, side effects, precautions, and drug interactions.
When you select the pharmacy and price you want – sometimes there are sales – Blink will ask you for your name, birthday and gender. Then, they'll ask you if your doctor has created a prescription for you yet.
Next, you'll provide your phone number and then your payment information. Blink will send you a purchase confirmation that you'll need to take with you to the pharmacy. The purchase confirmation is what you'll give the pharmacy in order to get your prescription and the corresponding price.
We'd like to add that Blink says that you can transfer your prescription from one pharmacy to another eligible pharmacy via their app.
That, in a nutshell, is how Blink Health works.
Pro tip: Blink's website says they make money via a small percentage of each transaction made on their site.
Understanding Pharmacy Pricing
The price that you see on Blink for a particular prescription is a price they've negotiated with the pharmacies in your search results. These negotiations are pretty typical of pharmacy discount programs, but what makes Blink different is they don't use a middle-man to negotiate prices – they do it on their own.
Without getting too deep into the weeds of pricing, we want to point out that, in most cases, companies use a middle man to negotiate drug prices on their behalf. These middlemen are prevalent in the industry and key to negotiations between drug manufacturers, pharmacies, insurance companies, and prescription programs.
Amid all these parties working together, prices, bonuses and other payouts are determined. In some cases, pricing is really simple. For example, your insurance company may have a copay for generic drugs, which is a set price you'll pay for medication that meets the requirements of their generic drug co-pay.
Our family has a $35 copay for generic prescription drugs. So, when we go to the pharmacy, more often than not we're going to pay $35 for the medicine.
Another way to get medication is to pay the pharmacy's cash price. This is a price they have for those who don't have insurance and, in some cases, it may be cheaper than your co-pay or your pharmacy discount.
A good example of this is a video that a Blink user posted on YouTube. In it, the woman who used Blink noted that her migraine medication was $400 for nine pills without insurance, $128 for the pharmacy's cash price and around $18 with Blink.
Customer Reviews of Blink Health
At the time of publishing, there were more than 6,000 Android reviews of the company's app and more than 600 iOS reviews. Both sites' reviewers gave the apps an average of 4.8 stars, with many people noting that Blink Health's service was able to save them money on subscriptions.
To dig a little deeper, we went to a 2018 Reddit thread about Blink Health. The thread was included on the Pharmacy sub, which is where pharmacists often post for advice and experiences in the pharmacy industry.
Multiple users who purported to be pharmacists or pharmacy techs and who were able to describe what seemed to be legitimate experiences noted that it's really important for Blink users to pay for your subscription as soon as your doctor prescribes you your medicine. If you wait to pay until you get to the pharmacy, you could run into billing issues that may extend the time of your pick-up.
There were a few redditors who claimed to be customers that said Blink works great for them and that the price they paid for their generic prescriptions was cheaper than their insurance co-pay, a fact that I can corroborate based on my insurance's co-pay of $35.
How Blink's Pricing of the Top 10 Prescriptions Compares to Pharmacy Cash Prices and Other Generic-Drug Discounts
Blink is not the only online-based discount prescription program there is. We wanted to know how their prices stacked up against FamilyWize, another online prescription discount site. We also factored in Blink's delivery prices as well as the price you'd pay at the pharmacy if you didn't have insurance or a discount card.
To calculate how much the pharmacy cash price is, we used GoodRX, a website that lets you search cash prices of many generic drugs. For the sake of our comparison, we went with the lowest estimated retail price with the name of the store in parenthesis:
| Drug | Blink Price | Blink Delivery | Family Wize Price | Pharmacy Cash Price |
| --- | --- | --- | --- | --- |
| Vicodin | $39.19 | Not available | $29.11 | $37 (Costco) |
| Simvastatin (Zocor) | $4.91 | $3.00 | $4.00 | $7.50 (Publix) |
| Lisinopril (Prinivil) | $4.53 | $3.00 | $4.00 | Free (Publix) |
| Levothyroxine (Synthroid) | $16.52 | $16.52 | $4.00 | $4.00 (Walmart) |
| Azithromycin (Zithromax) | $9.94 | Not available | $11.08 | $18 (Costco) |
| Metformin (Glucophage) | $6.86 | $3.00 | $4.00 | Free (Publix) |
| Lipitor (Atorvastatin) | $8.93 | $4.99 | $9.00 | $9.00 (Walmart) |
| Amlodipine (Norvasc) | $5.77 | $5.77 | $4.00 | Free (Publix) |
| Amoxicillin | $8.93 | Not available | $6.66 | $0.20 (Publix) |
| Hydrochlorothiazide | $3.94 | $3.00 | $4.00 | $4.00 (Walmart) |
One of the things we didn't note in this chart is that all of the $4.00 generic drugs that FamilyWize has are actually the cash price you'd pay if you went to Walmart to get the prescription without insurance. In other words, while FamilyWize's prices seem better than Blink Health, they aren't, according to the ten generic drugs we researched.
In fact, when you take away the Walmart cash pricing, only one of the six drugs (Levothyroxine) was cheaper than Blink Health.
Based on this information, we believe that Blink Health has better prices on some of the more popular generic prescription drugs than FamliyWize.
However, the retail pricing data we obtained from GoodRx.com indicates that Walmart's $4.00 pricing as well as some ultra-low pricing from popular Southern grocery store chain Publix, are by far the best prices in five out to the 10 drugs we price-checked.
The lesson here is straightforward: You need to use a resource like GoodRx as well as Blink Health to find out situations where the pharmacy's cash price is better than Blink Health's prices.
To Blink's credit, they say on their website that you should check your insurance's co-payment. In the case of my family, we pay $35 for generic drugs, a price which exceeds what Blink and pharmacies will quote you for the medicine listed above.
We'd add that you should check your pharmacy's cash price, too. In any case, we believe that Blink is a strong choice for generic prescription drug discounts.
Pro tip: Blink Health's delivery prices tend to be low and don't charge for the delivery.
Our Final Thoughts About Blink Health
The research we've done has been very interesting, partly because pharmacy prices can be confusing and vary wildly depending on where you go and because the real goal here is to find the cheapest way to get generic prescriptions.
It's the average customer like you and I who stands to benefit from programs like this, particularly if you've had to cut back your health insurance coverage and your generic drug co-pays are higher than they used to be.
Based on our research of Blink, we see some great advantages to using the company's discounts. The prices you pay may be cheaper than your co-pay, competing prescription discount sites and the pharmacy's cash price.
In other situations, that may not be the case. The key is for you to do your research. Search your prescription in Blink Health, then do the same in GoodRx. Compare and contrast the prices as well as which pharmacies are covered.
If the pharmacy closest to your home has reasonable prices through Blink, then we believe that the evidence points to the fact that you'll have a good experience with the company.
You can increase the chances of having a positive experience by paying for your prescription as soon as your doctor sends it. This ensures that your pharmacy will see that the prescription has been paid for and they can process your medicine as quickly as possible.