Blooom Reviews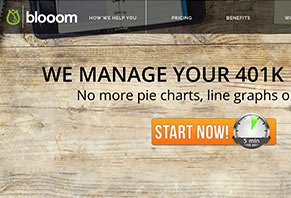 Blooom's short questionnaire and proprietary algorithm can help you analyze and better manage your 401(k), keeping you on track to meet your retirement goals.
About Blooom
Blooom is an online registered investment advisor that uses a proprietary, patent pending algorithm to analyze the health of your 401(k), which can lead to greater potential long-term returns and greater peace of mind. In a nutshell, the process works over four steps, which will take five minutes or less:
First, Blooom will collect a few key pieces of information, such as your age and estimated retirement date.
Choose where your 401(k) is currently held and enter your login and password for your current 401(k) institution. Afterward, Blooom will analyze your holdings across 25,000 different funds.
Based on the results, the health of your 401(k) will be represented by a flower (there aren't any confusing charts or graphs to worry about).
Finally, Blooom will show you how to improve your 401(k) with an easy-to-understand comparison. Here, you'll also be able to weigh in on the stock and bond combination you're comfortable with.
Did you know that according to some sources, as little as 31% of American workers participate in a 401(k) program? And among these, most would probably admit that they're not where they need to be from a retirement perspective.
If you're one of these individuals, can Blooom help get back on track? Are their services worth the time and money? We'll explore all of this here. First though, let's find out what a 401(k) is and what it's used for.
What Is a 401(k)? How Does It Work?
Although you might think of 401(k)'s as something that have always been around, they didn't come into existence until the early 1980s as more of an accident than anything else. In essence, they were intended to supplement an employer's pension, which for the most part, went away long ago. Today however, 401(k)'s represent the primary method workers use to save money for retirement.
Basically, what happens is that workers are able to take out a portion of each paycheck before it's taxed, which is then invested in a variety of "mutual funds composed of stocks, bonds, and money market investments." While younger employees often target high-risk (but potentially higher paying) funds, older workers tend to focus on more conservative investments.
Most 401(k) accounts are overseen by an administrator (such as Fidelity Investments), who can help you keep track of performance and make changes at your request. The problem is that most of these administrators don't help you make the best choices based on your account balance, age, and more; they just do whatever you tell them.
This is precisely why companies like Blooom exist. Let's take a closer look at exactly how they help maximize your 401(k).
How Blooom Analyzes Your 401(k)
Regardless of where you work, where your 401(k) is held, or the size of your account (more about this shortly), Blooom can provide you with an analysis. You won't need to open a new account or move your existing account—all you'll need is a 401(k) and login credentials for online access.
Then, after answering the questions above, Blooom's algorithm will take a look at the options in your 401(k), eliminating the "funds that don't make sense for you to own," based on your current balance and retirement goals. According to the company, in order to create a well-balanced portfolio, they traditionally lean towards cost effective index funds, but may use actively managed funds when needed.
Here's where Blooom's proprietary algorithm comes in. After your funds are selected, this technology will "select the ideal investments based on expense and manager experience." According to the company, this algorithm does most of the heavy lifting, although a Blooom advisor will double check everything, cross reference it with your recommended 401(k) allocation, and make sure everything's up to par.
After this initial process, Blooom will typically have your 401(k) adjusted within 30 days, and they'll re-review it (known as rebalancing) once every 90 days and make adjustments if necessary. If adjustments are made at this point, Blooom will notify you via email.
However, keep in mind that Blooom will never change the amount being withheld from your paycheck to fund your 401(k), and you'll maintain full control of your account at all times. Just as you normally would, if you'd like to make changes to your 401(k), you'll have to contact your custodian.
How much will these services cost you?
Is Blooom Reasonably Priced?
Blooom's initial analysis is completely free of charge, and there is no minimum account size. Outside of this, the company charges $10 per month for accounts of any size.
Blooom doesn't charge any hidden fees, and you can cancel at any time. As long as you cancel 48 hours before the end of the billing cycle, you won't be charged for the next month.
Given this ultra-low price (as least compared to hiring a dedicated professional to accomplish much of the same thing), what's everyone saying about Blooom?
Does Blooom Have a Blossoming Online Reputation?
NerdWallet and InvestorJunkie gave Blooom a 4-star rating, both of which appreciated the super-simple signup, straightforward pricing, no account minimums, the company's investment expense audit, and account assistance. However, both noted that Blooom's automatic fund allocation might be too aggressive for a lot of users (although this can be changed manually), and that not much personal information is used during the process. Here's how NerdWallet put it:
"The questions that determine how the company allocates your assets don't delve any deeper than your birthday and target retirement age, and no mention is made of risk tolerance or investment goals."
In fact, regardless of where you look, it seems like much of these same pros and cons were expressed for Blooom. After all, the company's received a ton of media attention recently, primarily because it's one of the only players in the game. Let's talk more about this next.
Are There Other 401(k) Management Companies Besides Blooom?
While there are dozens of companies out there that can help you trade, budget, and build wealth (even robo-advisors like WealthFront and Betterment), there really isn't anything quite like Blooom.
Well, that's not exactly true. Among other things, a company called Financial Engines can help optimize and manage your 401(k), although their fees are quite a bit higher than Blooom's.
Given the fact that Blooom seems to have cornered the market as far as 401(k) assistance, along with their ultra-low price, should you sign up for an account?
Is Blooom the Best Option for You?
The reality is that the "best" of anything is highly dependent on your current situation, your needs, your goals, personal preferences, and much more, and it's no different with investing or wealth management platforms.
With this said, Blooom might be ideal for individuals whose 401(k) isn't already managed by another company or service, and who has a higher tolerance for risk (often younger investors with more time until retirement). Alternately, if you're looking for the lowest-priced option, Blooom wins from this aspect, too.
Our advice? If you're curious about Blooom, the company's initial analysis is completely free, so you can spend less than 5 minutes answering a few questions and setting up your account to get a better idea how the process works. And even if you decide you sign up for a paid account, it can be canceled at any time with minimal cash outlay on your part.
Expensive for what it is

By Arthur C.

,

New Jersey

,

Feb 24, 2020
Verified Reviewer

The service is actually very expensive for what it offers. The annual fee is per account, so if you have a 401(k), and IRA, and a rollover, then you have to pay 3 times.

The process only rebalances accounts individually, not finding the best options across the accounts you have. What I mean is based on the restrictions of choices in your 401(k), it should determine the best assets to use in your mix and then make up the gap in accounts that have more options available like the rollover.

Definitely not worth the money unless you have a single 401(k) to manage.

Bottom Line: No, I would not recommend this to a friend

---

Horrible platform and security

By John M.

,

Denver, CO

,

Oct 12, 2019
Verified Reviewer

Blooom.com is at best a start-up that is clueless on investing for retirement. The platform asks typical questions about your appetite for risk and then using that invests your 401(k) based on that information. I had a high appetite for risk, which I've had since I've started a 401(k) 6 years ago. Since then, the lowest returns I've ever received in a 3-month period was 5%. Since signing up for Blooom over 3-months ago, I've seen a -2% return on both my 401(k).

Outside of the poor investments and negative returns, the platform is ridiculous. It has issues integration issues with major investment accounts, like Milliman, and I was asked by the customer support to provide passwords to these accounts multiple times. Based on my experiences, cybersecurity is a not a priority at Blooom and unless you want free credit and account monitoring for the next 5 years because of a data breach, just don't use Blooom.

These guys are a joke and wouldn't trust them with a kids piggy bank, let alone my retirement savings. Don't be an idiot like me, look elsewhere for 401(k) management.

Bottom Line: No, I would not recommend this to a friend

---

Advertisement

---

Lost about 9% in 2018

By Mark B.

,

California

,

Dec 18, 2018
Verified Reviewer

Don't ever use their service. I also had a 9% loss overall in 2018. I started using their service in December 2017.

PRETTY UPSETTING because the economy wasn't even bad in 2018.

Who knows what they do behind the scene. $10 monthly is not what they aiming for. They play with the money to get profit other ways.

Bottom Line: No, I would not recommend this to a friend

---

I can only speak to my experience, a -9.07% return speaks for itself.

By George M.

,

Washington DC

,

Oct 25, 2018
Verified Reviewer

I have been with Blooom for two years. On several occasions, I had to call in because I noticed that my account had not been rebalanced in more than 3 months. Two of those times, I was told it was in the cue to be done that night...what a coincidence (December 14, 2017, July 21, 2018, for reference).

I finally pulled the plug when I checked my account today and I have a -9.07% return year to date when all my other accounts have had a great year. When I logged in this time, I was given a line about no one being able to predict the market and how even monkeys, throwing darts at a board, can sometimes better predict stocks better than pros. Well, here I am, much the poorer for choosing you, so next time I will ask for a monkey to choose the stocks and save the money.

Bottom Line: No, I would not recommend this to a friend

---

Advertisement

---

Blooom satisfaction

By Jeremy S.

,

Portland, OR

,

Jul 24, 2018
Verified Reviewer

I don't always have time to rebalance my 401k and/or research new or newly trending funds. I want to maximize my utility and Blooom helps me to do this. Time is money and $10 a month is money well spent, especially when it helps to avoid thousands of dollars over time that 401k manager may charge me. It's my money so why should I pay more in hidden fees to get a better financial foothold in life. I'm a blue collar worker trying to find my way up the ladder so that I can comfortably pursuit my happiness in life.

Bottom Line: Yes, I would recommend this to a friend

---