Blu Breeze Reviews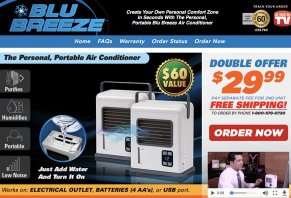 Using an ultra-quiet fan and the process of evaporative cooling, Blu Breeze is a tabletop device that helps increase humidity and comfort in any area, without disturbing others.
What Is Blu Breeze?
Blu Breeze is a small, compact, portable air conditioner that promises to instantly purify, humidify, and transform stale, dry air into a cool breeze using Aqua Cool technology. Just add water, turn it on, and relax as the heat fades away.
Specifically, the device works by drawing air through a water-logged evaporative filter, and then blowing the refreshed, humidified air out through the other side using a whisper-quiet fan.
And since it fits on any desk or countertop and uses electricity, batteries, or a USB connection for power, you can use it anywhere—whether in the kitchen, at the office, inside the workshop, by the pool, or in the bedroom while sleeping—without disturbing others.
With such a compact size and big cooling power advertised, it certainly seems like Blu Breeze really could help you save money on electric bills, compared to running an expensive air conditioner.
But, you're here because you want to keep your expectations realistic before handing over hard-earned money. Can you really expect Blu Breeze to create your own personal comfort zone? Will it actually keep you cool anywhere?
Give us a few minutes, and we'll help you decide.
What's the Difference Between an Evaporative Cooler Like Blu Breeze and an Air Conditioner?
TL;DR: Air conditioners displace hot air with cooler forced air, whereas evaporative cooling works by increasing humidity and actually changing the air from hot to cool. Based on this natural principle, drier air (such as in the arid U.S. Southwest), is where evaporative cooling works best.
The Detailed Version: Based on how Blu Breeze is advertised on the website and in the commercial, you could be forgiven for thinking that it's a small traditional air conditioner. However, it works meaningfully different.
Traditional air conditioners work by constantly condensing and evaporating refrigerant inside coils, which absorb heat as outside air is blown over them (a process known as phase conversion). Then, this cooler air is returned into the home, while the coils move their stored heat away and begin the process all over again.
Evaporative cooling also works using phase conversion, but instead relies on the natural evaporation of water from a filter, which is then dispersed into the room using a fan. While this process means that evaporative coolers like Blu Breeze are more affordable and use much less energy than traditional air conditioners, they're :
Only effective for decreasing the temperature by between 5°F and 15°F
Limited by the moisture content in the air (known as the dew point)
In other words, evaporative coolers work best when the relative humidity is below 50 or 60 percent—and the lower it goes, they better these devices work. For this reason alone, they're especially popular in areas along the Rocky Mountains and Desert Southwest, while almost unheard of along the East and Gulf Coasts.
How Much Does Blu Breeze Cost?
One Blu Breeze evaporative cooler is priced at $29.99, plus free S&H. During checkout, you can purchase a second unit for an additional $14.99 fee.
According to the website, which we confirmed with customer support, batteries are included with your order, as is a 60-day money back guarantee (less S&H and fees associated with the BOGO offer). To request one, service can be reached at 973-287-5184.
Which Company Makes Blu Breeze?
Fairfield, NJ-based Tristar Products, Inc. is the largest company in the As Seen on TV industry and has been in business since 1992. In the two and a half decades since the company was founded, they've released hundreds of popular products, with recent examples including Ab Coaster Max, Clear Dash HD Cam, Perfecter Fusion Styler, and StarNight Laser.
Despite having more than 660 closed complaints as of 3/12/18, Tristar held an A+ rating with the Better Business Bureau. Although a representative responded in all instances, common complaints seemed to revolve around lower quality than expected and support concerns.
Blu Breeze vs. Other Tabletop Evaporative Coolers: How to Choose the Right One
While we didn't encounter anything designed exactly like Blu Breeze during our research, we've learned in the past that tabletop evaporative coolers seem to be a quickly growing segment of the market. Popular models displayed on marketplaces like Google Shopping and Amazon included:
Ideaworks Kool Down Fan: $26 – DC-powered, adjustable vents, 10-hour water tank, uses 4 'C' batteries
Evapolar Personal Evaporative Cooler: $140 – 6-8 hour refill cycle, covers up to 45 square feet, works with USB
Atomic Cool: $40 – Electricity or battery powered, digital thermostat, cools up to 50 sq. ft.
Arctic Air Cooler: $40 – Electricity or USB powered, 75 ml water reservoir, LED light, 350 watts of power
Here's the bottom line: Choosing the right personal evaporative cooler isn't rocket science. In fact, it's going to largely come down to the size of the area you need to cool.
For example, customer service wasn't able to provide additional insight into Blu Breeze's power level (such as in watts) or its cooling capability (as measured in cubic feet per minute, or CFM). However, we can see from a couple of the comparable models above that you might realistically expect an evaporative cooling device of this size to be effective for an area of about 50 square feet (or, a 10' x 5' room).
But, keep in mind that other variables can (sometimes greatly) impact an evaporative cooler's effectiveness, such heat from the oven in the kitchen, steam from the shower in the bathroom, lack of ventilation in a workshop, or the heat from an outdoor grill or the sun while laying poolside.
In other words, while the Blu Breeze website advertises the device in these types of situations, we'd strongly recommend maintaining realistic expectations.
Customer service also wasn't able to provide insight into other important specifications for the tabletop device, including:
What's the sound level (dB)?
What's the water reservoir's capacity?
How many square feet will this accommodate? What's the CFM output?
Are there different fan speeds available?
What kind of filter does Blue Breeze use? Is it replaceable? Is it sold through the company? If so, how much?
How long is the cord?
How long will it operate on batteries? What's the runtime?
Does all of this mean you should go ahead and place an order?
Our Final Thoughts About Blu Breeze
Just like with traditional air conditioners, you'll typically find that the larger area an evaporative cooler can handle, the more money you'll pay. In fact, you could shell out tens of thousands of dollars for a central, whole-home evaporative cooling system that could handle 2,000+ square feet of space, if you were so inclined (and also lived in an arid part of the country where evaporative cooling works best).
But if you have minimal cooling needs (50 square feet or less) along with a minimal budget, it seems like bare-bones models like Blu Breeze might deliver on both fronts. And if you're not satisfied with its cooling performance, Tristar stands behind the device with a 60-day refund policy.
Just keep in mind that you'll lose the $20 associated with the second unit offer (if you chose it), as well as return shipping fees back to the manufacturer.
Read next: Best Budget-Friendly Ways to Keep Your House Cool
Actually worked...but...

By Alexis K.

,

Pennsylvania

,

Sep 13, 2018
Verified Reviewer

This did work...for about three weeks. I did not use it daily. It was on my desk at work for those days the office was stuffy and humid. I only left water in the basin twice over a weekend. I turned it on this past week and there was a musty smell.

I took the filter out and it was BLACK with mold spores. Yep, I am throwing that out. I never thought to look at it since the filter isn't submerged in water. God knows how long I had mold blowing in my face!

Thanks Blu Breeze!

Bottom Line: No, I would not recommend this to a friend

---

2 out 2 people found this review helpful

Waste of money

By Bo P.

,

Ohio

,

Jul 20, 2018
Verified Reviewer

I never even turned it on. I put the right amount of water in the reservoir and it leaked all over the table. Four are going back to Walmart tomorrow. The Walmart lady said that all of them that they sold had been returned.

Bottom Line: No, I would not recommend this to a friend

---

Advertisement

---

2 out 2 people found this review helpful

Blu Breeze

By Shelby H.

,

Wisconsin

,

Jul 13, 2018
Verified Reviewer

I just bought the two-pack. I don't know what everyone expects from this; it's a personal space cooler, not a room air conditioner. I like mine for by my couch, doing dishes, it helps keep ME cool! I have multiple sclerosis, and it helps me! I need to be cool and it helps while I watch my TV shows, do my dishes, and with the battery option, I take it outside. It is my new best friend!

Bottom Line: Yes, I would recommend this to a friend

---

Awful

By Melanie P.

,

Rhode Island

,

Jul 8, 2018
Verified Reviewer

Don't waste your money or your time. A total disappointment. This is going back tomorrow. Lies, lies, lies.

Bottom Line: No, I would not recommend this to a friend

---

Advertisement

---

4 out 4 people found this review helpful

Blu Breeze blows

By Michelle N.

,

Little Canada, MN

,

Jul 6, 2018
Verified Reviewer

I purchased one just last night at Walmart to put in my room on a table next to bed to cool it down. Mind you, my room is small and this does NOT work! It doesn't even blow cold air, and it leaks! TERRIBLE!

Bottom Line: No, I would not recommend this to a friend

---

10 out 12 people found this review helpful

Save your money

By Sherry L.

,

Texas

,

Jun 15, 2018
Verified Reviewer

Save your money. It's just a fan, an expensive fan at that. I bought it at Wally World. Stop passing things off that are not up to what your ads say.

Bottom Line: No, I would not recommend this to a friend

---

Advertisement

---