Blue Bottle Coffee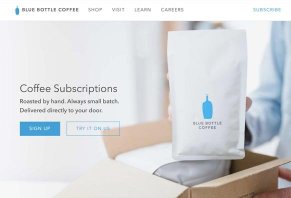 Blue Bottle Coffee is a subscription service that ships premium blends or single origin beans to your home just 48 hours after they are roasted.
Blue Bottle Coffee Subscription: Things to Consider Before You Buy
Blue Bottle Coffee is a California-based coffee chain that offers a subscription service for high-quality, sustainably produced coffee beans.
The business began with physical coffee shops throughout Oakland in the early 2000's and it was known for exclusively offering coffee that was roasted fewer than 48 hours before serving to maximize its freshness.
The brand has since expanded into e-commerce, and at the time of writing it offers numerous subscription programs that deliver their beans directly to your door. All Blue Bottle Coffee roasteries in the United States are Certified Organic, and they state that over 85% of their coffee is organic.
According to their website, Blue Bottle works with farmers from around the world to source delicious, sustainable coffee beans, which they roast in-house and serve at peak freshness. They promise to both roast and ship your coffee order within 48 hours of receiving it to ensure that you receive ultra-fresh beans each time.
That's a big promise, so does Blue Bottle Coffee deliver? This article looks closely at this subscription coffee company to determine whether it's a smart option for securing your coffee fix.
How Does a Blue Bottle Coffee Subscription Work?
To sign up for a Blue Bottle Coffee subscription, you will need to make an account through their website.
The first step is selecting the type of beans you want: single origin, an assorted blend, or espresso beans. Next, you must choose the frequency of delivery, from once a week, once every two weeks, once every three weeks, or monthly. Finally, you must specify the amount of coffee you want each delivery. Options include six, 12, 24, or 36 ounces.
The prices per bag depend on the variety and the amount you purchase, as demonstrated in this chart.
| | Blend/ Espresso | Single Origin | Coffee Amount |
| --- | --- | --- | --- |
| 6-ounce | $8 | $9.50 | One-week supply for 1-2 drinkers |
| 12-ounce | $15 | $18 | Two-week supply for 1-2 drinkers |
| 24-ounce | $28 | $33 | Two-week supply for 2-3 drinkers |
| 36-ounce | $40 | $47 | Two-week supply for 3-4 drinkers |
Blue Bottle Coffee also lets you sign up for gift subscriptions for three months, six months or a customized period. The three-month gift subscription provides six shipments (one every two weeks) of six-ounces of coffee for $72, and the six month doubles the deliveries to twelve times for $144.
All subscription shipments are billed the day before the coffee is scheduled to roast and ship, and you can monitor your upcoming billing and shipping dates from your online account. It's also possible to pause or cancel your subscription from this same page.
Any further questions? You can message Blue Bottle Coffee directly through their contact page.
About Blue Bottle Coffee's Return Policy
Blue Bottle Coffee's website states that they don't accept returns on their coffee, as each batch is roasted to order. You can take up any issues with your order with the company's support team.
What Companies Are Similar to Blue Bottle Coffee?
Blue Bottle Coffee is far from the only coffee subscription service on the market today, so we designed this chart to compare the company to three other popular brands.
| | Blue Bottle Coffee | Crema | MistoBox | Counter Culture |
| --- | --- | --- | --- | --- |
| Frequency of Subscription | Weekly, once every two weeks, every three weeks, or monthly | Once every two weeks or monthly | Weekly, once every two weeks, every three weeks, or monthly | Weekly, once every two weeks, every three weeks, or monthly |
| Price Per 12-ounce Order | $15 - $18 | $23.75 | $10 - $20 | $13.50 - $16.43 |
| Types of Coffee Available | Single origin, blends, or espresso assortment | Varieties based on customer specifications and availability at shipment time. | Whole bean or ground; light, medium, or dark; espresso or blends; basic or deluxe | Single origin or rotating collection of approximately six coffees that change every four weeks. |
| Gift Subscriptions Available? | Yes | Yes | Yes | Yes |
| Returns Allowed? | No returns allowed | Returns permitted in certain circumstances | Returns permitted in special circumstances. Company will replace unwanted coffee for $5 | Will refund the cost of up to two 12-ounce bags per order (excluding shipping) |
At this chart makes clear, there's relatively little differentiating these four coffee subscription companies beyond price, their return policy, and what customers think of them.
Each offers delivery options that range from weekly to monthly, and they each provide an extensive range of light, medium dark, espresso, and single-origin coffee bean varieties.
Pricewise, Blue Bottle Coffee falls in the middle of the pack at an average cost of $16.50 per 12-ounce bag of coffee. That's less than Crema and deluxe roasts of MistoBox, but probably more than you will spend with Counter Culture Coffee.
It's also important to note that of these four companies, only Blue Bottle Coffee provided concrete information about their coffee's organic status, and they stated that 85% of their coffee is Certified Organic. If that's important to you, they might be the best company to buy from.
In regards to return policies, Blue Bottle and Crema both are relatively strict about what qualifies for a return and state on their websites that you can only request a refund if there is evidence you received a damaged product.
MistoBox will replace any unwanted coffee if you pay a $5 shipping fee, and Counter Culture has a more lenient policy that reimburses subscribers for the cost of up to two 12-ounce bags per order in qualifying circumstances.
So does Blue Bottle Coffee make sense to subscribe to? That depends on what you think of their coffee, and the best way to know that without trying it yourself is to look at what previous customer reviews say.
What Do Blue Bottle Coffee Reviews Say?
The internet abounds with glowing Blue Bottle Coffee reviews, but we found only a few that looked specifically at the brand's subscription service.
The reviews we found from Revuezzle and Dealmeister were in favor of the company, though they noted that the selection process doesn't let you choose the specific variety you receive beyond requesting whether you want a blend or single origin beans. They also wished there were options for receiving specialty brews, such as iced coffee.
The reviews noted that Blue Bottle Coffee's 48-hour roasting and shipping timeframe were impressive and some of the best in the industry for securing fresh beans. The easy option to pause or cancel subscriptions also won praise.
One complaint we noticed was that many customers who signed up for a free two-ounce coffee sample didn't expect to be automatically enrolled in the Blue Bottle Coffee's monthly subscription program, so they were upset when they were billed the full price for coffee the following month. At the time of writing, this deal wasn't available.
Our View: Is Blue Bottle Coffee Worthwhile?
In light of this information, does it make sense to subscribe to Blue Bottle Coffee? The company offers both blends and single origin coffee beans delivered to your door in the amount and frequency you most prefer. They also promise that they roast each batch to order right before it gets shipped to you and that 85% of their coffee is Certified Organic.
Pricewise, Blue Bottle Coffee is a mid-level option compared to the other subscription companies we looked at, though their return policy is slightly less forgiving than the other brands.
The company might lose some points with coffee aficionados because you can't specify what variety you receive beyond requesting a blend or single-origin, meaning that you likely won't get the same type each order. That's a positive if you want to expose yourself to new coffee styles, but a negative if you prefer routine with your caffeine fix.
If you're comfortable with a little ambiguity in what you receive for the convenience of a highly regarded coffee brand delivering to your door, then Blue Bottle Coffee subscription might be worth considering.