Blue Diamond Grill Genie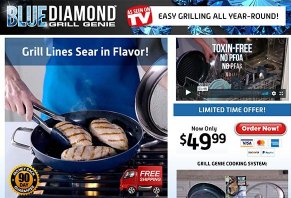 Using raised grill ridges and a tough ceramic coating, the Blue Diamond Genie Grill claims to be a versatile pan you can use to sear meat, steam seafood and cook or steam many foods.
About Blue Diamond Grill Genie
The Blue Diamond Genie Grill is an As Seen on TV pan that claims to grill 30 percent faster using a raised grilling surface and last 10 times as long as other pans because of its diamond-infused ceramic coating.
What makes the pan an interesting choice is that it can provide the sear marks of an outdoor grill along with the convenience of a steaming lid that, according to the pan's commercial, ensures even cooking.
"Grilling is ruined in the rain. Food burns and falls apart. Indoor grilling is an impossible mess. Now enjoy barbecue flavor all year long with a Blue Diamond Grill Genie cooking system with nonstick grill and steaming lid," the commercial says.
In this review, we will help you understand how the pan works, how much it costs and its return policy, as well as how it compares to grilling pans you can find on Amazon.
How the Blue Diamond Grill Genie Works
The commercial for this pan shows people cooking all sorts of foods on the grill, from upside down pizza and grilled chicken wings to lobster, fish and a 5-pound chicken.
There are several features of the pan that influence the way it cooks. First, it has raised ridges that, when heated properly, provide the same type of grill marks that you'd see if you cooked something on a gas or charcoal grill.
The second feature is the steaming lid that comes with the pan. This is an important accessory because putting the lid on the pan causes heat and steam to be trapped in the cooking area. This allows for even cooking, which is important since the pan's raised ridges aren't putting the entire piece of food in contact with the bottom of the pan.
The final aspect of the pan is the diamond-infused ceramic nonstick coating. This coating makes the pan five times as strong as other pans and causes the pan to last 10 times longer than the competition.
"Grill Genie's ceramic coating is infused with millions of diamonds, the hardest material known to man," the commercial says.
The University of Illinois' Department of Physics Q&A page confirms this, noting that "the hardest substance known is diamond" and that, because of this, diamonds are sometimes used in drill bits to bore into hard materials.
One DeWalt diamond drill bit was $20.97 at the time of publishing. Considering how much more surface area there is on the Blue Diamond Grill Genie, the pan's price tag (more on that later) seems astoundingly low.
Our perception is that the "diamond-infused" ceramic coating doesn't include millions of diamonds, as the commercial claims but instead has millions of flecks of diamond. We did some research on how effective diamond particles are in strengthening ceramic coating but found nothing.
While the concept of diamond-infused coatings seems like it could be stronger than the average pan, we can't say for sure because don't know much diamond material is in each Blue Diamond Grill Genie or how much diamond material a pan would need to last 10 times longer than other pans.
Other interesting aspects of the pan include the following features:
Oven- and broiler-safe up to 850 degrees
Can use metal utensils with it
Dishwasher safe
Toxin-free
11-inch diameter
Blue Diamond Grill Genie Price and Return Policy
One of the unique characteristics of As Seen on TV items is that they usually throw in free perks when you buy something or they give you better pricing the more you buy.
At the time of publishing, the grill cost $39.99 and shipped free. You also received a free pair of silicone tongs with the pan as well as a free digital cookbook.
For an additional $10, you can get an egg pan.
Now, with a pan like this one that makes as many claims as this one does, it's important to know what the return policy is just in case the pan doesn't live up to the expectations its marketing set.
According to the pan's website, you have 90 days to make a return if you're not happy with your pan. To start your return, you'll need to contact Blue Diamond's customer service line to verify with them that you're going to send the pan back. Should you return your pan, you'll need to include anything customer service tells you over the phone as well as the following information:
Name
Address
Telephone number
Email address
How Blue Diamond Grill Genie Compares to Grill Pans on Amazon
Understanding the value you're getting out of these pans requires some research into how it works and it's pricing. However, that data tells only part of the story. Knowing how much similar pans cost brings additional insight you'll need to make a buying decision.
Here's a quick list of three highly-rated grill pans similar to the Grill Genie that we found on Amazon:
Calphalon square grill pan: $42.99; 4.7 stars from more than 170 reviews
All-Clad square grill cookware: $49.94; 4.3 stars from more than 55 reviews
Cuisinart round grill pan: $27.99; 4.3 stars from more than 3,400 reviews
What we noticed is that all three of the pans are well-known brands. In addition to this, all three pans cost less than the Blue Diamond Grill Genie. All three come with Amazon Prime's free two-day shipping, too, whereas the Blue Diamond can take up to 30 days from the date of your order to ship.
The Calphalon and Cuisinart pans are 12 inches across while the Grill Genie is 11 inches across.
The Grill Genie has the advantage when it comes to cooking in the oven, though, as it can withstand 850 degrees while the Calphalon pan maxes out at 450 degrees and the other two pans have a limit of 500 degrees.
In general, we believe that the Grill Genie may offer better value if you use pans in your oven often and want something with a high-temperature rating. However, if you use your pans on your stovetop and rarely put them in the over, we believe the three brand-name pans on Amazon.com offer good value and may be the better choice if you prefer buying reputable brands.
The Final Word: Our Conclusions About the Blue Diamond Grill
We believe this pan's greatest strength is that it can withstand oven temperatures of up to 850 degrees and that you can use metal utensils on it.
The two facts are unrelated, of course, but they are a welcomed set of features for those who like to sear off meat in the pan and then cook it in the oven and for those who seem to never have plastic spatulas clean when they're cooking on a non-stick surface.
The downside to this pain, in our opinion, is the price tag. It's more expensive than the popular brands we found on Amazon. While it's hard to tell how reputable the Grill Genie is because we couldn't find customer reviews of it at the time of publishing, we do know that the competing brand-names offer pans of similar sizes and features for up to $22 cheaper.