Blueprint Income Reviews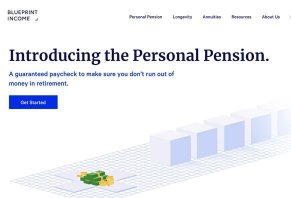 Consumers looking for a simple way to start an annuity that will fund their retirement can turn to Blueprint Income, an annuity-focused marketplace that links you with highly-rated insurers.
What Is Blueprint Income?
Blueprint Income is an online financial service that provides four different types of annuities you can choose from to fund your retirement.
The company was founded and launched in 2014. CEO Matt Carey said in a March 2018 press release that the company's goal is to present annuities in a simple way.
"Most products sold as annuities today are needlessly complex and aren't intended to do what annuities do best — provide guaranteed lifetime income," Carey said in the release. "We're bringing the annuity market into the 21st century."
In a fintech world where apps like Betterment and Acorns are making all the headlines, Blueprint Income presents something refreshingly different.
However, it's important to realize that just because something is different doesn't mean it's right for you. And because the financial tech world doesn't put a lot of emphasis on annuities, it's important to understand what annuities are and how they're different than a 401(k), IRA or the ETF's you'd invest in with Betterment.
In this review, we're going to talk about what annuities are, what Blueprint Income offers, what kind of fees you can expect and how Blueprint Income differs from robo-advisors like Betterment and Acorns.
How Does Blueprint Income Work
As we mentioned earlier, Blueprint Income distinguishes itself from other newer financial companies in that it sells annuities, something that doesn't really whip up a lot of headlines amid a world where ETF's and cryptocurrencies seem to be the darlings of new investors.
Annuities: A Quick Explanation
Annuities, however, have been around for a long time and are a way for you to earn an income when you retired.
Basically, you hand over money to an insurance company, either in one lump sum or in periodic payments over time.
The insurance company then guarantees to pay you a certain amount of money each month once you hit a certain age. It's like getting a pension that you yourself fund instead of getting it through an employer.
The insurance company then takes that money and invests it in order to generate the money it promised to pay you when you retire.
Then, when you retire, those payments kick in and continue for life. The way that Blueprint Income frames it, annuities are a way for people to secure guaranteed retirement income that can replace the old-school pensions that most freelancers in today's work world can't get.
Blueprint Income provides four different types of annuities:
Single-premium immediate annuities: Good for people retiring soon and want to convert a 401(k), IRA or savings account into steady income. Payments start within a year of buying it.

Deferred-income annuities: Similar to SIPA's, but payments usually 2 to 40 years after you buy it

Qualified longevity annuity contract: A newer type of DIA that allows you to use money from a 401(k) or IRA and have income start after age 70.5, the age at which minimum distributions kick in

Multi-year guaranteed annuity: Different from the top three, which all provide income. It is like a CD, where money is invested to get a guaranteed return over the course of 2-10 years
These different plans can be confusing, especially if this is the first time you've read about annuities. The good news is that Blueprint's experts assign the annuity type that best fits the retirement goals you give them, which we'll talk about in the next section.
Signing Up for Blueprint
The company gives you two options for signing up for their annuities. You can take their diagnostic test to figure out what you'd need to contribute to meet your retirement pension goals, or you can skip all of it and get a quote.
I went through the diagnostic process and it was simple. I told them when I wanted to retire and how much I wanted to receive each month during retirement. I told them I wanted to have a pension of $4,000 a month starting on my 70th birthday.
Their site created a pension plan for me that included an initial payment of $5,000 (the minimum required) plus three different types of monthly payments: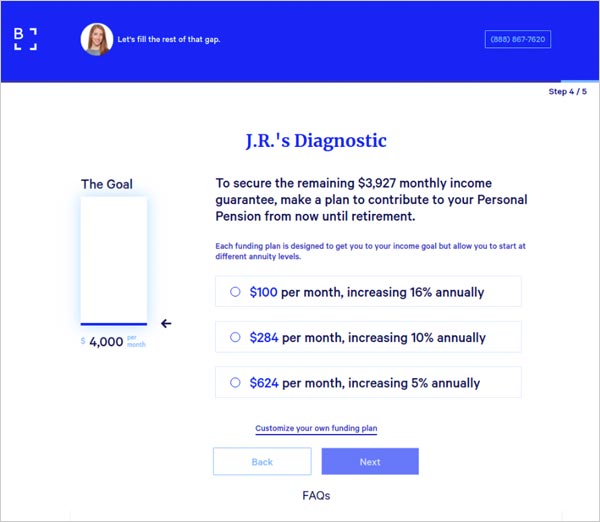 Once you put all the data in, they give you a one-page summary of your pension plan as well as contact information for a Blueprint Income expert with whom you can talk. Here's what the page looked like for me: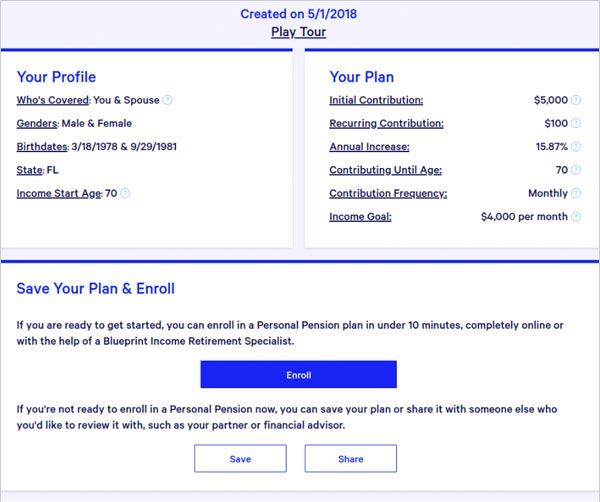 The contact person's phone number and email address, as well as a button for scheduling an appointment with them, was located underneath the graph you see.
This process, known as the Personal Pension, is a little more drawn out than just choosing a quote. The Pension Plan diagnostic is designed more for someone who is pretty far from retirement and wants a long-term plan.
Getting a quote is more for those who are retiring soon, have a lump sum to put in and want to compare insurance providers.
How Blueprint Income Chooses Their Insurance Companies
As we mentioned earlier, insurance companies offer annuities. Blueprint Income isn't an insurance company, though; they're a marketplace where you go to get paired with an insurance firm who will guarantee and pay your annuity.
The site is somewhat similar to Lending Tree; both sites are a marketplace where you can buy your financial product. The big difference, though, is that you'll get personal assistance from Blueprint.
Now, how does Blueprint Income go about choosing the insurance companies with whom they work? According to Lauren Minches, director of insurance and chief actuary at Blueprint Income, the company only chooses insurance companies with an A.M. Best rating of A or higher.
You see, A.M. Best is an agency who focuses on determining the financial strength of insurance companies. Their goal is to figure out how likely an insurance company is to pay you whenever your benefits kick in, whether it's an auto insurance claim or an annuity.
There's a big difference between an auto claim and an annuity though. One will cost you a few hundred dollars' worth of a deductible, while your retirement depends on your annuity.
Therefore, it's a really important fact that Blueprint Income only sets up policies from companies rated A or higher from A.M. Best.
According to the A.M. Best grading chart, which has grades ranging from A to F, an A rating is "assigned to insurance companies that have, in our opinion, an excellent ability to meet their ongoing insurance obligations."
Blueprint Income's Fees
Annuities are issued to individuals with a fee already incorporated into them, Minches told us. That fee is like a finder's fee for Blueprint. Typically, these fees range from 1%-4%.
According to Minches, Blueprint Income asks for a 1% fee even though they can ask for more. Their goal is to free more money up for their customers, she said; other types of annuities tend to charge higher than 1%.
How Blueprint Income Compares to Stock-Based Retirement Plans
One of the important questions you should ask is how annuities differ from IRA's, 401(k)'s and ETF's, the investment vehicle of choice for popular robo-advisors like Betterment.
The key here is risk. Because your annuity is based on a guaranteed payout derived by your retirement age, up-front contribution and monthly contributions, there isn't much risk on your part.
However, a traditional retirement plan or an ETF-based plan could suffer some serious consequences if the stock market tanks.
For example, if there's another big recession right when you're ready to retire, you could lose a significant percentage of your retirement in just one or two years. That loss means you'll have to make less money last through your retirement years.
Another difference between the two is that your annuity money is locked in; you can't withdraw from it or take all the money whenever you want. It stays put until you retire.
We'd also like to point out that the up-front requirement for your annuity is going to be far bigger than what you'd be required to put down to open a 401(k), IRA or an account with a robo-advisor like Betterment.
The Final Word: Pros, Cons and Who Blueprint Income Is Good For
Based on our research, we believe that Blueprint Income's greatest strength is the ease with which you can sign up for their annuities and the fact that you can connect with a member of their team to ask questions and get direction.
In addition to the easy interface they provide, the site also has a pretty extensive amount of information you can use to strengthen your understanding of annuities and retirement.
The downsides are that annuities aren't for everyone. The $5,000 minimum for starting an annuity is a big hurdle for some consumers, especially for those who are starting to form a retirement plan and haven't quite figured out which direction they're going to go.
We believe Blueprint Income is a great fit for someone who has the money to start an annuity and wants to do it through an easy online process while, at the same time, having access to experts who can walk them through the process.
It's a great option, in general, for those who are looking for a low-risk retirement option and want the assurance of knowing how much they'll earn each month after retirement.
We also see this site being of benefit to freelancers who need a retirement plan and have enough money and monthly income to fund an annuity that can provide sufficient monthly payments after retirement.
» Read Next: 7 Most Common Financial Mistakes and How to Avoid Them
Good way to invest in pension annuity

By Paul S.

,

Ohio

,

Oct 1, 2018
Verified Reviewer

I invested earlier this year, and overall the process was pretty easy. This process allows to build an annuity over time, unlike other places that want large sums of money upfront. I would recommend.

Bottom Line: Yes, I would recommend this to a friend

---

Advertisement

---