BlueVine Reviews
Claimed This company has claimed this profile, is getting alerted on any new customer reviews entering this page, and may engage in dialogue with its customers to address their matters.

Companies cannot pay money or provide goods in order to remove or alter customer reviews.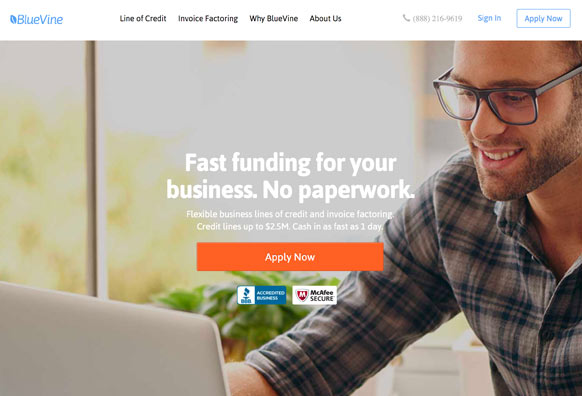 BlueVine provides advance funding for pending invoices, which is claimed to help business owners bridge the gap between when they bill and when they get paid.
What Is BlueVine?
One of the most frustrating parts of being a small business owner is scraping by each month when clients don't pay their invoices.
Based in Redwood City, CA, BlueVine offers small and medium-sized businesses (SMBs) lines of credit up to $200,000, as well as factoring (advances on invoice payments) up to $5 million.
This is a popular service in which a company like BlueVine pays a big portion of the invoice in advance (for a fee, of course) to make sure a company has the cash flow to keep operating. Payments are made on the same day as your application, or the following day.
The company recently received nearly $50 million in Series D funding in December 2016, and another $75 million from Fortress Credit Corp in February 2017. Eyal Lifshitz, BlueVine's CEO, graduated from the prestigious University of Chicago Booth School of Business and worked at Texas Instruments, McKinsey & Company, and a pair of investment firms.
The company has solid roots and funding, but we wanted to know about the kinds of products they offer. We also wanted to figure out what borrowers and other companies are saying about BlueVine, as well as answer the all-important question: Is BlueVine the right solution for your company?
As a small business, it's important to have cash on hand to pay employees, move forward with projects and keep operations running smoothly. Is BlueVine the company that will help you do that?
As we mentioned before, the company offers lines of credit and invoice factoring. Since these are two distinct types of loans, we're going to look at each one individually
Invoice Factoring: What Are The Amounts and Fees?
BlueVine's invoice factoring page claims that they can provide credit lines of $20,000 to $2.5 million.
How to Get the Funding
After providing them information about your business (including your social security number), the company looks at your credit history, your clients' reputation, your company's earnings and other factors to determine if, and how much, they'll advance to you.
Once approved, you sync your accounting software with their site so you can seamlessly request advance payment on invoices of your choosing, and have your customers pay their invoices through BlueVine.
However, you should take note of the basic requirements for applying:
For invoice factoring, you must have a credit score of at least 530; a line of credit requires a minimum score of 600
Your company has to have been in business for at least three months
Revenue is at least $10,000 per month
Invoices business-to-business or business-to-government organizations
When applying for a line of credit (which is also available to business-to-consumer clients), a borrower needs to submit three months of bank statements
Now, stop for a minute and think about what those requirements say. BlueVine is willing to lend you money even if you have a not-so-perfect credit score. Your business doesn't need that much revenue, and it doesn't have to be but three months old.
To us, these requirements allow people who would otherwise not be able to receive a loan from a bank – 80 percent of SMB's, according to Lifshitz – to get money when common sense says it's not a good idea.
But part of the way BlueVine determines your financial standing is by assessing the reliability of your clients. So, even if you don't have a great credit history or financial record, you could get factoring based on the good reputation of your clients.
Weekly Fee
BlueVine charges a 0.3 to 1.1 percent fee for the factoring amount they give you, which is deducted when invoices are paid by your customers. Your fee, Business Development Manager Matt Estes told us, varies from other companies based on several factors that include your creditworthiness, the size of your approved credit line, and the creditworthiness of your clients.
Late Penalty
A late fee of 3 percent is assessed two weeks after your client was due to pay the invoice. It doesn't seem like that much, especially if you've never borrowed large sums of money.
If you're a small business who took an advance out on a $40,000 invoice, however, 3 percent becomes a $1,200 late fee, which is pretty hefty.
If the balance is paid in the third week after the due date, the late fee is returned and you're all square. However, if the invoice isn't paid after the third week, Matt Estes told us the specific actions taken would depend on the client's history with BlueVine, along with the client's overall risk profile.
"Typically, we'll take one of three approaches for very late or non-payments," Matt said, "We'll either put the individual invoice on a six-month term repayment plan, off-set the invoice value against the proceeds of a separate invoice, or work with the client to create a custom repayment program."
Matt went on to say that BlueVine is discerning in who they accept for the factoring program, telling us they try to avoid businesses who are faltering and need factoring to continuously bail them out of their financial woes.
Aside from the late fee and per-day interest charge on overdue accounts, you'll pay a $15 fee every time BlueVine money is wired to your account. ACH transfers, however, are free. BlueVine isn't charging you a lot on the little things, and that's because, we believe, they make their money on the terms of their line-of-credit program.
Lines of Credit: What Are the Amounts and Fees?
According to BlueVine's website, SMB's can apply for lines of credit up to $200,000. A business can use all of that money or part of it without added penalties or fees.
Quickly reiterating some of what we covered earlier, the requirements for getting a line of credit are a little different than they are with invoice factoring. BlueVine's FAQ's indicates borrowers must have:
A credit score of at least 600, not 530
A business that's been operating at least 6 months
Revenues of at least $10,000 per month
The Fees You Can Expect to Pay on Lines of Credit
A line of credit is different than factoring because a line of credit is given as a loan, kind of like how you charge things to your credit card and pay those purchases back with interest.
Factoring is a bit more secure because you've already done the work for the money and are getting paid ahead of time. So, unless your client bails out on you, you only pay an upfront advance fee; no daily interest charges apply.
According to Matt Estes, line-of-credit payments are due weekly and carry an interest rate between 0.35 and 1.5 percent per week. Borrowers have 26 weeks to pay off their loans.
So, if you borrow $40,000, weekly interest at 1 percent would be $400. Each month you'd pay $1,200, which amounts to an APR of 36 percent, which is, in our opinion an extremely high fee.
On the other hand, BlueVine emphasized to us that this same customer "would typically be serviced by someone else with a 60-90 percent APR."
Those fees don't seem to be bothering BlueVine's reviewers, though, the majority of whom have good things to say about the company.
What Are Other People Saying About BlueVine?
We found that nearly 500 reviewers on two different websites rate BlueVine well:
Many of the positive reviews we read praised the site's ease of use and the speed with which clients received their money.
Our Final Thoughts: Is BlueVine a Good Fit for You?
Since BlueVine offers two different types of financial help, we're going to split this conclusion into advice about factoring and advice about lines of credit.
Factoring Is Helpful But Can Be Expensive
BlueVine's invoice factoring service can give a huge boost to a company whose clients pay 30 or 60 days after services were given or completed.
Having those huge gaps of income can really put a business in a jam, especially if they're just starting out or are looking to expand their staff. No SMB owner wants to close the doors on his or her dream, just because clients weren't paying up.
Matt gave us a great example of this, citing a customer who is competing with bigger companies who can afford to wait 30 or 60 days for invoice payments.
"Healthy cash flow is of paramount importance when growing fast and competing with larger competitors," Matt said. "Waiting 15, 45, or even 90 days for cash that you've already earned isn't an option. That's where invoice factoring comes in."
Remember, though, that you're on the hook for a big penalty, as well as daily interest penalties, if you don't pay up. Our advice? Only apply for factoring if you know your clients are slow to pay but reliable. If you don't have the cash flow to cover an unpaid invoice, it can cost you a ton of money.
However, we do like that BlueVine offers a two-week grace period after the invoice due date and that the three-percent penalty is waived if you pay the invoice before the three-weeks past due deadline.
Lines of Credit Carry High Fees
For entrepreneurs who find themselves in a tough financial spot or want a little extra cash for purchases, BlueVine offers a really easy way to secure a line of credit. That credit comes at a price, though.
BlueVine's weekly rate of 0.3 to 1.1 percent may not sound like a lot, but when you crunch the numbers like we did a few minutes ago, a weekly charge of 1 percent actually equates to some really high APR's.
In our opinion, BlueVine is a little different than other consumer websites offering lines of credit. They seem to try and weed out problem borrowers/accounts by vetting each applicant's financial stability, as well as the stability of their clients.
"We do a lot of checks from both public and non-public sources," Matt said. "We use that information, along with our algorithms, to yield a net score of a business's overall financial strength. Then, we use that score to determine who we'll work with."
Determine Your Need and the Cost
But, just as we advise the average consumer to be wary of companies offering quick cash, we're advising you to take a moment and assess your company's financial standing and your personal creditworthiness before taking out a line of credit with them:
Do you absolutely, 100 percent need the money right now?
Are you willing to pay between 0.3 and 1.1 percent each week to borrow the money?
Do you have the discipline to pay back your line of credit on time?
If you answer "no" to any of those questions, we recommend holding off on using a service like BlueVine to acquire extra money. Take a moment to get to the root of the problem and ask yourself if a same-day loan is the answer.
You might also want to consider other similar companies on the market. Although they technically don't do factoring, Fundbox is an example of a relatively new startup who offers some of the same services as BlueVine.
Loan

By Drew F.

,

Albuquerque, NM

,

Nov 18, 2018
Verified Reviewer

I tried to get a loan since I am a small business. I took this business over from another guy that had this company running 100 mph and revenue around 2 million dollars. They did not want to help. If you are a small business looking for funding, DO NOT look into BlueVine. They are too scared about helping small business succeed through the hard times at the end of the year.

Bottom Line: No, I would not recommend this to a friend

Nov 19, 2018

Hi Drew,

We are sorry to hear that you were dissatisfied with BlueVine. We've reached out to you to discuss other funding options. We would like the opportunity to discuss our underwriting policies. If you have any questions, please contact a member of our support team at support@bluevine.com or give us a call at (888) 216-9619 if you have additional questions.

Sincerely,

Team BlueVine

---

Don't waste your time

By Brian D.

,

United States

,

Oct 6, 2018
Verified Reviewer

Don't waste your time here, you are better off with a credit union or even some banks, as I might as well have applied with a bank. My scenario fits their advertising perfectly, my deposits are equal to my request, and my credit score was 680. Also, my time in business is ten years, so when I was declined, you can imagine my shock. Then they said they have some alternatives, so they strung me along further. Then they offered me a ridiculous loan amount and terms.

Do not waste your time! The advertising and the positive reviews must be paid for. I am a perfect candidate for what they offer. Trust me and don't waste any time here. I am sorry that I did.

Bottom Line: No, I would not recommend this to a friend

Oct 9, 2018

Hi Brian,

Thank you for your feedback. We're sorry to hear that you were dissatisfied with our service. We base our policies and underwriting decisions on many factors. We would be happy to discuss this further. Please feel free to send us an email at support@bluevine.com or give us a call at 888-216-9619.

Sincerely,

The BlueVine Team

---

Advertisement

---

Jacob Fryer is the best!

By Aundria S.

,

California

,

Aug 30, 2018
Verified Reviewer

Jacob Fryer assisted me today. I attempted to get help yesterday and the person had me so stressed out, I literally could not sleep last night. I spoke with Jacob Fryer today and he was able to help me with my problem and put my mind at ease. I was extremely grateful and pleased by his knowledge, professionalism, and courtesy. Five-star service! Thank you Jacob.

Bottom Line: Yes, I would recommend this to a friend

---

Such a great company

By Ashley Q.

,

Sesser, IL

,

Aug 1, 2018
Verified Reviewer

BlueVine has been a tremendous blessing to us. We have been in business for almost two years now and wanted to take on the major repairs/remodeling. Thanks to BlueVine and their line of credit they offered us we were able to get the work done and repay in a timely manner. Their rates are great too!

Bottom Line: Yes, I would recommend this to a friend

---

Advertisement

---

Left me high and dry!

By John M.

,

Arizona

,

Jun 27, 2018
Verified Reviewer

So I sign up a year or so ago, and everything worked perfectly. I needed the line to help me purchase materials for upcoming jobs so I wouldn't have to use my cash. Well, like I said, everything was great and after 11 draws 9 of them paid back, and three about half paid back. I went to make a draw and my account was frozen. So I called them, and they told me that my last bank statement showed that I brought in less than what I owed them. I told the rep that is exactly when your service should be available! Not when I don't need you, but when I do need you and I need you now! After many days of back and forth, they still have my account frozen. I have paid off the three remaining draws and will shut down doing business with them today. I recommend NOT doing business with BlueVine.

Bottom Line: No, I would not recommend this to a friend

---

BlueVine is top-of-the-line!

BlueVine offers the most modern, innovative, and sophisticated online application protocol and procedure imaginable, as an approval is almost immediate, with funding within 24 HOURS. With that said, Nicholas Seyer is perhaps the most intelligent, supportive, and productive sales associate via the Business Funding/Finance space!

Happy New Year 2018!

Bottom Line: Yes, I would recommend this to a friend

---

First experience with BlueVine Capital

For a number of reasons, I had decided that I was not going to utilize traditional bank loan mechanisms to obtain working capital for our small business. After looking around the internet I came across BlueVine Capital as a financing source who would make an evaluation on the basis of our business and provide funding at an appropriate level based on simply that, no personal collateralization and the other onerous risk aversion tactics banks typically employ. So I thought, let's give it a shot. We're either worth some funding or we're not, but we'll find out pretty quickly, and it doesn't cost me anything but time and information to get that answer.

The folks at BlueVine were easy to work with, and the application process was pretty quick and straightforward. I got the answer in 48 hours as promised and when I took the first draw, the funds showed up in our bank account as promised the next day.

This review is being written after the application, approval and first draw so it doesn't work for how it is long term with them, but so far, everything has been as their materials describe and I've found their support and communication to be outstanding.

Bottom Line: Yes, I would recommend this to a friend

---

Great Lender!

I have been very satisfied with Blue Vine. They are responsive to my requests and give great customer service. I am extremely thankful for them and would recommend their services to any small business.

Bottom Line: Yes, I would recommend this to a friend

---

Thank you

The process of borrowing money is always a stressful one for me, but it was nice to be treated like I was by this company. They did not try to beat around the bush or make me feel like I was reaching. They were very straight forward and up front. In closing my account, I was made to feel like I was always welcome back.

Bottom Line: Yes, I would recommend this to a friend

---

Easy to use factoring platform and great customer service

I have worked with BlueVine over the last year and have been impressed with how easy their factoring platform is to use and the attention that they dedicate to customer service. Just today, I had a question about a payment that I received through the platform. I emailed my account manager and received a call within 15 minutes. My AM is proactive in helping me plan for growth. I would definitely recommend BlueVine if you are a small business, not quite bankable looking for growth capital.

Bottom Line: Yes, I would recommend this to a friend

---

Best customer service

Literally, the best customer service I've ever received from any company. The folks we work with at BlueVine have a deep care and understanding of our business needs. I highly recommend BlueVine.

Bottom Line: Yes, I would recommend this to a friend

---