BlueWire TV Antenna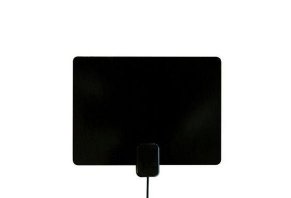 The BlueWire HD TV antenna allows you to watch local television channels in high-definition resolution without paying any subscription fees or cable fees.
BlueWire TV Antenna Review
The BlueWire TV antenna is a new TV antenna that receives existing HD television signals, providing you with HD access to local television stations and other channels like Home Shopping Network.
The site makes mention of the fact that the antenna doesn't require any internet or WiFi connections, nor does it require a subscription fee. Also, the site mentions that you get all your channels legally; you aren't breaking the law by using it.
The site's description of the antenna is certainly intriguing but requires some additional examination to help you understand how the antenna works, how much it costs, and how it compares to other TV antennas that claim to provide HD channels.
How the BlueWire TV Antenna Works
It wasn't but just a couple of decades ago that many homes had antennas on top of their television that allowed them to access local networks and a few random national stations. This meant that you didn't have to pay for cable subscriptions, for example, to watch broadcasts from NBC, CBS, ABC, FOX, and other stations.
Think of the BlueWire as the new iteration of that old antenna model. It's a flat antenna – no bunny ears – that you can fix to the wall of the room your TV is or just lay it flat on your entertainment center.
The antenna uses a coaxial cable that plugs into the back of your TV. When you turn your TV on, you'll want to access the settings and get to the screen that allows you to auto-scan TV channels. What this means is that your TV will use the BlueWire to search which channels' signals are clear enough to watch, then store those channels.
Once the channel scan is complete, you can start watching television.
Now, there are a few things you should know about what the BlueWire antenna can and can't do. First, the antenna can capture HD channels as well as standard definition channels. This trait is something shared among all HD TV antennas.
What the BlueWire can't do is provide you access to any special channels (ESPN, HBO, Discovery, etc.) or generate channels on its own. The antenna is acting as a recipient of the signals that are moving through your home, just like any other antenna.
Because all HD antennas pretty much work the same way, the important bits of information you should know are how much the antenna costs and how well people say it works.
Before we cover that information, though, we want to point out that you may have to face your BlueWire in certain directions in order to get certain channels.
For example, if your BlueWire is facing south and your local NBC station transmits a signal from the east, you may get a choppy signal unless you turn your antenna east.
Pro tip: Use the FCC's signal search site to search your zip code and see from which direction various stations are coming. This will help you know where to face your BlueWire in order to get the best reception.
BlueWire's Pricing, Returns and Warranty
When you click to buy the BlueWire antenna on the product's website, you'll be taken to a page with a notice that says, "Attention! Due to high demand, there are less than (number of antennas) available right now."
While we can't confirm how many antennas were left at the time we came to this page – BlueWire said 58 – we do know this is a common marketing tactic among many different sites intended for you to feel a sense of urgency about your purchase.
Below the notice is the first of three questions the site wants you to answer before you make your purchase. The first questioned pertained to where you heard about BlueWire, how much TV you watch each week and how much you pay in cable each month.
After you answer those questions, you get to the pricing page. When we were writing this review, the prices for BlueWire were:
One antenna: $39.99 + $4.95 S&H
Two antennas: $69.90 + free shipping
Three antennas: $99.99 + free shipping
Four antennas: $130 + free shipping
Five antennas: $149.75 + free shipping
You'll pay about $15 less per antenna if you buy five, making the bigger purchase the better value. You'll also have the choice of buying a $7.99 lifetime warranty that promises free replacement if your antenna stops working. The warranty applies to all antennas in your purchase, whether you buy one or five.
If you need to cancel your order, you should do so within 24 hours of your purchase. BlueWire recommends emailing their customer support team to cancel: support@bluewiretv.com.
If you aren't satisfied with your antenna after you receive it, you have 30 days from the day your antenna arrived to get it back to BlueWire. In other words, they have to have the antenna in their hands before the 30-day deadline.
To make a return, you'll need to get what's known as a Return Merchandise Authorization (RMA) from BlueWire's customer service. To do this, send them an email at support@bluewiretv.com. You'll need to send the antenna and the original box back with the RMA written on the outside of the box.
The return address is: Attn: BlueWire TV Antenna, 925 Hale Place Suite B3, Chula Vista, CA, 91914.
How the BlueWire TV Antenna Compares to Similarly-Priced Antennas
We'd classify BlueWire as a passive antenna, which means it doesn't have a power source that increases its ability to grab signals. As such, we'll compare it to a pair of the best-selling passive antennas from Target: the Philips Flat Panel HD Passive Antenna and the Philips Traditional HD Passive Antenna.
Normally, we'd compare the customer reviews BlueWire gets to the reviews the other two antennas get but, at the time of publishing, BlueWire had no customer reviews that we could find.
That being said, the Philips flat panel received six reviews for an average rating of just over four stars. The traditional Philips antenna received 14 reviews for an average rating of just a shade over four stars.
As far as price goes, the flat panel antenna was $19.99 and the traditional antenna was $10.99.
So, price-wise, both of these popular Target antennas are significantly cheaper, so much so that you could buy two flat-panel Philips antennas for the same price as one BlueWire. This is a key point of differentiation considering the three antennas function in pretty much the same way – they receive HD and SD signals.
Also, both Target antennas note that they provide 1080p HD and are equipped for 4K, whereas the BlueWire does not make mention of its level of HD quality.
Our Final Thoughts on the BlueWire HD Antenna
This particular antenna is a great option for those who are looking to cut the cord and get channels for free. Paying a one-time $39.99 fee plus around $5 in shipping will be cheaper than paying a cable bill in the long run.
However, remember that your local cable companies may offer you cable-plus-internet packages that may be as affordable or cheaper than internet-only packages offering the same speed. If this is the case, then check to see if the cable packages that offer better value provide HD stations.
For example, in our city in Florida, we can get a basic cable package through Comcast. However, that package does not provide HD channels, which means that we're better off using our antenna to get local channels and casting our phones or laptops for channels we have access to online.
The downside to this antenna is its price. You have many different highly-rated options to choose from big-box stores like Target, Walmart and Best Buy.
---
BlueWire TV

By Stan M.

,

Santa Cruz, CA

,

Dec 18, 2019
Verified Reviewer

Overall Experience:

What a scam. Got it, plugged it in, NOTHING.

Bottom Line: No, I would not recommend this to a friend

---

Difficult/non-existent return procedure

By Raymond K.

,

Myrtle Beach, SC

,

Dec 12, 2019
Verified Reviewer

Overall Experience:

Bought the antenna with the hopes of doing a little "cord-cutting" to reduce cable bills.

Ordering the antenna was a real snap as well as the delivery.

Went through the setup and found that I was too far away from any stations, except for one, to get any decent reception and decided to return for a refund.

Contacted BlueWire, received an RMA number and sent the product back to the address indicated in the Returns Policy paragraph on the enclosed literature.

Now I have gotten an alert from USPS saying BlueWire rejected the package and it was being returned to me.

We are going into the time period of the 30-day return policy for returns so I am attempting to find out what happens next. I may be out my purchase price as well as having a product that will be no more than a paperweight.

Bottom Line: No, I would not recommend this to a friend

---

Advertisement

---

Overall Experience:

I purchased 5 antennas and got them in and they don't work at my house. I have sent 3 emails to the company trying to get a REM number so I can send them back and no one will respond to my emails. I will not recommend them to anyone ever.

Bottom Line: No, I would not recommend this to a friend

---

Scam

By Shelley P.

,

Illinois

,

Aug 1, 2019
Verified Reviewer

Overall Experience:

This is a scam. I ordered this today and within an hour I had 3 charges from California that I did not make. Fortunately, my bank knew that I was not in CA so their fraud department called me! SCAM!

Bottom Line: No, I would not recommend this to a friend

---

Advertisement

---

Scam

By Jonathan H.

,

Michigan

,

Jul 26, 2019
Verified Reviewer

Overall Experience:

Not only do these antennas not work they are a complete rip-off, the company is fake and they will not refund your money. The antennas in my camper work better than these pieces. I made the mistake of ordering too and getting ripped off twice as bad, they won't even respond and there's no way to contact them by phone. They are a scam.

Bottom Line: No, I would not recommend this to a friend

---

No warranty on product, no returns for dissatisfaction - don't waste money.

By Laura C.

,

Bristow, VA

,

Jul 18, 2019
Verified Reviewer

Overall Experience:

Gave product a try, scanned many times but no channels came through. Found out that we are located 29 miles to the closest tower (this product only goes 30 miles). Trusted we lived in the 90% within range..."Realistically, about 90% of the US population is within range of at least one DTV Antenna that will provide free channels!" Obviously should have checked into the FCC site prior to making my purchase. Now I also see on the website that there's no way to get a refund since I did not cancel my purchase prior to it being processed (within 24 hours), and it doesn't appear to be damaged (which is the only other accepted reason for exchange, not return). No product warranty. Unsatisfied customer doesn't show as being a reason to return, so I didn't bother contacting them. Just wasted $45. Wouldn't deal with this company again.

Bottom Line: No, I would not recommend this to a friend

---

Did not work as advertised

By Anthony M.

,

Florida

,

Jul 11, 2019
Verified Reviewer

Overall Experience:

This BlueWire TV Antenna that I paid $40+ for didn't work nearly as good as advertised, and only picked up 3 channels. I paid $12 for one at Walmart that picks up 11 channels, so I would like to know how I go about getting my money back since your advertisement is grossly misleading.

Bottom Line: No, I would not recommend this to a friend

---

Sucks bad

By Kathie S.

,

Arlington, WA

,

Jun 25, 2019
Verified Reviewer

Overall Experience:

I just bought this product and I can't get even one channel on either of my TVs. I've contacted the stupid email address twice and I haven't heard from anyone. This is dumb, I spent $69.90 thinking finally I won't have to pay $180 for cable, but that's a lie. Don't purchase this item, they just get your money and send you a product that doesn't work.

Bottom Line: No, I would not recommend this to a friend

---

When will they respond to the phone calls on their backed up phone line

By Margaret J.

,

Brooklyn, NY

,

Apr 23, 2019
Verified Reviewer

Overall Experience:

I returned the two antennas with certified mail receipt and someone by the name "chelseaw" signed for them. I would just want my money returned, these antennas don't work where I live. The Better Business Bureau will be notified about you very soon!

Bottom Line: No, I would not recommend this to a friend

---

BlueWire review

By Stephen R.

,

Cordova, TN

,

Apr 22, 2019
Verified Reviewer

Overall Experience:

These BlueWire Antennas suck! The rabbit ears I got at the thrift store for a dollar work a lot better. I have tried everything to get it to work better, I live where I should get good reception. Bottom line, don't waste your money on this piece of crap like I did. You have been warned.

Bottom Line: No, I would not recommend this to a friend

---

Waste of time

By Rick S.

,

New Jersey

,

Mar 26, 2019
Verified Reviewer

Overall Experience:

I purchased this item with full faith that the antenna would do what was projected to me by its website. I should have read the reviews first (as I normally do). I live in an area that is approximately 6 miles from a tower that was to suffice per their website to get a good signal. Wrong. The antenna not only did not pick up the required signal, but it froze the fuzzed out image to boot. After attempting to notify the vendor to this problem for the fifth time, I am returning this junk! Be aware of promising websites that do not honor their end after they take your money...

Bottom Line: No, I would not recommend this to a friend

---