Bond Street Reviews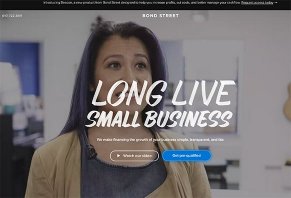 Bond Street is a non-bank lender who provides loans of varying lengths and APRs to small business owners looking for a relatively fast way to get funding for a variety of reasons.
About Bond Street
Bond Street is a small business lender based in New York City who grants small business loans to businesses who meet certain criteria.
What makes the company unique is that they say they can offer a 48-hour approval time and low interest rates, a combination of factors that's hard to find considering banks are notoriously stingy about handing out SMB loans and other lenders have insanely high interest rates.
Crunchbase's data on Bond Street indicates David Haber and Peyton Sherwood founded the company in October 2013 and, at the time of publishing, had between 11 and 50 employees.
Haber is the company's CEO. He graduated from Harvard University and, previous to Bond Street, worked at Spark Capital and Locus Analytics.
Like Haber, Sherwood is a Harvard grad. He is the company's CTO and was Head of Engineering at Venmo before coming to Bond Street.
While Bond Street may have experienced leadership, we've learned through our own research that what a company offers is just as important as who is running the show.
This is especially true when you consider that most businesses looking for funding are most concerned about getting the right amount of cash in the right amount of time.
Our review will cover the fundamental aspects of Bond Street's lending services:
The application process
What types of loans they offer
Rates and fees of Bond Street's loans
What other people are saying about Bond Street
Once we've worked through each of these topics, we'll conclude with a final section that summarizes Bond Street's pros and cons.
We'll also include a quick word about who we think might benefit most from Bond Street's financial products.
What's the Bond Street Application Process Like?
The Bond Street application process takes place online, where you fill out a preliminary application to find out roughly how much you'll be approved for, what your interest rate will be and how long your repayment period is.
This is basically like a ballpark figure (pre-qualification) that can change as you go through the loan approval process.
It takes about 48 hours to provide you with a decision about your loan and, Bond Street says, the money can be sent to your account within a week of doing your application.
However, before you apply, you need to understand that Bond Street has certain qualifications for their application.
The Basic Qualifications
According to their website, you have to meet the following criteria if you want to be considered for a loan:
Credit score of at least 640
At least two years of business operations
Annual revenue at least $200,00
Not located in North or South Dakota, Nevada, Tennessee or Vermont
DSCR of at least 1.15
One of the main reasons why Bond Street requires that your current business has been operating for two years is that, according to their site, "only 66% of new businesses survive the first two years of operations."
A Quick Explanation of DSCR
Another key factor in whether or not you qualify for a Bond Street loan, their site says, is your "DSCR", a business version of debt-to-income ratio.
Basically, your DSCR is a ratio of how much you owe versus how much net income you bring in every year.
Bond Street says the ideal DSCR is at least 1.15, which means your net yearly income is roughly 15% higher than your yearly debt obligations.
So, if bring in $1 million and your debt obligations are $850,000, your DSCR is 1.17 and you clear Bond Street's minimum.
If you earn $1 million and your annual debt is $900,000, your DSCR is 1.11 and doesn't meet the 1.15 standard.
Personal Guarantees and Liens
Bond Street will also require you to do two things to further protect themselves from risk: give a personal guarantee and provide a UCC-1.
The personal guarantee is a binding promise that you'll be personally responsible for the loan if it goes into default and the business can't pay it.
The UCC-1, or Uniform Commercial Code, is a legally binding document good for five years that allows the lender to take specific business assets if you can't repay the loan.
However, as Bond Street points out in their FAQ, their goal is to weed out irresponsible borrowers by giving a lot of weight to business income and credit scores.
Preparing for Your Loan
While most small businesses are ready to apply at this point, Bond Street's website offers some excellent tips for preparing yourself for a small business loan. Here are a few of their recommendations:
Work on increasing your credit score
Know how much money you need vs. how much you can afford
Study your financial statements (P&L, balance sheet, cash flow statement)
Prepare your documentation (financial statements, tax returns, accounts payable & receivables
When you take into account Bond Street's requirements and suggestions, you start to see that getting a small business loan isn't so much about who can get you your money the fastest, but about preparing yourself to be a successful entrepreneur and borrower.
What Types of Loans Does Bond Street Offer And What Are Their Fees?
Bond Street's small business loans are best understood by looking at their loan sizes, terms, interest rates and APR's:
Loan size: Up to $1 million and, in some states, at least $50,000
Loan term: 1, 2 or 3 years
Interest rate: Between 6% and 22%
APR: Between 8% and 25%
Origination fee: Between 3% and 5%
Prepayment fees: None
We read through Bond Street's FAQ's to determine how they calculate your interest rate and found that the company takes into account "thousands of data points", which means they go beyond just your income, debts and credit scores.
Known as "alternative lending", this method seeks to get a fuller picture or your financial situation and your predicted ability to pay back your loan on time.
Now, we can't say for sure that their alternative lending method guarantees that you'll get a loan with them if you don't meet the criteria mentioned earlier. We do know, however, that those factors will affect your interest rate.
And, just as a reminder, your APR is your interest rate plus your origination fee expressed as a percentage.
Pro tip: Loan payments are due on the 1st and 16th of the month.
How Bond Street Compares to Other Business Lenders
Shopping around is a must when you're looking for loans of any type. Different banks, credit unions and non-bank lenders use different methods of calculating your loan amount, term and interest rates.
To help you understand where Bond Street fits in the context of other lenders we've reviewed, we created the following comparison chart:
| Company | Loan Amounts | Loan Term | Interest Rate | Origination Free |
| --- | --- | --- | --- | --- |
| Bond Street | Up to $1 million | 1-3 years | 6-22% | 3-5% |
| Fora Financial | $5K-$500K | Up to 10 months | Varies, paid weekly | 4% |
| Credibly | $5K-$250K | 18-24 months | 9.99%-36% | 2.5% |
| Street Shares | $2,000-$100K | 3-36 months | 8-35% and higher | 3.95%-4.95% |
| OnDeck | Up to $500K | 3-36 months | 5.99%-48% | 2.5%-4.5% |
| SmartBiz | Up to $350K | 10 years | 6.25%-7.25% | 4%-6.25% |
As you can see, Bond Street offers the most amount of money with some of the most competitive interest rates on the market.
SmartBiz has far lower interest rates, but that's because they offer Small Business Administration loans backed by the government and are repaid over a longer period of time.
The shorter the repayment term, the higher the APR tends to be: Lenders want to make money.
What Are Other People Saying About Bond Street?
Several other review websites have done their research on Bond Street and generated their opinions about the company. Those websites are: NerdWallet, Merchant Maverick and Fundera.
NerdWallet
NerdWallet's Steve Nicastro concluded that Bond Street is a great lending resource for business owners who need "fast cash" and have good cash flow.
One of the main downsides, Nicastro said, is that the average Bond Street borrower has a pretty high credit score: 720, to be exact.
"The average funded borrower has a credit score of 720, with $2 million in annual revenue and eight years in business," Nicastro wrote.
He also noted that some borrowers may not like the twice-a-month payments you're required to make.
Merchant Maverick
Merchant Maverick's Bianca Crouse concluded that Bond Street provides an alternative to businesses who don't want to endure the strenuous process of getting a bank business loan.
"While expensive compared to other sources of funding, Bond Street's rates and fees are competitive with other online lenders," Crouse wrote. "That said, if you are eligible for a loan from Bond Street, you might be eligible for a bank loan; businesses that have the time and inclination may want to consider talking to their local bank or credit union."
Fundera
Fundera has a pretty positive review about Bond Street, noting that they offer "affordable financing that can be applied to quickly and easily online."
They said, as we did, that Bond Street is one of the most affordable online business lenders you'll find.
"If you are looking for a lower-cost small business loan online, Bond Street is a great place to start," Fundera said. "Bond Street is also relatively flexible with intended use of funds. As long as the funds are being used for commercial purposes, you can work with Bond Street."
Our Final Thoughts About Bond Street
Finding lending for your small business can be difficult if you limit yourself to banks because, as most business owners and lending experts will tell you, the process can be really drawn out and stressful.
However, companies like Bond Street offer a quicker, more painless application and approval process.
Based on our research of Bond Street, we believe the site has some very specific positives and negatives.
The Pros of Bond Street
We believe that the numbers show Bond Street has some of the most reasonable APR's you can find in the world of small-business lending.
The main reason for this is, as NerdWallet pointed out, they tend to pick borrowers with high credit scores who are more likely to pay their loans back on time. With those assurances, Bond Street can offer lower interest rates.
We also like how Bond Street charges you an origination fee and doesn't try to cram other hidden fees into your loan.
Cons of Bond Street
We'd say the downside to Bond Street is that, based on their average borrower's credit score, there's a chance that business owners with bad credit may not get favorable terms for their loan.
Granted, this is pretty much a universal principle in the world of lending. However, we think it's important to point out because, in times of need, we all tend to get optimistic about loans and we think that we've got a realistic chance at a lender's lowest APR.
But, the reality is that, even though Bond Street takes into account thousands of data points to determine your risk level, there isn't a lot of extra data out there that can counteract low annual revenue, high debt and bad credit scores.
Who is Bond Street Good For?
We believe that the ideal Bond Street borrower has a credit score of at least 720, has been in business for at least eight years and who isn't in a big rush to get their funding but has time to shop around and use their credit and income profile to get the lowest possible rates.
The Final Word: A Solid Choice for Solid Borrowers
Based on our reviews of many different small business lenders and non-small business lenders, we believe that Bond Street offers competitive rates and what seems to be a straightforward application process.
Remember, though, you're much more likely to be satisfied with your loan terms if you've got great credit, as Bond Street and most lenders are happy to give you low interest rates and helpful repayment terms.
If you aren't convinced that Bond Street is right for you because you're looking for less than $10,000 in funding, consider opening a business credit card. Some of these cards offer excellent rewards programs and manageable terms and interest rates.