Bondtastic Reviews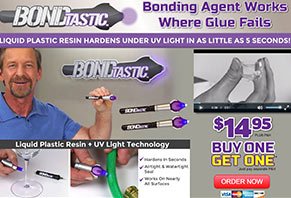 Bondtastic is an "As Seen on TV" brand of liquid plastic resin that hardens in seconds using UV light exposure, and is claimed to bond to almost any material.
About Bondtastic
Bondtastic is an industrial strength liquid plastic resin that's claimed to harden under UV light, while bonding at the molecular level to nearly all surfaces, including glass, leather, metal, plastic, rubber, copper, and more—in as little as 5 seconds.
After drying, the manufacturer claims that Bondtastic forms an airtight and watertight seal that's nearly invisible, and that can flex to withstand bending. As a result, Bondtastic is claimed to work where glue fails, while saving you time and hundreds of dollars in repairs.
Bondtastic comes in an easy-to-use pen shape that works over 3 steps:
Apply resin to the surface you're looking to repair.
Shine the UV light on the resin.
A permanent bond will be created in seconds.
If Bondtastic really works as well as the manufacturer claims, think of all the stuff you could fix around the house! Imagine taking control of your domain and finally getting things done!
But can Bondtastic help you leap tall buildings in a single bound, or will it just be one big letdown? Consider the following:
What is the Liquid Plastic Resin in Bondtastic?
When searching online to figure out what exactly "liquid plastic resin" is, or how it works, we ran across dozens of websites selling plastic casting materials, but nothing related to the use of liquid plastic for bonding purposes.
However, after tweaking a few of our search terms, we hit gold when we found Bondic, which is essentially the same concept as Bondtastic; e.g. a bonding agent that "has adhesive properties but it is essentially plastic in a liquid format," contained within a pen-shaped device, and that's activated/hardened after being exposed to UV light for 4 seconds. According to the Bondic website:
These "liquid molecules or "pre-plastic" in liquid format that, when exposed to our UV light, are allowed to connect and become the hard plastic you know and depend on in everyday life. They are attracted to each other but separated by the liquid, but UV light suddenly breaks down the part of the liquid that kept them separate and the molecules do what they want to do naturally, which is align and organize themselves. When that happens it's plastic. Normally it's done with heat and injection molded! Here it's done with light. The movement of them getting organized actually creates a second of heat in Bondic™. Sometimes, you can see a wisp of steam or smoke if you make a large drop of it. That's the heat making the liquid evaporate!"
Granted, since so little information is provided on the Bondtastic website, there's no way of knowing how closely their formulation resembles Bondic's, although the similarities are quite apparent.
How Does Bondtastic Compare to Other Adhesives?
According to the product's commercial, after being exposed to UV light, Bondtastic creates a permanent, airtight and watertight seal wherever it's applied. In fact, after applying Bondtastic to 2 different bolts, the adhesive is shown holding 300 pounds of bricks.
However, other than claiming that you won't have to wait a long time for drying, and that you won't have to worry about getting glue stuck to your fingers, the Bondtastic commercial doesn't compare the product to traditional bonding materials, so there's no way to know exactly how well it stacks up. Once again though, we'll refer back to the Bondic website for some clarification:
"Glue in principle is an adhesive that allows two fractured parts that fit together perfectly to stick together and become one. However, glue doesn't replace missing pieces, nor does it provide 3D properties. Glue also cures when exposed to air or in this case, UV light and generally requires pressure between two parts to work. Bondic™ has adhesive properties but it is essentially plastic in a liquid format, you don't need perfectly fitting parts for it to work and you can actually fabricate a missing part out of thin air so to speak so it is truly a different category."
In other words, although Bondtastic might be every bit as strong as glue-based adhesives, the fact that it doesn't cure until exposed to light gives it the ability to be useful in a broader range of situations.
Are There Some Materials Bondtastic Won't Adhere To?
Based on Bondic's FAQ, the plastic resin is suitable for bonding most materials, which is also claimed by Bondtastic. However, if you're attaching dissimilar materials, then you may need to drill small holes in each in order to allow the resin to attach to the small crevices, and to strengthen the bond.
With this said, it seems that the liquid plastic in Bondtastic/Bondic shouldn't be used to repair polyethylene (often found in tarps).
Customer Reviews for Bondtastic
Bondtastic was a very new product at the time of our research, and didn't have any online customer reviews available.
However, we did learn that Bondtastic is manufactured by Lenfest Media Group, LLC based out of King of Prussia, PA. The company held a B+ rating with the Better Business Bureau based on 25 closed complaints (as of 4/13/15). Most of these appeared to reference problems with the product/service, although no details were available.
Bondtastic Pricing & Refund Policy
Two Bondtastic "pens" are priced at $14.95 plus $12.90 S&H.
Important note: There's no indication of how much material is contained in each Bondtastic pen, or how many applications you can reasonably expect to get out of each one.
Bondtastic comes with a 30-day refund policy, as well as a limited warranty for defects in materials and workmanship, less S&H charges. This means if you decide to process a return, you'll likely end up losing more money in S&H charges than you'll receive as a refund.
When reading through Bondtastic's Customer Service page, it's indicated that the Deluxe model comes with a 90-day warranty, although there's no mention of a Deluxe model anywhere else on the product's website.
With this in mind, if you need to process a refund or a warranty claim, you'll need to contact customer service at 855-836-8438.
Is Bondtastic Right For You?
Chopping to the point: With so little technical information available on the Bondtastic website, it's difficult to say whether or not you can expect the bonding agent to work as well as the manufacturer claims.
However, if Bondtastic has a formulation similar to Bondic (they could be the same product for all we're told), it appears that there are almost no situations where the liquid plastic resin won't come in handy, and could potentially make small household repairs much easier.
If you do decide to give Bondtastic a try and end up dissatisfied though, keep in mind that you'll lose more in S&H charges than you'll receive as a refund, which can take a big bite out of your wallet.
43 out 60 people found this review helpful

Looks like Bondic!

By Sam Kettering

,

New York City, NY

,

Jul 31, 2015

I bought Bondic and it was an awesome product! When I found Bondtastic, I found it to just be a knock off of Bondic with a different logo wrapped around it. This is really disappointing the Sharks in the market would rip off a fellow entreprenuer.

Bottom Line: No, I would not recommend this to a friend

---

Advertisement

---