BookBub Reviews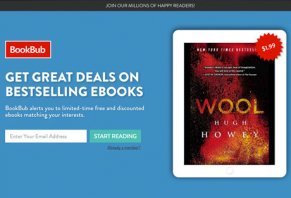 By providing readers with a customizable daily email, BookBub claims to help you discover deeply discounted and free eBooks available only for a limited time.
About BookBub
If you're an avid—but price-conscious—reader, BookBub claims to send you email alerts any time a book matching your interests is offered at a deeply discounted price, or even completely free. In fact, with more than 2 million subscribers, the company claims to be the #1 service for e-book price promotions.
But is BookBub really all that it's cracked up to be? Let's peek behind the cover and find out.
Quick Facts About BookBub
According to the BookBub website, publishers often provide flash sales on their books in order to stimulate sales or to make them stand out from the competition. However, these price reductions are generally only offered for a limited period of time, and finding out when they occur can be a painstaking process.
To change this, BookBub claims to "help you discover your next great book" by sending you daily email updates for ebooks that meet the following criteria:
Free or deeply discounted
Top quality content
Limited time offers
Matches your preference
BookBub emails feature content from top-tier authors and publishers, as well as from up-and-coming standouts, across the following genres:
Bestsellers
Mysteries, Thrillers, & Action
Romance
Other Fiction
Fantasy, Science Fiction, & Horror
Nonfiction
In order to sign up for BookBub daily emails, you'll only need to provide your email address, which the company claims is not shared with any third-party entities. After entering your email address, you'll then be taken to a page where you can choose which genres and sub-genres you prefer, as well as your preferred formats (e.g. Amazon Kindle, Barnes & Noble Nook, Apple iBooks, etc.). Once you've completed the process, you can visit your home page, which will feature a list of titles based on your specifications, as well as a short description of each title and the platform(s) it's available on.
BookBub Pricing & Refund Policy
BookBub daily email alerts are free, and you can unsubscribe at any time.
Publishers and independent authors can submit their books to the company for review, which will entail a fee (if selected).
Bookbub Background
BookBub was founded in 2012 by Josh Schanker and is based out of Boston, MA. Although the company has been widely featured in the media, including the New York Times and Forbes, they are not listed with the Better Business Bureau. However, since they provide a free service for consumers, this makes perfect sense.
All online reviews we encountered during our research were positive, and no complaints not related to personal preference were noted.
What's the Bottom Line About BookBub?
At its most basic, BookBub can be likened to the Groupon for ebooks. Unlike Groupon though, BookBub comes risk-free: You're not required to spend money in order to receive discounts, or to go through a complicated redeeming process. Instead, simply sign up for a free account, and when you find a book you'd like to download, all you have to do is click on the link and you'll be taken directly to the download page.
With this in mind, our initial impressions about BookBub are positive, as the company provides a completely free, no-commitment-required service that can potentially save you money. In our limited experience, we've found that some BookBub daily emails may only contain one recommendation, while others may include 8-10—so if you're expecting to receive dozens of recommendations each day, you may be disappointed. This seems to be especially the case if you're looking for nonfiction and/or short stories or novellas, as BookBub focuses primarily on fiction, and any book they feature must be a full-length novel of 150 pages or more.
---
Great service

By Janet G.

,

Lancaster, OH

,

Jan 31, 2020
Verified Reviewer

Overall Experience:

Have used this service for several years and love it. Probably get too many books as I have used up my limit on one Kindle and started on another. I am hooked on romance of the 1800's and have several favorite authors who are on this site regularly. Love history also. BookBub has a lot of diverse types of books available.

Bottom Line: Yes, I would recommend this to a friend

---

How I use this site

By Debbie T.

,

Wiltshire, England

,

Dec 17, 2019
Verified Reviewer

Overall Experience:

I use the site how I use GoodReads, to review the books I read and also to keep a copy of the books I've read!

Bottom Line: Yes, I would recommend this to a friend

---

Advertisement

---

Too many emails

By Sophia M.

,

New Rochelle, NY

,

Sep 8, 2019
Verified Reviewer

Overall Experience:

I signed up because the service seemed interesting. However, I got way too many emails from them. Frankly, it was annoying. I have unsubscribed numerous times but they keep coming.

Bottom Line: No, I would not recommend this to a friend

---

A lot of the same and not as many free books as they used to offer

Overall Experience:

I used to download books all the time from BookBub's offerings, both paid and free, though I'm finding that they have cut their free books drastically and the free books they choose to advertise are the same ones every three or four months. There are many other free and paid book sites that offer more diverse titles all the time without serving up repeats. Since this review is based on BookBub itself, I don't think it would be fair to them to list them, but you can find them on any search engine.

Bottom Line: No, I would not recommend this to a friend

---

Advertisement

---

Free books

By Ken Butler

,

Ireland

,

Nov 10, 2017
Verified Reviewer

Overall Experience:

I have gotten some very good books in the last year, but lately, the free ones mentioned in the email are not free. On searching Amazon, one is presented with "audio version," which is really expensive and not free. The "free books" also appear to be missing.

Bottom Line: Yes, I would recommend this to a friend

---

I have 65 free books on my computer

By Roger Fenton

,

Jackson, GA

,

Sep 25, 2017
Verified Reviewer

Overall Experience:

I have loaded over 65 free BookBub ebooks on my computer. You can't beat free. What do you have to lose? I have told my friends about it. I read in the winter because I don't have time in the summer. I am both a reader and an author and intend to place my first novel, DEATH TO THE NOVICE ATTORNEY, on BookBub.

Bottom Line: Yes, I would recommend this to a friend

---

Great!

By JoAnn Demers

,

Montreal, Quebec, Canada

,

Sep 6, 2017
Verified Reviewer

Overall Experience:

At first, I was skeptical but decided to join. I like getting email alerts, some books I am not really interested in, and so I pass, and I have already downloaded about 15 books ranging from $0.00 to $2.99. The great thing about this site is that they do not ask for any payment info, but instead take you to your already set up account with (in my case) Amazon (for Kindle) and so you deal directly with your e-book provider. I have saved a lot of money going this way!

Bottom Line: Yes, I would recommend this to a friend

---

Overall Experience:

What a fun book to read. It has a great plot with lots of twists, suspense, and action. The lead characters have spunk and were well written. A very fast read. I thoroughly enjoyed reading it and can't wait for more. The more books I read from Noree, the more I enjoy her style of writing.

I was given a copy of the book with nothing expected in return.

Bottom Line: No, I would not recommend this to a friend

---

Great site

By Jane

,

Milwaukee, WI

,

Jan 17, 2017
Verified Reviewer

Overall Experience:

I recently was told about BookBub, so I joined (which was EASY) and have already gotten one free book and one for $.99! I am retired and an avid reader, doing 2-3 books weekly, so this service really fits my reading needs and budget. Listing my genre choices lets me get what I am interested in. It's a WIN WIN for me!

Bottom Line: Yes, I would recommend this to a friend

---

Do your homework

By Diane

,

Pacifica, CA

,

Nov 23, 2016
Verified Reviewer

Overall Experience:

I really like this app and have downloaded several books that I've received free or paid as much as $2.99 (oh my), so I think it's super.

I came across an interesting quirk, I wanted a book that they were charging $2.99. When I checked on Amazon separately, not from their link, I found it for $1.99. Not a huge difference and for the convenience, this could be worth it to a lot of people but just be aware that you may not be seeing the best price, no matter how ridiculously low it is!

Bottom Line: Yes, I would recommend this to a friend

---

Overall Experience:

How can anyone give this site less than 5 stars? It's completely free, sends you an email everyday with a selection of books and allows you the opportunity to try new authors. Anyone who complains that Bookbub doesn't give you more free books to choose from has a warped idea of what this site offers. When they signed up it was spelled out what was being offered. I believe there has been only one day since I joined that I didn't choose a book and EVERY BOOK I RECEIVED WAS FREE. What more can you ask for.

Bottom Line: Yes, I would recommend this to a friend

---