Booster.com Reviews
Claimed This company has claimed this profile, is getting alerted on any new customer reviews entering this page, and may engage in dialogue with its customers to address their matters.

Companies cannot pay money or provide goods in order to remove or alter customer reviews.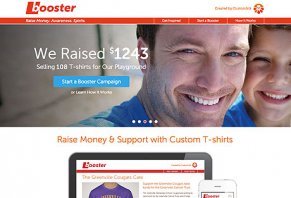 About Booster.com
You may have recently seen TV advertisement for Booster.com, which is a crowdfunding website that claims to help you raise money for your project, cause, or organization through the sale of customized t-shirts. As such, the company claims to be a new way to raise money online, and to be more powerful than traditional fundraisers, without all the hassles.
But does Booster.com really represent a viable option of earning money for your cause, or is it more beneficial to the company? Let's gather the facts and find out.
Booster.com Details
Booster.com is a crowdfunding website that claims to have serviced nearly 35,000 charitable groups and events through the sale of customizable t-shirts. The company claims that you can seamlessly rally your community, support a loved one, a charity, team, or school, or finance your project or business—not just with t-shirts—but also with custom printed sweatshirts, jerseys, tank tops, performance wear, and more.
According to the company, your Booster.com campaign can be up and running in four steps:
Create your t-shirt – Use the existing fonts and graphics on the Booster.com website, or you can upload your own artwork.
Create a personalized Booster page – Here, you'll outline specifics such as selling price, campaign description and close date, and fundraising goal. You'll also be able to add photos and videos at this same time.
Promote your campaign – You can use Booster.com's embedded sharing tools to spread the word and gain support for your cause.
Fulfillment – Once your campaign has ended, Booster.com will print your t-shirts in bulk and ship them out within 2 weeks. You can choose to receive all your t-shirts in one bulk shipment, or Booster.com can mail them to each individual campaign contributor.
Booster.com Pricing & Refund Policy
Running a Booster.com campaign is free, although final costs are calculated once your campaign has ended, and include shirt production costs, service fees, and a 2.9% payment processing fee on donated amounts. This means that the more shirts you sell the lower your per-shirt cost will be, and the more money that will be available for your cause.
Your campaign supporters can also choose to add donations on top of the per-shirt contribution amount. If you choose to have your shirts shipped to each individual contributor after your campaign ends, they'll be charged a $5 fee at checkout.
According to Booster.com, there is no limit to the amount of money you can raise. However, if your campaign sells at least 20 t-shirts but doesn't reach your ultimate goal, the company will still print the shirts and ship them to the contributors. If you don't reach this level at all, donations will be refunded to contributors.
What Do Other Consumers Have to Say About Booster.com?
Booster.com was created by CustomInk LLC based out of McLean, VA. The company is not listed with the Better Business Bureau, although CustomInk holds an A+ rating, based on just two closed complaints over the past three years.
The Booster.com URL was originally registered in 1996, although it appears to have been operating in its current capacity since 2013. Despite this, we were unable to locate any online customer reviews during our research. However, CustomInk appears to have a very positive online reputation, with the most common complaints citing incorrect orders, screenprinting errors (off-center logos, faded colors, etc.), and high prices.
What's the Bottom Line About Booster.com?
If you're looking to create a fun and unique crowdfunding campaign for your cause or business, Booster.com may be a viable option. This is because the company is owned by CustomInk, which has been in business since 2000, and which has a solid reputation for outstanding customer service that is willing to do whatever it takes to keep their customers satisfied.
With this said, after you've paid for shirt production costs, service fees, and a 2.9% payment processing fee, it makes us wonder how much of every dollar contributed to your campaign actually ends up in your pocket? With so few online Booster.com customer reviews, we weren't able to gauge this, but we can't help but think that the company will ultimately make more money than you do, especially if you don't have a lot of contributions.
What's your experience with Booster.com? Were you able to earn a lot of money for your campaign, or was it a flop? Share you story with others by writing a review today!
2 out 3 people found this review helpful

Not helpful

By Terell B.

,

Washington DC

,

Jul 4, 2018
Verified Reviewer

My boys and I are upset with the service received from a recent experience with Booster.

Our plan was to order a specific shirt. We placed an order for t-shirts with some graphics on it as a way to raise awareness about our local movement, we paid and after a few email exchanges we were left hanging. A month after our requested deadline and several unanswered emails, they responded saying they couldn't do it. Afterward, they took another month to refund us our money.

A definite waste of time bruh.

Bottom Line: No, I would not recommend this to a friend

---

2 out 4 people found this review helpful

They did awesome to raise for Rob Derhak of moe, diagnosed with oropharyngeal cancer

There were 218 items sold, and we raised $4,252. The shirts look great, and the family has some funds, and we all got some awesome shirts.

It's too bad for these other people with bad reviews. Maybe your supporters need to step up your game!

Bottom Line: Yes, I would recommend this to a friend

---

Advertisement

---

8 out 11 people found this review helpful

Terrible

By Morgan K

,

New Albany, MS

,

Jun 26, 2017
Verified Reviewer

I recently used Booster for a mission trip fundraiser. After selling 15 shirts, I only received $60 (not counting a donation I received, which Booster took it upon itself to give themselves a cut of).

My campaign ended, and the shirts were scheduled to get here OVER a month ago. Three weeks after not receiving them I contacted Booster and they informed my order had been printed wrong (an email would have been nice three weeks prior) and that my shirts should ship within a week. A week later, no shirts. Every time I reached out, I was told that they would ship within the next 1-2 days. Nothing.

FINALLY, after contacting them an annoyingly amount of times multiple times a day, my order status has changed to shipped. I still haven't received shirts though, so we shall see. I will be doing independence fundraising or using a different site from here on out!

Bottom Line: No, I would not recommend this to a friend

---

4 out 7 people found this review helpful

Very poor service

By Wayne B.

,

Central, NJ

,

Apr 17, 2017
Verified Reviewer

I ordered a t-shirt from this group for Wreaths Across America. Delivery was promised in time for the laying of the wreaths. I did not receive my shirt until two weeks after the event.

Customer service is as poor as their delivery service. I will never order from them again.

Bottom Line: No, I would not recommend this to a friend

---

Advertisement

---

12 out 14 people found this review helpful

Total waste of time

By Julia

,

Oct 25, 2016
Verified Reviewer

I was hoping to raise funds for a small non-profit for which I have done volunteer work for the last few years. The idea of having t-shirts to promote our group was presented and I foolishly chose one of the first sites I came across and set up an account. I should have looked into it more.

We sold 18 shirts at $17 each. I was told that was the print minimum. We made $3.22 on the shirts. That's it. I was never told that at that number of shirts or at that price, I would generate no profit for my organization. No one contacted me, prior to the end of the campaign, to say "Hey, you're not going to make any money unless you price your shirts higher…" Instead,I got auto generated emails telling me, "YOUR CAMPAIGN WAS A SUCCESS" after it ended, bragging to me about my whopping $3.22 gain. If I were a site that boasted assisting organizations with fundraising campaigns, I would be embarrassed to send such an email to anyone.

When I complained about the lack of profit, I was told that shirts cost $17 to print and that's why my campaign generated no profit, which I know for a fact is not true, based on my experience printing with other companies. In some cases, individual shirts have generated a higher percentage of profit than we made on this order of 18 shirts.

I'm assuming booster is paying retail price for their t-shirts, if it is costing them so much to make them.

The site should prevent people from pricing their shirts so low that they won't generate profit. It's just unethical.

You also don't even get to keep all of the straight donations that are made to your cause. They take 2.9% of that as well. Which I saw in the FAQ but thought was reasonable, until I realized how much of the shirt profits they'd be taking.

I ended up buying a few shirts myself, just so we could make our print minimum. Had I realized that it wasn't actually going to go to the organization, I would have just skipped the shirts and made a donation to the organization directly.

Booster is not at all up front about the amount of money they plan to take from your sales or direct donations. Which is a very large percentage. They make it sound like their profits are just based on percentages. Their FAQ lists that "25 shirts sold = approximately $300 raised ($12.00 per shirt)" It does suggest that you should price the shirts $20-$25. But nowhere does it say that should you price them less than that, you won't get any money. And that is unethical.

I actually get a larger percentage from the sales made on redbubble and tee public, which are not geared towards fundraising and non-profit orgs.

This was a total waste of time. Not only won't I be recommending this site, but I will be actively telling other non-profits to stay away.

Hopefully the Booster PR rep will spare me the patronizing "we're so sorry and we will look into this" rhetoric.

Bottom Line: No, I would not recommend this to a friend

---

4 out 5 people found this review helpful

So much for receiving my order

By Leslie

,

Michigan

,

Aug 23, 2016
Verified Reviewer

My family and I are very disappointed in our recent experience with Booster.com. We placed an order for t-shirts as a way to support and donate money towards a great cause and we never received our order. Needless to say we will not be donating to any causes affiliated with this company again nor will we be referring any one to use their services either.

Bottom Line: No, I would not recommend this to a friend

---

28 out 30 people found this review helpful

So bad that I feel stolen from

I sold 42 shirts at 20 dollars each. That is 840 dollars spent on my fundraiser. Not including donations, Booster.com is giving me 80 dollars of the 840. That is not even ten percent of the money spent. On top of it, I did get donations, 70 dollars worth, and they took a percentage from that as well, I'm getting closer to 65 dollars. I can't believe that they are taking such a large portion of my fundraiser, I'm doing this to study abroad, but what if somebody was doing it for a sick relative? Booster is a company that makes more than they could ever need, and doesn't care if it effects the customer.

Bottom Line: No, I would not recommend this to a friend

Feb 2, 2016

Hi Cassidy,

I'm so sorry to hear that you had a negative experience at Booster. Would you mind sending the email address you used to start your campaign to support@booster.com? I'd like to have my team take a look into this.

Thanks so much!

Sophie

---

9 out 11 people found this review helpful

The worst

By PD

,

Los Angeles, CA

,

Dec 3, 2015

Wished I had researched this before doing this. Amazing what people will do to make MONEY off YOU! There may be some others who have done well, but I tell you, I could have raised more money by simply asking for DONATIONS. Man, wish I could do it all over again, and get my money back. It makes me sick thinking about what a waste of time and energy this is. The shirts are nice, but it's not worth. Still raising money in my own way. We learn from all of it, whether it's a SCAM or NOT!

Bottom Line: No, I would not recommend this to a friend

Feb 2, 2016

Hi PD,

I'm sorry to hear that you had a bad experience with your campaign at Booster. If you wouldn't mind sending the email address you used to start your campaign to support@booster.com I'd like to have my team look into this further. Thank you.

---

9 out 12 people found this review helpful

Not what I expected but there good for my publicity of my business to get the word out about my services.

I sold 37 T-shirts but they didn't really provide any direction as to what I should do to get satisfactory level on all these different brands before I got the site up and running. They have not been too supportive on suggestions. I only got around $69 back from my campaign out of 27 t-shirts that were sold. Now that's the sad part

Bottom Line: Yes, I would recommend this to a friend

Feb 2, 2016

Hi Stephany,

I'm so sorry to hear that you were unsatisfied with your campaign outcome, and we would like to make it right for you as best we can. Can you please send the email address you used to start your campaign to support@booster.com?

Thanks so much.

---

12 out 13 people found this review helpful

Fundraiser Beware

By JC

,

New York, NY

,

Sep 19, 2015

I was in a rush, but had I looked into this a bit further, I would have chosen another option to be honest. Yes, it's easy and the shirt looks nice but I didn't come close to my goal, or really a print minimum (only sold 12) but they were printed and shipped anyway.

My issue is out of $252 approximately, my check was for $77! Booster.com took more than half. I could deal with maybe 30% tops but over 50% is a bit sad especially for a company trying to help causes and events.

Bottom Line: No, I would not recommend this to a friend

Feb 2, 2016

Hi JC,

I'm so sorry to hear that you were unhappy with your experience at Booster. Could you please send the email address you used to start your campaign to support@booster.com? I'd like to have my team look into this for you.

Thank you.

---

10 out 11 people found this review helpful

HORRIBLE

By Jordan

,

Modesto, CA

,

Sep 17, 2015

Someone bought one of my shirts and it never arrived at my house or their house, so I asked them and they said they did not send it even though my costumer had bought it.

Bottom Line: No, I would not recommend this to a friend

Feb 2, 2016

Hi Jordan,

I'm sorry to hear that you were unhappy with our customer service. Could you send the email address you used to start your campaign to support@booster.com? I would like to have my team look into this problem further.

Thanks so much!

---