Booty Pillow Reviews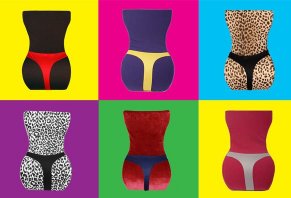 Constructed of high-grade, hypoallergenic polyurethane foam, Booty Pillows claim to mimic the curvature of a person's derriere and deliver comfortable support.
About Booty Pillow
Marketed as "the world's first male comfort pillows," Booty Pillow is designed to replicate the feeling of laying on a woman's backside, or in the small of her back.
Each Booty Pillow is made from 100% high-grade, hypoallergenic polyurethane foam right here in the USA. And by combining these superior materials with its unique shape, the website tells us that Booty Pillows can provide the support you need to rest comfortably in many different positions.
Look, there's no doubt that the concept behind (pun intended) this product is unique, and that it's sure to put a smile on the cheeks of anyone who gets one.
But when it comes down to it, even if you have a good sense of humor, do Booty Pillows represent a valuable use of your money or are these just moderately priced gag gifts? We'll explore it all in this article—starting with price.
How Much Does Booty Pillow Cost?
Unfortunately, there weren't any prices listed on the Booty Pillows website at the time of our research. As far as third party websites go, it appears Booty Pillows used to be sold on Amazon, although this was no longer the case.
In order to learn more about pricing and overall availability, we sent a contact form message through the Booty Pillows website, as well as a direct email to bootypillows@gmail.com. We'll be sure to update this article as soon as a response is received.
Given their low profile and the fact that they're not exactly forthcoming regarding price, did we come across any online customer feedback for Booty Pillows? Are there other products available that are competing in the same space?
Are There Any Customer Reviews for Booty Pillow?
As mentioned, it appears Booty Pillow was previously sold through Amazon, where their Sexual Chocolate Red Thong version had one customer review from 2012, who gave it a five-star rating.
According to the reviewer, they originally received their Booty Pillow as a gag gift, but soon realized how comfortable it was on chairs and in the driver's seat after injuring their back.
However, they noted they turned "the cover inside out at work cause I didn't want to look like a creeper dude." This is a thought we'll come back to in the final section.
We also found a handful of videos on Booty Pillows' YouTube channel, although all videos were between five and six years old and were promotional (versus informational) in nature.
Taken together, it doesn't appear that Booty Pillows have been commercially available for quite some time. Given this, is there anything similar you can check out while we wait to hear back from the manufacturer?
Are There Any Similar Products as Booty Pillows?
After scouring the web, we didn't come across any commercially available products exactly like Booty Pillow.
However, a quick search for terms like "curved polyurethane pillow" and "memory foam contour pillow" returned dozens of options that might provide the same level of comfort. These types of pillows are designed with a concave portion in the middle to keep the cervical and lumbar sections of your spine in a neutral position while you sleep.
What's more, contour pillows are so popular that you'll almost certainly find a few different options at just about any retailer with a bedding or sleep section.
From a price perspective, we found contour pillows for sale online as low as $12, with most somewhere in the $20 to $40 range. Without knowing Booty Pillow's price, though, we can't provide a direct comparison.
But dollar-for-dollar, will Booty Pillows provide an equal—or perhaps even better—value than some of the contour pillow competition? Let's expand on this thought as we come to a conclusion.
Our Bottom Line About Booty Pillow
If you're frequently pestering your partner to lay on their booty or in the small of their back, it certainly seems like pillows might offer you a more convenient solution, while saving them potential pain and discomfort (not to mention the annoyance of having your head attached to their derriere).
Is this necessarily a common problem that a lot of people are actively seeking to address, though? While we didn't find any online data suggesting it is, even if it were the case, we'd have to wonder if Booty Pillows would actually address it. What do we mean?
In other words, while we didn't test the product firsthand, based on what we saw in the commercial, it appears that this pillow's concave middle portion is fairly thin/low, and almost certainly not as elevated as the small of your partner's back.
In addition (again, based on what we viewed in the commercial and in videos posted on the company's YouTube channel), it doesn't seem like its polyurethane foam would be as firm as a real person's back, either. Together, we're not sure how closely Booty Pillows will deliver a "real person" feel.
To summarize everything we've discussed, when asking "will Booty Pillows provide me with meaningful value for my hard-earned money," we think there are some important considerations to keep in mind:
It doesn't seem to solve a common problem
Even the problem this pillow does claim to solve (i.e. mimicking the comfort of the small of a person's back) doesn't seem to be fully addressed based on the product's thinner middle design and use of polyurethane foam
The product doesn't seem to be widely available, and no prices were listed on their website
More traditional contour memory foam pillows (both online and in retail stores) could foreseeably address many of the same concerns as Booty Pillows
Finally, we'd have to wonder: Would your significant other consider this an appropriate pillow to have laying around the house? Also, would it be something you're comfortable using in front of your co-workers, as demonstrated in the commercial—especially if your boss were to lay eyes on it?
At the very least, we'd wait until we hear back from the company about price and availability to make any final decisions. In the meantime, be sure to bookmark this page as updates are coming soon.