Bowery Valuation Reviews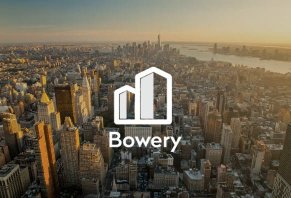 Bowery Valuation's proprietary platform, with public records integration, access to a powerful backend database, and 100 percent data accuracy, claims to make the commercial appraisal process more efficient.
About Bowery Valuation
Advertised as the world's first truly tech-enabled appraisal firm, Bowery Valuation's mobile inspection app uses proprietary technology to help appraisers write full reports in less than half the time of the competition.
In fact, by combining a powerful backend database and lender portal, a natural language generator, public records integration, industry-leading accuracy, and an "exhaustive comparable database"—along with the assurance that no data or information will get lost in the process—the website tells us they've reduced their standard appraisal delivery process to five days.
Based on what we learned from the company's website, Bowery Valuation's mobile app certainly seems like it might represent advanced technology that can help appraisers work smarter and faster, as advertised. And this could thereby help appraisal firms "produce more consistent reports, faster and at a lower cost."
In this article, we've pieced together information from multiple third-party resources to help you quickly decide what your next step should be.
How Does Bowery Change the Home Valuation & Appraisal Process?
While a demo version of Bowery's software wasn't publically available at the time of our research, according to a 2017 Cushman & Wakefield press release, it "seamlessly removes a host of manual tasks from an appraiser's day-to-day work and allows them to truly focus on adding value for their clients."
Specifically, compared to the current approach of manually pulling information from relevant government agencies, it "uses public record integration and a comprehensive comparable database to increase efficiency throughout the commercial appraisal process."
From there, bespoke reports are generated, which are "produced from scratch with consistent verbiage, increased data accuracy, and significantly faster delivery time than the industry average."
Instead of walking through properties and writing down important details while taking photos, and later compiling information about taxes, zoning, and land use, TechCrunch's Connie Loizos reports the Bowery Valuation app lets "appraisers tick off items, rather than write everything down. (Granite counters? Check. Brazilian cherry hardwood floors? Check.)"
It also "automatically pulls in public record data, so appraisers needn't surf the web to find what they need," and features "so-called passive databasing, meaning that rental and sales comps that are often lost today are saved forever and can be easily found via a map-based search." Together, the company claims these could help save appraisers hours per day in administrative work.
Real Estate Weekly adds that Bowery's software can also "populate a report while a user is still on site, asks questions about the property as a user is doing a walkthrough, and seamlessly integrates zoning and other public information—like if a property has a tax abatement in place— into the program."
Finally, Bowery's natural language generator promises to take form-based entries and convert them into narratives for users, which could be especially helpful when explaining how a property stacks up to comparables.
How Much Does Bowery Valuation Cost?
There wasn't any pricing information listed on the Bowery Valuation website at the time of our research, although the TechCrunch article cited above emphasizes that, "Like any other appraisal firm, Bowery bids on properties, often winning its bid, it suggests, because it's faster and more affordable than traditional options. (Typically, the appraisal fee for an apartment complex in New York costs between $3,000 and $4,000; Bowery says it charges roughly half.)"
They also report the company "sells a white-label version of its product to banks and lenders and to Cushman, all of which pay on a per-report basis. Subscriptions may be coming at a later date as well."
What Do We Know About Bowery Valuation as a Company?
Bowery Valuation was founded in 2015 by Co-CEOs Noah Isaacs and John Meadows, and is based out of New York City. Noah previously worked for the Butler Burgher Group, during which time he valued commercial real estate worth more than $2.5 billion, while John value $3+ billion during his four years with the independent appraisal firm the Leitner Group.
Bowery spent about two years developing their software and was part of the MetaProp accelerator program, and partnered with the Cushman & Wakefield real estate firm in 2017. In 2018, they were included as part of Forbes' 2018 Top 10 Real Estate Startups.
Bowery Valuation vs. Other Commercial Real Estate Appraisal Software
We encountered several other companies offering narrative-based commercial real estate appraisal software during our research. Here were some of the top search results:
Datappraise
Cloud-based web software (no downloads required), proprietary comparables (all types) that integrate with MS Office, map searches, context-sensitive help. No pricing information provided, although a free trial available.
Commercial Complete
Customizable appraisals, 250+ customizable fields, MS and WordPerfect integration, mortgage equity analysis, comparison grids, cost analysis. Pricing: $795-$1,195.
Reportbuilder Pro
All major property types supported, proprietary INcomparables comps database, and the ability to change input screens and final reporting formats. No prices listed.
realquantum
Web-based reporting, promises to boost productivity at least 20 percent, real-time calculation checking, PUCS & OSCRE compliant, map-based property search, and workflow manager. No prices listed.
ExactBid Narrative1
Cloud-based, integrates with RIMS and RIMSCentral, drop-down menu data entry (eliminates redundancy), custom branding on all reports, toolbar integration with MS Word, custom Excel menu for quick navigation. No prices listed, but demo available.
Our Final Thoughts About Bowery Valuation
According to a 2017 National Association of Realtors Appraiser Trends Study (which includes commercial), nearly 35 percent of respondents completed more than 300 appraisals in the last 12 months. With such a high volume of work, it's no surprise that there are several companies in the market selling software that promises to help streamline the process and thereby boost profits.
Will Bowery Valuation be the 'best' choice for your needs and preferences? They've certainly received a fair amount of funding and press attention recently, but the only way to find out if they'll make a good fit is by reaching out to the company at info@boweryres.com.