Bowflex HVT Reviews
Using Hybrid Velocity Training, the Bowflex HVT is similar in design to a cable trainer—but claims to combine cardio and strength training into a single fitness machine.
What Is The Bowflex HVT?
Featuring a three-tiered system of pulleys, a combination of customizable fan and magnetic resistance, a digital console, and app connectivity, Nautilus calls their new Bowflex HVT (Hybrid Velocity Training) fitness machine is one of the fastest and most effective workouts ever created. How so?
Similar to a traditional cable trainer, you'll use HVT's upright pulleys in different body positions and at different resistance levels to focus on all your major muscle groups.
Unlike a cable trainer, though, Nautilus tells us HVT allows you to perform 50 different exercises that combine cardio and strength training into an 18-minute total body workout. Also, that HVT will also deliver up to five times more muscle activation and simultaneously burn calories and build muscle.
This way, they claim you can achieve the fit, lean, and sculpted body you've always wanted, using a compact machine that fits in the corner of any room.
Bowflex's HVT device features three pre-programmed workouts, including Manual Mode, where you can build your own routines, as well as access 50 trainer-led videos. And combined with HVT's free iOS and Android app, the website tells us that can take advantage of personal coaching that guides you through your workouts.
Nautilus has been a mainstay in the at-home fitness equipment industry for decades, but have they hit another home run with the Bowflex HVT? Or, should you consider one of their other machines—or another brand altogether?
Whether you just watched Nautilus' recent Facebook Live unveiling of the Bowflex HVT or visited their website, you have questions. In this Bowflex HVT Review we'll discuss everything we learned during our research so you can find some answers.
First order of business? Let's take a closer look at the machine itself.
How Does the Bowflex HVT Work?
There weren't a whole lot of details provided directly on the product's website, although we found some great info in the Owner's and Training Guides. Here are some of the highlights:
Set Up & Specifications For the Bowflex HVT
Your Bowflex HVT will arrive in two boxes and will include all the hardware you need. It will even come with a multi-tool (hex and Philips head screwdriver) for assembly, although we think you'll need to be at least minimally handy and able to follow detailed instructions to do so.
Note: Nautilus recommends two people when assembling the Bowflex HVT.
Once assembled, while Nautilus indicates the HVT will fit in any corner, at 182 lbs, it's not exactly insubstantial. Further, keep in mind that you'll need a minimum workout area of about 8.5' x 9.75'—or, roughly the size of a small room.
Maximum user weight is 300 lbs.
What Are the Main Parts of the Bowflex HVT?
There are three main sections of the HVT:
Pulleys – Three different pulley positions, including upper, middle, and lower, which will work specific muscle groups. Each pulley is attached to a hand grip.
Platform – A slightly raised stage that defines your workout area.
Media Shelf / Console – HVT's media shelf is where you'll place your training guide, while the console will provide information about your workout on the display screen (e.g. Round, Exercise Segment, Total Time/Calories, Total Power, Average Resistance, Segment Timers (Work, Rest, Break), and Heart Rate, if supplied).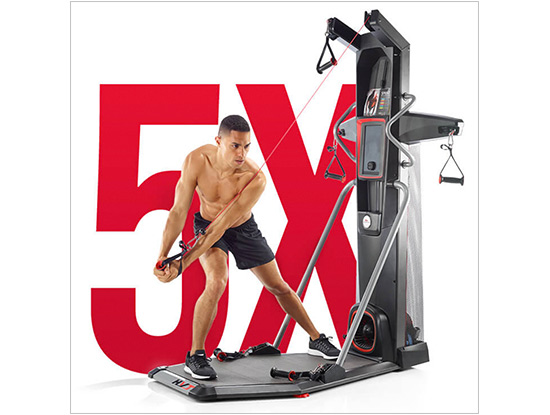 Here, we can see each of Bowflex HVT's main sections, including its three tiers of pulleys, console, and platform. Combined, the company claims it can provide up to 5X more muscle activation. Image credit: Nautilus
On the console, you'll also find a keypad where you can select between four user profiles, different workout programs, start/pause/stop your workouts, and adjust volume and time.
Similar to the Bowflex Max Trainer, HVT's resistance is provided by a combination of a fan (air) and magnetism.
While HVT will automatically increase resistance as you pick up speed and travel farther distances, its resistance dial lever also allows you to adjust the resistance applied to the fan at any time (a total of 16 levels).
Just how much resistance does it provide? During our chat with support, here's what we were told:
"Resistance from the HVT can not be equated to weight as it is not constant and will vary based on different factors. The HVT uses both air and magnetic resistance to provide more of a challenge as you work out harder and faster. For example, it can be more challenging to use the HVT quickly at level 1 than it is to use the HVT slowly at level 2."

The actual feel when pulling on a handgrip is somewhat like using one of our Power Rod Home Gyms or resistance bands. This promotes a high-intensity interval training workout similar to CrossFit. While the resistance is not constant, like with free weights, even experienced lifters find the HVT challenging to use at higher speeds and resistance levels."
The console is even equipped with a Save Resistance feature, which remembers the resistance level at the end of each exercise for each user.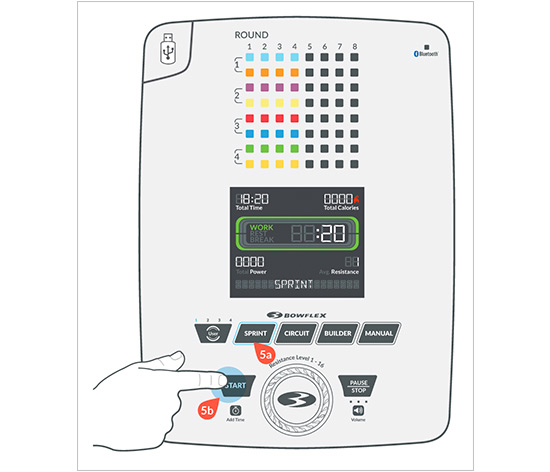 Bowflex equipped HVT with a digital console that displays key information such as round, total time and calories, average resistance, and heart rate. You can also choose between four users and manually adjust resistance. Image credit: Nautilus
At the end of each workout, HVT will display your Total Power Score, which is made up of how fast you're pulling the cable, how hard you're pulling (resistance), and range of motion (a combination of your body weight, body movement, and how far you pull the cable).
Which workouts can you choose between with the Bowflex HVT?
How Many Different Workout Programs Does Bowflex HVT Provide?
There are four programs built into the Bowflex HVT.
Sprint Program – Designed to increase your power, speed, and recovery. Over the course of 18:20, you'll perform four total rounds of two exercises for 20 seconds each, followed by rest periods of 10 seconds.
Then, at the end of each round, you'll break for 60 seconds. Exercises include:
Speed squat
Chest press
Squat jump
Bent over row
Reverse lunge straight arm pulldown
Split leg alternating bicep curl
Tricep pushdown
Squat with overhead press
Circuit Program – Focuses on strength, form, and range of motion. Over the course of 21:20, you'll perform four rounds of all eight exercises; each one for 25 seconds, followed by 15 seconds of rest. Exercises include:
Tricep pushdown
Forward lunge chest fly
Crossover reverse fly
Split jump
Lunge bicep curl
Lateral lunge high to low chop
Deadlift
Arm shoulder press split stance
Builder Program – Designed to increase strength and endurance. Here, you'll perform each exercise for 30 seconds, with each round adding another exercise (i.e. round eight will contain all eight exercises).
There is a 30-second break in between each round, with the following exercises performed:
Speed squat
Chest fly
Reverse lunge low row
Bicep curl
Abdominal chop high to low
Crossover reverse fly
Combo tricep extension bicep curl
Forward lunge chest press
Manual Program – Here, you'll be able to define your workout however you like. This includes your choice of 50 exercises listed in the training guide or the HVT App (17 full-body, 25 upper body, 5 lower body, and 3 core) as well as time, up to 99:59 minutes.
As you're working out, the Bowflex HVT will count up the total time, total workout time (when the fan is moving), and total power.
Whether in the Manual Program or any other, every exercise will have a demo in the app. Speaking of which…
How Does the App Integrate With Bowflex HVT?
By connecting to your device via Bluetooth, the HVT Software App allows you to:
Choose your workout programs and sequences
View hints, descriptions, and video demonstrations of each exercise
Track total time, calories burned, power score, resistance, and heart rate
Receive rewards for achieving your goals
Automatically post workouts to Bowflex Connect™ and MyFitnessPal (Apple Health is also supported)
Here, you'll find three advanced versions of each program (Sprint 2-4, Circuit 2-4, and Builder 2-4), which the company claims will allow you to "continue past the core Workout Programs, and add further variety to your workouts."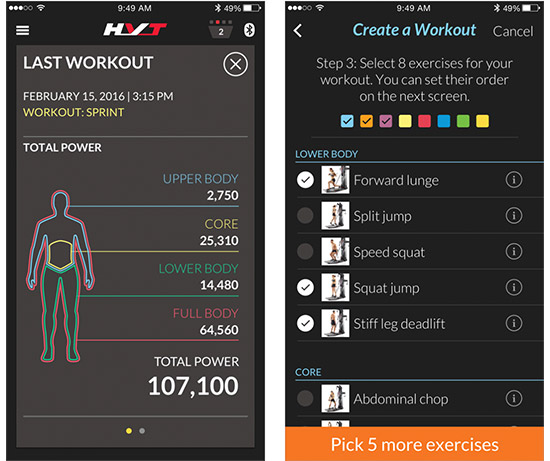 The Bowflex HVT app seems to provide easy access to a lot of information, including total power score (by body section) and the ability to create a custom workout (seen above). Image credit: Apple Corporation
Given all these different features, will you pay a ton of money for the Bowflex HVT?
How Much Does Bowflex HVT Cost?
The Bowflex HVT is currently priced at $1,799, plus $200 S&H.
In-home assembly (moving boxes from garage or the first covered area to the room of your choice, full assembly by a qualified technician, and removal of boxes and packaging materials) can also be purchased during checkout for $249. You will be contacted within 1-3 business days after your product ships to schedule an appointment.
Nautilus provides a six-week return policy on the HVT, less S&H. Important note: This means you'll lose your initial $200 shipping charge, plus whatever it will cost you to ship the 182-pound machine back to the company. You'll also need to factor in the time and effort necessary to disassemble and repackage your HVT.
The HVT comes with a standard 2-year parts (frame, mechanical, and electronics)/90-day labor warranty against defects in materials or workmanship, although you'll be able to purchase a 3-year Protection Plan for an additional $139, or a 5-year plan for $179. If you sell your HVT, the warranty is not transferable.
According to the warranty details in the HVT Owner's Manual: "Labor support does not include the installation of replacement parts involved in the initial product assembly and preventative maintenance services. All repairs covered under the labor portion of the warranty must be preauthorized by Nautilus."
Have questions? Need to process a refund or file a warranty claim? Nautilus customer support can be reached at (800) 605-3369.
Considering everything we've discussed so far, will you get real results for your money with the HVT? Let's start by taking a closer look at one of Bowflex's central claims.
What's the Difference Between Strength Training & Cardio?
If you watched Bowflex's Facebook Live session during HVT's launch or browsed the device's website and promo video, it might be easy to assume that cardio and strength training are mutually exclusive. Or, at the very least, that they're difficult to combine. Is this the case?
Before we address this claim, let's quickly take a look at their different definitions:
Strength training: When you lift weights, you create tiny tears in your muscle fibers. Each time your body repairs these tears, your muscles become progressively stronger, larger, and more well-defined.
Cardiovascular exercise: Elevating your heart rate above baseline, which allows you to burn energy, measured in calories.
Taking this information together, we can see that Hybrid Velocity Training is simply Bowflex's term for a combination of strength and cardiovascular training.
Is It Difficult to Combine Cardiovascular Exercise & Strength Training?
Clearly, if your primary goal is to shed pounds, committing to a cardio-oriented fitness program might help you lose the most amount of weight in the least amount of time. On the other hand, if you're mainly looking to bulk up, a stronger focus on weight/strength training could work better.
However, if you're looking for the best of both worlds, you might try something as simple as speeding up your weight lifting rate at the gym, along with taking shorter breaks in between each set. This could elevate your heart rate enough to add a cardiovascular component.
Another popular method of combining muscle building and cardio is something called high-intensity interval training, or HIIT. Here, a specific exercise is performed vigorously for a period of time, followed by a short break.
Then, this process is repeated for a certain number of rounds, before moving on to another exercise. When several exercises are performed back-to-back, this is something known as circuit training.
Thus, we can see that the general idea of interval and circuit training frequently referenced by Bowflex isn't necessarily unique to HVT. In other words, it's important to emphasize that you can perform intervals and circuit training in just about any manner, including using your own body weight.
How Many Calories Can You Expect to Burn With HVT?
Whether you're working out using the HVT or anything else, the number of calories burned depends on several key factors, including age, weight, gender, fitness level, type of exercise, and level of exertion. But based on HeathStatus.com's calorie calculator, a 175-pound, 30-year old male could expect to burn about 215 calories in a 20-minute interval session.
Compare this to about 133 calories in 30 minutes of weight lifting, 311 for moderate cycling, and 422 for skiing. So, while it seems you might be able to burn a meaningful number of calories in a short period of time with HVT, it doesn't appear to necessarily be the most calorie-blazing exercise out there.
What about the Afterburn Effect mentioned on the HVT website? Is it unique to this specific machine? According to Nerd Fitness:
"HIIT constantly forces your heart to adjust to changing conditions: sprints, jogging, sprints, jogging, up hills, down hills, etc. Your heart learns to operate outside of its norm, and your body learns to adapt to these changes. All of this changing and sprinting kicks your metabolism into high gear for hours after you finish exercising."
In other words, any type of high-intensity interval training—not just related to HVT—could help you continue burning extra calories for a day or two after you've stopped working out.
What About HVT's "5X More Muscle Activation" Claim?
Finally, is there anything to Bowflex's claim that HVT will provide up to five times more muscle activation? According to a footnote on their website, this is based on a "2016 university study."
We reached out to see if we could learn more about this study, and were told that company policy doesn't permit them to release their data. However, they did provide some additional explanation into how this occurs:
"HVT workouts were designed with compound movements to save time, increase your heart rate, and provide strength training simultaneously. If you compare a traditional chest press on a bench or machine, which isolates a single muscle group, to the explosive moves on HVT, such as a lunging chest press, it's easy to appreciate how one activates many more muscles through the legs, core, arms, etc."
Let's continue talking about the company in the next section.
What Are Some Pros & Cons of Full Body Workouts?
Before moving on, it's important to ask: Will undergoing a full body workout every time you exercise get you where you need to go? It makes sense that working all your muscle groups, in addition to adding a cardio component, will provide the most bang for your buck—but is this necessarily the reality?
According to his interview in Men's Fitness, Mike Krajewski, PT, CSCS, and owner of MK Fitness in Nashville, TN, notes that "there's no right answer to the question of whether full body workouts or body part split workouts are 'better'." So, if you're immediately expecting 'better' results with HVT than your traditional routine, this might not always be the case.
Outside of this, however, the article goes on to point out that full body fitness routines can represent a more efficient use of time, cause greater testosterone release, and are ideal for body fat and weight loss.
On the other hand, they note that focusing on different body parts at different times can help provide more strength gains, and is often better for building muscle mass with less fatigue. They conclude:
"Total-body routines benefit guys who are just targeting strength and aren't really preoccupied with mass, as well as those who are really trying to shred body fat. When you're engaged in a total-body strength and conditioning routine that's either focused on lifting heavy or quick, interval-like metabolic moves, you get a better bang for your buck."
What Do We Know About Bowflex HVT's Manufacturer?
Nautilus, Inc., based out of Vancouver, WA and in business for more than three decades, has had dozens of hits within the Bowflex lineup, including Max Trainer, TreadClimber, and SelectTech Weights, along with a variety of other home gyms, ellipticals, and treadmills.
In general, most Bowflex products seem to have positive online customer reputations, with common compliments revolving around high quality, effective results (improved fitness), and ease of use.
The relatively few complaints we encountered during our research seemed to frequently reference customer support issues, often regarding warranty claims/replacement parts.
This was also a common occurrence on the Better Business Bureau, where Nautilus had an A- rating and 63 closed complaints as of 5/9/17.
Granted, we're only providing this information so you might have a better view of the overall picture—not to insinuate you'll experience any of the same with the Bowflex HVT.
Are There Other Fitness Machines Similar to Bowflex HVT?
If you're looking for something designed exactly like Bowflex HVT, including the electronic console, access to 50 different workouts, four programs, and iOS or Android app connectivity, you're not going to find it.
Functionally, though, the HVT seems most similar to traditional cable trainers, which are available in just about every imaginable size and configuration, and at every price point. However, none of the ones we encountered included three different handles on each side (although many were height adjustable), nor an electronic console like HVT.
When asked how else HVT is different than standard cable devices, a company representative responded:
"You can't replicate this workout on standard cable equipment. To create this experience we had to build something completely new and we believe HVT is the future of fitness. It's not just strength or cardio - it's a true hybrid of the two that was designed to target the entire body and create the modern, lean, fit physique people want to achieve."
Outside of cable trainers, are there other methods of engaging in similar high-intensity intervals and circuit training? Absolutely. For example, you can quickly move from station to station at your local gym, although—while this could provide the ultimate in customization—might not work well if you attend a busy location.
Looking only for at-home options? You can perform high-intensity interval training in the comfort of your abode using a variety of tools, including dumbbells, resistance bands, fitness straps, and even—as mentioned earlier—just your body weight.
Which of these is right for you? Keep reading as we come to a conclusion about the Bowflex HVT.
What's the Bottom Line About Bowflex HVT?
Based on what we learned earlier, does high-intensity interval and circuit training represent a viable method of reaching your fitness goals? As long as you put in the effort on a regular basis, while adhering to a sensible diet based on your nutrition needs, this certainly could be the case.
As such, might the HIIT and circuit training provided by Bowflex HVT—along with its app access, 'smart' console, and walk-through fitness guide—work as a great tool to get you there? It's likely ot work as advertised.
However, only you can decide whether or not HVT's nearly $2,000 price tag will provide a lot of value for the money—much of which depends on your level of commitment.
Crunching Bowflex HVT's Numbers
For example, if you work out five days per week throughout the year (260 times total), this means that the Bowflex HVT would cost about $7.70 per use, or roughly $153 per month. This is compared to the average of $41/mo for a traditional gym membership (or about $2.05 per visit, if used the same amount).
On the other hand, CrossFit-specific gyms (remember, though, CrossFit isn't required to achieve the benefits of interval and circuit training) are often more expensive. In fact, Investopedia lists the average cost at $150/mo.
In this instance, your per-visit cost would jump to $7.50, which is only slightly less than HVT's per-use cost.
Does price fully represent the concept of value, though? Of course not.
Other potential advantages to having the HVT in your home might include the ability to workout whenever you want, avoid the stares of strangers, achieve a full-body workout in just 20 minutes, and so forth. You'll just need to realistically assess whether or not you require the social interaction of a gym or the live coaching of an instructor in order to stay motivated.
And of course, the longer you own your HVT, and the more often it's used (if you have multiple users in the household, for example), the lower your per-use cost will go, along with the greater level of overall value it will provide.
But again, in the end, whether or not Bowflex HVT's meaningfully higher price than other alternatives is worthwhile depends solely on your needs and preferences.
Important note: During Bowflex's Facebook Live session introducing the HVT, we noticed a loud "clanging" noise when in use—likely a combination of the ropes pulling and the resistance fan spinning. While this occurred in an empty room with plenty of echoing and is fairly common for cable and pulley fitness machines, it might not work well next to your baby's nursery, or when other household members are sleeping.
Along this same line, unlike with a gym membership, you'll be responsible for all the maintenance for your HVT. The rep we live chatted with indicated cable wear and tear is covered under warranty, although you'll need to inspect them monthly, so be sure to factor this time into your schedule.
In the end, HVT's full body exercises might be best for someone looking to slim up, but not necessarily gain a lot of muscle mass, and their companion booklet, app, and intuitive console seem like they could help even beginners get up an running without any concerns or safety issues.
If you feel like rolling the dice on the HVT machine, Bowflex stands behind it (like all of their products) with a six-week refund policy. However, keep in mind that this isn't a risk-free proposition, since you'll lose your initial $200 S&H, in addition to the cost of shipping an 182-pound device back to the company.
Don't be shy: Tell us about your fitness experience with the Bowflex HVT by writing a review below!
Editor's Note: Updated on May 25, 2017 to include two quotes from a Bowflex Representative.