Brain Chase Reviews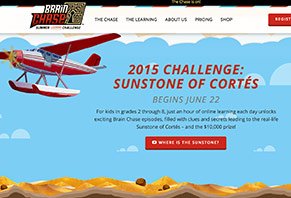 Brain Chase is a 5-week online program that claims to help your child avoid summer learning loss by making education easy, accessible, and most of all, fun.
About Brain Chase
Founded by Heather and Allan Staker in 2013, Brain Chase is a once-yearly online program that aims to help 2nd through 8th graders (known as Adventurers) avoid summer learning loss through fun educational activities and personalized academic challenges.
In order to help your child achieve success during the summer months, Brain Chase has partnered with Rosetta Stone, myON, Khan Academy, Google Books, credentialed teachers, and others to provide seamless access to online curriculum, support when your child needs, and more.
But can you really expect Brain Chase to help your child "enter the school year fresh and confident," or will they just roll their eyes and groan every time they have to learn? Will it be more of a chore for them than an enjoyable learning experience?
We'll answer all your important questions in a moment, but let's first take a look at how Brain Chase works:
How Does Brain Chase Work?
After enrolling in Brain Chase's 5-week program, your child will work at their own pace to conquer four subjects, or tasks, each week, such as reading, math, language or writing, as well as one "bonus subject" (e.g. identifying celestial constellations using Google Sky, completing a Smithsonian Museum virtual tour, etc.).
This involves reading online for 15 minutes per day, earning 10,000 energy points through Khan Academy (more about Brain Chase's partners in a moment), completing one writing or language assignment, and working through one bonus challenge. According to the company, these tasks will take about an hour each day, 5 days per week, all of which are adaptable to your child's age and learning level.
Brain Chase's Mae Merriweather
To keep them involved and entertained, as your child completes their daily activities and advances through Brain Chase's program, they'll unlock animated episodes featuring Mae Merriweather and her team, each of which "contain clues to the hidden resting place of a mysterious golden mechanism." These include pictures, encoded words or numbers, things people say, background items, locations, and plot twists, which they'll solve by taking notes, working together with friends and family members, re-watching videos, and searching online.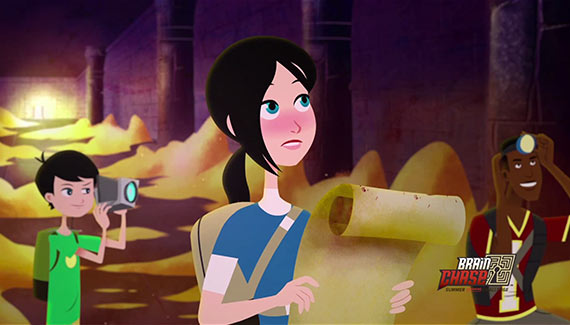 Brain Chase's Mae Merriweather
As your child gathers more and more clues from these videos, they'll try to figure out the location of this key. Ultimately, if your child provides the most accurate guess, they'll be awarded with a free plane ticket to the location, as well a key to a safety deposit box containing a $10,000 scholarship award.
Now that we know more about how Brain Chase's 5-week program works, let's take a closer look at each of their subjects.
Brain Chase's Subjects
Throughout the program, Brain Chase provides students with access to their own personalized dashboard, which contains each week's video, reading, writing, and math programs, as well as bonus challenges. A countdown clock in the upper right hand corner displays the current week, the remaining time until the next week, in addition to the number of challenges remaining.
With this in mind, here's a little bit about each of Brain Chase's subjects:
Reading Program – Each Adventurer will be required to read for at least 15 minutes, 5 days per week. This is completed through myON or Google Books, although your Brain Chase dashboard will track your time and automatically update accordingly. Once your minutes are reached, you'll move on to the next challenge.
Writing Program – Here, each Adventurer will be required to complete one journal entry per week, which will be based on a single topic with a minimum word count. After submission, a certified US teacher will review the entry on a pass/resubmit basis.
Language Program – If your Adventurer would prefer, they can choose Brain Chase's Language Program in lieu of writing, which allows them to pick between 30 different languages. The Language Program allows Adventurers to choose their own comfort level ranging between beginner and advanced, and they'll also receive access to a Rosetta Stone account.
Math Program – Brain Chase's Math Program allows Adventurers to work at a level and pace that's right for them, ranging from simple addition to advanced calculus. All work is completed through Khan Academy, which provides Adventurers the opportunity to ask for a hint, watch an explanatory video, or choose a simpler concept.
Bonus Quest – As we mentioned above, Brain Chase's weekly bonus challenge gives Adventurers the opportunity to complete virtual and physical quests that can help teach critical skills for finding the buried treasure.
Whew! That's a whole lot of information! At this point, we know you have some pressing questions about the Brain Chase summer program, so let's get you some answers, shall we?
What Is Rosetta Stone, myON, & Khan Academy?
Rosetta Stone (you probably recognized their yellow boxes advertised on TV for several years) is a company that has helped millions of individuals worldwide, as well as 9,000+ public and non-profit organizations and 12,000+ corporations, learn 30 different languages.
myON is an online literacy program that provides learners between pre-K and 12th grade access to more than 8,000 digital books, which is tailored specifically to each learner's interests and reading abilities.
Finally, Khan Academy is a free service (whether you enroll through Brain Chase or not) that features over 100,000 different interactive exercises across multiple subjects, including math, science, computer programming, history, art, economics, and more.
Is Summer Learning Loss a Real Problem?
As a parent, I certainly understood that during the summer, students are known to lose some of what they learned throughout the regular school year. However, you may not recognize how big the problem is. I know I certainly didn't.
The reality is that, depending on subject matter, students lose, on average, 1 month of what they learned throughout the school year during the summer. However, for specific subjects such as math and reading, this can amount to 2+ months, which works out to about 25% of their whole school year!
In short, based on much of the available data, summer learning loss is a real—and significant—barrier to your child getting the most out of their education.
Even though this is the case, is Brain Chase necessarily the best way to prevent summer learning loss?
Is Brain Chase a Good Way to Stop Summer Learning Loss?
To back up their claims, Brain Chase references a 2011 RAND study on their website, which found that overall, summer learning programs seem to be effective, "at least in the near term." Obviously, there are dozens of factors that can impact their effectiveness, such as where classes are held (online or off), grade level, the subject matter being taught, and more.
However, when referencing specific traits, Edutopia recommends that summer programs focus on:
Spending 15-30 minutes each day learning
Learning reading and spelling skills
Developing math skills
Improving reading comprehension and grammar skills
Encouraging creative writing
Focusing on areas your child may have struggled with during the previous school year
As you can see, Brain Chase's programs appear to address all of these elements.
Here's the catch though: Although Brain Chase might meet all of your requirements as a parent, will it also be exciting and entertaining for your child?
Will Your Kids Enjoy Brain Chase's Summer Program?
Let's be honest: As a parent, unless your child is especially keen on education, you know that enrolling them in a summer learning program probably isn't something they'll exactly be jumping up and down with joy about.
After all, you fully understand that there are benefits to be gained (as mentioned in the previous section), but keeping your child motivated to sit inside at a computer might be a challenge, especially if all their friends are at the pool, outside playing, or whatever else. And while Brain Chase's programs might only take an hour of their day, this can seem like an eternity to a child.
When it comes down to it though, like any other product or service, summer learning programs represent personalized experiences. As such, whether or not your child enjoys Brain Chase will depend heavily on dozens of factors specific to them, the least of which include learning style, personality, entertainment preferences, and much more.
Who Cannot Become a Brain Chase Adventurer?
Before you (or your little Adventurer) become too excited about Brain Chase, keep in mind that their treasure hunt is only "open to children who are legal U.S. residents of 49 United States and the District of Columbia (excluding U.S. territories, and Maryland due to state laws), or residents of Mexico, the United Kingdom, Ireland, or Canada (excluding Quebec)."
Other Ways to Stop Summer Learning Loss
Finally, although Brain Chase seems to offer a unique angle in their quest to reduce summer learning loss, keep in mind that they're not the only game in town.
As far as other options, to get you pointed in the right direction, NWEA.org provides several good resources for parents looking to help prevent summer learning loss. Alternately, a quick online search for "how to stop summer learning loss" or "how to keep children excited about summer learning" will provide dozens of solid resources.
Are Parents & Students Pleased with Brain Chase?
Although Brain Chase has been in business since 2013, it appears that most online reviews for the company were published only within the last several months.
With this in mind, Common Sense Media rated Brain Chase 5 stars for quality, and called it a "clever, creative -- and, most importantly, fun -- five-week program." The company was also featured in a recent NY Times article, where Brain Chase was expecting 10,000 participants, so there's clearly a lot of interest in their programs.
Brain Chase was also a recipient of the Tillywig Toy Brain Child Award, as well as a Mom's Choice Award Honoring Excellence.
Outside of these, the only online reviews were from independent bloggers, which were either sponsored directly by Brain Chase, or where bloggers acted as affiliates and earned commissions off of each enrollment they referred.
Brain Chase Program Pricing
Brain Chase programs are available through two different packages:
Brain Chase – Includes a 5-week session with personalized learning, access to Rosetta Stone, myON, Khan Academy, and assistance from credentialed teachers: $199
Premium Package – Includes everything in the Brain Chase package, with the addition of an Adventurer backpack, t-shirt, and Sunstone of Cortés patch: $249
Additional children from the same family can enroll in a Brain Chase program for $100 each.
With each enrollment, your child will also receive exclusive real life adventure tools (known as Brain Chase Gear). Individual products can also be purchased directly through the Brain Chase shop.
After enrollment, Brain Chase provides a 1-week satisfaction guarantee, during which time your child can change some of their courses (e.g. switching from a writing to a language program) or can exit the 5-week program altogether.
In order to request a change or to cancel enrollment, you'll need to contact Brain Chase at info@brainchase.com or through their online contact form.
Can Brain Chase Enhance Your Child's Summer Learning?
Between their positive—if not limited—customer feedback, popularity among students all across the country, focus on creating a fun learning environment (even though your child might not be excited at first), and reasonable pricing, Brain Chase seems to have all the necessary ingredients to support your child's learning throughout the summer, and to avoid losing some of what they learned during the school year.
However, there are two important considerations before signing up:
First, if your child learns best from live instruction (versus sitting in front of the computer, watching videos and completing assignments), online programs like Brain Chase might prove to be frustrating for them and represent a waste of money for you.
Second, you have may different online summer learning programs from which to choose, so be sure to research at least a few of the most popular options before deciding on Brain Chase.
It's legit!

My family has participated in Brain Chase a total of four times, and my daughter actually won the grand prize last summer! Even without the prize, Brain Chase is a fun and engaging learning experience, but there is a REAL prize at the end of the contest for the person who is first to solve the mystery. I can't say enough positive things about Brain Chase. Even though we are ineligible to win again, we will continue to play because we enjoy the game so much!

Bottom Line: Yes, I would recommend this to a friend

---

Advertisement

---