Brandless Reviews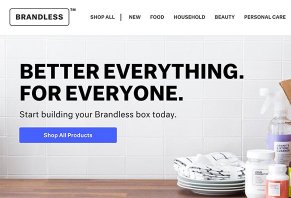 Get all your shopping done for less than $3 an item at Brandless, an e-commerce company that ships you groceries and promises to save you money on the 'BrandTax' charged by other companies.
What Is Brandless?
Brandless is a 2017 e-commerce startup that promises to provide their customers with a variety of food and household items, all for $3 and under. The central premise is that shoppers can order goods online and have them shipped directly to their home within days of purchasing.
According to Business Insider, Brandless founders Tina Sharkey and Ido Leffler started the company to capitalize on consumer changes that were causing traditional brands to suffer. In their view, modern shoppers are less concerned about brand names and more interested in shopping for value, whether that comes from lower prices or higher quality ingredients (and usually both!).
The idea behind Brandless is that customers inadvertently pay for the advertising expenses of brand name products through higher prices at the store. Brandless's website labels this upcharge as a 'BrandTax' that they estimate costs consumers between 40% to 370% more than the cost of an equivalent product from their online store.
By selling each product under a generic label, Brandless seeks to remove the "BrandTax" from their products and pass these lower prices on to the customer. This means that rather than filling packaging with brand labels or slogans, Brandless lists only the physical properties of the product itself.
Through this countercultural marketing strategy, Brandless professes to provide "quality, transparency, and community-driven values" to every customer. Does the brand deliver? Will you really save money by shopping at Brandless? Let's delve into the details to find out.
Will Buying Non-Branded Products Save You Money?
Forbes.com tells us that good branding is critical in the retail business because it allows companies to differentiate from their competitors and charge more for otherwise comparable products.
Companies pass on the costs of developing and marketing their branded products to their customers through higher price tags. Because successful branding improves the perceived value of their product, customers often don't mind paying extra for them.
However, Time.com states that today's shoppers aren't as likely to equate higher prices with higher quality. The Great Recession caused millions of newly price-conscious shoppers to ditch their preferred national brands for generic options instead, and many never returned to their previous purchasing habits.
In fact, surveys showed that 93% of consumers had permanently changed their shopping habits by 2010, saving them between 25% and 30% on many of their purchases.
While Time.com tells us that the market began correcting itself by raising the price on generic brands, avoiding big brand labels is still a way to save money today.
Brandless then takes this shopping model one step further by ditching the brick and mortar store entirely and operating only on an online basis. Will you still save money buying generic products when shipping costs are factored in?
Let's look closer at Brandless's pricing to find out.
What Does Brandless Sell?
Brandless's pricing system is based on the concept that every product costs $3 or less. At the time of writing, the store had an extensive collection of food, household, beauty, personal care, health, and home & office supplies.
When we did our research, all orders from Brandless have a flat $9 shipping charge unless you spend more than $39. Alternatively, becoming a Brandless member provides unlimited free shipping for $36 a year.
Regarding returns, customers can contact help@brandless.com within 14 days of receiving their items to see if they qualify for one. After 14 days have passed, all sales are non-refundable.
The company website also states that they have partnered with Feeding America to donate one meal (valued by the organization at $0.09) for every regular order, and two for orders from members. At the time of writing, Brandless Inc. guaranteed that they would donate a minimum of 1,650.000 meals (equal to $150,000) from 5/15/2017 to 5/15/2018.
What Kind of Quality Are Brandless Products?
The Brandless website makes it clear that the company prioritizes providing transparency to their customers with their products. Each package highlights the most essential features of every product, from organic certification to the ingredients list.
Every category of Brandless products also follows specific quality standards. A summary of these standards is below, as noted on the company website.
Food & Beverage: All Brandless food is non-GMO and made without artificial preservatives and flavors, and over half is USDA certified organic.
Beauty: Brandless has eliminated over 400 potentially harmful ingredients from their products like parabens, polypropylene, phthalates, and sulfates. The company is also 100% against animal testing.
Household Cleaners: Brandless cleaning products adhere to Safer-Choice Standards set by the U.S. Environmental Protection Agency. This means that they only contain ingredients that have been pre-approved by the EPA as "CleanGredients."
Home & Office: Brandless's stationery paper products are certified by the Forest Stewardship Council (FSC), an international nonprofit that focuses on promoting responsible forestry around the world.
Feminine Hygiene: The company's tampons and top sheets of pads are made from hypoallergenic-certified organic cotton, and are free of chlorine, rayon, fragrances, and dyes.
Household Paper: Brandless's napkins, bath tissues, and facial tissues are all biodegradable and USDA Certified Biobased under the BioPreferred® Program. This means that they are made from natural materials rather than petroleum-derived products.
What Do Customer Reviews of Brandless Say?
Our research showed us that there are dozens of online reviews and blog posts about customer experiences with Brandless.
For instance, a Brandless review from Business Insider offers us a mixed perspective on the quality and value of Brandless products. The reviewer found the organic boxed macaroni and cheese to be mostly flavorless and expensive for the amount he received, and he noted that the $3 tongs he ordered were less sturdy than expected, though similar ones were for sale on Amazon for $6.
He also mentioned that the company's garbanzo beans cost the same amount as a generic store brand, but that they earned points for him for being low-sodium, organic and non-GMO.
Overall, the reviewer found Brandless's product offering to be a mixed bag, with some items a steal and others not worthwhile. So long as you purchase enough to take advantage of free shipping, he recommended the company for bargain hunters.
Likewise, a review from CheapPriceBlog praised Brandless's fast shipping and consistent pricing but noted that the selection seemed limited and that many items were cheaper per ounce at Trader Joe's (especially when shipping costs were factored in).
Regarding Brandless's beauty products, a reviewer on CoolMomPicks mentioned that she liked the company's selection so much that she would be willing to switch her personal product shopping over to Brandless completely.
Brandless Compare vs. Trader Joes
Our research into customer reviews for Brandless revealed that many shoppers viewed the brand as an online alternative to Trader Joes, a popular Germany-based grocery store chain known for its low prices and quirky food offerings.
We found informative reviews from Insider.com that compared the taste and price points of similar products from both stores to see who came out ahead.
Regarding taste, Insider compared five Brandless and Trader Joe's products (white cheddar popcorn, salted tortilla chips, chunky salsa, gluten-free macaroni and cheese, and gluten-free boxed brownie mix).
Their ratings determined that Trader Joe food tasted better in every instance except for the brownie mix, which the two brands tied on. Complaints against Brandless products included that the food tasted stale, more bland, and a little saltier than the Trader Joe's foods.
Regarding price, the Insider review found that their sampling of products showed that Trader Joe's had a consistently lower price per ounce for their products. Of the 24 items they looked at, just four from Brandless (green tea, coconut oil, hand soap, and hand cream) were a better deal.
Though Brandless prices were never over $3 for any item, the reviewers found that package sizes were often smaller than standard brands, leading to a higher cost per ounce. Notably, this review didn't factor in shipping costs, which would raise the price for Brandless products higher still.
The Bottom Line: Is Brandless Really Worth It?
As an e-commerce option for grocery shopping, Brandless is striving to change the way that people purchase food and other staple goods. The company claims to keep their prices low by removing the "BrandTax" common in national brands.
But will Brandless save you money? Our research shows it can be hit or miss. Reports on pricing compared to the relatively comparable grocery store chain Trader Joe's shows that many items are cheaper per ounce at a physical grocery store, even without factoring in shipping costs. We also noticed some complaints about the quality and flavor of Brandless goods.
However, the convenience of shopping online at Brandless might be a significant selling point for many people, especially those that don't live by a store like Trader Joe's. At the time of writing purchases only needed to be over $39 to qualify for free shipping, and an annual membership fee of $36 provides free shipping for the whole year. For many people, these factors might make up for the cost difference.
Likewise, Brandless priorities transparency in the quality of their ingredients and donates money from every purchase to Feed the Hungry, which isn't something that many standard stores can offer.
Should you switch your shopping over to Brandless? That comes down to a personal decision. Our research shows some items will likely taste better and save you more money than others, so it might take some experimentation to determine what makes sense for you.
Lack of commitment

By Laurel S.

,

Somerville, MA

,

Sep 5, 2019
Verified Reviewer

When I first started ordering from Brandless, I was excited because it was good quality stuff at a good price. I liked the majority of the items I bought and would have continued as a devoted customer, but it didn't take long for them to go all drug dealer on me. First there was the whole "we are committed to keeping our prices low, yadda, yadda" and stuff was really affordable, then most of the things I like doubled in price. Guess they weren't that committed. Yet another company determined to expand the divide between the haves and the have nots. Not a fan anymore. Disappointed.

Bottom Line: No, I would not recommend this to a friend

---

Rude customer service, unreliable safety

By T B.

,

Tulsa, OK

,

May 16, 2019
Verified Reviewer

All cleaning items were unsealed, dish detergent soap all in the bag (they ship soaps in Ziploc bags.) I tried to contact customer service...Can only do that by SMS or email. Waited days for replies. Our household refuses to use product shipped that looks used. When I spoke to their customer service contact she said that adding basic seals to the inside of products was something that would need to be considered on a development level. Their toothpaste comes with a seal, so did deodorant. The paper towel and toilet paper were thin and shoddy. Avoid this company at all costs. Their customer service is non-existent and their treatment of customers is beyond rude. Avoid. At. All. Cost.

Bottom Line: No, I would not recommend this to a friend

---

Advertisement

---

No great savings on not so great products

By Karen M.

,

Mid-west

,

Feb 21, 2019
Verified Reviewer

I bought three knives (the hook), TP and liver dog treats. I liked that their use of plastic is minimal. The "brand tax" was approximately $1 on the consumables, if you are a good shopper, and well worth it. I was trying to figure out their target market, which clearly is not me, and realized it's for people who wouldn't be caught dead in Big Lots, Ocean State, etc.). The quality of all products purchased was garbage. The toilet paper rolls were small and the texture was rough, especially compared to Charmin, and you currently save $1 + tax. The dog treat which made my dog sick, are $1.50oz vs. $2oz for Vet grade treats on Amazon. And the knives aren't 2nds or even 3rds. The handles don't line up making for a very uncomfortable chopping experience. Worst still it seems they are meant to be disposable (bad for the landfill, bad for your wallet). I won't be back (obviously), but I would caution people about using cosmetics that you don't know the source.

Bottom Line: No, I would not recommend this to a friend

---

Pass on most items

By C. N.

,

USA

,

Jan 17, 2019
Verified Reviewer

Great fluoride free toothpaste and mouthwash.

But...

Skin products burned my face, so no go. The coconut cookies were 80% broken pieces. Canola oil rancid and ruined dessert. Gel Pens leak and are gloppy. Decaf Coffee nothing special. Salt grinder unusable for the table and need measuring spoon to measure for cooking because the grind is too large and unable to decrease! Kidney beans were off tasting and ruined entire chili meal.

Customer service is not the easiest to engage with, but they refunded via store credit items I had an issue with. I reordered toothpaste and mouthwash, the only two items I will purchase in future IF I have free shipping.

Bottom Line: No, I would not recommend this to a friend

---

Advertisement

---

Very satisfied

By Riley L.

,

San Francisco, CA

,

Dec 17, 2018
Verified Reviewer

I received my first order from Brandless. It included several porcelain bowls, cups, and plates. They are solidly made and arrive without any chips or breaks. I'm very happy with them.

The organic coconut oil was 10 oz. instead of the 14 oz. size I usually get at Trader Joes, but still, it was slightly cheaper per ounce. I was very enthusiastic when I saw they had toilet paper not made from trees. It is one-ply and not particularly soft, but I don't care about that. I'm far more interested in the ecological impact. And it's so much cheaper than Seventh Generation or other eco-friendly brands. The parchment paper I ordered was typical parchment paper.

Their inventory is still very limited, and I'm hoping they will be successful enough to expand. The packing did contain some bubble wrap, and I would hope they would go for all biodegradable or recyclable materials. At this point, I have only good things to say. If you are not someone who cares about organics or health, you probably won't appreciate how much cheaper they are than the average supplier.

Bottom Line: Yes, I would recommend this to a friend

---

Love the beauty products

By Amber W.

,

Cincinnati, OH

,

Nov 11, 2018
Verified Reviewer

I ordered 7 products and used a code for free shipping on my first order. I ordered the Daily Facial Moisturizer, Night Cream, Grapefruit Facial Cleanser, Calm & Focus Support, Mint Foot Cream, Green Apple Facial Toner, Organic Extra Virgin Olive Oil, and Organic Raw Apple Cider Vinegar.

I have used all of the beauty items. I was really impressed with the feel and scent of the toner, it felt refreshing and didn't burn my skin. The Night Cream has helped to soften my skin; I wake up with my skin feeling noticeably softer and less dry. The Mint Foot Cream felt great and smelled even better; I need to use it more often. The Facial Moisturizer was great too; I just need to see what it is like under makeup, which I have yet to try. The Calm & Focus Support has great ingredients, but it's only a two week supply. It's usually hard for me to tell if a vitamin is really helping.

All in all, there are items that are def worth more than the $3. I was looking for a good scentless moisturizer as I'm 40 and my skin is super dry, and I can't seem to find anything that makes my skin feel better or that doesn't cost a small fortune. The Apple Cider Vinegar was a great price at only $3. Definitely worth spending $20 just to try these items and see if it's something you want to stick with. I would hope they can add more hair care products to their catalog.

Bottom Line: Yes, I would recommend this to a friend

---

Spilled products

By Angela H.

,

Carrollton, GA

,

Nov 10, 2018
Verified Reviewer

I ordered from this company and then I referred my boos and family to this company. Her (Catherine) first order came in spilled all over everything, and had missing products. I contacted this company for a replacement and a replacement was sent! Guess what? The replacement spilled out all over the other product. Do not order from this company. Once they get their money, they could care less about how your product was received! This company is a waste of your hard working money.

My order came up to $32, and I want every penny back, and I'll be glad to ship your empty bottles back to your company. My order created several order numbers, so searching under my name would be the best way to see my order numbers. The products I've had issues with I did put order numbers below.

Bottom Line: No, I would not recommend this to a friend

---

So far so good

By Thomas G.

,

Vero Beach, FL

,

Nov 1, 2018
Verified Reviewer

Everything we've tried so far is fantastic. We love the soups and salad dressings, and the snacks are excellent also. We will be trying the pasta and sauce tomorrow, and I'm sure they will be up to par also...

Bottom Line: Yes, I would recommend this to a friend

---

First time order

By Michelle M.

,

Florida

,

Oct 20, 2018
Verified Reviewer

I received 13 items with free shipping for $34 flat. I had a $5 off coupon and it's free shipping for orders $39 or more. It only took about 4 days from order to doorstep. The packaging is very good. They include a catalog and your order form right on top. I am glad they packaged all of the cleaning supplies together in a Ziploc looking bag. One leaked a tiny bit but I just rinsed it off and it was fine. The shampoo and body wash smell like a spa! I'm so excited to use them. I can't wait to see what new items they'll be offering next!

Bottom Line: Yes, I would recommend this to a friend

---

Can't use PayPal

By Diane C.

,

Canoga Park, CA

,

Sep 13, 2018
Verified Reviewer

I've haven't been able to use PayPal for my order tonight, and this happened on my last order also, so I had to use a credit card the last time. The computer showed that my zip code is invalid tonight. I wanted to order tonight so the order would be on their site tomorrow morning 9/10/18. We'll be home later this week to receive it. Now, I'm stuck. Either I use a credit card or forget the order.

Bottom Line: No, I would not recommend this to a friend

---

Great products, even better customer service.

By Ethan W.

,

Pennsylvania

,

Sep 10, 2018
Verified Reviewer

Online experience: The website was beautifully designed. Easy to use on both desktop and mobile web. There were quite a wide variety of items. In addition, they are constantly adding new products as stated on their website!

Order: The packaging of the items were great. Simple and non-pretentious. Well packaged.

Customer service: My dishwashing liquid actually leaked a little. I emailed them just to notify them and some improvement points (add some sealing to bottle). They replied me promptly, but they even refunded me!

Bottom Line: Yes, I would recommend this to a friend

---