BrandYourself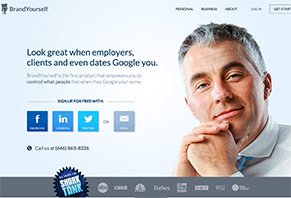 BrandYourself is an online reputation management company that helps promote positive, accurate information about you so you can put your best foot forward.
BrandYourself Review
When others people Google your name, BrandYourself is a reputation management company that helps you stand out from the competition, whether this involves an employer, a client, a colleague, or even an upcoming date, all at reasonable prices. Ultimately, this means that BrandYourself can help promote positive, accurate, relevant online results about you, which allows "everybody put their best foot forward on the web, without being overcharged to do it."
Whether you're an individual or business, BrandYourself accomplishes this by using "white hat" search engine optimization techniques (more about this in a moment) to suppress negative and irrelevant information and push it further down into the search results.
During the process, BrandYourself states that they'll form a true partnership with you, while maintaining complete transparency, absolute quality, and consistent communication and collaboration. In fact, when compared to the competition, BrandYourself offers the first DIY platform for reputation management service in the industry.
If you're even remotely familiar with the reputation management industry, you know that it can be a perilous, high stakes, and high-priced process that might offer more frustration than it does solutions. But is BrandYourself any different? Are they worth the time?
We briefly sat down with BrandYourself's co-founder Patrick Ambron to help answer many of your important questions and to clear up any confusion, which we'll talk about in a moment. But first, let's take a look at how BrandYourself works.
How Does BrandYourself Work?
Overall, BrandYourself offers three different service levels for individuals and one for businesses:
DIY
One of the biggest differentiators between BrandYourself and their competition is their DIY software that helps you manage the process yourself, which co-founder Patrick Ambron likens to using TurboTax instead of hiring an accountant.
In order to use BrandYourself's DIY tool, you'll first need to sign up for an account and enter your full name to receive your search results. Then, you'll mark these results as positive, negative, or irrelevant in your dashboard, after which you'll be given a "search score" that identifies how good you look when someone searches for you online.
Next, you'll submit content you think people should be finding, such as your personal website, an article you wrote, your social media profile; essentially anything you want. BrandYourself's software will then analyze your request and provide tips on how you can make your web presence even more search engine friendly, and therefore rank higher for your name.
According to the company, you can continue repeating this process until relevant results fill the first page of Google, while less relevant results are buried far below.
After you've gotten the ball rolling on improving your web presence, you'll continue receiving alerts when your Google results change, as well as when someone else Googles you.
Headstart
BrandYourself's Headstart program is intended to be a step up from the basic version, and is aimed at those who might need a more personalized approach.
To accomplish this, after undergoing a branding consultation, one of BrandYourself's experts will build high quality, state-of-the-art websites and social media profiles for you that are "optimized to rank as high as possible in Google."
Once this occurs, BrandYourself's experts will then provide you with a personalized action plan that can help you continue improving your Google results through the company's premium DIY tools. In addition, BrandYourself will "host your websites, monitor and renew your domain names so they never expire, and give you priority customer support whenever you need help."
Concierge
BrandYourself's Concierge program is relatively similar to their Headstart service in that you'll begin with a branding/strategy consultation, and by building state-of-the-art websites and social media profiles.
Once this occurs though, BrandYourself will continue managing your online presence over time by:
Continuously optimizing your reputation strategy so that the content you want is always at the top of search results.
Creating and promoting content about you, such as blog posts, "rich media" such as presentations, videos, and images; keeping your social media profiles active by regularly updating your status, ghost writing articles, and building/managing your personal Wikipedia page.
Sending you a comprehensive monthly report that outlines exactly what the company did for you over the past month and provides the goals for the next month.
Business
Here, you'll first be part of a business strategy session that determines the "appropriate level of service for each of your team members," the look and feel of your content, and the appropriate marketing materials and approach to drive more leads.
Once this occurs, BrandYourself will work one on one with each of your team members to create a state-of-the-art online presence that matches your company's brand.
Afterward, the BrandYourself staff will continually update your team's "websites/profiles/social media accounts," write blog posts, and more, while informing you of best practices to keep your team's online presence professional and relevant.
Finally, you'll receive ongoing monthly reports outlining the new leads you're receiving and how well your content is ranking in Google.
BrandYourself on ABC's Shark Tank
You might have first heard about BrandYourself when co-founder Patrick Ambron appeared on season 6, episode 23 of ABC's Shark Tank, where he ultimately turned down a $2M offer from Robert Herjavec for a 25% stake in the company.
During our conversation with Patrick, we asked him if he still felt comfortable with his decision (the original filming for this episode occurred in June 2014), which he said that he did. In fact, Patrick stated that since the filming of Shark Tank, the company has grown considerably.
Ultimately though, he stated that it came down to being fair to the other BrandYourself investors. After all, how would it look if he gave Robert twice as good a deal, but for half the amount of money?
We did ask Patrick why he turned around and looked back at the Sharks as he walked off stage. In other words, was he thinking about re-approaching Robert? Was he having second thoughts?
Patrick laughed and said that he honestly didn't remember looking back, but that he felt it was a good experience and he has no regrets, although he noted that Robert would have been an ideal investor in BrandYourself.
What Is Search Engine Optimization?
While the term "search engine optimization" might sound technical, the reality is that it simply involves "the process of affecting the visibility of a website or a web page in a search engine's unpaid results." In layman's terms, this means you're trying to get a web page listed as high on Google's (or any other search engine's) results as possible.
According to Patrick Ambron in one of his media interviews, "93% of people never leave the first page of Google." Because of this, it's important that you rank on the first page of any search engine if you're looking to boost your online reputation.
For example, let's say you own a company that manufactures square widgets, and you want to generate as many online sales leads as possible. To do this, you'll first create a website (e.g. www.squarewidgets.com) and include content that relevantly references square widgets as much as possible.
Then, to further promote your services, you might feature blog posts about square widgets, customer reviews for square widgets, and maybe even guest articles written by other square widget professionals.
Overall, the better quality and more relevant your content is for square widgets, the higher your website will land in the search engine rankings, thereby (hopefully) increasing your sales leads. And this is what BrandYourself can help with.
BrandYourself's Competition
Like other reputation management companies such as Reputation.com, it's important to note that BrandYourself doesn't eliminate negative online content about you. Instead, they simply use truthful, relevant, and positive content that pushes the negative content farther down.
Despite this core similarity, BrandYourself differentiates itself from the competition through the methods they use to accomplish this.
The fact of the matter is that most reputation management companies have you fill out a brief questionnaire, after which they'll create dozens on websites, blog posts, and articles intended to flood search engines with the results you want while suppressing the ones you don't. And to do this, they'll often charge tens of thousands of dollars, keep their processes hidden, make outrageous claims, and may even provide a low level of value for your hard-earned money.
BrandYourself, on the other hand, wants "to bring honesty and quality back to a broken industry," by putting you in control of your own online reputation. According to Patrick, they make the process "embarrassingly simple" by building a real online presence around you, and by providing everything you need to optimize your search engine results.
On top of this, Patrick states that everything is completed in-house and nothing is outsourced, which ensures that the content quality remains high. Also, Patrick emphasized that they provide only real content (no fake blogs, landing pages, backlinks, or "black hat" SEO).
Instead, BrandYourself simply lets you know where you should be and what you need to do to optimize your online search results. In short, Patrick stated that BrandYourself isn't so much about removing the negative as they are about helping you create a presence online.
Are BrandYourself's Services Guaranteed?
Like other reputation management companies we've reviewed, BrandYourself does not guarantee results.
According to FAQ: "We can guarantee that if you follow all our steps, your result will be as search engine friendly for your name as possible, which gives it the best possible chance of ranking higher."
Can You Manage Your Own Online Reputation?
When it comes down to it, Patrick Ambron has been very upfront about the fact that the techniques used by BrandYourself are not a secret, and are something that anyone can learn how to do.
In fact, as Patrick outlined in a 2013 VentureBeat article, "If anybody is telling you that you can't do this yourself and they have a magic formula, it's untrue … you just may not have the time or knowledge right now."
And that's really what it comes down to. While you can learn the SEO techniques necessary to boost your online presence, this can take months (or even years), along with a lot of trial and error in the process.
Instead, BrandYourself claims to offer everything you need in one place, all at a price you can afford.
What Are Customers Saying About BrandYourself?
Overall, BrandYourself seems to have a fairly positive online reputation, although there weren't many customer reviews available at the time of our research. To be honest, this is a bit surprising considering the length of time the company has been in business.
During our communication with Patrick, he did send over a couple of links (see here and here) showing a criminal record for an individual named Pete Kistler. However, he is three decades older than BrandYourself's co-founder, and lives over 200 miles from where the younger Pete Kistler attended college.
From a company perspective, BrandYourself is based out of New York, NY and holds a B- rating with the Better Business Bureau, despite having only one closed complaint (as of 5/1/15). This complaint appeared to reference a violation of the company's Terms of Service, after which a customer was banned from using their services. However, the company never responded to the complaint.
BrandYourself Pricing and Refund Policy
BrandYourself's basic DIY service is completely free of charge, while the premium service will run you $99 per year for priority customer support.
BrandYourself's Headstart program is priced at a one-time fee of $698, and their personalized Concierge service starts at $399 per month.
According to BrandYourself's FAQ, they offer a refund if you're not experiencing success with your search results, although no further specifics are offered.
In order to request a refund or to ask questions about their services, you'll need to call customer service at (646) 863-8226.
The Bottom Line: Does BrandYourself Really Work?
If you're looking to manage your online reputation (or do anything else, for that matter), it's difficult to beat free. And since BrandYourself is the only player in the reputation management industry that offers a free, one-stop DIY tool, they're the only game in town if you're looking to get your feet wet without paying an arm and a leg.
Even if you do decide to pay for one of BrandYourself's higher service tiers though, they're considerably less expensive than the competition, so you might decide to check them out before committing to another company.
On top of this, BrandYourself's co-founder Patrick Ambron was very open and forthright with us about the company's business model, which goes a long way to show that they're a legitimate business with their customer's needs in mind.
Unless you are literally trying to build a business. Be cautious and aware.

By Jason D.

,

South Australia, Australia

,

Aug 31, 2019
Verified Reviewer

I've been using this service for some time now and I opted to upgrade for $2. I was charged $23 instantly. Now I have to dispute the claim. Cut my bankcard in two. And wait a week for a new one before I can even attempt a dispute. The website seems to have no option to close your account.

Word of warning: if you use this service at the basic (personal) level, be very careful and do not upgrade. Unless you want to pay $15 USD a month for a service that isn't even automated.

Don't do it. Use the basics. Good luck unsubscribing.

Bottom Line: No, I would not recommend this to a friend

---

Above and beyond

By Matthew F.

,

Brooklyn, NY

,

Sep 11, 2018
Verified Reviewer

I can't say enough about the BrandYourself team. I've had the pleasure of working with them for a little over a year now, and they are as attentive today as they were on day one. They've somehow struck a balance between accommodating our company's wishes, while delicately (and professionally) inserting their expert input. Overall, they are a very customer oriented group with the results to back it up!

Bottom Line: Yes, I would recommend this to a friend

---

Advertisement

---

Great service and results!

By Sara M.

,

Sydney, Australia

,

Sep 11, 2018
Verified Reviewer

We've been working with BrandYourself for over a year, and they've helped us in several ways:

• Revolutionise our Google advertising strategy and execution.

• Ghostwrite custom think pieces to improve our industry reputation and get valuable backlinks on reputable websites.

• Optimise content of our current websites to improve our SEO and rise in the rankings.

The services are definitely an investment but has yielded great results for us on a global scale.

Bottom Line: Yes, I would recommend this to a friend

---

Great for cleaning up social media!

I saw the company on Shark Tank and used them to clean up my Facebook page. It found lots of posts from years ago, some I forgot I had posted. It was fun going through them all! I ended up deleting a lot of posts that I didn't want on my page anymore. I didn't personally think some of the posts it flagged "risky" were bad but I can see why they were flagged and it was good to see them all.

Bottom Line: Yes, I would recommend this to a friend

---

Advertisement

---

The premium version doesn't work unless you pay $595

In February 2012, I joined BrandYourself.com and it worked, provided you had a personal domain and spent about 60 hours utilizing the Do It Yourself Program.

BrandYourself.com became an Internet Marketer, a 21st-century snake oil salesman.

The term "Internet Marketing" in this context describes both a particular business model used to sell fraudulent products and services online, and the community or subculture that embraces it.

Don't be naïve; they changed the software to not work unless you pay them $595 per month. The path to a clean internet reputation isn't through this company.

This is sad. It used to work. Do not become ripped off! Stay away.

Bottom Line: No, I would not recommend this to a friend

---

Very helpful and comprehensive

I started out using BrandYourself's DIY tool. It's very informative, and I learned a lot about how to create sites and profiles on my own, but I just didn't have enough time to do it all myself. I have since upgraded my service so that their team could take over.

We're still early in the process, but I've really enjoyed working with them so far. I'm looking forward to people seeing info about me online that's actually up to date!

I also like that the team explained a lot of different service options to me when I was thinking of upgrading.

Bottom Line: Yes, I would recommend this to a friend

---

Worth the money

By Stacey Alan

,

New York, NY

,

Jun 10, 2017
Verified Reviewer

This software comes highly recommended from a couple of my colleagues who swear their improved online reputation is THE reason they were able to get new jobs.

I've only been using the software myself for a few weeks now, which isn't enough time to see the results they saw. That said, I'm impressed with how thorough the instructions are so far, taking me step by step into fixing up my social medias to be top notch for Google.

The most interesting piece so far is the Facebook scanner. My son is having a field day with it.

Bottom Line: Yes, I would recommend this to a friend

---

Good product but choose the right package

BrandYourself offers a variety of ways to get reputation management service. If you've ever been trashed online by someone, you've probably looked into trying to get rid of it. You'll quickly learn you can't really delete things in Google, but you can "bury them" and surround them with more accurate information. You just need to create the right sites and profiles, optimize them and keep them up to date. Since this is time-consuming, there are firms like BrandYourself that offer to do it for you.

What makes BrandYourself different is they offer a DIY software that helps you do the process yourself. While still time-consuming, it's better than paying thousands of dollars if you can't afford it.

That said, they often try to get you to pay them for a service. While it can be annoying at times, it makes sense. I eventually upgraded and the service was good. However, what I liked was how clear they were about the process. To me, it seems like the DIY tool is great if you have no extra money, but still, very time-consuming. It's more educational and tempts you to upgrade to their service.

Bottom Line: Yes, I would recommend this to a friend

---

Good support, tool is helpful

By Anna Wegman

,

Jersey City, NJ

,

Apr 20, 2017
Verified Reviewer

I signed up a few weeks ago after seeing them on Shark Tank. When I signed up I got a search score of a C. I chatted with a customer service rep using the tool on their website. They gave me links to some guides to improve my search score and showed me how to do it myself. The social scan feature is cool. It showed me a lot of social media comments the past that I forgot were on my Facebook. I'd recommend it to a friend.

Bottom Line: Yes, I would recommend this to a friend

---

Brandyourself.com is a rip off

By Craig Tomko

,

Atlanta, GA

,

Jan 30, 2017
Verified Reviewer

Not only an awful value but an extraordinary waste of time. And their support staff is also condescending and rude.

Bottom Line: No, I would not recommend this to a friend

---

Haven't tried the paid services, yet

By Anon-iMouse

,

Florida

,

Oct 16, 2016
Verified Reviewer

I'm still deciding if I should upgrade from the free service, so I'm just going through reviews. Quick thing to mention, I was attacked online for making a political comment in 2015, got tracked down by one very dedicated person who backtracked my aliases and found me on Facebook. The doing of one Internet Troll REALLY hurt my name, my company's name, my online profile, etc. I've spent over a year burying it, and it's only been mildly successful, I just got down to only have one bad mark on Google's first page.

It's pretty difficult to remove bad stuff that was published on a website, I have done it before, but only because one website owner reached out to me for comment and realized that I was the victim of a Hoax. I'm mixed on Ripoff Report's commitment, however it goes without saying: Ripoff Report prides themselves on the idea that they will never take down a review (even obvious slander/hoax), and they have never lost a court case.

It's best to accept that what's on the internet is FOREVER. The only thing you can do is bury, bury, bury, and hope a lot of people have the same name as you (they don't for me), but luckily, someone with my same name was just arrested in Texas. Since he is obviously not even close to looking like me, I'll accept this as a good thing because it also buries any bad stuff about me.

What I have done, so far: I re-activated all my social media accounts, and created a lot of new ones. Pop on every so often to post random nonsense that your average social media butterfly would post. Linkedin is squeaky clean and updated, created a bunch of blogs with my name in the title, subject and url to show off my photography. I name drop myself in any online post that is non-controversial. I bought up 5 domains with my name in it and created a ton of sub-domains. Basically, I flood the internet with ME, and as much good stuff as possible.

From using Brand Yourself, it seems, more or less, to be just a tool to monitor all of the above stuff that I have already done. It's all in one place. It feels a bit like like a credit-monitoring tool, you still have to do all the hard work, yourself. Still, I like having all of my positive/negative results laid out in one spot, like a Control Panel to show how the internet paints a portrait of me. And that's just using the free tool. I'm still reading and debating if I would be at an advantage to pay for their more powerful services.

Bottom Line: Yes, I would recommend this to a friend

---