Breathe Green Charcoal Bag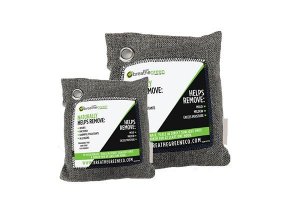 Ridding the air of odors, moisture and chemicals is as simple as setting out a Breathe Green Charcoal Bag, a fabric container housing activated bamboo charcoal.
Breathe Green Charcoal Bag Review
The Breathe Green Charcoal Bag is an odor and allergen remover that uses activated bamboo charcoal to quell awful smells, filter out particles that cause allergies and soak up moisture.
What makes these bags unique among similar products is that they utilize heavy-duty fabric and "eco-friendly" materials to get the job one.
We couldn't find any information about the company who is selling these products. What we did find was that Breathe Green ships from a fulfillment center from which other products like supplements are shipped.
In other words, the company who sells these deodorizing bags uses a third-party to ship them out – nothing out of the ordinary.
In this review, we're going to discuss how the Breathe Green Charcoal Bag works. We'll also talk to you about how odor elimination work to test the Breathe Green's claims. Then, we'll talk about pricing and return policies, as well as how this product compares to others.
How to Breathe Green Charcoal Bag Works
Using this product is very simple.
According to the Breathe Green website, you put your charcoal bag wherever there is the possibility or presence of:
Odors
Allergens
Mold
Mildew
The website notes that these bags are great near "shoes, gym bags, luggage, suitcases, cars, bathrooms, freshly painted walls, fridges," and more.
The bamboo charcoal inside the bag is "porous," which increases its ability to "remove toxins from the air."
They go on to point out that Febreze, the popular odor eliminator, has toxins in it while the charcoal in Breathe Green doesn't.
It's important to point out that the charcoal in the bags not only eliminates odors but it also wicks moisture.
As far as maintenance goes, you'll want to set your Breathe Green bags in the sun for an hour every month.
Each bag has a lifespan of two years, at which point the Breathe Green site suggests you dump the charcoal in your garden to "improve soil quality."
Activated Charcoal: What It Is and What It Does
There's a section of the Breathe Green Charcoal Bag website that extols the virtues of the activated bamboo charcoal used in each bag.
They say that because the charcoal is so porous, there are an impressive amount of air channels passing through it that can catch and trap allergens and odors.
The site identifies various "harmful chemicals" its bags can trap, too:
Formaldehyde
Ammonia
Benzene
Chloroform gasses
We went to WebMD to get a sense of what activated charcoal is. Basically, manufacturers of activated charcoal take regular charcoal and process it in a way that makes it more porous, or "activated".
Now, using activated charcoal as an ingestible medicine is up for debate. Many sites claim takin activated charcoal can clear your body of toxins when, in fact, WebMD says the only situation in which ingesting is is possibly helpful is within an hour of ingesting a poisonous substance.
Activated charcoal as an air freshener, on the other hand, is pretty widely accepted as a way to clear the proverbial air, although it's hard to say exactly how effective a product like Breathe Green will work in your home.
We couldn't find any explanations as to why you'd want to refresh your bag every month. However, we know that exposing items of clothing to sunlight can kill bacteria and such because the UV rays have been proven to kill some viruses, bacteria, and mold.
Our assumption is that putting your Breathe Green bag in the sunshine for an hour allows the sun's UV rays to kill off some of the microscopic stuff captured in the activated charcoal.
We believe there's some pretty clear evidence that activated charcoal functions well to remove odors and moisture. However, what we were not able to find is how much charcoal per cubic foot you'd need to remove moisture, odors or allergens.
Breathe Green Charcoal Bag Pricing and Return Policy
The product's website says that you can buy bags for as little as $7.99. To buy it, you'll have to go through a multi-step ordering process in which you have to provide your name, email address and phone number before you see pricing.
We provided false information to get to the pricing page and found the following price structure:
3 bags: $39.95
5 bags: $59.95
10 bags: $99.95
20 bags: $159.95
Shipping on orders of three and five bags is $6.99 while shipping on 10 and 20 bags is free.
Of note is that after about five minutes of having the pricing page open the site offered us a 10% off coupon.
The Breathe Green bags come with a 90-day, money-back guarantee. The one catch to this guarantee is that you have to return the product "in the same condition that you received it" and that it has to be "in the original packaging."
In other words, if you want to make a return, the product has to be unused, as putting it in a room to soak up odors and allergens could negate the "same condition that you received it" clause.
Comparing Breathe Green Charcoal Bag to Other Activated Charcoal Bags
We took a look at some of the top-rated activated charcoal bags on Amazon and found one clear advantage to buying there as opposed to buying bags through Breathe Green's site: price.
For example, Libertan's activated bamboo charcoal bags are $14.99 for four bags. They get an average of 5 stars from the 15 reviews present at the time of writing.
California Home Goods' activated bamboo charcoal bags are arguably the king of the market on Amazon, with more than 1,500 reviews and an average rating of 4.3 stars. These bags cost $23.95 for four bags.
The two products we mentioned above both seem to feature the same kind of sturdy material with which the Breathe Green bags are made.
In our opinion, there are better values to be had on Amazon.
The Final Word: Pros and Cons of Breathe Green Charcoal Bags
We believe that the greatest strength of this product is the fact that it's pretty widely accepted as a way to fight odors and absorb moisture.
The being said, the Breathe Green bags tend to be between $15 and $20 more expensive than comparable products on Amazon.
Also, the return policies on Amazon tend to be more forgiving than the Breathe Green return policy, which seems to only allow you to return unused products.
---
Works great for the FIRST MONTH ONLY

By Tamiko F.

,

Hammond, IN

,

Jul 8, 2020
Verified Reviewer

Length of Use: 3–6 months

Overall Experience:

Breathe Green bags don't work as advertised, they're only GREAT FOR 1 MONTH. If I want the same results from these Breathe Green bags I have to buy new bags once a month to replace the old ones, therefore this company gets two thumbs down.

Pros and Cons:

I liked that these Breathe Green bags actually worked the first month
I don't like when companies falsely advertise their products, I hate that with a passion
I didn't like that the bags were of NO use after the first month
I don't like it when a company makes a product and it doesn't hold up to the promises made by that company, honestly I wished it did because I would've been a lifetime Breathe Green bags consumer

Bottom Line: No, I would not recommend this to a friend

---

Great product

By Vicky B.

,

Viktoriafl@aol.com

,

Jul 6, 2020
Verified Reviewer

Length of Use: 3–6 months

Overall Experience:

I've had these bags for 5 months now and can honestly attest to their quality. I live in Florida and we have high humidity here...plus I have pets (dogs, cat, parrot, bearded dragon, and fish)...there are no odors in my house other than when I am cooking! The bags come in 2 sizes (large and small) and I put a small bag in both my bathrooms and laundry room, and large bags in my great room, 3 bedrooms, and kitchen...9 bags total...and they work great, especially in the laundry room where my cat litter box is and bathrooms. I used to have a dry cough before I purchased these; and my cough is gone. I think maybe those who aren't satisfied with this product either didn't place a bag in every room or possibly didn't follow the instructions about reactivating the charcoal bags for one hour in the sun, each month. Hope you find this helpful.

Pros and Cons:

Good product
Took awhile to receive the bags

Bottom Line: Yes, I would recommend this to a friend

---

Horrible customer service

Overall Experience:

Please be aware that if you go back to look at the extras they offer after purchase of the other, you will be charged. I called the number to get it removed and was given a voicemail. I emailed and was given the runaround, which gave them exactly enough time to ship. I asked for a complete cancelation due to their runaround. They shipped the next day. This company is poorly run and I am unsure what I even ordered (amount in grams, etc) as they don't let you see that. I found the same bags, same company on Walmart for much cheaper than their site. Although I don't know if it is the same size as only Walmart lists the amount of grams. If you want (which I did) what they are selling please go through another company. This one is sadly taking advantage of people and I was one sucker that fell for it without checking my options.

Bottom Line: No, I would not recommend this to a friend

---

Does not work! Don't waste your money.

By Pat B.

,

Colorado

,

Nov 25, 2019
Verified Reviewer

Overall Experience:

I have 6 bags of Breathe Green Charcoal that have not performed at all. I hung up 1 bag in a room with a new mattress which is still out-gassing after 5 months of airing out. I hung up another in a closet but the smelly shoe smell is still very prevalent. I don't smell very well due to sinus issues so I should notice even the slightest improvement in the air. It could be because we have virtually no humidity.

As to shipping, they advertised Free Shipping on the cart page which led me to believe that applied to my order. The disclaimer is in small print and hidden. I didn't find it until today; it's only good for 10 or more bags.

AND nowhere have I found that I was going to be subjected to an International Transaction Fee! I thought these were made in America. After further digging, this company is 1 man and he's in the UK?!

When I called about their 90-day guarantee and tried to return the bags, I was offered $18 and change to keep the products. I was told if I returned them at my expense ($14.60 minimum) I would get $60.92 refunded. So I lose $22 and change. I feel foolish I had a weak moment and bought these over-priced bags of burnt wood (charcoal) for $11.41 per bag. Can't win if I was playing by myself!

Bottom Line: No, I would not recommend this to a friend

---

Advertisement

---

IT'S WORKING

By Arleen C.

,

Florida

,

Jun 4, 2019
Verified Reviewer

Overall Experience:

Our Golden Retriever is HIGHLY allergic to dust mites and he is on medication for his itching, plus we use natural sprays. I thought I could not control dust mites, but saw these bags and ordered 3 (+2 free). We put 2 of them under the mattress and the next morning, when Yanni jumped up on the bed, he DID NOT TEAR HIMSELF APART SCRATCHING. He (maybe) scratched twice and that was all. We also put bags under the living room rug and in the sofa cushions and his itching is 80% better and we have cut his medications in half. Since we did not know other companies manufacture this type of product, we will be checking Amazon for less expensive (with, hopefully, the same results) product.

Bottom Line: Yes, I would recommend this to a friend

---