Breo Box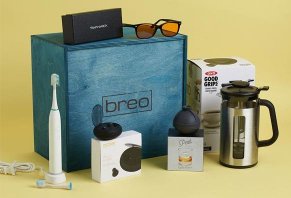 Summary
Breo Box is a quarterly subscription service that promises to provide you with high-end tech, lifestyle, and wellness products renowned for their design and functionality.
Breo Box Review: What You Should Know Before Subscribing
Breo Box brands itself as a high-end subscription service that delivers luxury lifestyle, tech and fitness products to subscribers on a quarterly basis.
The curated collection of five to eight products is meant to appeal to a broad demographic. Each assortment is selected to match the season, and the orders ships in a custom-made reusable wooden box.
In this review, we'll discuss how the subscription service works, how much it costs, what past customers say about it and how it compares to similar subscription services.
How Does Breo Box Work?
Breo Box is a subscription service, and the company offers options for signing up for both annual or seasonal memberships.
All subscribers will receive the same products within their box, and the company typically releases a few spoilers about their contents in the weeks before shipment. Along with each order, you'll also receive an informational card that tells you the retail value of each product within it.
Below are the contents of the past three Breo Boxes at the time of writing:
Winter 2018
W&P Design "The Popper" ($20): Eco-friendly, reusable microwave popcorn popper
W&P Design Wellness Fitness Band ($12): fitness band to improve strength and muscle resistance
Sanctuary Mortar and Pestle ($45): Quality granite mortar and pestle
Sanctuary Nutcracker and Bowl ($35): Square bowl with stainless steel nutcracker
Honorable Beast Roll-Up Backgammon Set ($45): fabric roll-up travel backgammon game with a zipper pouch for pieces
Ember Ceramic Mug ($80): Bluetooth-enabled coffee mug designed to keep beverages at the perfect temperature
Total Retail Value: $237
Fall 2018
Oniva X-Grill Portable Barbeque ($61.95): A portable summer grill with over 200 inches of grilling surface
Gefu Digital Thermometer ($29.99): Extra fast temperature display food thermometer
Corkcicle 16 oz Waterman Edition Tumbler ($24.95): Triple insulation vacuum-sealed tumbler designed to keep drinks cold for nine hours and hot for three
Oniva Mini Bean Bag Throw ($44.95): Travel-sized been mag lawn game
Flint Linter Roller and Refill ($10.95): Award-winning reusable lint roller
Tooleries Koby Bag ($35): 100% silicone leak-resistant toiletry bag
Little Red Bottle Emergency Stain Rescue ($7.95): All-purpose stain remover with 100% biodegradable ingredients
The Hydropod by W&P Design ($25): Small soil-free farming set for growing edible herbs
Total Value: $240.75
Summer 2018
TRX Go Suspension Trainer ($100): Lightweight strength training kit optimized for travel
Splash Tunes Pro ($60): Bluetooth enabled shower speaker with built-in microphone and music controls
Corkcircle ONE ($40): Luxury wine chiller and aerator
Serene House Portable Ultrasonic Aroma Diffuser ($25): Travel-size essential oil diffuser (includes lemongrass essential oil)
Epare Spring Mill Set ($34.95): Sleek single-hand salt and pepper grinders
Total Value: $259.95
The company strives to keep the contents of each box a secret until they ship, though they usually post one or more spoilers through social media.
How Much Does Breo Box Cost?
Breo Box states that you can try out a single box as a gift purchase or sign up for a subscription.
According to the company website, Breo Box rewards long-term subscribers with pricing discounts for every box purchased. Starting in Fall 2018, all new and existing members were enrolled in one of four levels, depending on your purchase history:
1st box: $159
2nd box: $149
3rd box: $139
4th box: $129
5th box+: $129 plus perks
They also state that shipping is free throughout the continental United States, and $20-30 everywhere else.
Breo Box Delivery Dates, Refunds, and Cancellations
The Breo Box FAQ states that all subscriptions renew on the fifth day of each season's month, and the cutoff date for canceling your subscription is the 15th of the month prior. It's also possible to skip a month by editing the delivery schedule page of your online account.
As with many subscription box companies, Breo Box states that they don't accept refunds or returns for boxes once the quarterly cancellation date has passed.
That said, they will replace or refund missing or broken products, and invite customers to contact them within thirty days of delivery at support@breobox.com or their website contact page.
What Do Previous Customers Think of Breo Box?
Looking at customer reviews is one of the best ways to determine whether you'll like a product, so what can they tell us about Breo Box? We scoured the comments section on the company Facebook page, as well as Trustpilot and My Subscription Addiction to find out.
One theme we noted is that while Breo Box selects their products to be inclusive for a variety of interests and age groups, customers still found them polarizing.
We noticed numerous comments from people proclaiming that a particular box's selection was the worst from the brand yet, while the comments above and below would be from people gushing about how much they loved each item they received.
Interestingly, many commenters noted that they were initially unimpressed with some of the products they received, but that they grew to love them after a few uses.
This speaks to Breo box's reputation of finding seemingly simple yet well-designed products for their orders. We read numerous reviews from customers who said they planned to give a Breo Box item away, but then tried it out and consequently bought more of them because they didn't want to give it up.
On the other end of the spectrum, we also read reviews from customers who thought the products were cheap or useless. Many Summer 2018 subscribers seemed to receive shattered Corkcicles, and we also noted numerous comments saying that the stain on Breo boxes soaked into the packaging of the products in the box.
What we didn't notice were complaints about customer service or the company's return policy, which is notable for a subscription company.
What Subscription Options Are Similar to Breo Box?
Breo Box brands itself as a luxury subscription box option, but is it the best available? We compared it to a few other brands to see whether it stood out.
| | Breo Box | FabFitFun | Luxor |
| --- | --- | --- | --- |
| Price Per Box | $159 (first purchase) | $49.99 | $139 |
| Number of Products | 5-8 | 8-10 | 6-9 |
| Estimated Value | $235+ | $200+ | $275+ |
| Types of Products | Luxury lifestyle, tech, and fitness products | Beauty products, jewelry, accessories, wellness items | Luxury beauty, wellness, home, and lifestyle products |
| Subscription or Single Purchase? | Subscription, but possible to buy a single box as a gift | Subscription | Subscription |
| Options for Customization | No | Yes | No |
| Frequency of Delivery | Quarterly | Quarterly | Bi-monthly |
Comparing these three companies, it's clear that Breo Box is the only brand that targets both men and women. FabFitFun and Luxor both put the focus on beauty and wellness products instead, and neither of those two brands offers tech products like Breo Box is known for.
Each of these three companies states that the contents in each order retail for more than $200, but FabFitFun is at a significantly lower price-point than the other two. This makes it potentially a better value per dollar spent, but only for subscribers interested in the beauty/wellness products it offers.
It's also worth noting that Breo Box offers the best drop in price for long-term subscribers, as those who commit to five or more boxes will pay just $129 (a $30 savings) per box.
You'll get the most overall value from a Luxor subscription, and the company's close focus on female beauty products will make it a bigger hit with its target demographic than a Breo Box, which loses some value by trying to appeal to everyone.
Who do we think Breo Box is best for? This subscription service seems most likely to appeal to people who are interested in brand new tech and luxury products that they might struggle to justify to themselves otherwise, like a Bluetooth-heated coffee cup.
You'll receive well-designed, useful products that are difficult to find elsewhere. We think those more interested in wellness should look at FabFitFun, and those who want glamor should consider Luxor.
Our View: Should You Subscribe to Breo Box?
As this research shows, Breo Box has branded itself as a luxury subscription company that gives you access to premier tech, lifestyle, and wellness products four times a year. The company strives to satisfy a broad demographic, which means that every item you receive might not be to your taste.
Nonetheless, the reviews we looked at showed that many customers were delightfully surprised how much they liked the products they received, even when they initially wanted to regift them. We also give the company points for their transparent subscription cancellation information and lack of negative reviews about their customer service.
If you tend to be picky about the kinds of lifestyle and tech products you like or don't want to pay for luxury goods you might use only on occasion, it might be smarter to avoid subscribing to Breo Box and instead purchase the items you like individually.
But, if you enjoy the surprise factor of subscription boxes and are content to regift the products that aren't your personal preference, there's a good chance that you may find a lot to like about Breo Box.
Customer Reviews