Brex Reviews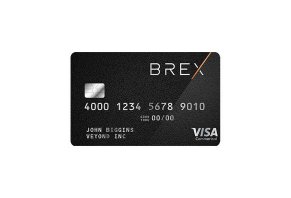 The Brex corporate card is a new offering in the credit world through which businesses can use powerful accounting tools and relevant rewards to track their corporate spending and earn perks.
What Is Brex Corporate Card
Brex is a corporate charge card designed for corporations looking for a seamless way to merge card spending and accounting while earning useful rewards.
As a charge card rather than a credit card, Brex requires users to pay off the card's balance in full every 30 days.
The card was launched in June 2018 by its two founders, Brazilians Henrique Dubugras and Pedro Franceschi, two ex-Stanford students who are active in the startup world.
Both founders realized it was hard for startups to get corporate credit cards, so many of them used personal credit cards to make purchases for the business.
The two men's idea was a good one, so good, in fact, that they were able to raise about $57 million from various prominent investors, TechCrunch reported, including Y Combinator, Peter Thiel and Carl Pascarella.
"We want to be the best corporate credit card for startups," Dubugras was quoted as saying in the TechCrunch article. "We're don't require a personal guarantee or deposit, and we can give people a credit limit that's as much as ten times higher. We can get you a virtual credit card in literally 5 minutes, versus traditional banks, in which you'd have to personally guarantee the card and get a low limit and it takes weeks to approve."
Dubugras made some big claims when the card first came out. Does Brex live up to those claims? That's a question we want to answer in this review.
We'll go over the card's features and benefits, the card's rates and fees and how the card compares to CreditStacks, a credit card designed for immigrants coming to the U.S. on a work visa.
Before we get into the review, though, we want to point out that Brex emphasizes that their card is intended for business who want to grow into a big operation. The card is not intended for sole proprietorships with no EIN; business credit cards are the best options in that situation.
Business Credit Card vs. Corporate Charge Card
As you've probably noticed, there are business credit cards and there are corporate charge cards. Business cards differ in a couple of ways, the most pertinent of which are rewards and personal guarantees.
Corporate cards place the responsibility on the business or the cardholder, which is something we'll talk about in a few minutes.
Rewards
The Brex card provides businesses with perks for various services pertinent to corporate life. For example, a Brex rep told us that new clients get a $5,000 reimbursement for Amazon Web Services purchases.
This is a significant bonus compared to a business credit card like the Chase Ink Business Unlimited. In order to earn $5,000 with the Freedom Business, you'd have to spend around $330,000.
Brex also offers rewards for Instacart, DoorDash and HubSpot, but the company did not disclose what those rewards are.
Remember, though, that this card is meant to be a way for a company to purposefully and fluidly track their spending first and a rewards card second.
The Brex Card's Features and Benefits
Most of the time a credit card will offer you rewards for every purchase you make. As those purchases add up, your rewards add up. In addition to that, you also tend to get features and benefits pertinent to your everyday consumer experience: car rental insurance, extended warranties, zero fraud liability and the like.
The Brex card is different, in that its features are focused on the entrepreneur. These features are similar to what you'd get with a business credit card.
No Personal Guarantee
As we talked about earlier, business credit cards hold you personally responsible for your account. If you fail to pay, your credit scores will pay the price.
However, with the Brex card, your business is held responsible. So, instead of you paying the bill from your own checking account, the bill is paid through the business' checking account. Also, the Brex card won't affect your personal credit scores and credit history.
$50,000 Requirement
What makes Brex's corporate guarantee interesting is that you can get it by showing at least $50,000 in your account, whereas most corporate cards require that you have millions in your business accounts.
Now, Brex doesn't guarantee that every business with $50,000 in their business account will get the card. Rather, their website notes, your approval is based on a mix of factors: "Brex underwrites businesses—not people—so individuals' credit scores are not affected. Brex considers factors relevant to your business: your investors, your cash balance, and spending patterns, and sets your limit accordingly."
In other words, Brex's requirements try to identify businesses who have some good momentum going with both their funding rounds, cash on hand and their spending habits.
Accounting Software
One of the things that distinguishes business-focused cards from consumer cards is the suite of business accounting tools you get.
Most business cards provide you with basic tools that you can integrate with popular accounting software like QuickBooks.
The Brex card, however, features an in-house accounting software offering tools that are more advanced than the typical business credit card.
For example, you can scan business receipts and, whereas other credit card tools require you to enter information manually, Brex's software will read the receipt and automatically match it to the corresponding transaction in your corporate card statement.
At the end of each month, Brex reconciles your transactions and automatically transfers them to your accounting software. Their website lists four accounting suites with which they work: QuickBooks, Xero, Expensify and NetSuite.
The Brex Card's Rates and Fees
Earlier in this review, we said that the Brex card is a charge card. Unlike credit cards, in which you can carry a balance each month, charge cards require you to pay off your balance in full each month. The Brex card's FAQ page notes that you have to pay off your balance each month and, if you don't, your card will be canceled.
The Brex card is strict in that sense; far stricter than, for example, the Business Gold from American Express. The Business Gold is a charge card but AmEx, gives you the option of doing financing for certain purchases.
As far as fees go, you'll pay $5 per card once your business uses more than five cards. At the time of publishing, Brex ran a promotion in which they'd waive the fee if you made a purchase with your card by a certain deadline.
Comparison of Brex to CreditStacks
CreditStacks is another credit-card startup you may have heard about. The big difference between CreditStacks and Brex is that Brex is a corporate credit card whereas CreditStacks is a credit card.
Some of the factors that are involved in that difference are that the CreditStacks cardholder is personally responsible for their balance and CreditStacks has an APR and allows you to carry a balance, whereas Brex is a charge card. Also, CreditStacks is intended for professionals who are moving to the U.S. on a work visa and don't have a social security number or a U.S. credit score.
They share one trait, though. Both cards utilize their own unique criteria for approving your application. They don't use traditional credit score checks but, rather, base their decision on other factors like personal or business income.
While we believe these cards are completely different, they do have their place. If you're an individual who's moved to the U.S., has a solid income and can't get a normal credit card because of your lack of U.S. credit history, CreditStacks is a good choice.
If you run a young business that has a significant funding or income and you want corporate credit cards you can easily track, then Brex is the better choice.
The Final Word: Pros and Cons of the Brex Card
Based on our research, we believe Brex's strengths are that it doesn't hold cardholders personally responsible for their cards and that it has a robust set of in-house software that's more intuitive and efficient than the business tools you'd get with a business credit card.
The downside of the card is that it has a strict policy for payment. If you don't pay off your balance in full at the end of the month, your account is canceled. Busines credit cards are more forgiving because they allow you to carry a balance.
Carrying a balance, however, requires that you make interest payments, which is something you can avoid with the Brex card.
In general, we believe this card is a great fit for a startup who has either significant income or investment capital and is looking for a corporate-card solution for their business. If you're looking for a way to fund your business, this card isn't a good choice because it's intended to be used to pay for your daily expenses, not create capital.
» See Also: The Best Mileage Tracking Apps of 2018