Bright Cellars Reviews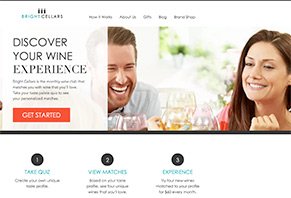 Bright Cellars is a wine club that ships you four wines a month based on how you answer a series of seven questions used to determine your taste preferences.
About Bright Cellars
Wisconsin-based Bright Cellars was founded by a pair of guys in Massachusetts: Richard Yau and Joe Laurendi. The two entrepreneurs were tired of other wine services that sent you random bottles of wine without thinking about the average person's taste preferences.
So, the pair combined their business experience and computer smarts (both guys went to MIT) to create a subscription service that's more like Pandora. You choose what flavors and styles you like and Bright Cellars sends you wines you'll supposedly like.
If you're like us, your answer is probably going to be, "No," and you need help in the form of a website like Bright Cellars.
That doesn't mean you can't tell the difference between a cabernet sauvignon and a pinot grigio, but it most likely means that you find yourself at a loss when you're standing in front of hundreds of bottles of wine at the local grocery store.
Thankfully, the past few years have seen a rise in wine subscription services like Bright Cellars. Basically, you go to their website, answer a few questions about your taste preferences and then choose a few wines from a curated list.
Within minutes, your first shipment of wine has been ordered, and each month after that you get a new batch of reds and whites…or maybe all reds or all whites.
All that confusion and stress you feel about choosing the right wine? These subscription services take away the hassle and make life easy for your taste buds.
According to Bright Cellars' website, they have a "passion for wine" and their goal is to "help you discover wine."
Our goal in this review is to walk you through who Bright Cellars is, what you can expect from their service, what you need to know about their ordering and return policy, a little bit about their wines and a section on what people are saying about their Bright Cellars experience.
What Can You Expect From a Bright Cellars Buying Experience?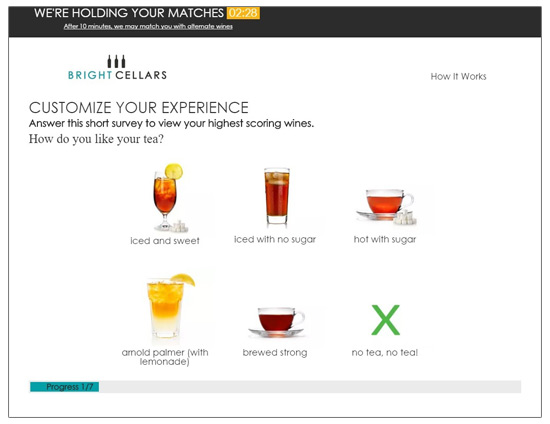 A look at Bright Cellar's Wine Quiz
The key to this website's Pandora-style wine selection is a seven-question quiz all new users complete before buying their first shipment. Each question has six answers from which to choose (ours are in parenthesis):
What is the one type of chocolate you could eat for the rest of your life? (Milk chocolate)
How do you like your tea? (Iced and sweet)
What's your-go to drink? (Whiskey/scotch)
What is your favorite juice? (Orange)
What is your favorite wine pairing? (Your group of close friends)
How adventurous are you with new food and drink? (I'm here to try delicious, unique wine. Surprise me!)
Do you have a preference for red or white wines? (Mostly red wines, but I'll try an interesting white.)
Within seconds of completing our quiz, the site suggested to us four wines: an Italian sangiovese, a Chilean merlot, a California merlot and a California rosé.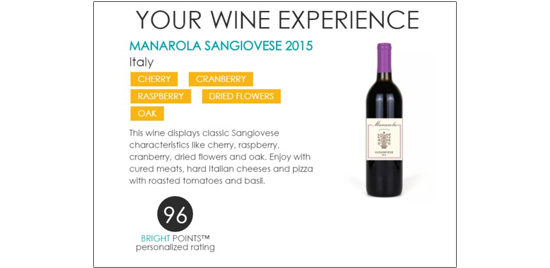 Bright Cellar's wine recommendations based on the quiz
All in all, we were pretty satisfied with the suggestions. Based on our quiz answers, we were fairly impressed with the wine suggestions they gave us. The sangiovese excited us because it looked like it had some pretty big flavors. The merlots, not so much based on our own personal preference. We were pleased with the rosé because it wasn't a white wine (our quiz answer indicated we preferred reds) but it was still lighter than the other choices.
Just to test out the quiz's ability to detect subtle changes, we went through the questions again and answered everything the same way except the first question, which we changed from milk chocolate to dark chocolate. We assumed we'd get different results since dark chocolate is drier and more bitter than milk chocolate, but to no avail.
So, we took another crack at the quiz and changed three of the seven answers we gave the first time: dark chocolate instead of milk chocolate, tea brewed strong instead of iced and sweet, and drinking with a good book instead of good friends.
Those are some pretty big changes in our flavor profile. But guess what? We got the exact same results at the end of the test. In our opinion, the Bright Cellars flavor quiz isn't really an effective judge of your taste preferences.
We talked with a Bright Cellars representative about this, and she said the company encourages members to rate the wines they drink. Doing so helps Bright Cellars further refine your taste profile and match you with wines more aligned to your preferences.
"We ask our members to rate each wine and that helps us fine tune algorithm," the representative said.
What Are Bright Cellars' Ordering and Return Policies?
To get an idea of Bright Cellars' pricing and return policies, we clicked on the "Start Your Experience Now" button at the bottom of their post-quiz wine recommendations.
The Price of the Wines
The following page showed us the prices for each wine: $15. The total for the whole order was $68 ($8 for shipping). We were told that we saved $20 (5 bucks per bottle).
So, here's the big thing to remember about wine subscription services, especially Club W and Bright Cellars: most of the wines they sell aren't available anywhere else. What does that mean for us wine drinkers? We have no idea whether or not $15 is a fair price for Bright Cellars' wine. We couldn't find any store or site selling the wines suggested to us.
Here's another way to think about it: You got a boutique shop to buy European chocolate. The shop owner says you can't get his chocolate anywhere else; he's managed to cut out all the middlemen and provide you the chocolate direct from the supplier in Europe.
Like any good consumer in our modern world, you take a second to Google the name of the chocolate. You can't find it anywhere. There's absolutely no way to know how much it's worth. If the same chocolate was sold in supermarkets, you could cross-check the price and see that "middleman markup", but you can't. It's the salesman's word against your intuition.
We feel like that's what's happening with wine subscription services. You can't compare prices, so you either believe the website is giving you great wine at a great price, or you don't.
As a side note, one way to cut down on the per-bottle cost of your shipment is to get your friends to sign up via a link Bright Cellars gives you. As your friends sign up, you get bonus (free) bottles sent to you with your monthly shipment.
What Happens If You Want to Return Your Wine?
Let's start this section off by stating the obvious: no matter how accurate a wine quiz is and no matter how many reviews you do, you're bound to get a wine you don't like.
We called Bright Cellars customer service line to get the details on their return policy (at the time of research, it wasn't available on their website).
The representative we talked with said that, if you want to send a bottle of wine back because you didn't want it, you'll have to float the shipping cost. However, she said, Bright Cellars gives you a three-day notice telling you what wines will be shipped, so you can swap out something you don't like before it's sent.
If you don't to go through the hassle of returning a bottle, you can contact Bright Cellars to let them know you didn't like one of their wines and they'll send you a bonus bottle as a sort of refund for your subpar experience.
That leads us to our next question: How many subpar experiences have people had with Bright Cellars wine and/or policies?
What are the People and Publications Saying About Bright Cellars?
Buying wine based on other people's reviews is a very tricky proposition. Because each of us interprets a wine's taste in our unique way, what tastes horrible to one person may taste amazing to another person. So, we think the best way to read reviews is to stick with what people say about the packaging/presentation of the wine and their experiences with customer service.
At the end of 2015, foodie website Eater reviewed four wine subscription services; Bright Cellars was one of them.
Writer Caroline Helper (@ForgetBurgundy) gave Bright Cellars high marks for their packaging (brown box with Bright Cellars logo, wine wrapped in blue tissue paper), but noted that she wasn't too excited about the wines the site suggested after she took the quiz.
"The wines that were selected for me didn't make my pulse race, but for a novice drinker, they seem like solid choices," Caroline said. "(It's) good place to start if you literally have no idea what you like and want to figure it out."
On the consumer side of things, review website Site Jabber had eight reviews, resulting in an overall rating of 2 stars, with only two of the eight reviewers saying they'd recommend it to a friend.
Half of the customers gave the site a 1-star rating, citing shipping issues, wrong wines, spoiled wines and frustration that the quiz gave the same recommendations despite changing some answers.
On the bright side, customers who gave the site 4 or 5 stars said they enjoyed the wines and the customer service experience: "I would definitely recommend Bright Cellars to people who enjoy wine," one reviewer wrote.
Our Conclusions About Bright Cellars Wine Club
Let's do a quick recap. Bright Cellars sends you four wines a month based on the answers you provide during a seven-question quiz. When you go to their site to rate the wines you received, they fine tune their recommendations based on your ratings.
It's hard to figure how much their wines are worth because, in our case, we couldn't find anyone selling the wines suggested to us. Were we being overcharged for unimpressive bottles or were we getting a bargain on great wines? It's hard to give a straight answer.
Bright Cellars does an excellent job of packaging their wines, which is a great way to get customers excited about their purchase. Sure, heading to your local supermarket or liquor has some intrigue, but it can't really match the fun of opening up a Bright Cellars box and unveiling interesting bottles of wine wrapped in cool tissue paper.
As was our experience with Club W, it's actually pretty exciting to open your wine shipment even though you already know exactly what you're getting.
On the flip side, though, customers have complained about shipping issues and, in the case of one review and our own experience, a taste quiz that's not exactly precise.
Should you sign up for Bright Cellars? That's a question you'll have to answer on your own, especially since wine is something that's so unique to each person. One Bright Cellars wine could taste amazing to you, but not to your friends. The key with websites like Bright Cellars is that they make account maintenance (choosing your deliver, cancelling your subscription) as easy as possible and choosing wines as fun as possible.
If you don't think that Bright Cellars offers those two things, you can always take a look at other wine subscription services like Club W (read our review here), Firstleaf or Wine Awesomeness. Find out which ones resonate with you and go from there.
If we could give you one overall piece of advice, it's this: the wines you get from any of the subscription services we mentioned will cost you, at the very least, $13 a bottle. If you're hesitant about joining these wine clubs, set a budget for yourself ($10 per bottle, for example) and head to your local grocery store or wine shop.
Pick a varietal that sounds interesting to you (cabernet sauvignon, shiraz, pinot grigio, Riesling) and buy a bottle. Take it home – or a to a picnic or party – and drink it. Make notes on your phone about what you liked and didn't like. Next time you go on a wine run, try the same varietal at the same price but from a different winery.
Or, you have the option of working through different varietals from one winery. If you're looking for an affordable brand, try Yellow Tail. It's Australian, basic and the most popular imported wine in the United States.
If Yellow Tail bores you after a while, take a modest step up and try the various varietals from Cupcake Vineyards, a popular brand at around $10 per bottle. Once you get your legs under you, branch out to other wineries and varietals you haven't tried.
Not a scam, but not too far either

By Daniel P.

,

Delaware

,

Mar 17, 2020
Verified Reviewer

Go to the bottom if you want the quick bottom line.

If you're like me, you likely found out about Bright Cellars from an invitation to take an "online quiz" that can figure out what wine is best for you. I already knew what wine was right for me, but I took it and it got pretty close to my actual preferences. They deserve a little credit for this but not too much, it's really not that hard to find out what kind of wine people would like from just asking a few questions.

I'm all for trying new things so with a half-off new customer discount I figured I'd try it out. The box came within the week, not bad. Unboxing, all the wines had really interesting labels, all different but interesting. It's the last positive thing I can say about Bright Cellars.

They sent me two Cabernets. "Folk & Fable 2017" was a "California" Cabernet aged in bourbon barrels - such things are all the rage nowadays and can be done in interesting ways. No statement of where it was from in CA led me to look at the back - bottled in Santa Rosa. They do grow wine there so whatever. While the wine had some of the same tasting notes listed on the website, they were quite muted and uninteresting. There was absolutely no tannin whatsoever, and Cabs are all about how well structured the tannins are with the flavors. Had no finish. It started to dawn on me that this was not going to go well. The second Cab, "Supergenre" was from Washington. Again, not Columbia Valley or any specific place, just "Washington." I looked on the back and it was "cellared and bottled in"... Santa Rosa, CA? The pieces started to come together, but we'll get to that. This wine was even worse than the previous, at least the F&F had some fruity character in the beginning, this was along with having no structure or tannin was even more watery, with that classic "bad grape juice" taste that every wine enthusiast should experience to see exactly what bad wine tastes like.

The next one, "Lost City," was a Malbec from Mendoza! An actual specific place! Albeit a rather large one. Argentina is known for making good stuff at a good value. I flip the bottle over and...there's "bottled in Santa Rosa, CA" again! So I pour it out and it hardly even looks like a Malbec - too light in color. It had a slight tangy taste to it before it became all water with no finish. At this point my expectations for the last one, appropriately called the "Last Room" and had the coolest label, were nonexistent. It's a "Red Blend" from "Columbia Valley, WA" though there's no information on the website or the bottle about what it is a blend of. That's when I tasted it...tannin! Just a little bit of tannin, but tannin nonetheless! Overall this was the best one but it's telling that two Cabs had no tannin where the Red Blend did.

Now, on to what it seems like is really going on here. I noticed all the bottles had the same foil design at the top, the bottles all clearly came from the same bottle makers (two of them were the exact same shape, the other two were different shapes but had the same pattern at the bottom). But you don't have to think too hard about this, all of the wines were bottled in Santa Rosa - which is bad as it means these wines were likely created and then shipped quite a ways before being bottled and cellared. This is not how proper wines are made, not even $20 budget wines.

After this awful tasting flight, I pulled out a $20 bottle of my own, a blend from Argentina, and it was like finally being at home after sitting in traffic for a couple of hours. It really put in perspective how bad what I just tasted was.

Bright Cellars likely owns several vineyards around the world, but these are crappy plots in places not ideal for wine. They then take this crappy wine and ship it to a big facility in Santa Rosa where they put it in one of 10 different bottle designs. They put more work into designing the labels and website than on the wine, that much is certain. All of the wines have websites, but they are copied and pasted from one another with very little information- the prices of the wine on there being double what is on the Bright Cellars' website.

Bottom Line: This is not a wine club that picks out small indie producers that make good value wines. This is a macro-winery that makes a bunch of garbage-tier wine from nondescript places around the world, then slaps cool labels on them to make you think you're getting four different bottles from four different wineries. You're much better off just going down to the store and picking out four random bottles of red if you like red. Unfortunately less experienced wine drinkers may think this is the real deal. So, not a scam in technicality, but there is enough misleading and obfuscation here to say that it is a scam in spirit.

Bottom Line: No, I would not recommend this to a friend

---

Only gave 1 star because it wouldn't let me do 0

By Maggie C.

,

Baltimore, MD

,

Dec 12, 2019
Verified Reviewer

I used this website once about a year ago. Canceled my account (so I thought). A year later they reactivated my account without my knowledge, charged me $88 for 4 bottles of wine that I did not order, then sent the wine to my old address. I asked for a refund multiple times and still have yet to get one. They never addressed the fact that they charged my card without my knowledge. DO NOT USE THIS WEBSITE. It's not even a good deal...4 bottles for $88? I have used other wine clubs with way better deals.

Bottom Line: No, I would not recommend this to a friend

---

Advertisement

---

Not worth it.

By John F.

,

Louisiana

,

Nov 14, 2019
Verified Reviewer

Customer service is great and packaging is good - however, quality of wines do not match the price. Not a good value. The ratings do not seem to impact the selection of future wines to any significant degree.

Bottom Line: No, I would not recommend this to a friend

---

Great service!

By Emily Y.

,

Minneapolis, MN

,

Nov 9, 2019
Verified Reviewer

I loved this service, I was very impressed with the selections they sent me, and their customer service was INCREDIBLE! Unfortunately I had to cancel due to budget reasons (grad student debt issues, hello!), but I feel that their service is worth the price, they sent me fun things I don't see anywhere else, and when I had to cancel they were VERY willing to offer options like postponing shipments or even putting my account on hold. And even when I confirmed I needed to cancel, there was no issue about it...two emails, and confirmed, my account was canceled. Would recommend to anyone who likes wine (or is like me and doesn't even really love wine, but wants to try something new and fun!).

Bottom Line: Yes, I would recommend this to a friend

---

Advertisement

---

Awful!

By Judy N.

,

Uniontown, OH

,

Jul 30, 2019
Verified Reviewer

I received the trial offer and after trying 3 bottles I did not want any additional shipments. I rated the wines on their website, at their request, and thought they would take the poor rating seriously and call me before shipping another order. They sent me an email on a Friday that my next shipment was scheduled and I had 24 hours to respond. I did not see the email until Sunday. Unfortunately, the wine was already shipped on Sunday. Be very cautious of this offer. You would think that the first bottles would be of good quality to encourage you to purchase additional wine.

Bottom Line: No, I would not recommend this to a friend

---

Don't buy from Bright Cellars!

By Danicia W.

,

Ohio

,

Jul 25, 2019
Verified Reviewer

Whatever you do don't buy from Bright Cellars! Go for Wine Awesomeness or something because they are HORRIBLE. I've never been so annoyed. I put in an order for wine and cheese three weeks before my event that I was giving. First off, I work mornings so I just had my wine shipped to my office which doesn't open till 10 am but they attempted to deliver the package at 9 am twice and stopped attempting to ship it all together. The last attempted to ship the wine the truck showed up and it was never delivered because "the wine was on the manifest but the package wasn't on the truck". They never tried to deliver it again. Then once the cheeses were shipped I tracked it for 3 days and when it finally was delivered I saw they had it delivered and sent back to the sender! Why, I have no idea, but I cannot make this up!

After I called customer service they reshipped the cheese and wine but the cheese showed up and the wine never did. I had to go out and buy wine from in-store for my event! So I called and asked for a refund for the wines since I had been calling and things still couldn't be figured out but then they tell me there's a $25 nonrefundable fee! BS right? I paid $86 but said well just refund me the amount minus the $25. When the refund came through I was only refunded half the amount and I called them days ago to see where the rest of my refund is and I'm still waiting! Do NOT buy from Bright Cellars, save yourself the headache. I promise Wine Awesomeness is better.

Bottom Line: No, I would not recommend this to a friend

---

Never received first delivery!

By Cheryl M.

,

Connecticut

,

Jun 13, 2019
Verified Reviewer

An adult 21+ years of age or older needs to sign for this delivery, so I had my former shipped to my friend's office where somewhere is always available during the day.

After several false notifications from Bright Cellars that my order was "out for delivery", my order never arrived. It was always one excuse after the other. So, I finally asked them to cancel the order. Bright Cellars then informs me they will charge me $25 to return the wine I never received! I would avoid this company based on their awful customer service. I cannot speak about the wine, as I never received it. Disappointing!

Bottom Line: No, I would not recommend this to a friend

---

Their algorithm is bogus

By John W.

,

Alabama

,

Jan 23, 2019
Verified Reviewer

I took their quiz seven times and tried numerous variations. Their wine selection came up with nearly the same set of wines every time (one or two differences each time). That's not to say the selections weren't decent wines, but it appears that they match you to a predetermined set of wines regardless of which kind of chocolate you choose, what kind of tea your drink or what your go-to drink is. I've experimented with other wine clubs and Bright Cellars is not really different than any of the others.

In my opinion, their quiz is nothing but a marketing gimmick.

Bottom Line: No, I would not recommend this to a friend

---

What a surprise! Fast, convenient.

By Theresa W.

,

Hopatcong, NJ

,

Jan 23, 2019
Verified Reviewer

I don't know about you, but who has time to read through, look through the wine selection at the store - not me! Take the quiz, select your preferences - poof, delivery at your door! It's fun tasting and pairing with our dinner. Great team members too!

Bottom Line: Yes, I would recommend this to a friend

---

Do not order from Bright Cellars!

By Terri H.

,

Olathe, KS

,

Oct 26, 2018
Verified Reviewer

I tried to cancel the Bright Cellars subscription, but they would not cancel my subscription nor would they make it right and let me ship back. Nor would they give me money back for shipping, even though I canceled. Do NOT order from Bright Cellars! Unfortunately, giving them a one-star review is too generous - buyer beware!

Bottom Line: No, I would not recommend this to a friend

---

Total scam/rip off

By Donna L.

,

New York

,

Oct 11, 2018
Verified Reviewer

Somehow they got hold of my credit card. I didn't place an order. They sent cheese, supposed to be $64.00, totally flavorless crap. Probably worth about $20.00

NOT RECOMMENDED.

Bottom Line: No, I would not recommend this to a friend

---