Brooklinen Reviews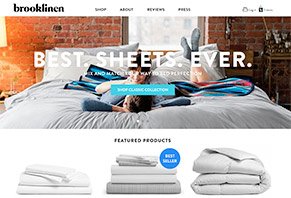 Brooklinen's line of bedding—including sheets, comforters, and more—promises to deliver high quality, luxurious materials at meaningfully lower prices.
About Brooklinen
According to Brooklinen, their sheets, comforters, pillows, blankets, and other home essentials feature some of the most luxurious materials and beautiful designs around, but at a lower price than the competition. How do they accomplish this?
We're told that by working directly with top caliber factories, Brooklinen's bedding is crafted with high-quality cotton that provides a great feel—but by removing layers of cost built into the traditional supply chain (such as wholesaling, storefronts and designer licensing fees), they're able to pass the savings on to their customers. Not only this, but Brooklinen claims to make the buying process simple and hassle free.
From mattresses to sheets and comforters, it seems more and more companies are selling high-quality bedding direct to consumers, and at much lower prices than traditional options. Does this mean Brooklinen is a solid option? Do their prices represent a solid value?
Let's start answering all your questions by taking a closer look at Brooklinen's manufacturing process.
What Makes Brooklinen Bedding Different?
Brooklinen's Sheets
All Brooklinen sheets are made of single-ply Egyptian cotton yarn at 60-80 count threads, which the company claims delivers "light, soft, yet extremely long-lasting sheets."
Compared to many other bedding manufacturers who might falsely inflate their numbers, Brooklinen's thread count is tabulated only by multiplying the number of vertical and horizontal threads. This way, they claim that a 300 TC Brooklinen sheet can actually provide better quality, feel, and durability than a 600 TC sheet from another manufacturer.
Speaking of feel, Brooklinen's sheets come in either percale (traditional one-yarn-over and one-yarn-under weave) or sateen (one-yarn-under and three-yarn-over weave) weaves. With percale, you'll experience a cool, crisp feel whose softness and durability get better with every wash. Or, sateen provides more of a silky-soft feel and luminous sheen.
To accomplish this, we're told that Brooklinen's team has over 100 years of combined experience and a unique manufacturing formula—not to mention the use of Osthoff Singe finishing machines—giving their sheets an unmatched feel.
Finally, all Brooklinen sheets are OEKO-TEX certified, which means they've been tested to be free of harmful chemicals and materials, for color fading propensity, and even for acidity.
Brooklinen's Classic vs. Luxe Sheets
Brooklinen's Classis sheets feature a 270 thread count, and the percale finish delivers a super crisp feel with a soft matte finish. The company claims their Classic line might be ideal "if you prefer cool and crisp sheets when you sleep or if you just prefer lighter, more breathable sheets."
On the other hand, Brooklinen's Luxe sheets feature a 480 thread count and a lustrous sateen finish. This gives them nearly 2X the amount of cotton found in the Classic line, thereby providing more softness and warmth.
Brooklinen Comforters
We're told that Brooklinen's comforters maintain the highest quality available, while also providing a great degree of climate versatility. They do this by using Canadian White Down clusters (instead of feathers) sourced responsibly from Hutterite farms in Northwest Canada, which last longer and lack the prickly spine.
These down clusters trap also more air to keep you warmer, which is measured in something called fill power. To this extent, Brooklinen's comforters boast 600 (lightweight) to 700 (all-season) fill power, which they claim provides "the optimal balance of weight and warmth."
Before making its way into your comforter, all of Brooklinen's down (which is a byproduct from the Canadian meat industry) goes through a five-stage cleaning process and is sorted into small batches, so only the "fluffiest and highest quality clusters" are used. Alternately, you can choose Suprelle™ fill, which is a premium polyester made to replicate the texture and warmth of down.
Whichever down you choose, it'll be encased in a 500 thread-count sateen shell, along with baffle box construction, in order to provide a silky-soft feel, maintain fluffiness, and evenly distribute the filling.
As with their sheets, all Brooklinen's comforters are certified by Oeko-Tex, as well as RDS (Responsible Down Standard) and Downmark (The Down Association of Canada).
It certainly sounds like Brooklinen's bedding is high quality and eco-friendly. But will you lose sleep over the prices?
How Much Does Brooklinen Bedding Cost?
Brooklinen's bedding products are priced as follows:
Classic Sheets
Core Sheet Set (1 flat sheet + 1 fitted sheet + 2 pillowcases): $99+
Hardcore Sheet Bundle (1 classic core set + 1 duvet cover + 2 extra pillowcases): $164+
Starter Sheet Set (1 fitted sheet + 2 pillowcases): $84+
Duvet Cover: $85+
Fitted Sheet: $49+
Pillowcases (2): $35+
Luxe Sheets
Core Sheet Set: $129+
Hardcore Sheet Bundle: $198+
Starter Sheet Set: $99+
Duvet Cover: $90+
Fitted Sheet: $54+
Pillowcases (2): $45+
Comforters
All-Season Down: $299
Lightweight Down: $229
All-Sean Down Alternative: $249
Lightweight Down Alternative: $189
Down Pillows
Plush: $89
Mid-Plush: $59
Firm: $59
Blankets
Pendleton Bed Blanket: $129+
Pendleton Heritage Blanket: $239+
Pendleton Throw Blanket: $109+
Scented Candles: $28+
The Laundress Fabric Care: $15-$65
At the time of our research, you could enter your email address on the Brooklinen website to receive free S&H on your first order.
All Brooklinen products come with a 60-day refund policy, less S&H charges. Keep in mind that washed/used sheets or pillows will be subject to a $9.99 processing fee, which covers Brooklinen's cost to donate the bedding to Goodwill in Brooklyn, NY.
In addition, Brooklinen's comforters come with a lifetime warranty. If yours ever breaks down, the company will attempt to repair it. If that's not possible, then they'll replace the item free of charge.
In order to request a refund or process a warranty claim, Brooklinen's customer service department can be reached at hello@brooklinen.com or by filling out a form on their Returns page.
Is Brooklinen Bedding Getting Rave Customer Reviews?
On Brooklinen's website, their bedding had nearly 700 customer reviews at the time of our research, with an average rating of 5 stars. There, most compliments seemed to reference high quality, great comfort, and timely shipping. Was it a similar story elsewhere online?
The folks over at Sleepopolis reviewed Brooklinen's sheets and found they have a strong build quality with virtually zero loose threads, wrap the mattress nicely, and shrink very little after washing and drying. They felt the sheets were a 3-3.5 on the softness scale, and liked that they "floated" instead of trapping sleepers next to their mattress.
Overall, they felt Brooklinen's sheets would be ideal for someone who wants 100% cotton, lightweight sheets with a multitude of color and design options.
SheepSherpa gave Brooklinen's sheets an 8.8-star rating and called them a "true sheet disruptor." Why? They experienced prompt shipping, found the packaging "outstanding," and all at a great price. In fact, they claim their $250 Brooklinen bundle would have cost $430 from a competitor.
In the end, they noted:
"I can't believe that for under $200 I was able to transform the whole look of my bedroom. Not only are you buying comfort, you're also buying a mini bedroom upgrade.

Before you go out to the department stores to buy your next set of sheets, check out what Brooklinen has to offer first and then see if they can be beat in terms of price and quality. Chances are you'll be coming back to them."
Finally, while there wasn't a whole lot of feedback on this Reddit thread, Brooklinen's sheets seemed to get high marks from customers. Yelp reviews seemed to be more mixed, with some complaining that Brooklinen's sheets didn't match their quality expectations, while more than one claimed to have a less-than-stellar customer service experience.
Who Founded Brooklinen?
Brooklinen was co-founded by Rich Fulop, who experienced a great night's sleep on some high-quality sheets in Las Vegas, only to find they cost $800. Instead, Rich teamed up with Dave Fortune, who he met at NYU business school, to cut out the middlemen (and bloated pricing) involved in traditional manufacturing and pass the saves directly to their customers.
Brooklinen got its start in a 2014 Kickstarter campaign, which raised nearly $237K on an original $50K goal. Today, the company is still balancing the demands of growth. Interesting, as it turns out, 65% of their customers are young professional men, which, based on their clean designs and muted colors, seems to be the company's target demographic.
What does all of this mean for you?
Should You Purchase Brooklinen Bedding?
Whether you're shopping for bedding, electronics, or just about any other consumer good, one of your primary goals is to get the most quality for the lowest price. In other words, to get more value for your hard-earned dollar.
From this perspective, it might be difficult to beat Brooklinen—even among some of their direct-to-consumer bedding competitors. After all, based on their online customer reviews, they seem to deliver a high-quality product at a much lower price than traditional manufacturers.
Does this mean you'll be pleased with how Brooklinen's bedding performs? Much of this involves personal preference, so there's no way to know for sure. But if you're not pleased, the company seems to stand behind their bedding with a 60-day money back guarantee—just remember you'll be out some money in S&H charges, as well as their $9.99 processing fee if you used or washed the product.
---
Don't buy from Brooklinen

By Paul V.

,

Clearwater Beach, FL

,

Jul 4, 2020
Verified Reviewer

Length of Use: Less than 3 months

Overall Experience:

I ordered a towel "move-in bundle" from Brooklinen. Only half of the items arrived. The shipping label showed only 1/2 of what I actually ordered and was charged for. When I tried to call them you get a recording that says you have to email them. I tried an online chat and after 1 hour was told they would contact me later that day. I never heard from them so the next day I had to go through the same process for another hour with a second agent. They asked both times for photos and other documentation which I provided twice. It takes forever for the person on the other end of the chat to respond. I suspect they are in China or India. Save yourself the trouble and order from a company with good customer service. If you check other reviews there are many other unsatisfied customers like me.

Pros and Cons:

The website seemed good
The product was described well
They didn't send me what I ordered
There is basically no customer service, you have to chat online with someone who is probably in a foreign country
Process for complaints takes very long and in the end no real resolution
This is one of the worst companies I've ever dealt with and there is absolutely no one you can actually talk to

Bottom Line: No, I would not recommend this to a friend

---

Don't buy

By Marshall S.

,

Roscoe, IL

,

Jun 22, 2020
Verified Reviewer

Overall Experience:

I bought my sheets just over a year ago, the Luxe Core set. Came with 1 fitted sheet, 1 flat sheet, and 2 pillowcases.

First of all, I felt the feel of these sheets were sub-standard. They felt hard, not soft. I wash and rotate between sets once a week. After just over a year my fitted sheet has worn thin in the middle and now has a start of a hole...now this is typical of older sheets but these only lasted 14 months?! I have sheets that cost a fraction of these but feel softer and last 4-5 years. I'll never buy from Brooklinen again. Not worth the money.

Pros and Cons:

No "pros" were specified in this review
Feel
Durability

Bottom Line: No, I would not recommend this to a friend

---

Advertisement

---

Scratchy, rough sheets and pillowcases

By Peggy B.

,

Burbank, CA

,

Mar 19, 2020
Verified Reviewer

Overall Experience:

I ordered the percale sheet and perhaps I should have ordered the sateen. The percale sheets are so scratchy; the top sheet makes a noise like you are wrapping a plastic tarp over your body. Pillowcases are so rough on my face it actually hurts. And I do not have sensitive skin.

Next time I wanna drop a ton of money on sheets, I'll order from Hilton Hotels directly.

Bottom Line: No, I would not recommend this to a friend

---

I hate my Brooklinen sheets

By Perri B.

,

New York, NY

,

Mar 11, 2020
Verified Reviewer

Overall Experience:

The sheets are coarse and itchy and nothing like described. No luxury, no ultra-soft feel. Their website reviews are only good reviews selected by the company, which is very dishonest.

Additionally, their main phone number puts you on hold for 3 minutes, then say, sorry we missed your call, leave a message. Their brick and mortar phone also says leave a message.

I would prefer NO STARS!

Bottom Line: No, I would not recommend this to a friend

---

Advertisement

---

Sheet and coming soon luxe duvet cover

Overall Experience:

I fell in love with their sheets a couple of years ago. They are incredibly soft and at a reasonable price. I recently purchased a duvet cover that I'll be reordering this week and I can't wait.

Bottom Line: Yes, I would recommend this to a friend

---

Overall Experience:

I purchase 2 sets of sheets and a duvet. I read the reviews, so many good ones. But what I found out was these sheets did the same thing as my $60 sheets. I washed my sheets with liquid detergent, no softener, on delicate cycle. The dry process is no dryer sheets on delicate cycle. I don't let them stay in the dryer, I take them out and fold them. Sorry to say these sheets pill. I hate that, you don't see the big balls, they are tiny. I will try another brand, hopefully, they are what they advertised.

Bottom Line: No, I would not recommend this to a friend

---

Terrible customer service

By David B.

,

Texas

,

Nov 15, 2019
Verified Reviewer

Overall Experience:

I have no idea what their sheets are like because after two weeks I still have not received them. It is impossible to contact anyone at Brooklinen. Terrible terrible customer service.

Bottom Line: No, I would not recommend this to a friend

---

Manufacture defect - fraying

By Myra T.

,

Portland, OR

,

Oct 2, 2019
Verified Reviewer

Overall Experience:

I spent more money on Brooklinen sheets than I have ever spent on sheets so I expected quality. After 4 washes, the top sheet started fraying on the hem. They sent me a replacement set for free and after a few washes, these sheets also started fraying - same location. My friend bought a set a few years ago and has never had this problem - hers look new. It's unfortunate that the quality has declined - I won't be buying from them again.

Bottom Line: No, I would not recommend this to a friend

---

Sheets ok, delivery and communication terrible

By Tom R.

,

Ennis, MT

,

Sep 6, 2019
Verified Reviewer

Overall Experience:

These guys who run this company sure didn't learn much at NYU Business School. Second time you would think I learned, but not so. Three emails, no tracking, no sheets. Wait three more days and cancel the credit card. They will go under just watch. No customer service at all. They do not care. Buy elsewhere.

Bottom Line: No, I would not recommend this to a friend

---

Noisy sheets but lovely duvet covers

By Kaz O.

,

Seattle, WA

,

Aug 24, 2019
Verified Reviewer

Overall Experience:

We bought a new bed and wanted nice new sheets and duvet covers (we have two twin XL beds to make a large king-size bed). I love the duvet covers - soft and smooth. However, the sheets are super disappointing. For some reason, they are so noisy and crunchy. I have had them for over a year and a half and wash them every 2 weeks - each time I wash them I think this will be the wash that softens them up - but no, they come out of the dryer hard and crunchy. I realized the ship has sailed for a return - but the disappointment is still in the dock!

Bottom Line: No, I would not recommend this to a friend

---

Don't fall for the hype

By Connie M.

,

New Mexico

,

Aug 13, 2019
Verified Reviewer

Overall Experience:

I had to think long and hard about making a Brooklinen purchase of queen size sheets. I am a senior citizen on a limited income. I based my decision on all the positive reviews. I was hoping that these sheets would last a long time. The higher the cost, the better the product, right? Wrong! The top sheet that arrived already had a hole in it. The bottom sheet had snarled and loose threads on all sides. Brooklinen replaced the set after I sent pictures. The second set also had long, messy threads. I gave up and called it a wash. Speaking of wash, despite careful laundering, these sheets look dingy. There are also small stains that wouldn't come out. I've never had sheets that looked so crummy. I cannot afford to go out and invest in another set, so I'm stuck with sheets that look as though they belong in a flophouse motel.

Bottom Line: No, I would not recommend this to a friend

---