Brooklyn Brownie Copper Pan Reviews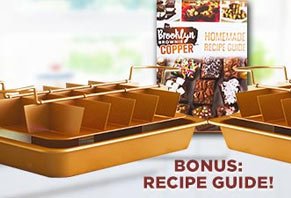 Using a center separator and removable sides, the Brooklyn Brownie Copper Pan promises to help make mixing, baking, and serving treats easier than ever.
What Is Brooklyn Brownie Copper Pan?
The 3-part Brooklyn Brownie Copper Pan allows you to create 18 mini bites and quickly serve them to your fans, all in the same piece of cookware. It even claims to work for pizza and appetizers!
The manufacturer tells us you just have to mix your batter right inside the pan, insert the brownie grid, and slide it into the oven. When cooking, the even heat distribution provided by the pan's bottom, sides, and grid promise to deliver crispy edges and gooey centers in every square.
After they're done, pull out the grid, and the bottom and sides separate to create the perfect serving plate.
From there, each brownie promises to easily pop out one-by-one due to Brooklyn's non-stick, super strong, PFOA-free surface. This also means you won't need any extra oil or butter, or have to worry about scraping and scratching.
Who doesn't love a warm, gooey brownie? But cutting and serving them can definitely be a pain.
Can the Brooklyn Brownie Copper Pan provide some real-world assistance, or is it just a gimmick that will be an epic fail once you have it in your kitchen? Stick with us, and that's exactly what we'll help you decide.
A good place to start is pricing.
How Much Does the Brooklyn Brownie Copper Pan Cost?
One Brooklyn Brownie Copper Pan will cost you $19.99, plus free shipping. You can order a second pan for an additional $7.95 fee at checkout.
All orders also come with a bonus recipe guide, as well as a 30-day refund policy, less S&H.
To request a refund, the manufacturer can be reached at 877-883-9084.
Now, how does this price compare to the competition? Is there even such a thing?
Is There Anything Else Like the Brooklyn Brownie Copper Pan?
In many of our As Seen on TV articles and product reviews, we mention the fact that these close-knit manufacturers frequently create versions of current products from other companies in order to ride a wave of popularity.
In fact, ASOTV manufacturers will sometimes even "share" nearly identical products with each another, rebrand them, and sell them simultaneously. And in the instance of Brooklyn Brownie Copper Pan, we have a rare example of both (well, almost).
By all appearances, the Chicago Metallic Slice Solutions 2-Piece Brownie Set (available through Bed Bath and Beyond and other third-party retailers) was the originator. This seems to have also been branded as the Martha Stewart Collection Brownie Pan.
Then, the Perfect Brownie Pan Set (also known as Slice Solutions Precut Brownie Pan Set) and Amazing Brownie Pan seem to have been the first ASOTV versions on the market. These options were still available as of writing, although they only featured a 2-piece design.
What does this mean for you? Unlike these other two options, the Brooklyn Brownie Copper Pan's bottom can lift upward, away from the sides. This way, you can set it on an elevated serving platform and have your brownies easily accessible.
Brooklyn Brownie Copper Pan's sides fall away while the bottom remains in place, which could make serving easier. Image credit: Brooklyn Brownie Copper Pan
Is this a meaningful difference? Only you can answer based on your specific needs and preferences.
What about price? At the time of our research, these options could be found for anywhere between $15 and $20, which is also right where you'll find Brooklyn Brownie. If you simply require a traditional segmented brownie pan, though, you might pay as little as $5.
What About Brooklyn Brownie Copper Pan's Non-Stick Capabilities?
Perfluorooctanoic acid (PFOA) is a chemical commonly found in nonstick coatings. Unfortunately, the EPA has linked excessive PFOA exposure to some pretty nasty side effects like testicular and kidney cancer, fetal problems, liver damage, thyroid disease, and ulcerative colitis.
The manufacturer doesn't tell us what is found in Brooklyn Brownie Copper Pan's non-stick coating, but based on our experience reviewing other copper-branded cookware like Copper Chef and Red Copper Pan, it's likely a multi-layer ceramic coating.
One of the most common customer complaints about these pans is that food started sticking soon (or sometimes immediately) after use, especially after running through the dishwasher.
Granted, the Brooklyn Brownie Copper Pan appears to come from a completely different manufacturer, so there's no way to know if you'll experience any of the same. But it's our duty to make sure you have a complete view of the situation.
Pro tip: Regardless whether you're talking about copper or any other non-stick surface, it's never a good idea to use metal utensils on them. So if you're looking to get the longest use out of your Brooklyn Brownie, it might not be in your best interest to mix directly in the pan.
Does the Brooklyn Brownie Copper Pan Deserve a Spot In Your Cabinet?
Many of the competing models mentioned earlier seem to come with mostly positive customer feedback, but whether or not this will transfer over to Brooklyn Brownie—and its unique separating sides—remains to be seen.
Fortunately, if you feel like giving the pan a try, the manufacturer offers a 30-day refund policy. Just keep in mind that return S&H charges aren't refundable, and you'll also lose the $7.95 if you purchased the BOGO offer.
Did you order the Brooklyn Brownie Copper Pan? Did it work as well in real life as in the commercial? Tell us about the results in your review below!
Read Next: Comparing Cookware: Stainless Steel vs. Copper
Sticky mess

By Kim B.

,

Honolulu, HI

,

Sep 24, 2018
Verified Reviewer

The first time I used this pan, it was great. The brownies all came out very easily, and they were delicious.

Tonight I just made them again, and they stuck terribly. There wasn't one brownie that would come out whole. I had to individually cut/pull each one out. I didn't use any spray oil the first time OR this time. It said not to. However, next time I try it, I will use a spray.

Bottom Line: No, I would not recommend this to a friend

---

Disappointed

By Patricia Eckford

,

Nanaimo, British Columbia, Canada

,

May 21, 2018
Verified Reviewer

I received the Brooklyn Brownie Pan as a Christmas gift, therefore, no instructions or recipe book were included. I have not tried it with brownies yet, but I have tried twice with cake. Once without oiling and once with. Both times, the inner sectioned piece stuck to the cake. What a mess! I will give it one more try with the rice krispie squares. If it sticks again, it will be discarded.

Bottom Line: No, I would not recommend this to a friend

---

Advertisement

---

6 out 7 people found this review helpful

False advertising

The pan does not come with a recipe guide. It does work nice as a pan, but it does leak batter out of the bottom onto a baking tray and you have to grease the divider and the divider is a pain in the butt to clean. They advertise that you can use a mixer in it, but the guide says not to use metal utensils on it.

Overall I like it, but I just don't like being lied to. I kept one and gave the other to my mother. My brownies are nice and gooey on the inside and perfectly firm on the outside. The brownies have to cook for 45 minutes because it's a 7x11 instead of a 9x13.

Bottom Line: Yes, I would recommend this to a friend

---

6 out 6 people found this review helpful

Fraud and false advertising

The online ad says you can buy a second pan and a Doughnut Pan for additional $9.99. Customer service said it does not say that. They just shipped without consultation. Beware, beware, beware, beware and beware. Talk to them first and record the conversation.

Bottom Line: No, I would not recommend this to a friend

---

Advertisement

---

9 out 9 people found this review helpful

Very disappointing

I made my first batch of brownies today in my Brooklyn Brownie Copper Pan. It was awful; the middle four brownies were pretty much raw batter after 25 minutes of baking. It claims to be "nonstick," but the instructions tell you to spray the pan and divider with nonstick spray or oil. I did that and still the brownies stuck to the pan.

The Brooklyn Brownie Copper Pan gave a very poor performance in my opinion.

Bottom Line: No, I would not recommend this to a friend

---

8 out 8 people found this review helpful

Brownie Pan two for one

By Rochelle

,

Wisconsin

,

Jun 21, 2017
Verified Reviewer

I ordered two for one, but only one showed up with no cookbook, instructions or recipe book. I tried to find a number to call to no avail.

Where and what?

There is also no order number to list on this site either, just a plain plastic mailbag with one pan.

Bottom Line: No, I would not recommend this to a friend

---

10 out 14 people found this review helpful

Wow! Love this Brownie Pan.

Stockton, CA

,

Jun 2, 2017
Verified Reviewer

I have used it six different times since purchasing my pans. I am ready to order a few more for gifts. Brownies really just slip out of the pan, neatly cut. I gave the pan a try making Rice Krispies squares. Same thing; it slides right from the pan already cut. So easy.

Thank you for a great time-saving product.

Bottom Line: Yes, I would recommend this to a friend

---

7 out 9 people found this review helpful

I love this

As a single mother of three and constant baker, this pan was a gift for Mother's Day. I've made over 20 different things with this pan now. I've had no leaks and not a single complaint about this product. I love it. My kids love everything that I've made in it. I don't watch TV so I didn't see the infomercial, so I knew nothing about the product before it arrived on my doorstep. As for the complaint about the stand, get a cooling rack, I already had one that fits the inner tray. I would and have recommended this to others.

Bottom Line: Yes, I would recommend this to a friend

---

8 out 8 people found this review helpful

False advertising

The box says metal utensil safe, but the book says to use only silicone, wood or plastic utensils. It also says no oil or butter needed on the box, and in the book, it says to use with non-stick cooking spray, which is oil.

Bottom Line: No, I would not recommend this to a friend

---

15 out 18 people found this review helpful

No stands

I ordered these pans after finding one in the store, but its box stated stand not included. The stencil is on back order.

I call customer service to find out how to get the stand and was told the only way to get the stand was to order the pan online. I ordered online as a buy one get one pan for $7.95 more and a stencil. I was assured that the stands were included.

I received the pans on May 4th, 2017, opened them, and no stands were included. I called customer service and was a little rudely informed that stands don't come with the order.

I looked the infomercial up online again, and it clearly shows the stand, pans, and stencil. I called customer service back and asked to speak to a supervisor or manager, and was informed by her that the stand in the infomercial was just to show the ease in using the pan, but was not sold by them. And that they had no idea who does sell the stand.

After baking the brownies in the pan, you are supposed to set the pan on the stand and drop the outer portion of the down to cool the brownies. But you can't do that since no stand is included as I was told would be.

So now I gave to go find something to set the pan on so that the outer part of the pan can be dropped cool brownies.

The infomercial clearly shows the stand, and I was told by customer service that you get the stand by ordering online only.

It is a false advertisement (infomercial), and false information from customer service. The only reason I bought online was to get the stand with the pan. As I was told I would.

Bottom Line: No, I would not recommend this to a friend

---

21 out 23 people found this review helpful

Do not buy

By Joe

,

Pennsylvania

,

Apr 25, 2017
Verified Reviewer

I ordered the pan, and then they kept showing other options with a "yes" or "no" option. I kept pressing "no" for everything and then went to order the pan. I edited the order and it came up as $19.99. I then placed the order and then the order came up as $34.98. They just added on another item that I didn't order.

There is no phone number, no address, and no way to contact them. I do not advise anyone to buy this product. I WILL contact my credit card people to not accept this charge. They should be ashamed to take advantage of elderly people.

Bottom Line: No, I would not recommend this to a friend

---