Brush Hero Reviews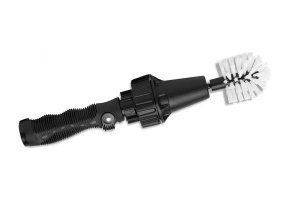 Brush Hero spins its interchangeable brushes using nothing more than water pressure while providing enough useful torque to cut through dust, grime, and grit.
About Brush Hero
Using only the water pressure generated by any standard garden hose, Brush Hero's patented technology promises to spin its interchangeable heads with an impressive amount of torque, without relying on any mechanical parts.
Combined with high-quality injection molded plastic that never corrodes and can withstand cleaning chemicals, along with a simple, easy to use, and lightweight design, and an ability to easily cut through dirt and dust, the manufacturer advertises it as "the ultimate detail brush."
Are there other options you should consider, though? And even if Brush Hero really is a one-of-a-kind product, as claimed on the website, does this necessarily mean that it's the best option for your needs?
Over the course of the next few minutes, you'll read about what we learned during our research, which could help you take a more informed next step.
How Does Brush Hero Work?
The Brush Hero cleaning wand contains no "fins, blades, gears, or other mechanical parts to break or rust over time." Instead, its "turbine works purely on the dynamics of water under pressure, converting applied pressure into turning force, or torque. In simpler terms, your garden hose makes it move."
This force works to turn four different interchangeable brush heads at the front, which will last four to six months, even with vigorous use:
The Navigator – Features a tapered head to help clean hard-to-reach spots, whether on a vehicle, barbecue grill, Jacuzzi or pool, or rain gutters.
Black Brush – A soft option designed for sensitive surfaces (paint, chrome, etc.).
White Brush – The same shape as the black brush, but with stiffer bristles for tougher cleaning jobs.
Grimefighter – The stiffest option of all, designed for extra tough cleaning jobs like mold, scum, and other dingy surfaces (not safe on chrome).
To change out, simply pull firmly to remove the existing head, align the new brush with the square, and then push firmly into place.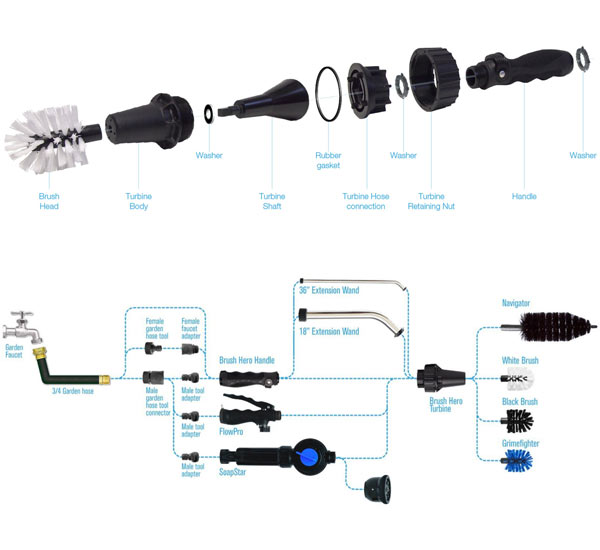 Although it doesn't use batteries or any mechanical parts, the water-powered torque provided by Brush Hero promises to safely clean many different surfaces. Credit: Brush Hero
Despite its lack of mechanical parts, Brush Hero promises to deliver enough torque to keep spinning in most instances, although it can be stopped with very firm hand pressure, or by pushing it aggressively into a small space. And instead of spinning quickly, creating a wet mess, and barely grazing the surface of grime, it spins slow enough to efficiently cut through muck.
Pro tip: The company emphasizes that the amount of torque provided will depend on the water pressure delivered at the faucet. Standard residential systems will likely deliver the highest water pressure, while rural well systems might provide less, although they point out that it's been tested to work fine in either instance (just with less torque).
Brush Hero features a built-in toggle switch to adjust the flow of water, which can also be completely paused in between tasks. (The company also sells a water-saving trigger handle called the Flow Pro, which we'll discuss shortly).
Even at full flow, though, it uses half as much water as a freely-flowing hose, meaning that you'll use about as much water as a bucket and a rag when washing a full-size vehicle.
Together, the website advertises that Brush Hero makes scrubbing hard-to-reach areas—whether on cars, motorcycles, bikes, furniture, barbecues, window screens, or even pets—easy, without the usual backache. And its additional parts accessories can make it useful in an even wider variety of scenarios:
Soap Star – Combines spray, soap, foam, or detergent with the perfect amount of water, allowing you to suds, scrub, and rinse with the same tool.
Extension Wand – Adds reach. Available in 18" and 36" versions, with a three-position trigger handle and male quick connect adapter.
Flow Pro – A water-saving trigger handle with an ergonomic grip that helps conserve water.
4 & 5-Piece Quick Connect Set – After a quick setup, these allow you to quickly remove and add the appropriate adapter.
Shower Adapter Kit – Allows you to adapt your Brush Hero for indoor use.
How Much Does Brush Hero Cost & Where Can You Buy?
If purchased directly through the company, the Brush Hero Starter Set (includes one white and one black brush attachment) is priced at $34.99. Additional sets include:
Marine (includes tough and extra tough brushes for nautical mess): $39.99
Pro (includes Flow Pro): $42.99
Extra Reach Combo (includes 18" extension): $49.98
Dynamic Duo (includes Soap Star): $54.99
Super Bundle (includes Pro and Soap Star): $64.99
Indoor (includes Pro and Complete Shower Adapter Kit): $69.99
Individually, many of these parts and accessories are priced between $0.75 and $39.99. All direct Brush Hero orders over $40 come with free shipping.
Many of these same products, accessories, and parts were also available through Amazon at the time of our research, for about the same prices (with no Prime eligibility).
Direct orders also come with a 30-day refund policy, less S&H, which begins the date your order is received. You can request one by reaching out to support at 888-550-HERO (4376) or contact@brushhero.com.
What Can We Learn from Brush Hero Customer Reviews?
There were nearly 80 customer reviews for their Starter Set on the Brush Hero website at the time of our research, who had cumulatively given the product line an average rating of about five stars. Most compliments referenced quality manufacturing, competitive price, solid customer support, effective results, and ease of use.
On Amazon, more than 900 customers had given the same system a slightly lower average rating of about four stars, with many of the same compliments. On the other hand, complaints frequently revolved around less-than-stellar functionality (often related to water pressure and subsequent torque), as well as lower quality than expected.
Although Brush Hero officially launched in June 2015, they entered much of America's consciousness after appearing on season nine, episode 18 of ABC's Shark Tank. The company is based out of Alexandria, VA and was co-founded by Kevin Williams and Glenn Archer.
Are There Other Water-Powered Cleaning Brushes Like Brush Hero?
Let's cut right to the chase: Although you'll certainly find dozens of other brushes that attach to water hoses, if you're looking for a non-mechanical, water-powered cleaning wand with a variety of accessories and interchangeable brush heads, your only option is Brush Hero. There's simply nothing else exactly like it on the marketplace.
The closest option we encountered during our research was the Karcher Rotating Wash Brush Accessory, which is only designed to work with the company's residential electric pressure washers.
However, similar to Brush Hero, it's designed to accommodate detergent, as well as to help clean most painted surfaces, including vehicles, boats, homes (along with window panes), and other flat surfaces.
Pro tip: There are several Brush Hero counterfeits currently on the market. If you're shopping on sites other than through the manufacturer, they note the following could indicate that it's not the real deal:
Shipping Time is 12 days or more.
Box says "Made in China" in addition to "Made in the UK."
The box is dark blue and brushes are crammed in and possibly misshapen.
It most likely will not say "Brush Hero" on the bezel.
Bringing everything together, though, does this mean you should go ahead and place an order for Brush Hero?
Our Final Thoughts About Brush Hero
As someone who bikes about 100 miles per week, I can certainly see the potential benefits related to a device like Brush Hero for cleaning hard-to-reach gunk.
After all, it seems to hook up easily, there's no electricity needed (which is never optimal when used around water), there are no mechanical parts to break down, and it's advertised as providing optimal torque to cut through typical grease and grime accumulation.
Together with its handle-mounted switch, we imagine that Brush Hero could provide an optimal detailing solution, whether you're dealing with bikes, cars, motorcycles, watercraft, or just about anything else.
But it seems that the price rapidly escalates once you move beyond the Starter Set, so it might make greater financial sense to purchase individual accessories, depending on your specific needs and preferences.
Navigator head

By Sharryn C.

,

South Carolina

,

Dec 9, 2019
Verified Reviewer

Keeping the navigator head in place is a problem, as it works itself off so time wasted attaching the head to the device. I clean hubs with deep inset, works great until the head releases. Then it's under the car to retrieve and replace the device.

Bottom Line: No, I would not recommend this to a friend

---

Need white brush not in box

By William W.

,

Luling, LA

,

Jan 2, 2019
Verified Reviewer

I received a Brush Hero as a gift. The white brush head was not in the box. I've searched the website for a method of reporting this with no success. I need someone to contact me with instructions for acquiring a brush.

Bottom Line: No, I would not recommend this to a friend

---

Advertisement

---