BuddyGuard's FLARE Reviews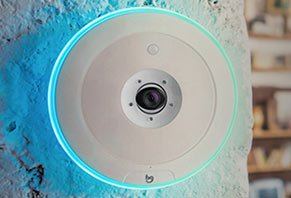 BuddyGuard's FLARE is an all-in-one security system that monitors your home using an HD camera, a multitude of sensors, wireless connectivity, and more.
About BuddyGuard's FLARE
Looking at home security systems? If so, you probably found that you have one of three options: 1) A basic, bare bones system that provides very few options; 2) a full-blown home automation setup that takes an electrical engineering degree to operate; or 3) a package deal from a national retailer, which locks you into a years-long contract and requires some in-depth installation.
BuddyGuard's FLARE is out to change the situation. This self-contained device promises to deliver an "easy, intelligent, and affordable" home security system that needs only a WiFi connection and a smartphone to work in minutes—without cables, code pads, or contracts. And with its ever-evolving artificial intelligence, the company claims that each FLARE device can even "know the difference between right and wrong."
Despite its ease of use, BuddyGuard seems to have packed each FLARE device with quite a bit of technology, including facial and speech recognition, the ability to differentiate between "normal and suspicious sounds," customizable accessibility, and more. You'll even be able to purchase add-ons (again, without a contract) that can help your FLARE devices better protect your home and your family.
Even if you're just getting into home security, it's easy to see that compromise is the name of the game. But considering its price and list of features, will you be able to find a useful balance with BuddyGuard's FLARE, or just end up disappointed? We'll tell you what we learned so you can make a more informed decision.
How Does BuddyGuard's FLARE Work?
Each disc-shaped FLARE device is about 6.5" in diameter, 1.5" thick, and weighs about 7.7oz. The exterior seems to be made of a white plastic shell, while the front-facing part is clear plastic. The company claims it can attach to your wall in seconds using only a magnet holder with adhesive tape.
In the center of each FLARE you'll find a 1080p HD camera, with a 150° wide-angle lens and infrared LED night vision capabilities. This camera uses facial recognition software to identify people by analyzing their features, and the built-in PrivacyGuard covers the lens as soon as an authorized user is recognized.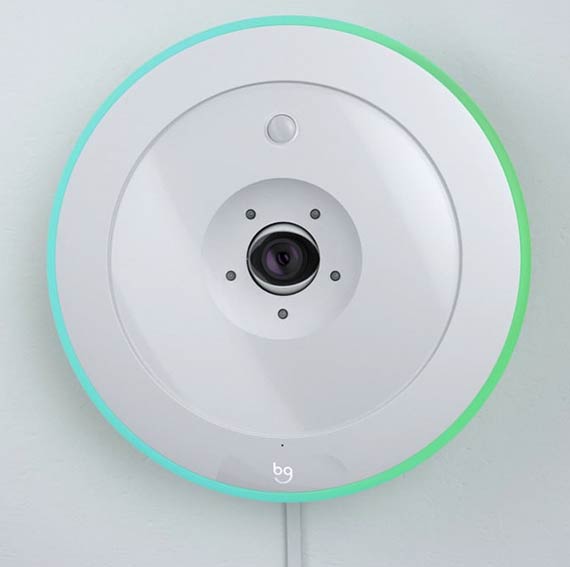 Each BuddyGuard FLARE is a self-contained security unit, complete with HD camera, microphone, motion detector, and much more. Image credit: BuddyGuard.
FLARE's camera is also supported by a high-sensitivity microphone that uses speech recognition to identify authorized users, as well as to allow you to provide special instructions (although the company didn't provide any additional information). Each FLARE unit can be set up with a "security circle" (e.g. admin, residents, friends and family, temporary) in a couple minutes.
Inside BuddyGuard's FLARE, you'll also find a motion detector (don't worry—your pets won't trigger an alarm!), temperature sensor (identifies sudden temperature changes), accelerometer (detects tampering), and a 90db siren that goes off if an intrusion is noted, as well as an integrated speaker that emits sounds like people talking or doing the dishes, making it appear that residents are home.
All of this is handled through FLARE's 1.2Ghz dual-core processor, which communicates with BuddyGuard's cloud to save all audio, video, and images. From there, everything is interfaced through the iOS and Android apps (a Windows phone version is in the works), allowing you to view live shots of your home, browse past material, and receive alerts.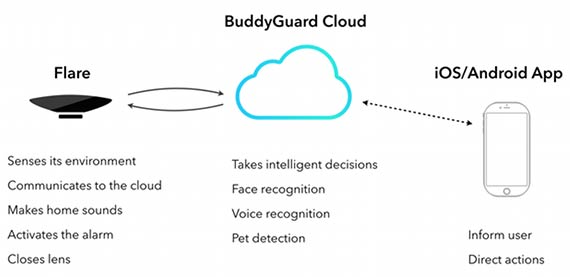 ​All data collected by FLARE units is sent to BuddyGuard's cloud, where it's then forwarded to your smartphone for immediate viewing.
Worried About Your Own Privacy?
BuddyGuard equips each FLARE with PrivacyGuard, which causes the lens to immediately cover once you're home and your identity has been verified through a combination of facial and voice recognition, as well as using the geolocation built into your smartphone.
What happens if someone breaks into your home while you're there? The company claims you can program a "safe word" that will notify the authorities, without triggering an actual alarm, in the event you're in danger (keep this thought in mind, because we'll come back to it shortly).
What Happens If Your FLARE Loses Power?
Compared to many of the other DIY home security systems we've reviewed, BuddyGuard's FLARE can use its rechargeable lithium-ion batteries to remain powered for a period of up to 3 days. On top of this, the embedded 3G BuddySIM card will provide an Internet connection from the moment your WiFi goes down.
Under normal (non-blackout) operating conditions, the company tells us that FLAREs will remain powered for 3 weeks. When it comes time to recharge, you'll receive a notification through the app. Then, simply detach it from the magnetic wall mount, plug it into the included micro USB cable, and wait for it to recharge.
How Many FLAREs Do You Need?
The company recommends placing one FLARE device facing each entrance in your home. This means that apartment dwellers could get by with as few as one, while larger detached homes with multiple levels my require 3-4 FLAREs for adequate protection.
Can You Use FLAREs with Your Existing Home Automation Setup?
Each FLARE communicates with its cloud through WiFi, so you can view each of their data independently through BuddyGuard's app. FLAREs can also communicate directly with one another and share settings, even if they're in different locations.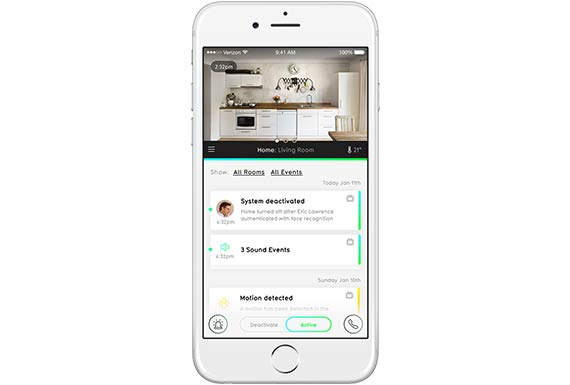 BuddyGuard's app. Image credit: BuddyGuard
BuddyGuard's FLAREs also use something called IFTTT (if this, then that) technology, which allows you to create simple commands that enable other devices in your home automation setup. For example, if a FLARE unit recognizes that you're within a mile of home, you could trigger your smart thermostat to turn on the air so it's the perfect temperature when you walk through the door.
How much will all this technology cost you?
How Much for FLARE by BuddyGuard Cost?
As of writing, BuddyGuard's FLARE devices were only available for preorder, with a current estimated launch date of July 6th, 2016. The only way to preorder is through the company's Kickstarter campaign, where packages range in price between €174 and €7,000 (about $192 and $7,715, respectively).
After release, the price for each FLARE will increase to $389 / €349. Although the company is based in Germany, they'll ship anywhere in the world.
In addition to the core FLARE device, depending on your country, you'll be able to purchase several upgrades:
BuddySIM: $5 per month
BuddyReact (automatically alerts the authorities/monitoring company, although this is currently only available in Germany): $17 per month and requires BuddySIM
BuddyCall (allows your FLARE to call or text when something happens at home, regardless of your current location): $3 per month
BuddyCloud (upgrades your cloud storage to 10GB and 90 days of data retention—no indication what your "normal" storage and data retention are) $3 per month
All FLAREs come with a 90-day guarantee and a 2-year warranty.
Are There Other Home Security Systems Like FLARE by BuddyGuard?
Is there anything exactly like BuddyGuard's FLARE system? One that provides all the same features—including the ability to control other home automation devices? There doesn't seem to be; at least not at this price point.
However, that doesn't mean there aren't other options that could meet your needs just as well.
For example, the Blink HD Home Monitor provides many of the same monitoring capabilities as FLARE, along with easy setup, wall mounting, microphones, temperature sensors, and IFTTT compatibility. But you won't find a built-in SIM card or alarm capabilities.
Instead of a wall-mounted device, the Angee Home Security System uses a cylindrical tabletop device as its hub, which then connects to tags that can be stuck to windows and doors. Unlike FLARE's camera, Angee's hub can also swivel 360° and measure additional metrics, like humidity.
Further, if you're not looking for an all-in-one (read: more expensive) system, lower cost options like Ring Doorbell and Kevo might offer only the functionality you need at a lower price point.
Are There Any BuddyGuard FLARE Reviews Yet?
As we mentioned in the Pricing section, BuddyGuard's FLAREs hadn't been released at the time of our research, so there wasn't any direct customer feedback yet.
Based on their new approach to home security though, the DIY alarm system has been reviewed by many popular publications, including CNET, Digital Trends, Gizmag, and many others. Unfortunately, all of these were high level reviews and didn't provide any first-hand feedback.
From a company perspective, BuddyGuard was co-founded by CEO Herbert Hellemann, CTO George Platon, and CMO Wouter Verhoog. In their promotional video, Herbert claims his drive for creating FLAREs stemmed from coming home as a child, only to find that someone had burglarized their home.
Can BuddyGuard's FLARE Really "Protect Your Home All by Itself"?
In a nutshell? Assuming that everything works exactly like the company claims and that they don't experience any significant delays, it certainly seems like FLARE by BuddyGuard could provide a fairly robust security system that sets up in seconds and doesn't require any wires—all at an attractive price point.
This doesn't mean it's perfect, though. For example, until active monitoring becomes available outside of Germany, you'll be stuck with a local alarm (it doesn't alert authorities), which means it's definitely not as secure as some other options.
Pro tip: These local alarms also won't provide anywhere near as big of a discount on your homeowner's/renter's insurance.
On top of this, while you won't be subject to long-term contracts, you'll need to spend upwards of $30 per month in order to gain access to all of BuddyGuard's full features. FLARE units also can't detect smoke or CO2, although the company is looking to release a separate device to accomplish this, with a estimated release date during 2017.
In the mean time, this Huffington Post article can go a long way towards figuring out which type of home security system is right for you!
Did you order BuddyGuard's FLARE? How long did it take to arrive? Did it work as well as you expected? Give millions of consumers the inside scoop by writing your review below!
Fraud

By Luke N.

,

Australia

,

Aug 13, 2019
Verified Reviewer

I ordered this product in 2015 and never received it. I was told so many times as to why, then the company stopped responding. They've taken god knows how many people's money and flushed it. What an absolute joke for German engineering and design.

Bottom Line: No, I would not recommend this to a friend

---

Purchased since the 7th of July 2016

By Faries Kua A.

,

Johor Bahru, Malaysia

,

Feb 4, 2019
Verified Reviewer

We are referring to the above, we would like to mention since our purchase on July 7, 2016 until now we have not received this product. We keep receiving emails mentioning 1001 reason. The total amount I paid as below:

1 FLARE for Early Birds at the price of $309.00 USD, plus shipping of $42.00 USD, with the total I paid being $351.00 USD.

I keep sending emails, but unfortunately, they do not reply. Month by month and year by year...at the end missing. I think this company is lying to people. If they are unable to fulfill, just refund or give an actual deadline, not missing in the moon. What kind of company are you?

Bottom Line: No, I would not recommend this to a friend

---

Advertisement

---

101 uses for a BuddyGuard FLARE

By Simon

,

Other

,

Feb 19, 2018
Verified Reviewer

So far I have found two uses for my FLARE - paperweight and doorstop.

It has a lot of promise, but it fails to deliver.

Easy to set up? No; I encountered problems with the setup process that rendered it unusable. I asked BuddyGuard how to reset it so that it could be reconfigured. I was told that it's not possible. Now when I turn it on, it automatically goes into alarm mode with no means of stopping it other than turning it off.

Intelligent? No; e.g., facial recognition failed miserably.

Frankly, it doesn't deserve one star.

Bottom Line: No, I would not recommend this to a friend

---

Large paperweight

I have owned this paperweight now for over one year, and to date, it has never worked. The flaws are so many from the device connecting to WLAN to the promises of software updates to BuddyGuard's FLARE and iOS software. I returned it for repair in the hopes it would work, but at this point, after installing and trying to get it to work five different times over one year, I strongly recommend going with something that works, like Arlo (I have it and it works great), or another proven device.

Bottom Line: No, I would not recommend this to a friend

---

Advertisement

---