Bullseye Pee Pads Reviews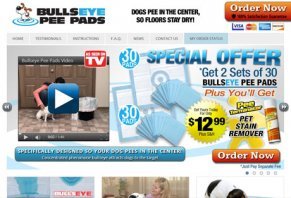 Will Bulls-Eye Pee-Pads take the hassle and mess out of potty training your dog? We examine its claims to help you make an informed decision.
About Bullseye Pee Pads
If you're training a new puppy or have a dog that can't go outside, Bullseye Pee Pads may be your new best friend. The 22 x 22 inch pad is filled with super-absorbent micro-beads that claim to eliminate mess as well as odors.
As the name implies, a bullseye is emblazoned in the center and doused with pheromones – that way your dog is encouraged to do his business in the middle and not running off the edges.
Bullseye Pee Pads are marketed by Telebrands, one of the most recognized names in the "As Seen On TV" business. While they don't have BBB accreditation, they do have their own extensive website touting their family of quirky products they've licensed from weirdo inventors.
How Bullseye Pee Pads Work
Simply unfurl the pad and place on the ground, plastic side down, preferably on a hard surface where your pet is likely to go wee-wee. Pheromones in the center of the pad send signals that will attract your puppy to the middle and encourage them to discharge.
Like a super-absorbent towel, the micro-beads soak up urine as well as odor. Once used, praise your dog for a job well done, as this reinforces the good behavior. Pick up the pad by its unsoiled corners and throw in the trash.
Each Bullseye Pee Pad order comes with:
30 Bullseye Pee Pads (22 x 22) with blue target
Special offer to add 30 more Pee Pads plus Pee Terminator stain remover for a separate fee of $9.99
Bullseye Pee Pad Pricing and Refund Policy
A pack of 30 Bullseye Pee Pads is available for $12.99 + $6.99 S & H. During checkout, you have the option of adding another 30 pack and stain remover for $9.99. Beware – according to their website the product is very popular and may take up to 6 weeks before shipping - longer than the potty training itself!
All of Telebrands products are backed by the same 30-Day Satisfaction Guarantee. If you are unsatisfied, they say "simply return the product within 30 days for an easy refund of your purchase price, excluding shipping and handling."
However, they do ask for a "detailed explanation" of the reason and reserve the right to reject items that do not meet their return policy. In addition, the fine print states that consumables (such as the Pee Pad) are not returnable once they are opened.
The Bottom Line
Potty training a dog requires patience and repetition. The Bullseye Pee Pad, with pheromones in the center, will possibly help point your pup in the right direction.
Keep in mind that not all dogs respond to the scent and it will be up to you to make them understand they eventually have to go (or ask to go) outside.
There are senior dogs as well as ones that can't go out because of cold weather that could also benefit. While you could use plain old newspaper, you probably aren't saving that much money, and it's definitely a messier cleanup. At about 67 cents a sheet (less for the twofer) it's not a slam to the pocketbook.
Most reviews for the Pee Pad are generally positive.
Their robotic telephone system doesn't deliver much in the way of customer service, and, as we mentioned, unopened packages can't be refunded.
Pros
Highly absorbent
Inexpensive
Pheromones in center encourage use away from edges
Cons
No returns on opened Pee Pads
Poor customer service
Long shipping times
1 out 1 people found this review helpful

Awesome

By Barbara Hairston

,

Atlanta GA

,

Aug 20, 2015

We have a new rescue from animal control. She was half starved and traumatized. I bought regular Pee Pee Pads an had no luck. She eliminated on the floor. My daughter brought home a bag of the Bullseye pads and Bam! Right on the target. Saved my floors.

Bottom Line: Yes, I would recommend this to a friend

---

8 out 9 people found this review helpful

Don't fall for this crap

By Chris Nunn

,

Cana, VA

,

Aug 18, 2015

I ordered this in mid November and still every time I call to check my order it goes to India and I'm told that it will be 7 to 10 more days. I could have drove to New Jersey and got it my damn self by now. This is a joke and will not ever recommend anybody to order this at all. They take your money and take there sweet old time getting it to you.

Bottom Line: No, I would not recommend this to a friend

---

Advertisement

---

14 out 15 people found this review helpful

My Owners Bought Me Bullseye Wee-Wee Pads

By Monty

,

Florida

,

Aug 13, 2015

I'm a 6 lbs Chi and this thing is huge. I pee on the Bullseye from time to time, but, I pee on the pad only once. Then I peed on the edges or off the pad completely. Just like my cheap wee-wee pad brand.

My owners also bought a pheromone spray and put it on my old pads. I don't know why they try. My mommy spoiled me and I do what I want.

No difference in this pad or any other pads except the price.

Bottom Line: No, I would not recommend this to a friend

---

3 out 3 people found this review helpful

Horrible, made my dog sick.

By Nicole

,

New York, NY

,

Aug 12, 2015

Did nothing, my dog never went in middle of them and my dog was trained already too. Plus the wee-wee pads have something in them that caused my dog to vomit and diarrhea. Took wee-wee pad off, she was fine next day. Put wee wee pad back and she started all over again. No good, save your dog. My dog had to get Vet attention.

Bottom Line: No, I would not recommend this to a friend

---

Advertisement

---

8 out 8 people found this review helpful

Pure Junk.

By Anonymous

,

Aug 6, 2015

These things don't work anything like the commercial advertising. I have two small Pomeranians and the pads leak like a sieve. Fortunately I put a plastic sheet between the pad and the floor. I still find myself mopping up dog pee. so far these things don't even live up close to what they are advertised. No, I do not recommend these at all.

Bottom Line: No, I would not recommend this to a friend

---

4 out 4 people found this review helpful

I was conned out of my money

By Sac

,

Detroit, MI

,

Aug 6, 2015

I placed an order and only part of the order was delivered. Called customer service and they asked me to re-order again at my expense as though I was responsible for not receiving what I had ordered for. The whole thing is a rip off. I was naive enough to also pay for "expedited handling". Protect yourself. Do not do business with them again. I wish I had checked this website before ordering.

Bottom Line: No, I would not recommend this to a friend

---

2 out 3 people found this review helpful

I'm not mopping my floor every second

By M. Lindsey

,

Arizona

,

Jul 18, 2015

I started out with pee pads that looked like Bullseye Pee Pads, but they were cheep and thin! Bullseye Pee Pads are thick and my dog really does go in the middle. They're everything promised. I never have to mop under the pee pad and that's a huge relief.

Bottom Line: Yes, I would recommend this to a friend

---

2 out 3 people found this review helpful

A Lifesaver.

By Annie

,

Crystal, MN

,

Jul 17, 2015

We tried every pee pad available in stores and none of them worked. Our Shih Tzu was still going on the floor. I actually found on a package of Bullseye on discontinued clearance at Target for $5.99 for 30 pads and bought all that was there, figuring I would return the unopened ones if they didn't work. She loves them! You can get a better deal by doing some homework because Bed Bath and Beyond has the 30-count package for only $9.99 in store and did find them in stock at four of the stores in my area vs.at Target $12.99. Just placed an order at Bed Bath and Beyond for two more packages and pick up in store.

Bottom Line: Yes, I would recommend this to a friend

---

Pads Leak

By Vicki Johnson

,

Raleigh, NC

,

Jul 16, 2015

I have been using these pads for a few months. My dog goes on the edges so I overlapped the pads. I still had an odor in my home. When I stopped overlapping them because he was in a smaller space, I finally realized that these pads leak. When I pick up the pad and fold it over, my fingers are wet. I have been buying every type of carpet shampoo out there and could not figure out where the odor was coming from. Now =I know. I now have a lot of pads that I bought from various stores with no receipts for returns.

Bottom Line: No, I would not recommend this to a friend

---

1 out 2 people found this review helpful

Bullseye Pee Pads

By Debbie

,

Largo, FL

,

Jul 7, 2015

The pee pads are no good. Reason being is because I have two dogs and neither one of them goes on the pads.

Bottom Line: No, I would not recommend this to a friend

---

6 out 6 people found this review helpful

Worse than worthless, a scam.

By Peter

,

Jacksonville, FL

,

Jul 6, 2015

I bought this product because the dog kept missing the pad. Instead of hitting the bullseye, the dog ran to another room. Worse was the company rep's attempts to keep me from getting refund instructions. Even then, return shipping costs were more than 50% of the actual product cost. Absolutely stay away from this product and this company.

Bottom Line: No, I would not recommend this to a friend

---