Bulu Box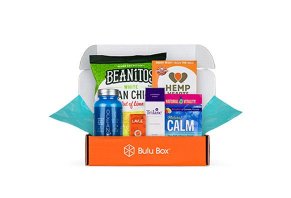 Bulu Box is a health and wellness subscription box service that lets you try sample sizes of top supplements, weight loss products, and healthy snacks each month.
Bulu Box Review: Is It Worth It?
Bulu Box is a monthly subscription box dedicated to delivering you samples of health, wellness, nutrition, and weight loss products.
The company began in 2012 when cofounders Paul and Stephanie Jarrett desired to make it easier for others to sample new supplements and health products without committing to purchasing a full amount.
Bulu Box's website claims that each delivery includes a mix of five to six premium samples from top brands, as well as numerous coupon codes and exclusive offers. If a product stands out to you, the company provides opportunities to buy the full-sized version of it from partner suppliers.
Does this subscription company have enough appeal to make it worth your consideration? Through this article, we hope to help you decide.
How Does Bulu Box Work?
Bulu Box operates as a subscription, which means that you will receive a box of samples each month for as long as you keep your membership active. The brand offered three box options at the time of writing: Original, Weight Loss, and Burn Blend.
The Original box contains samples of new and noteworthy products associated with sports nutrition, immunity, and general wellness, while the Weight Loss option puts the focus on fat burners, meal replacement options, and healthy snack alternatives. The Burn Blend, in contrast, includes similar samples to the Weight Loss box, as well as a full-sized bottle (60 capsules) of Shapeologist burn blend dietary supplement capsules.
The company allows you to fill out a User Profile Survey to provide information about any sample preferences, dietary restrictions, and allergy information that you have. While Bulu Box states that they strive to match samples to your preferences, there's no guarantee each product will be a match.
If you enjoy the samples you receive, Bulu Box makes it possible to connect with online retailers to purchase them full-size through their online store. After each delivery, Bulu Box subscribers have the opportunity to complete surveys about the samples they receive for a chance to win a monthly drawing for a $150 Amazon gift card.
What Will You Get in a Bulu Box?
At the time of writing, Bulu Box doesn't let you choose what samples are in your box. Instead, their goal is to help you discover new brands. We spoke with a brand representative to get an idea of the kinds of products subscribers might receive.
Below are the products found in each version of Bulu Box at the time of writing. The pricing for a full-sized product from Bulu's partner suppliers is listed in parenthesis.
Original Box January 2018
GoMacro Bar ($25.98 for 12)
Florastor: 20 capsules ($26.57 for 50 capsules)
Una Biological Muscle Rub ($7 for travel size)
Sulina Shop Uplifting Face Oil ($40 per bottle)
Valosun Uroval ($16.99 for 30)
Lavle Chocolate ($14.90 for 15 bars)
Weight Loss Box
Plant Fusion lean Protein ($34.54 for 20 servings)
Defunkify Active Wash ($18.98 for 28 loads)
Florastor (20 Capsules) ($26.57 for 50 capsules)
Amino Vital Action and Recovery ($24.99 for 14 servings)
Alfa Vitamins Garcinia Cambogia ($23.99 for 30 servings)
Burn Blend Box
This box contains the same products as the Weight Loss box, but with the addition of the full-sized bottle of Burn Blend ($32.99 for a 30 day supply).
Note: Bulu Box doesn't claim to provide the same samples in every box over a given month, so the boxes mentioned above are merely representative of two potential options of what you might receive.
What Does Bulu Box Cost?
At the time of writing, the cost per Bulu Box varies depending on the length of your subscription.
Month-to-month membership for the Original and Weight Loss Boxes costs $10/month, while a three-month membership was $27 ($9/month) and a six-month came in at $48 ($8/month).
The Burn Blend Box costs $32.99 each month, or $89.99 for three months ($29.99/month).
Each Bulu Box membership automatically renews on the 5th of the final month of service. If you cancel your account before the 5th, you won't be billed for or receive the next month's box. However, all orders are nonrefundable, meaning that you won't get your money back if you cancel a three-month or six-month membership before it expires.
The company states that Bulu boxes can't be exchanged or refunded, though you can take up a case with the company through email at hello@bulubox.com if you receive damaged or defective products.
For all non-subscription box purchases, the company lets you return unopened products within 90 days of purchase for a full refund, minus shipping costs.
What Do Customer Reviews of Bulu Box Say?
According to Amazon, Bulu Box averages three stars out of five. The most common perspective we saw on the site was that Bulu Box's samples were too small to be worth the membership cost, though others appreciated that they could use the products guilt-free because most are considered healthy.
Influenster reviews are more positive about the box, as it averages four stars after more than 50 reviews.
In contrast to Amazon, we noted numerous reviews about the impressive value of each Bulu Box and variety of samples within each one. However, the variety of products was also viewed as a negative, as numerous people reported receiving products they could never use, like men receiving prenatal supplements.
Overall, the view we got from these reviews was that subscribers found Bulu Boxes to be hit or miss.
Some people loved the selection of samples they received one month and then hated them the next, though most of the reviews we read seemed to show that people thought the subscription cost was worthwhile for the introduction to new brands they wouldn't have looked for otherwise.
Similar Subscriptions to Bulu Box
Those looking for a health-and-wellness focused subscription box need not look far; there are numerous options to consider besides the Bulu Box. Three options we think are worth a second look include the MunchPak, HealthPak, FabFitFun, and Graze.
The following chart is designed to highlight the key differences between these services.
| | Bulu Box | HealthPak | FabFitFun | Graze |
| --- | --- | --- | --- | --- |
| Price Per Box | $8 - $32 | $32.95 | $49.99 per box (delivered quarterly) | $13.99 |
| Items Per Box | 5 - 10 sample-sized servings | 10+ | 12 - 15 | 8 |
| Types of Snacks/ Samples | Samples of snacks, supplements, and other wellness products from leading brands | Healthy snacks made with natural ingredients and free of GMO's | Health, wellness and lifestyle products, and snack samples | Low-calorie, high protein, or traditional healthy foods like nuts, dips, crackers, dried fruit, and more |
| Option to Cancel Each Month? | Yes (prepaid subscriptions won't be refunded) | Yes | Yes | Yes |
| Shipping Costs | None | Free in the U.S. | $4.95, free for orders over $25 | Free in the U.S., $8 throughout North America |
As this chart makes clear, these four subscription companies each have a different focus. Graze exclusively offers snacks sold under their personal brand, while Healthpak gives you snack samples from national brands and new businesses.
Bulu Box and FabFitFun both stand out because they also include non-food products, though FabFitFun veers more towards lifestyle products and cosmetics while Bulu Box includes supplement samples.
Pricewise, there aren't many subscription box companies that can beat Bulu Box. You'll pay as little as $8 per month, but the size and value of the included samples reflect this price.
For instance, past boxes have included samples as small as one supplement capsule or a single teabag, which might not be enough to learn whether you want to try the brand again.
If you care about your health, is there one subscription box brand you should commit to over the others? We think Bulu Box is a smart, low-cost way to expose yourself to a variety of brands, but the overall value of what you receive is lower than with other food-based companies like Graze or HealthPak.
Another important consideration is the level of customization that the different companies offer.
Graze lets you sort the available snacks based on your taste preferences. FabFitFun typically offers subscribers a range of options for each order. HealthPak and Bulu Box provide fewer opportunities for personalization, which is a big drawback for Bulu Box because you might receive supplements that don't fit your gender or age profile.
Our Bottom Line: Should You Try Bulu Box?
In light of this research, we can conclude that Bulu Box is a low-cost subscription service that lets you try samples of a variety of health, wellness and fitness products.
The sample sizes in this box tend to be on the smaller side and orders are rarely customized to the customer, but you'll pay just $10 per month per box, so many people will be willing to look past these concerns.
From our reading of customer reviews, many subscribers find Bulu Boxes to range in overall quality each month. Some products might be perfect for your personal situation, but there's a good chance that many others won't match your needs.
Compared to other subscription companies, Bulu Box comes in at the cheap end. This can make it appealing for people who love the surprise factor of these boxes but don't want to spend too much money each month.
If you're interested in trying Bulu Box, we suggest beginning with a month-to-month subscription. There isn't an extreme cost savings for longer commitments, and you won't get a refund on undelivered boxes if you choose to cancel your subscription early.