Burnie Grill Reviews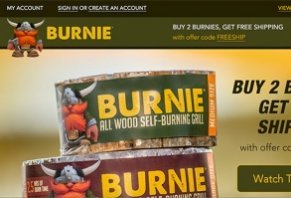 Burnie Grill is claimed to be a self-contained, environmentally friendly all-wood grill that goes wherever you go and can provide hours of powerful heat.
About Burnie Grill
Whether you're looking to roast, grill, or smoke, Burnie Grill is claimed to be a self-contained, go-anywhere, single-use portable fire made from 100% natural alder wood.
Based around the ancient Nordic technique for burning wood stumps, Burnie Grill is claimed to be an environmentally friendly self-burning solution that can provide you with enough heat to prepare several entrees and snacks. In fact, because Burnie Grill contains no chemicals, it's claimed to provide better tasting food over 3 simple steps:
Remove Burnie Grill's wrapper.
Hold a lit match at the center. No lighter fluid needed.
Once lit, your Burnie Grill will burn evenly for hours. And once it burns itself out, Burnie Grill returns to the earth and leave behind no waste or messy cleanup.
We have to admit that Burnie Grill is unlike any product we've reviewed here at HighYa, but does that necessarily mean you should purchase one? Consider the following:
How Does Burnie Grill Claim to Work?
Each Burnie Grill is a cylindrical piece of wood (basically a small stump) that consists of 3 primary parts: 1) An outer ring with several evenly space notches to provide air flow, 2) a middle section filled with charcoals, and 3) a notched inner section that houses an easy-light wick.
Once the wick is lit, the flame quickly spreads to the charcoals, which are claimed to provide hours of powerful heat. In addition, Burnie Grills are claimed to be level so that you can easily place a pot, pan, wire grill, skewers, or just about anything else on top to help cook your food.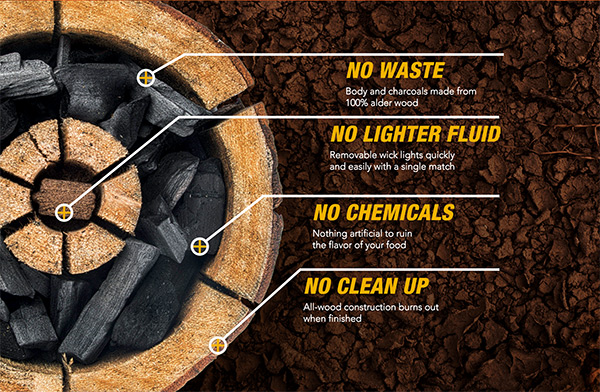 An image from the product's website showing the different parts of the Burnie Grill.
Which begs the question: is Burnie Grill really a grill?
Is Burnie Grill Really a Grill?
Say the word "grill" and most people will immediately picture a large metal container that, at minimum, houses a wire grate where food can be placed. Even if you're just talking about portable grills, like the type you might take camping, backpacking, or to a tailgate party, they'll still contain a surface you can cook on.
However, although Burnie Grills are claimed to be flat and to provide a level surface where cookware can be placed, if you want to place your food directly over the fire, you'll need additional equipment (e.g. a folding metal grate, cages for burgers, skewers for hot dogs, etc.).
With this in mind, if you remove the "grill" from Burnie Grill, what are you left with? Basically just a heat source. Granted, it may be easy to light and provide hours of cooking power, but it's still just a heat source. And if you look at it from this perspective, this means you'll be shelling out a good chunk of change for what amounts to a pile of wood and charcoal (we'll come back around to this in the final section).
How Portable is Burnie Grill?
Next, keep in mind that even though Burnie Grill can be stowed away inside a backpack, 1) you're going to need a fairly spacious backpack (especially for the large size), and 2) they're not exactly light.
Because of this, if you plan on doing some serious backpacking or multi-night hike in/hike out excursions, then the bulk and weight of Burnie Grill could very well be a disadvantage (after all, every ounce counts!).
Other Portable Grilling Options
Burnie Grill is a very unique product, and it doesn't appear to have any direct market competition. However, Burnie Grill's design and intended purpose might closely fit in line with backpacking grills.
With this said, if you type the phrase "backpacking grills" into your favorite search engine, you'll find hundreds of options that can provide you with a powerful heat source, and that will be much more conducive to backpacking than Burnie Grill.
Granted, these options will be more expensive than Burnie Grill, but most can be used over and over again, and can provide you with more value for your hard-earned dollar.
Is Burnie Grill Igniting Customer Feedback?
During our research, we found several Burnie Grill press releases dated from the end of January/beginning of February 2015, so it doesn't appear that Burnie Grill has been on the market long enough to acquire any customer reviews.
On top of this, there isn't a manufacturer listed on the Burnie Grill website or on any of the product's social media pages. However, when performing a reverse lookup for 904-374-3484 (per the product's Contact page), Burnie Grill appears to have the same phone number as Earthcore Industries based out of Ft. Lauderdale, FL. Unfortunately, Burnie Grill was not listed on the company's website to confirm the connection.
Burnie Grill Pricing & Refund Policy
Burnie Grill comes in 2 sizes:
Large – Burn time 2.5 hours and weighs 5.5lbs: $14.95
Medium – Burn time 1.5 hours and weighs 3 pounds: $12.95
According to the Burnie Grill website and commercials, if you purchase 2 or more, you'll receive free shipping. There wasn't a way to add Burnie Grill to our cart when attempting to check out through their website, so no shipping costs were provided.
New, unopened Burnie Grills can be returned within 30 days of purchase, less S&H charges (unless due to the company's error). In order to request a refund, you'll need to contact customer service at 1-844-2BURNIE (per Shipping & Returns page) or 904-374-3484 (per Contact page).
Will Burnie Grill Work for You?
Chopping to the point: Ultimately, this almost wholly depends on what you'll be using your Burnie Grill for. We can foresee numerous situations where Burnie Grill would be useful, such as at a local campground, during tailgate parties, impromptu backyard s'mores with the kids, and more.
On the other hand, Burnie Grill may not be an effective solution for adventure-oriented backpackers, where weight and backpack space are major concerns.
In either instance though, paying $13 to $15 for a single-use heat source might not be considered cost-effective, especially considering that other equally portable heat sources may provide much more value for your money, since they can be used dozens of times.
---
Perfect for the Big Game Tailgate!

By Will R.

,

Jacksonville, FL

,

Dec 10, 2019
Verified Reviewer

Overall Experience:

I saw these guys at a Jacksonville Jaguars tailgate event recently. They had a corporate booth set up where they hosted a raffle, did some demos, and even sold some products. We showed up to our tailgate, but the little propane tank for our grill ran out of fuel and we really needed a solution to cook our burgers up. This little grill was pretty easy to light (although we had a little trouble getting the first spark going due to the wind) but once it was lit, it created a ton of heat and cooked our food to perfection. They had a few sizes available and I think make a great little cook station. Best part - it was 100% wood and there was no clean up needed at all. I would recommend this to anyone who needs a quick solution to cooking for a small size group.

Bottom Line: Yes, I would recommend this to a friend

---

Saved the day

By Brian Oconnor

,

Florida

,

Dec 3, 2015

Overall Experience:

I highly recommend it. It's pricey I guess, but you need NO fluid,1-2 matches if needed. I went to a family cook-out where they had no fluid. I was actually taking this to the Catskills for the weekend and I had bought 2. When I heard they had burgers but no fire I (with reservation) went to my car and got 1 of the Burnie's. I showed them how easy it was to light, just put your grill on top and go. I actually put pieces of brick I found on the rim and it allowed the grill to sit up higher off the direct flame, but it was a hit. I wish it was a little larger size, but it's a great way to cook. Let it burn out. It does only last about 1.5 hours. But I have one left for emergencies. I love it.

Bottom Line: Yes, I would recommend this to a friend

---

Advertisement

---

Not worth it

By janna

,

huntsville , al

,

Jun 24, 2015
Verified Reviewer

Overall Experience:

You're better off gathering you some fire wood and be done with it and it's free.

---

Great idea

By Todd Brown

,

Oxford, NE

,

May 13, 2015

Overall Experience:

This product performed as advertised. We cooked several burgers and hot dogs. Great flavor. Two drawbacks are that a grate to put meat on is needed and the price for a one time use may not be economical.

---

Advertisement

---

Scam victim

By Anonymous

,

Feb 27, 2015

Overall Experience:

They take your money and then not deliver the product. No response from numerous e-mails to customer service. As seen on TV scam.

---