BusyKid Reviews
Claimed This company has claimed this profile, is getting alerted on any new customer reviews entering this page, and may engage in dialogue with its customers to address their matters.

Companies cannot pay money or provide goods in order to remove or alter customer reviews.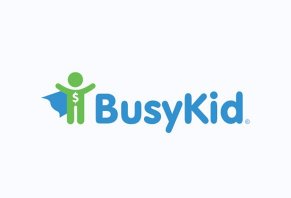 BusyKid claims to provide parents with an easy way to keep track of their kids' chores & pay for them through an easy-to-use online where you can create chores, pay for them and give bonuses.
BusyKid Review: Is It Effective For Your Kids?
BusyKid is a financial app you use to set up chores for your kids and pay them when they do the tasks.
Gregg Murset, a Phoenix-based certified financial planner, told us he launched BusyKid because he wanted kids to exhibit the successful money habits his clients showed.
"My successful clients were successful because they had two characteristics hard-wired into them: work ethic and they were smart with their money," Murset. "I really kind of determined I need to get those two major characteristics into my kids' lives."
That's the philosophy behind BusyKid, he said: building work ethic and financial intelligence.
In our review, we give you our analysis of how this app works and why it may or may not be a good fit for you and your kids.
BusyKid Features
Chores
The app provides pre-set chores and allowance amounts specific to your child's age.
For example, I created an account and within five minutes I set up three chores:
Brush teeth ($0.25)
Brush hair ($0.25)
Pick up toys ($1.00)
You can adjustment the chore's frequency (daily, weekly, monthly) and its allowance, too. Also, you can add chores that aren't listed in the app.
The advantage here is simplicity. Within five minutes, you can create a list of seven or eight weekly chores for your child.
The drawback is that the app works best when your child has a phone, too. If he or she is a toddler, you'll need to create a chore list they can visualize since they don't have the app.
Allowance
Once your child finishes hers or his chores, they can mark the chore completed. Then, on Thursday, BusyKid sends you a text message asking your permission to pay the weeks' chore allowance.
You can choose to make transfers directly from your bank account or a credit card. Bank transfers are free. Credit card transfers cost 2.9% and $0.30 per transfer.
These fees cover the cost of what credit card companies charge BusyKid to process credit card transactions.
BusyKid will distribute the money into the Spend, Save and Share categories based on pre-determined percentages.
The default setting for money distribution is:
Spend: 50%
Save: 40%
Share: 10%
You can change these percentage distributions by going to the main page of your account and clicking "Edit Allocation Settings."
Spending
Once you pay your child, BusyKid holds the money in an FDIC-insured account.
Spend
If your child wants to spend their money, they have two choices: getting cash or loading the money onto a BusyKid prepaid card.
The cash option moves their money from the holding account back into their bank account or your bank account.
The card option requires you to sign up for the prepaid card. It takes seven to 10 business days to arrive. Once you have it, activate it and it's ready for use. Your child will use it as a debit card.
This card is a great way for your child to learn responsible spending habits. Also, you can use the card to prepare your child for using a bank account debit card and credit card.
Leverage the card as a teaching tool: Emphasize the importance of only spending what you have and encourage them to check their balance daily.
Save
BusyKid deposits your child's "Save" money into a Stockpile account, which is a kid-friendly investment platform your child can use to buy stock shares in their favorite companies.
Examples of stocks your child can buy include:
Apple
Facebook
Tesla
Snapchat
Netflix
Nike
Amazon
Google
They can also choose to invest their money in ETF and cryptocurrency, too.
Their Stockpile account is a custodial account, which means you control the account on behalf of your child. Anytime they choose to deposit to Stockpile and make a trade, BusyKid and Stockpile ask you for your permission before they approve the transaction.
The advantage to this option is you get to teach your child about investments through an easy-to-use platform. You can show them the link between working hard, earning money and investing it wisely.
Share
If your child chooses this option, he or she sends a portion of their allowance to any of the 23 charities available on the BusyKid app. Some of these charities include:
American Red Cross
Ronald McDonald House
Special Olympics
Toys for Tots
This feature's drawback is that there are only 23 charities to which your kids can donate. Your child doesn't have the option of donating to local charities, either. If they want to donate locally, they'll need to cash out or send money to their prepaid card and donate that way.
Fees
BusyKid itself is free to use. However, you'll pay a $7.99 yearly fee to pair a BusyKid prepaid card with the app.
A company name Cliq issues the card through BusyKid. They'll charge your child the following fees, per BusyKid's FAQ:
Card-to-card transfers: $1.00
Paper statement: $5.00
New card: $5.00
Declined transaction: $0.50
Transferring money to a bank account from card: $3.00
Also, you'll pay $0.99 per trade your child makes in Stockpile.
If your child uses his or her prepaid card responsibly (no declined transactions), then they won't have to pay any fees.
BusyKid Customer Reviews
You can get a good sense of how well BusyKid can help your child learn about hard work and money management via the reviews the app gets on HighYa and in the Google Play and iTunes stores. We analyzed those reviews to give you perspective on the average user's experience:
Most Common Compliment: App Is Excellent
Many users praised the app for its ease-of-use. They like how easy it is to assign chores, approve chores and send many to Spend, Save and Share accounts. Multiple customers said the app is a great platform for teaching their kids about finances.
Most Common Criticism: Functionality of Old App, Website and Customer Service
The majority of the negative reviews we analyzed focused on poor functionality across the older versions of the BusyKid app, website portal (no longer available) and customer service.
Customers complained that the money transfers between the BusyKid app and bank accounts or prepaid card were cumbersome at times. When they reached out to customer service issues, response time was slow or non-existent.
Review Takeaways
We saw a significant change in reviews after BusyKid launched their new app late in 2019. This tells you that your experience with the app will likely be a positive one because of its improved functionality.
However, you'll most likely face one or two episodes of slow customer service responses if you have issues with the app or money transfers.
Also, the positive reviews about the updated app indicated that you may want to try BusyKid again if you used it previously but stopped because of too many issues.
The Bottom Line: Is BusyKid the Right App for Your Family?
In our opinion, BusyKid's approach to chores and money management options is an excellent tool to teach your kids about the value of hard work and responsible spending.
The default settings for spending, saving and sharing show your children the money they earn is meant for more than just spending. It plays a part in their generosity (charitable giving) as well as their financial future (Stockpile investing).
Also, you can use the app to start conversations with your kids about the importance of work, earning and money management. The sooner you can talk about finances with your kids, the better the chance you can set them up for financial success later in life.
"When you teach a kid early on how the relationship between working and money actually happens," Murset said, "you're inspiring within a kid this drive to be successful."
---
SCAM

By Jenn O.

,

Minnesota

,

May 15, 2020
Verified Reviewer

Overall Experience:

Same as other reviews. I have tried to reach out several times both via phone and email and have not had any returned calls or emails. My daughter's hard-earned money is missing, plus the card was declined with online transactions when she had money in her account so now she has fees to pay. Total crap and just angers me. It worked for about 2 weeks and then they just started stealing our money. My daughter is so disappointed, as am I.

Bottom Line: No, I would not recommend this to a friend

May 15, 2020

We're not sure why you say that you've reached out with no response since we've communicated with you all week and provided written details of where every penny has been sent through the system. As of right now (5/15 at 10:27 pm PT), there is a message we sent you at 10:30 am with no response. Nothing has been stolen, we refunded any fees that were charged due to the card being declined (and would have been normally), and any calls you made were to the card provider, not BusyKid. We deeply apologize for any confusion but as soon as we became aware of the issue, we solved it in about one day. We hope that you'd give us a chance to win you over again now that you see this was nothing more than a misunderstanding.

---

Just downloaded, can't wait to use

By Elizabeth T.

,

Redford, MI

,

Mar 20, 2020
Verified Reviewer

Overall Experience:

I saw the company featured on my local news...I'm so excited to use this. I'm now working from home, due to COVID-19...kids are home and I am taking advantage of this app to help with an adulting class I'm giving them! Great concept! I also operate a Mentoring program, if this works with my boys, I'll introduce this to the girls in my program!

Bottom Line: Yes, I would recommend this to a friend

---

Instructions

By Del B.

,

Vallejo, CA

,

Feb 14, 2020
Verified Reviewer

Overall Experience:

What and where are the instructions on how to set up the program on both parents' and child's phones. I cannot find anything. Tried Google but all I get is the same site that says absolutely nothing.

Bottom Line: No, I would not recommend this to a friend

Feb 14, 2020

So sorry that you're having issues getting the platform set up. Please contact us at help@busykid.com and we'll gladly walk you through the steps until you're satisfied.

---

New app is amazing

By Shelli W.

,

Las Vegas, NV

,

Dec 24, 2019
Verified Reviewer

Overall Experience:

Have been using BusyKid for several years. The new FREE app is amazing. I can see everything the kids are doing. Tried several platforms and this is by far the best of them all especially since there is no subscription fee. Highly recommend.

Bottom Line: Yes, I would recommend this to a friend

---

Advertisement

---

We love BusyKid!

By Cindy S.

,

Arizona

,

Dec 17, 2019
Verified Reviewer

Overall Experience:

We love BusyKid! It is a great service to teach your kids about money. I have been a user for a while now and, BusyKid just updated their app and it is even better than before. I will say that customer service has been great! They always get back to me quickly if I have any questions or concerns about my account.

If you want to get your kids excited for chores, try BusyKid!

Bottom Line: Yes, I would recommend this to a friend

---

Updated review

Update

By Nat F.

,

Raleigh, NC

,

Nov 13, 2019
Verified Reviewer

Overall Experience:

The team did acknowledge the issue, reconciled the balance, and refunded us the proper amount. I believe the concept is great and the kids loved it initially. Hopefully the new version will have minimal frustrations.

Bottom Line: No, I would not recommend this to a friend

Previous review
Nov 6, 2019

Inaccurate

We used BusyKid for over a year. The concept is great and initially we were pleased. Over the last ~6 months, we got locked out of the account for several weeks while they were migrating to a new platform. Once it came back online, we could not reconcile the transactions from our bank account to the balances in BusyKid. We finally canceled the account and cut our losses. To pour salt in the wound, I get an email saying we are going to be charged $24.99 for our account and have 24 hours to respond. We never got any notification that they were going to start charging for the service. Really disappointing and spent way too much time on what was supposed to make my life easier. Going to get debit cards for the kids and print a sheet of paper for chore tracking.

Nov 6, 2019

Nat,

I just sent you an email but I'm sorry our service disappointed you. The migration to our new app hasn't been easy but we should have communicated better. The new app is coming online and it will be free, so there is no $24.99 charge. I believe the message you got was tied to the old system. Still, we have refunded everything you said was in the account and your communication with our team seemed to be good. I wish I could convince you to try this new app since you were once happy with our service. This app is the best we've ever produced and I'd like a chance to show you.

Sincerely,

Mike Prusinski

President

(

read more

read less

...)

---

Beware!

By Stephanie N.

,

West Orange, NJ

,

Oct 23, 2019
Verified Reviewer

Overall Experience:

I signed up for this app for my 13-year-old son. We purchased the BusyKid Visa card for $7.95. For starters, it took forever for the card to arrive. The allowance was supposed to be $10 a week/$5 a week for each of two chores. It worked fine for the first couple of weeks. Then, for some reason, it said that my son's allowance would be $50 a week! I updated it, but it kept reverting back. Then it said it would be $30 a week. I can't fix it and customer service is almost non-existent. I started declining the allowance and just sending the money to my son as a bonus. The last bonus NEVER got credited to the Visa card! So they took his allowance money. Customer service suggested I close the account and try again when they update their app. Absolutely unacceptable! My poor son is so frustrated and so am I!

Bottom Line: No, I would not recommend this to a friend

Oct 23, 2019

Stephanie...I have emailed you to see how we can find a happy solution. We have a brand new app coming online soon which will resolve the issue I believe you're having. My goal is for all members to have a great experience, so I'll do all I can to make it so for you. When we do, I hope you'll update this review. I look forward to hearing from you soon.

Sincerely,

Mike Prusinski

President

---

The worst, better off with a GreenDot Card

By Erica S.

,

Detroit, MI

,

Jul 17, 2019
Verified Reviewer

Overall Experience:

Absolutely no technical support! You have to leave a message for them to decide if they wanna call you back about your issues but take their fees with no hesitation and no issues! Not one live agent M-F to help you with the transactions you've already pushed thru! The app sucks, always glitching, so NO ONE can log in! Don't do it!

Bottom Line: No, I would not recommend this to a friend

Jul 17, 2019

Sorry that you had this experience but we do have agents available every day from 8-8 PT, but if our team failed you, I'd like to find out how. There isn't any issue that can't be fixed and we continue to push updates that are improving our app each time. I hope that we have the chance to show you we support our customers. You can contact me at mp@busykid.com. Thanks.

---

Money not on card

By Tameka P.

,

Texas

,

Mar 19, 2019
Verified Reviewer

Overall Experience:

I tested this out. BusyKid takes money out of your account and never puts it on the card. The reviews are right. I got a text message but funds are just sitting there. Now I'm trying to figure out how to get my funds back.

Bottom Line: No, I would not recommend this to a friend

May 22, 2019

Hopefully by now you have found that BusyKid doesn't put money on the cards, kids do as part of the process. Funds must be loaded onto the Spend Cards before they are used. The system is working fine and we have provided a full page on the website on how it works, but if you need more help, please contact us at support@busykid.com. I hope you'll update this review once you've found success in the system.

---

Beware, fund not on cards!

By Tina B.

,

Atlanta, GA

,

Feb 13, 2019
Verified Reviewer

Overall Experience:

Run from this company! Every "payday" for my children required an email complaint and manual push from BusyKids. I have reported this as a scam/fraud to our bank, the AG, and Consumer Financial Protection Bureau. They link to your bank account, withdraw funds for your kids' allowance and never give it to them unless parents complain, and for our last transaction - still not paid after 6 days. This company is a DE company with an AZ address formerly known as LeapSpring, Inc. and MyJobChart, Inc according to their Form-D filing.

Bottom Line: No, I would not recommend this to a friend

Feb 13, 2019

Tina...I'll also respond to you through email but there is no question we've had issues the past few paydays due to issues with text messages. This is why we are going to push notifications in our new version coming in a few weeks. I reviewed your communication with my team and I believe there is a miscommunication on our part. The conversation appears to be good between both sides but my team member (new to the position) failed to finish the ticket and push the funds manually. We would do that now but you've canceled. We'll need to find another way to get the funds to you. I deeply regret that all this happened, but we'll resolve this to your satisfaction. We maybe going through a few growing pains but we're not a fraud or scam. We'll just need to work harder to prove that point.

Sincerely, Mike Prusinski, President.

---

Gave BusyKid as a gift!

By Robert K.

,

Phoenix, AZ

,

Jan 17, 2019
Verified Reviewer

Overall Experience:

I gifted this app to my niece and nephew for Christmas and my sister hasn't stopped thanking me. The app takes all the hard work of chore charting and paying allowance and combines it on one easy app which is a must for busy parents like my sister and her husband. Their kids are learning the value of hardwork, but also are investing in stocks, giving back to charity, and spending that hard earned money! I will be most definitely be using this in the future for my children! It's a must!

Bottom Line: Yes, I would recommend this to a friend

---