Butterfleye Reviews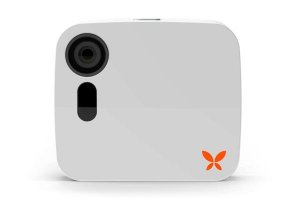 Butterfleye's wireless security camera uses activity-based recording (ABR) to monitor your home, while limiting unwanted notifications or wasting server space.
What Is Butterfleye?
Under development for two years, Butterfleye is a wireless HD camera that promises to help you keep an eye and an ear on anything of value to you, whether for security, as a pet cam, baby monitor, or for elderly care.
We're told all you have to do is download the app, unbox the camera, turn it on, and connect it to the Internet.
In addition to its easy setup, Butterfleye's patented Activity-Based Recording (ABR) technology claims to eliminate false alarms by learning the unique rhythm of your home and realizing when something is out of the ordinary. It can even detect human faces and tell the difference between people and pets.
Once you receive an alert, Butterfleye's smartphone app allows you to instantly see what's going on, and the two-way audio can help you interact with other people or say hello to your pets. You'll also be able to see an interactive news feed of what you missed—if anything—when you were gone.
Even if Butterfleye represents a "whole new way to experience and interact with your phone," does this necessarily mean you'll get a lot for your money with Butterfleye? And is it really the world's most intelligent camera?
Here, we'll answer your most important ones as quickly—but as thoroughly—as possible.
Butterfleye Specs: What Is Activity-Based Recording?
About the size of a bar of soap, Butterfleye's wireless camera features a 95° field of view, connects to your Wi-Fi (minimum 1 Mbps download and 1 Mbps upload speeds), streams 1920 x 1080 HD video via LAN/WAN, and features quarterly over-the-air hardware updates.
When not connected, Butterfleye can record up to 12 hours of footage internally and can even connect with your smartphone without a signal. Then, once a Wi-Fi connection is made, Butterfleye will upload the footage, allowing you to bring it with you anywhere you go.
Note: While Butterfleye claims to feature "emphasized low-light performance," keep in mind that this isn't the same as true night vision.
On top of Butterfleye, you'll find a multi-colored LED that can provide key information at a glance, such as blue blink (video recording), red continuous blink (the li-ion battery is 20% or lower), and amber continuous blink (Internet not available).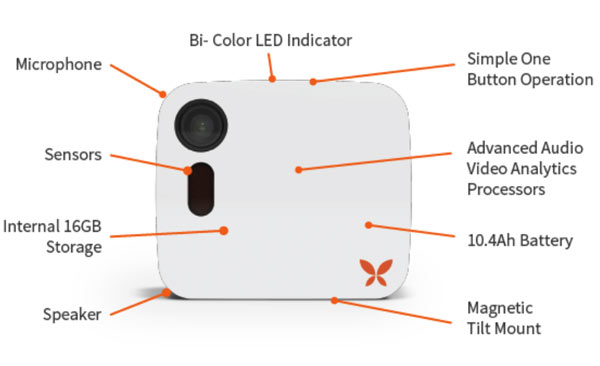 In addition to its unique activity-based recording, Butterfleye implements many of the must-have features for any security camera. Image credit: Butterfleye, Inc.
The company tells us that the number one complaint about the average security camera is false alarms, which is where Butterfleye's patented activity-based recording claims to help.
Instead of recording constantly, Butterfleye's ABR only records when human—and pet—sounds or movements are detected, which allows it to save power and bandwidth. It also means you won't have to spend hours scrolling through footage just to locate a specific moment.
Compared to many other activity-based systems, though, Butterfleye isn't fooled by changing light in the room, trees moving in the background, or wind blowing through the room.
How Does the Butterfleye App Work?
After unboxing your camera, you'll need to download the Butterfleye iOS or Android app, turn on the camera, and connect it to the Internet.
Then, whenever an event is triggered by Butterfleye's ABR, you'll automatically receive a notification through the app, and the video will be uploaded to the cloud.
Important note: As of 2/27/17, Butterfleye's Android app was still under development. This means that you'll currently need an iPhone or iPad to operate the security camera.
Another important consideration is that, while Butterfleye records in HD, the actual video you see on your smartphone is connection-dependent. In other words, if your connection isn't optimal, your video could suffer from graininess and pixelation.
All video activity is uploaded to the cloud and viewable in 24-hour, 7-day, and 30-day timelines. In landscape mode, can also take a photo of the live stream, take shorter video clips, and enjoy two-way audio through the camera.
In this video, founder Ben Nader walks you through the app's basic functionality. It's well worth a couple of minutes of your time:
How much will Butterfleye's technology and ease of use cost you?
How Much Does Butterfleye Cost?
Butterfleye is currently only available for pre-order, with an estimated shipping date in March 2017:
1 Unit (small apartment/home) - $220
3 Units (small business/large home) - $547
According to the most recent update on their Indiegogo campaign, the company has shipped all Butterfleye pre-orders made through August 2015, while September 2015 to present are in progress.
12 hours of cloud recording space (records in 12-hour loops) is free with your purchase, while you'll need to pay $4.99 per month for more time, or to connect an unlimited number of cameras.
All Butterfleye purchases come with a 30-day refund policy (from the date you receive it), less S&H, along with a two-year warranty against defects in materials and workmanship. To request either, support can be reached at info@getbutterfleye.com.
Can We Learn Anything From Butterfleye's Pre-Release Reviews?
Butterfleye got its start through a 215 Indiegogo campaign, where the fledgling company pulled in more than $600K, based on an original goal of just $100K.
While there seems to have been some delay in their initial shipping date, the fact that many units have already been sent means you'll have much less of a chance of experiencing common problems with crowdfunding campaigns.
Butterfleye Inc., based out of San Mateo, CA, was founded by CEO Ben Nader. Prior to founding the company, Ben worked extensively with video for companies like Texas Instruments, Maxim Integrated products, and the Intel Corporation.
17 customers who already received their Butterfleye cameras had provided feedback on Amazon at the time of our research, giving it an average rating of 4.2 stars.
There, most compliments seemed to reference ease of setup and use, product/image quality, effective motion detection, and helpful customer service.
On the other hand, all complaints referenced the app; whether limited functionality, bugs, or no current Android support. Also, one reviewer noted that Butterfleye "can send out quite a bit of data," which might be "something to watch if you've got data caps."
We also found one review for the iOS on iTunes, which gave the app three stars and referenced inability to turn off notifications.
How does this feedback compare to other security cameras?
Butterfleye vs. Dropcam vs. Blink & Other Security Cameras
Type the phrase "wireless security camera" into your favorite search engine, and you'll quickly learn that you have dozens of solid choices, many of which the HighYa team has reviewed. Here, we've compared key factors for some of the most popular models:
| | Angee | Blink | Butterfleye | Canary | Nest Dropcam | Piper |
| --- | --- | --- | --- | --- | --- | --- |
| Price | $279 | $99-349 | $220-547 | $379-569 | $200 | $280 |
| Resolution | 1080p, 360° rotation | 720p, 90° angle | 1080p, 95° angle | 1080p, 147° angle | 1080p, 130° angle | 1080p, 180° angle |
| Night Vision | No | No | No | Yes | Yes | Yes |
| Video Storage/Access | Cloud | Cloud | Cloud | Cloud | Cloud | Cloud |
| Home Automation | No | No | Yes (only Amazon Echo) | No | Links with other Nest products | Z-Wave |
| Security Alerts | Smartphone, tablet, watch | Smartphone | Smartphone | Smartphone | Smartphone | Smartphone |
When browsing these options, you'll find that—other than recording video—there can be a wide difference in features between two security cameras, although there can also be a lot of similarities.
For example, we can see that all of these security cameras record in high-definition (720p or 1080p), send automatic security alerts, feature motion detection and two-way audio, and automatically save recorded video. Some, like Canary, also learn and adapt.
Given this, what meaningful differences should you look for?
Obviously, cost is going to be a factor, and some models cost three-times as much as the competition. But it's also important to focus on what you'll be getting for your money:
Is the camera's viewing angle wide enough, depending on where you plan to place it?
Does it offer true night vision, or does the camera use bright LEDs that might alert an intruder to its presence?
Do you need your camera to integrate with other security or home automation devices? What about a built-in siren, or automatically alerting the authorities?
Do you need the ability to remotely pan, tilt, or zoom the camera?
Do you also need to monitor the exterior of your home? Some, like Nest, feature fully integrated outdoor security cameras.
How long to you need the battery to last? Some models can last 2+ years.
The Bottom Line About the Butterfleye Security Camera
Based on what we just discussed, you can clearly see that whether or not Butterfleye is the right security camera for you largely depends on your specific needs.
At $220 for a single camera (if you purchase more you'll receive a greater price break), Butterfleye seems to be priced in line with much of its competition. Its learning capability also seems to be relatively unique—although not necessarily exclusive.
On the other hand, Butterfleye features one of the narrowest viewing angles, which could be problematic depending on the size of the room you're looking to monitor. It will also only record 12 hours of video for free, so you'll almost certainly need to pay $4.99 per month, or about $60 per year, for the additional cloud storage.
As far as Butterfleye's claim that scrolling through footage is one of the top customer complaints? The company doesn't reference anything on their site and we didn't confirm this claim through a third-party source.
However, we spoke with Nick Picklo of Picklo Digital Homes, who informed us that having to sort through hours of footage is a fairly rare occurrence. In fact, in his years of experience, he told us he's only had to do it a couple of times.
So, if this is your main concern, you might want to keep in mind that a) you probably won't have to do it often, and b) there are several other options that also feature motion-activate recording, short video segments, and learning capabilities.
As long as Butterfleye ships on time, though, you should have yours in hand sometime in March. And if you're not satisfied, you'll have 30 days to test it out before requesting a refund.
1 out 1 people found this review helpful

Scam artists

The main complaint on their comments page is that the camera has not been received. I did get mine but wish I hadn't. If you have not yet received your device, I would suggest that you just ask for a refund. It does not do what was promised in the original campaign. To get what you ordered you are going to have to pay a monthly subscription. This campaign has been nothing but smoke and mirrors. Nothing but lies and promises. Scam artists.

Bottom Line: No, I would not recommend this to a friend

---

5 out 6 people found this review helpful

No Android app!

Useless! Without an Android app, it is a very expensive paper weight.

Bottom Line: No, I would not recommend this to a friend

---

Advertisement

---