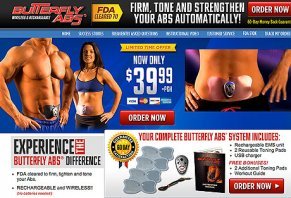 About Butterfly Abs
Butterfly Abs highlights the fact that its small electronic device has been cleared by the FDA and they promise it will give you the washboard abs of your dreams. They boast it is rechargeable, wireless, and when attached to your belly, will send electric pulses to your mid-section that will firm, tone, and strengthen.
Butterfly Abs is brought to you Inventel, a direct marketing firm that sells spray-on sealers, bluetooth speakers, and hair-restoring sprays, to name a few. Although their website is fully functional and Butterfly Abs appears to be its latest product, the BBB believes this company is out of business and has no rating or accreditation.
How the Butterfly Abs Works
It's not called "Butterfly Abs" because it gives the abs of a butterfly – no, it actually LOOKS like a cyborg butterfly has landed on your tummy. There is the main unit which delivers its pulse, attached using sticky butterfly-shaped "toning" pads they say are reusable for up to 30 sessions.
They say the "secret" to Butterfly Abs is its "FDA-cleared" Electric Muscle Stimulation (EMS) technology which they claim sends ripples of soothing electronic pulses to the ab muscles, causing them to contract and relax; they claim this "exercises" the abs.
To use Butterfly Abs, they say to charge the EMS unit, attach to the pad as directed, remove the plastic shield, and place the entire unit on the center of the abdominal area. They add, you can also place in other areas to "target" the muscles, like the obliques or lower abs.
Press the button which turns the unit on, and select from 6 programs (from Warm-Up/Beginner to Expert Iron Man) which they claim will determine the repetition and pulse length of the EMS signal. Then adjust the level of intensity from 1 to 10. (They recommend starting at a low level and working your way up.)
Then, watch as your muscles ostensibly twitch themselves firm (or place under your clothing to do it on the DL.) They say you can go about your day while the Butterfly Ab system does its thing.
Butterfly Abs includes:
Butterfly Abs rechargeable EMS unit
4 reusable, washable toning pads
USB charger
Workout guide
60-day guarantee
Butterfly Abs Pricing, Shipping, and Returns
Butterfly Abs sells for $39.99 plus $9.95 shipping for a total of $49.94. At the time of your order, you can purchase an additional Butterfly Abs system and they will eliminate the processing charges on your entire order. They say you have 60 days to try the device, and if you don't like it, ship it back (on your dime) and they will refund the unit price, but not the shipping (if applicable).
Bottom Line: Is Butterfly Abs a Scam?
Here are some important things to know. EMS technology has been shown to help strengthen muscles after patients have had a debilitating stroke or surgery. Doctors sometimes use them to help with muscle spasms and prevention of atrophy. There is no medical proof taht EMS Technology will give you washboard abs.
In addition, while this unit may boast that it has been "FDA-cleared" that is very different from "FDA-approved" which must pass more stringent guidelines.
In other words, this device has no proven benefits, but might make for a fun party trick to amuse your friends if you have some money to burn.
1 out 1 people found this review helpful

Horrible! Don't buy.

By

Holly

,

Butte, MT

,

Oct 26, 2017
Verified Reviewer

I ordered this out of curiosity. It took 5 weeks to ship to me. Five weeks! Then I get it, open the package and see no battery in it, and nowhere in the one-piece manual does it say what kind of battery it takes! Absolute garbage and a ripoff.

Bottom Line: No, I would not recommend this to a friend

---

5 out 5 people found this review helpful

Total ripoff

By

John Altes

,

Stockton, CA

,

Feb 26, 2016
Verified Reviewer

This is a complete scam. I placed my order eight weeks ago and still nothing. This morning I called the number given in my confirmation email and I was told I never placed an order. Needless to say, I was very upset and gave the person answering phones (who could not understand nor speak English) my order number and I was hung up on. My debit card was charged and I was sent an email confirming my order but they say no order was placed. Complete scam, stay away!

Bottom Line: No, I would not recommend this to a friend

---

Advertisement

---

12 out 14 people found this review helpful

There is no customer service contact

By

Mallory

,

Virginia

,

Jun 28, 2015

I didn't expect this item to work as pictured in the videos, but I thought I'd give it a try and at least get a massage. However, I never received my order. There is no customer service contact information on the website. If you click on "Return Policy" it will tell you to send your item back to the address listed, however there is no address it is a blank page. I would have wasted money on this product if I hadn't bought the InsureShip insurance, and I'm still waiting to see if the check they sent me goes through. You probably won't get the chance to use butterfly abs, because no one is really going to send you your order.

Bottom Line: No, I would not recommend this to a friend

---

12 out 16 people found this review helpful

Great Product!

By

Kathy

,

Tunkhannock, PA

,

May 16, 2014

I exercise on a daily basis. I have a hard time getting the lower abs completely flat. I have been using this for only a week, a few times a day & my lower abs are getting tighter. I also work my abs quite a bit, however I haven't seen the results I would like, so adding this really helps. I do not think anybody should review this product in a negative way until they actually try it. It isn't going to do all the work for you. You need to do your part with good diet & exercise.

Bottom Line: Yes, I would recommend this to a friend

---

Advertisement

---