C E Ferulic Reviews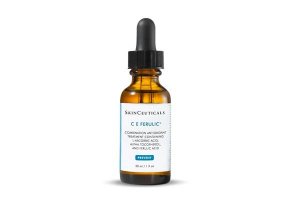 SkinCeuticals' C E Ferulic anti-aging serum claims to help fight free radical damage and wrinkles using a blend of vitamin C, vitamin E, and ferulic acid.
What Is SkinCeuticals C E Ferulic?
Formulated by SkinCeuticals, C E Ferulic is a daytime antioxidant serum that combines l-ascorbic acid, alpha tocopherol, and ferulic acid to help improve the appearance of lines and wrinkles, brighten skin, and address the loss of firmness.
Specifically, the company tells us the serum accomplishes this by neutralizing damaging free radicals on the upper layer of the skin, whether caused by UVA/UVB rays, infrared radiation, or ozone pollution, which can lead to premature signs of photodamage and atmospheric aging.
And once absorbed by the skin, the website claims these benefits can persist for a minimum of 72 hours. They even tell us that it's ideal for normal, dry, and sensitive skin types, and has been tested suitable for use following laser skin treatments.
In the morning, after cleansing and toning but before using other anti-aging products, you'll apply four to drops of C E Ferulic to your dry face, neck, and chest. Then, complete your beauty regimen with a broad-spectrum sunscreen.
The potential anti-aging benefits provided by vitamin C are well known, which is why you'll find thousands of different anti-aging formulations that contain the ingredient. But do C E Ferulic's other ingredients justify the meaningfully higher price? In other words, will it deliver better results (and consequently, value) for the money?
You're here for some answers, so let's dive right into the discussion by unpacking a few key terms used on the serum's website.
What Do Radiation, Free Radicals, & Aging Skin Have in Common?
Rice University tells us that a free radical forms when an oxygen molecule interacts with certain other molecules, causing them to lose an electron. Once this occurs, the molecule will seek out other molecules to steal one of their electrons and 'balance' itself.
This sets off a chain reaction that can eventually lead to cell membrane and DNA damage. As such, Christopher Wanjek, Live Science's Bad Medicine columnist, tells us that free radicals have been "associated with human disease, including cancer, atherosclerosis, Alzheimer's disease, Parkinson's disease, and many others. They also may have a link to aging, which has been defined as a gradual accumulation of free-radical damage."
While free radicals can cause serious damage to the body, it's important to point out that according to Stanford University, "Free radicals are natural by-products of ongoing biochemical reactions in the body, including ordinary metabolic processes and immune system responses." In other words, there's no avoiding them.
However, there are many other factors that you can control to minimize your exposure to free radicals, including avoiding fried foods, alcohol, tobacco smoke, and pesticides. And, as mentioned on the C E Ferulic website, you should avoid excessive (and unprotected) exposure to the sun and the UVA/UVB radiation it contains, which can cause photodamage, as well as ozone pollution that can lead to atmospheric aging.
The body's natural defense against free radicals is something called antioxidants, which "are molecules which can safely interact with free radicals and terminate the chain reaction before vital molecules are damaged," according to Rice.
Principle micronutrient antioxidants include vitamin E, beta-carotene, and vitamin C. Are any of these found in C E Ferulic?
Taking a Closer Look at C E Ferulic's Ingredients
According to the label posted on Amazon, C E Ferulic contains the following ingredients:
Aqua (Water), Ethoxydiglycol, 15% L-Ascorbic Acid, Propylene Glycol, Glycerin, Laureth-23, 1% Alpha Tocopherol, Phenoxyethanol, Triethanolamine, 0.5% Ferulic Acid, Panthenol, Sodium Hyaluronate.
Ascorbic acid (vitamin C) is one of the antioxidants mentioned earlier, so sites like the Natural Medicines Database, WebMD, and Examine.com indicate that a solution containing 5-10 percent of the ingredient could help protect against skin inflammation after exposure to ultraviolet (UV) radiation—but only when combined with vitamin E.
Speaking of which, How Stuff Works' Tom Scheve tells us that the topical application of alpha tocopherol (a type of vitamin E) can help repair dry, cracked skin, improve moisture retention, protect against UVB damage from the sun, and of course, provide antioxidant capabilities.
Panthenol is a version of vitamin B5 that attracts and holds water, so it's often featured in cosmetics as a moisturizer and lubricating compound.
Similarly, Truth In Aging tells us that sodium hyaluronate "has a smaller molecular [than hyaluronic acid] (making it especially penetrative), and is able to hold more water than any other natural substance—up to 1,000 times its weight in water."
The remainder of C E Ferulic's ingredients acts as solvents to decrease viscosity (ethoxydiglycol), skin conditioning agent that draw water to the skin (propylene glycol and glycerin), cleansing agents (laureth-23), preservatives (phenoxyethanol), and pH adjusters (triethanolamine).
Is C E Ferulic Clinically Studied?
Dr. Sheldon R. Pinnell is SkinCeuticals' founding scientist, who (among many other things) patented a method of delivering vitamin C to the skin, which is formally known as the Duke Antioxidant patent. The company's website describes it this way:
"In order for a vitamin C serum to be effective, it must be formulated with pure l-ascorbic acid (vitamin C) at an acidic pH within the 2.0-3.5 pH range and have a concentration between 10-20%. SkinCeuticals is the only brand to formulate antioxidants according to these parameters."
In addition to its use of the Duke Antioxidant patent, the serum's website indicates that C E Ferulic has been published in eight peer-reviewed scientific journals, although searching the National Institutes of Health's PubMed for a variety of related terms didn't return any results at the time of our research.
Obviously, this doesn't mean that these studies don't exist—only that we weren't able to locate them using related third-party online resources.
However, searching Google for "C E Ferulic scientific journal" returned a 2013 study completed by a team specializing in a variety of medical areas, titled "Differential Effects of Topical Vitamin E and C E Ferulic® Treatments on Ultraviolet Light B-Induced Cutaneous Tumor Development in Skh-1 Mice."
In it, they found that "topically treating female Skh-1 hairless mice with C E Ferulic for 15 weeks after 10 weeks of UVB exposure decreased tumor number and burden and suppressed the formation of malignant tumors."
Granted, we're not medical professionals. But while this study might have shown the ability of the serum's antioxidants to decrease tumor formation, we're not sure it necessarily supports the anti-aging claims.
Will C E Ferulic Cause Any Side Effects?
The Natural Medicines Database, Examine.com, and WebMD indicated that in most instances, consumers won't experience any side effects from the topical application of these ingredients.
However, if you have especially sensitive skin, some surfactants can cause dryness and irritation, while emollients like propylene glycol might lead to burning, stinging, redness, or irritation (no specific circumstances or dosages were mentioned). This is why it's always important to discuss any new skincare product with your doctor before applying it to your skin.
How Much Does C E Ferulic Cost?
On third-party websites, we found C E Ferulic bottles ranging in size between 30 ml (1 fl oz) and 55 ml (1.9 fl oz), and priced between $100 and $220.
Directly through SkinCeuticals, the price was $165 for 30 ml.
While third-party refund policies varied, the manufacturer offered a 90-day satisfaction guarantee on C E Ferulic purchases, including complimentary return shipping, as long as you provide the original packaging and packing slip.
To request one, support can be reached at 800-771-9489.
What Can We Learn From Online C E Ferulic Reviews?
Based on some of the press releases we encountered during our research, C E Ferulic appears to have been on the market since 2015, so there was a fair amount of online customer feedback available.
On the SkinCeuticals website, the serum had 85 customer reviews and an average rating of five stars. There, compliments seemed to primarily reference improved skin quality (smoothness, moisturization, appearance, etc.), reduced appearance of fine lines and wrinkles, and that it was worth the price.
Across more than 1,100 reviews on sites like Amazon, DermStore.com, and SkinStore.com, C E Ferulic had a similar average rating somewhere near five stars, with many of the same compliments found on the manufacturer's website.
What few complaints there were frequently related to no results, high price, and side effects (rash, clogged pores, dried skin, etc.). However, multiple customers who reported side effects also noted that it wasn't the same product they were used to, although we have no way to verify these claims.
Allure's Jillian Mackenzie didn't seem to appreciate C E Ferulic's smell, although she did like that the scent faded quickly. "It leaves a slightly sticky film until you apply moisturizer or sunscreen on top," she also noted.
Despite this, she had nothing but positive things to say about the serum: "This is one of the most popular fountains of youth … it contains multiple potent antioxidants (dermatologists say to always look for blends) to help prevent wrinkles and sun damage and help fade dark spots."
"Not only has it won our Best of Beauty Award three times but it might be the most-valued product among the over-35 set in the Allure office; one editor with sensitive skin has been using it for more years than she can count and says she consistently gets compliments about her bright, even, glowing skin," she concluded.
Does C E Ferulic Have Any Competition?
While we didn't encounter anything with the exact same formulation as SkinCeuticals' C E Ferulic, we did find several other topical serums that combined its three main ingredients: vitamin C, vitamin E, and ferulic acid, in a 1 fl. oz. solution.
After a Google Shopping search for the term "vitamin A C ferulic acid," these included:
DermaDoctor Kakadu C: $57
Timeless Skin Care 20% Vitamin C Serum: $17
InstaNatural Vitamin C Serum: $18
CE A Ferulic Serum: $39
Ferulic Acid Serum with Vitamin C + E: $20
How to choose the right one for you? And perhaps more importantly, how to select the option that will deliver the most bang for your buck?
In My Awesome Beauty's Complete Guide to Vitamin C Serums, they recommend that you completely avoid these products if you suffer from rosacea, and that you maintain a critical eye when comparing no-name brands found on marketplaces like Amazon.
In other words, we're told that you often get what you pay for. However, they tested several options during their research that came close to the results provided by C E Ferulic, but sometimes at a much lower price.
Furthermore, they noted that some were better for certain skin types and less irritating than C E Ferulic, while others tended to clog pores due to the presence of silicone.
What does all this mean for you? Just like any other beauty product, whether or not C E Ferulic delivers a lot of value largely depends on your skin type, your preferences, and your budget. And to help you make the most informed, science-based decision possible within these parameters, we think it's important to talk with your dermatologist before applying any new product to your skin.
Our Final Thoughts About C E Ferulic
While Truth In Aging outlined that a product used to exist with the exact same formulation as C E Ferulic—but with a $40 price tag, we didn't encounter anything identical during our research. And we certainly didn't come across any other products that implemented Dr. Pinnell's Duke Antioxidant patent.
Although we didn't test the product ourselves, C E Ferulic seemed to come with almost universally positive feedback from online customers, despite the fact that it was priced more than five times higher than some of the vitamin C-vitamin A-ferulic acid competition.
Will it give you five times better results? While it's always a good idea to keep your expectations realistic, there's simply no way to know without giving it a try.
Unlike much of the competition, though, SkinCeuticals offers a 90-day refund policy on all C E Ferulic purchases, and will even pay for return shipping as long as you still have the original packaging and packing slip. In short, it doesn't seem like you have a lot to lose, as long as the relatively steep price is within your budget.
Next, be sure to learn about the 19 cardinal rules for wrinkle prevention.