SkinCeuticals C E Ferulic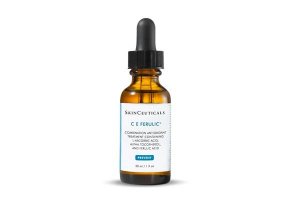 SkinCeuticals' C E Ferulic anti-aging serum claims to help fight free radical damage and wrinkles using a blend of vitamin C, vitamin E, and ferulic acid.
C E Ferulic Review: Ingredients, Effectiveness, and More
C E Ferulic is a vitamin C serum that promises to protect your skin from environmental damage and improve its appearance by brightening your complexion and minimizing the visibility of fine lines, wrinkles, and a loss of firmness.
The product claims to contain a synergistic combination of antioxidants that consists of 15% L-ascorbic acid (vitamin C), 1% alpha tocopherol (vitamin E), and 0.5% ferulic acid. It's the goal of using these ingredients to protect your skin from damage caused by free radicals to slow down the signs of aging on your skin due to pollution, poor lifestyle choices, and sun damage.
This serum comes from SkinCeuticals, a U.S.-based skincare company established in 1994. Founder Dr. Sheldon Pinnell's decades of research on the benefits of antioxidants provided the foundation for the brand's clinical skincare line, which they claim corrects the signs of aging and protects healthy skin.
Today, SkinCeuticals states that their products are used by dermatologists, plastic surgeons, and within medi-spas to help people achieve their best skin. But does C E Ferulic live up to the hype? We'll look through the facts in this article.
How to Use SkinCeuticals C E Ferulic
We learned from the company that you have the best chance of improving your skin tone if you use C E Ferulic daily. They suggest applying 4-5 drops of the serum to your clean and dry face, neck, and décolletage. Next, gently rub the product in and use other skincare products as normal.
Many reviews we read online report that the C E Ferulic has a slightly smoky scent that fades quickly after application and that it can leave a slightly sticky residue that doesn't disappear unless you apply another product on top. For best results, SkinCeuticals recommend pairing the serum with their sunscreen for broader protection against the causes of aging.
Regarding shelf life, the company states that L-ascorbic acid should last for up to six months after opening and more than 36 months unopened. The serum may discolor slightly over time, but this shouldn't affect its effectiveness.
How Does C E Ferulic Work?
The SkinCeuticals website states that the secret to C E Ferulic's effectiveness is its combination of two potent antioxidants formulated to give your body optimal benefits. But what role do antioxidants play in skin health?
We learned from Healthline that antioxidants protect you from free radicals that create damage deep within your skin. While sunscreens shield your skin from sun damage, antioxidants work at a deeper level to prevent damage from radiation, pollution, and even smoking and drinking.
Per the product website, L-ascorbic acid is a potent form of vitamin C with a complex structure that makes it a struggle for your skin to absorb. That's why SkinCeuticals blends it with vitamin E and ferulic acid; they claim the resulting serum allows for better absorption and more noticeable results.
They state that the serum stays effective for a minimum of 72 hours once your skin absorbs it and that it works best with for normal, sensitive, and dry skin types (those with oily skin may want to look elsewhere). The company has patented its proprietary blend under the Duke Antioxidant patent, meaning that they are the only brand offering this specific formulation.
Does C E Ferulic work as promised? The product website highlights its clinical studies to show it does. According to their self-reported results, a 2013 16-week study involving fifty adults between forty and sixty revealed that the specific combination of antioxidants contained in the serum provided superior results compared to those tested with individual antioxidants.
The test group's results highlighted a statistically significant reduction in wrinkles and improvements for skin brightness and firmness.
What Ingredients Are in C E Ferulic?
The company website claims that their serum contains only pharmaceutical-grade ingredients and that the company follows medical-grade formulation standards to produce small batches of product in conditions that ensure optimal results.
Below are the C E Ferulic active ingredients and their primary benefits. Unless otherwise stated, our research came from ConsumerLab.com, a leading provider of independent test results for health and nutrition products.
15% L-ascorbic acid: As a highly potent form of pure vitamin C, L-ascorbic acid works to protect against oxidative stress and neutralize free radicals. There is preliminary evidence that applying the compound topically can improve the appearance of aging or sun damaged skin, and that pairing it with vitamin E might help protect the skin against future sun damage.

1% alpha tocopherol: Considered a pure form of vitamin E, this antioxidant acts synergistically with vitamin C to prevent free radical damage and replenish skin lipids. When applied topically, alpha-tocopherol can nourish the skin and shows some potential for preventing sunburns.

.5% ferulic acid: This plant-based antioxidant can enhance the effectiveness of other antioxidants, especially vitamins C and E. According to Healthline, it's often added to skin serums to improve the skin protection benefits from UV rays, slow down vitamin C degradation and prolong the product's shelf life.
The C E Ferulic serum contains several other ingredients that act as stabilizers and conditioning agents. A few caught our eye for having potentially harmful side effects, including propylene glycol, laureth-23, phenoxyethanol, and triethanolamine.
According to the Environmental Working Group cosmetic database, these ingredients can act as skin irritants, and a few may potentially cause organ problems at high concentrations.
Saying that, these ingredients make up a small fraction of the formulation, and the company suggests using five drops or fewer of the serum each day. For that reason, we think your risk of suffering adverse side effects is low unless you have sensitive skin.
What Does SkinCeuticals C E Ferulic Cost and Where Can You Buy It?
At the time of writing, SkinCeuticals products like E C Ferulic are only sold through the company website and select distributors (search for local options here) that included authorized dermatologists, medical spas, and online retailers like dermstore.com, lovelyskin.com, and others. A comprehensive list of authorized online retailers can be found here.
Notably, the company states that many unauthorized retailers claim to sell their products, including Amazon. These products are often counterfeit and should be avoided because they won't contain the proprietary ingredients found within genuine C E Ferulic.
While the serum's price might vary based on your supplier, we found it available on the company website for $166 per 1-ounce bottle, plus $5 for standard ground shipping.
Regarding returns, the company allows a full refund if you return the product in its original packaging and packing slip within thirty days of purchase.
The company will pay for return shipping costs, and you can call customer service at 1-800-771-9489 to receive a Return Authorization Number. Note that this return policy only accommodates products bought directly from C E Ferulic, not an outside retailer.
Analysis of C E Ferulic Customer Reviews
SkinCeuticals reviewers score the serum at 4.6 stars, with the majority of customers awarding it a full five stars.
Within these reviews, many people reported that they were skeptical the serum would work as promised, and several complained that the smoky scent smelled like hotdog water. Others thought the price was too high for a skincare product, but few seemed upset about the results.
For example, we read dozens of reviews from customers who reported that their skin was softer, more luminous, and younger looking within weeks of use. Many said that friends and family were commenting on the difference in their appearance and wanted to know their secret.
The most common negative comments we noticed about its effectiveness was that a few people reported the serum left their skin feeling greasy and caused them to break out.
The reviews on DermStore.com were similarly positive and averaged a near perfect 5/5 stars.
At the time of publishing, multiple vendors sold C E Ferulic on Amazon, with ratings averaging between 2.5 and 4.2 stars.
We read a number of negative reviewers indicate that they suspect they received a counterfeit product the likes of which we mentioned earlier. If you want to buy CE Ferulic, we suggest using only the sites included in the authorized retailer list we linked to in the previous section.
Bottom Line
C E Ferulic brands itself as a potent anti-aging skin serum that relies on impressively positive customer experiences to keep people coming back. The online reviews demonstrate that the majority of the serum users are impressed with the results for their skin and believe it lives up to its promises.
Likewise, the scientific research we read on ConsumerLab validates the use of topical vitamin C and E for skincare benefits, especially in regards to sun damage.
The most significant concerns are related to the serum's smell and its high price tag. You'll pay more than $160 per ounce for the product, and lower prices are likely a sign of counterfeit merchandise.
Likewise, the serum will only last about six months once opened, so an annual supply will run you $325 at minimum. If that's more than you want to pay for one type of skincare product, we suggest looking elsewhere.
This has been a staple of my skincare routine for decades

By Terri S.

,

Alabama

,

Feb 18, 2020
Verified Reviewer

Overall Experience:

I began using a Vitamin C serum in my 30's. As soon as SkinCeuticals formed and hit the market with their serum, I followed. I am now 61 and my skin is taunt, firm, and flawless (and when in my teens I would NEVER have said that). I have had no lifts, but have only good products such as SkinCeuticals and Skin Medica for over 30 years. I trust the company and their products. Yes, they are pricey, and they do have odors that are not pleasant at first. But I have found purchasing $500-$1000 of products each year to help keep my skin looking healthy and vibrant is worth it if I can age and look healthy and well. And I bought a small countertop cooler/refrig for my bathroom where I store my expensive potions. Keeps them fresher longer, and in the summer the products feel amazing going on my skin.

SkinCeuticals C E Ferulic is definitely a must-have for me (but they do offer other blends if this one isn't right for your skin type).

Bottom Line: Yes, I would recommend this to a friend

---

Advertisement

---