Cairn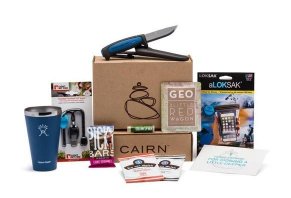 Cairn is an outdoor gear subscription company that claims to hook you up with new and noteworthy apparel and merchandise for your next wilderness adventure.
Cairn Review: Does It Provide Enough Value?
Designed for outdoor enthusiasts, Cairn is a discovery subscription service that promises to provide you with innovative camping, hiking, and other recreational gear on a monthly or quarterly basis.
The Cairn company website tells us that the brand began in 2014 and that it has collaborated with over 200 brands to ship out more than two million products since then. The company focuses on fostering connections with small, U.S.-based businesses whenever possible so that subscribers can discover new favorite brands.
Will you get an outdoor gear bargain when you commit to Cairn or are there better subscription services to consider? Let's look at the facts to find out.
How Does Cairn Work?
At the time of writing, Cairn offered two subscription service options: a standard box delivered monthly and a premium 'Obsidian' box provided four times a year.
Monthly members will receive between 3-6 products in each box that have a combined value up to $50, while the quarterly Obsidian deliveries contain 5-10 premium products that are worth $350 or more.
While it's kept a surprise what you'll receive in each Cairn box, the company lets you fill out a subscriber profile to share information about the kinds of products that most appeal to you.
In your profile, you can specify your favorite outdoor activities, your apparel and accessory sizes, food and drink preferences, and whether you have a pet who also needs gear.
Once you receive your gear, you can earn points for reviewing it online that can be redeemed in the online Cairn Shop for bonus boxes, gift subscriptions, and apparel.
Completing your profile or leaving product feedback earns you 25 point. Prizes like a Cairn hat or bonus subscription box start at 250 points.
What Do You Receive from a Cairn Subscription?
Though Cairn won't share what you'll receive in your subscription box ahead of time, they promise that you'll receive a range of apparel, gear, food and energy products, skin care items, and emergency preparedness kits that match your preferences as much as possible.
The company states that they deliver identical boxes to all subscribers some months, but that they most often release multiple versions of the same one to accommodate different activity and dietary preferences. Likewise, the company states that they strive to ensure that long-term subscribers don't receive the same items twice.
While each delivery will be different, here is a sample of past original and Obsidian boxes, as reported by Hello Subscription:
Original Box September 2018:
LuminAID Packlite Maax 2-in-1 Phone Charger
Ursa Major 4-in-1 Essential Face Wipes
Joshua Tree SPF 15 Lip Balm
Original Box October 2018:
Cloudline ¼ Top Running Socks
Croakies Arc Endless Glasses Strap
Joshua Tree After-Sport Recovery Lotion
Picky Bars Blueberry Boomdizzle Vegan Protein Bar
Original Box December 2018:
Clif Energy Granola (Blueberry Crisp)
Noso Patch Gear Repair Kit
Coal X Pow Polyana Beanie
Cairn Obsidian Fall 2018:
Lonely Planet Epic Hikes of the World Book
Black Diamond Stretch Rain Shell
Osprey Duffel Bag
Clif Bar Pack
Matador FlatPak Toiletry Bottle
All Cairn subscribers are automatically entered into the company's Monthly Adventures Upgrades program, which gives them a chance to win extra prizes from top brands. The winners are revealed on Facebook and Instagram each month.
What Does Cairn Cost?
As with many subscription companies, the monthly cost for a Cairn box depends on the length of service you commit to.
At the time of writing, a subscription cost $29.95 for a month-to-month membership, $28.25 per month for a six-month subscription ($169.50 total) and $27.45 per month for an annual subscription ($329.40 total). All Obsidian quarterly deliveries cost $249.95.
The Cairn company website tells us that all subscriptions renew automatically, though you can cancel your service at any time without penalty.
As with most subscription-based companies, Cairn only allows for returns and exchanges when there is evidence that the product arrived defective.
You can request a refund by contacting the company by email at info@getcairn.com or by phone at (888) 878-7044 within 30 days of delivery.
About Cairn's 'Gear Up Give Back' Program
Cairn partners with outdoor-gear repair and consignment shop The Gear Fix to offer a program for repurposing your outdoor gear. At your request, the company will mail you a bag for you to fill with equipment that The Gear Fix will repair and sell in a physical shop. All net proceeds are then matched by Cairn and donated to The Conservation Alliance.
What Can We Learn from Customer Reviews of Cairn?
Now that we've unpacked the details behind Cairn, it's time to decide whether this subscription is worth committing to. One way to learn more is to get an insider's look from reviews left by previous customers.
According to Jessica Rhae, an outdoors blogger, the biggest appeal of a Cairn subscription for her is the surprise factor, as each month's order exposes her to brands she hadn't heard of before.
She makes it clear that there are often months where she doesn't like anything she receives, but the months that are home runs make up for it.
While Rhae writes that she probably pays more for the subscription than what she receives in valuable-to-her products, the discovery element makes it worthwhile.
Another review from Hiking Lady makes similar points about the company's ability to expose her to new brands, but she concluded that the contents in her box would retail for twice what she paid to receive them, making the subscription an impressive bargain.
Again, though, that's only a bargain if you like what you get.
Which Subscription Companies Are Similar to Cairn?
For those who want to grow their outdoor gear collection, there are a few other brands to consider besides Cairn. Two we thought deserved a closer look were Nomadik and Isle Box.
Branding itself as the premier subscription box for adventure, Nomadik subscription boxes start at $29.99 and promise to deliver up to $70 worth of outdoor gear. The brand lets you skip delivery months at any time, and they guarantee that you will receive up to seven full-sized items each month. This makes Nomadik seem like a better bargain than Cairn, as you'll potentially get $20 more in gear value for about the same subscription price.
However, Nomadik has fairly negative reviews (3.4 stars) on CrateJoy.com, which potentially shows that each delivery doesn't provide as much value as the company claims.
Isle Box is another outdoor gear subscription company, and the cost per seasonal box is approximately $125 per quarter (they also offer a Starter Box and National Parks box as a one-time purchase). CrateJoy reviews average 4.6 stars for this subscription service, which shows us that most customers are happy with the purchase.
Isle Box customers stated that they used the contents within their boxes for more than camping trips and that the subscription offered a good deal on gear overall. The company promises you'll receive each item for up to 30% off, which puts the total value of each delivery around $162.
Our View: Is a Cairn Subscription Worthwhile?
Cairn promises to send you top quality outdoor gear from both leading brands and up-and-coming businesses. Customer reviews show that subscribers seem to like the brand, and the company offers more options for customization than most subscription companies.
However, we think it's important to point out that there is relatively little difference between the box's cost and expected value, particularly with a premium Obsidian quarterly subscription. It's a bit risky to pay $250 for surprise gear when the overall value is just $100 more – if you dislike a few products, you might be better off buying everything separately.
For this reason, we think Cairn makes the most sense for those who are relatively new to the outdoor gear world and want to begin building up their collection with quality pieces.
This subscription is not ideal for those who prefer to research every purchase or already own most of what they need, because the odds are good they won't find every item useful or necessary.
As a subscription company, Cairn offers one of the most generous rewards programs we've seen. You can earn a free month by writing product reviews on each item you receive over two months, which significantly brings down the total subscription price.
If you're interested in experimenting with new outdoor products or can live with the fact that you might not love everything you receive, our research shows that Cairn seems like the subscription service for you.