Caliber Home Loans Reviews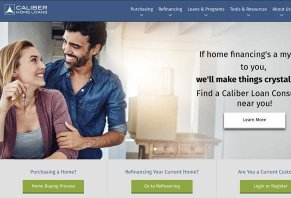 Homebuyers and homeowners can use the mortgages that Caliber Home Loans offers. They offer several mortgage products that are a good fit for borrowers who have bad credit.
About Caliber Home Loans
Caliber Home Loans is a Texas-based mortgage lender offering a variety of home loans that cover buying a home, refinancing a home and financing renovations for your purchased home.
The company launched as Caliber Home Loans in 2008, according to their website. Over the next couple of years, they obtained all the certifications they need to provide FHA and VA loans. They also gained approval from Fannie Mae, Freddie Mac and Ginnie Mae, the three government organizations that back mortgages as well as investment portfolios made up of mortgages.
In other words, Caliber Home Loans is able to offer you all the popular mortgages that you'll hear most people talk about, and that's a good thing because it's important that a mortgage lender has multiple loan options they can tailor to your specific financial profile.
Shopping for a mortgage, though, is more than just choosing the lender or site with the best options. A lot of it has to do with how accessible the company is – you want to know you can rely on them to get back to you about your application status.
Other important factors are their reputation – what are people saying about them?
These are just two of the things you should think about when deciding if Caliber Home Loans is right for you.
In this review, we'll talk about the various mortgages the company offers, who those mortgages are good for and what borrowers are saying about their Caliber experience. We'll also compare the reviews of this company to other mortgage lenders we've reviewed.
Caliber Home Loans Mortgages
When you go to Caliber Home Loans to get a mortgage, you're going to be fitted with a mortgage that makes the most sense for what you want to buy and who you are.
Because of that, mortgages are a pretty personal process. You'll have to answer questions about your financial background that may be embarrassing. Past mistakes (and past successes) will come under scrutiny.
Remember, though, that this process is designed to pair you with the best mortgage possible. With that in mind, here are the mortgages that Caliber offers:
Conventional Mortgages
These mortgages aren't linked to federal government programs like the Federal Housing Association (FHA) and Veterans Affairs (VA). They're sort of like Caliber's own products that they create to cater to the needs of their borrowers.
Here's a quick list of those mortgages:
Conventional – Down payments as low as 3%; multiple repayment lengths
Relief Refinance – Refinancing of your existing mortgage to lower payments
Homestyle Renovation – Up to 50% of your post-renovation home value can be borrowed
Home Possible – Credit scores as low as 620; down payment as low as 3%
HomeReady – Down payment as low as 3%; for those with limited income
DU Refi Plus – Flexible mortgage refinancing plan
Jumbo loans – For homes ranging from around $480,000 to $2.5 million
Each of these programs is designed for specific types of buyers. Your Caliber loan officer will work with you to match you with the right mortgage.
» For Further Reading: A Beginner's Guide to Mortgages for First-Time Homebuyers
Government Mortgages
The mortgages in this section come directly government programs designed to make it easier for you to get a mortgage.
FHA: Caliber has several different kinds of these loans. One is a normal mortgage, one is a loan for renovations and one is a refinance.

USDA: These loans were made to help people buy homes outside of urban areas in order to promote the growth of the agriculture industry. Hence, their "United States Department of Agriculture" label. You don't have to be a farmer to get the loan, though. Your Caliber loan officer will help you understand if you qualify for this mortgage.

VA: Provided by the Department of Veteran Affairs, the loans are unique in that they're designed for active, retired and reserve members of the military and National Guard, and, in some cases, the spouse of a deceased veteran. Low credit scores won't disqualify you and there's a good chance you won't have to make a down payment.
Fixed-Rate vs. Variable-Rate Mortgages
At some point in your mortgage application, you may have the ability to choose between a fixed-rate mortgage and an adjustable-rate mortgage.
The big difference between the two is that the fixed rate mortgage will have the same interest rate, and, therefore, the same payments, every month until the end of your mortgage.
The variable-rate loan, on the other hand, has a changing interest rate, which means your monthly payments will change every year, at the most. These types of mortgages have a fixed rate for a certain period of time, then a rate that changes according to the prime rate (the base interest rate set by the Federal Reserve).
In profitable economic times, the Federal Reserve tends to raise interest rates, which means your variable rate could go up.
You'll know how long of a fixed-rate period you'll have and how often your rate will change by the number your loan officer gives you. For example, a 5/1 ARM is an adjustable-rate mortgage that has a fixed rate for the first five years (5) then switches to an adjustable rate that's adjusted every year (1).
A 3/3 ARM would be an adjustable-rate mortgage that has a fixed rate for three years (3) and a variable rate that adjusts every three years (3).
ARM interest rates tend to start out lower than fixed rates.
Caliber offers a couple of other mortgages that are backed by investor money, which means Caliber has a little more freedom to decide who they want to lend to and who they will reject. These loans are called "Premier Access", "Homeowner's Access" and "Fresh Start".
The first loan is catered toward those who are buying an expensive home and "may not qualify for other Jumbo products," Caliber's site says.
The second and third loans are designed for borrowers whose credit isn't that great and/or that have significant negative credit events in their recent history like a bankruptcy or short sale.
Caliber Home Loans Fees
One thing you'll discover as you shop around for a mortgage is that most lenders have the same fees. You can lump them under "closing costs" because, in most cases, breaking all the fees down individually can be a little overwhelming.
One of the things that makes Caliber interesting is that their site has a full list of fees you can expect, including up to how much you'll pay and what the fees are for. Here's a quick overview of some of the fees they list:
Appraisal fee: Up to $1,200
Title search fee: Up to $550
Prepayment penalties: Varies
CEMA refinancing fees: Up to $500
This list is helpful and certainly is something that makes Caliber different than many lending sites. However, keep in mind that the exact cost of your fees has a lot to do with the house you're buying, the lender you use and other factors.
So, just because a fee is said to be "up to" doesn't mean it will cost the maximum amount. Likewise, don't always count on the fee being far lower than the "up to" amount.
You'll have the chance to look at all these fees once you've been approved for your mortgage and the lender gives you the finalized paperwork for you to look over.
Caliber Home Loans Customer Satisfaction
According to consumer research firm J.D. Power's 2017 Mortgage Origination Satisfaction Survey, Caliber ranked 16 out of 26 loan originators (companies who give loans).
J.D. Power's says that the survey asked borrowers to rate their experience in six different areas of the loan process: loan offerings, application/approval process, interaction, closing, onboarding and problem resolution.
J.D. Power then gave each lender a score of 1-5 circles for those categories, then an overall score. Caliber earned 3 circles overall and scored as follows in each category:
Loan offerings - 2
Application/approval process - 3
Interaction - 3
Closing - 2
Onboarding -2
According to J.D. Power's ranking system, 3 circles means "about average".
The top-five mortgage lenders were Guild Mortgage Company, Quicken Loans, Veterans United, PrimeLending and USAA.
The Final Word: Pros and Cons of Caliber Home Loans
Based on our research of this lender, we believe their greatest strength lies in the variety of options they provide for consumers with bad credit. Although they don't officially call them mortgages for bad credit, the Fresh Start, Homeowner's Access, Home Possible and HomeReady are designed for those who are struggling with bad credit and who may not be qualified for conventional mortgages.
The downside of Caliber is that, according to J.D. Power, their customer services is average. Now, that doesn't mean that your experience will be terrible. In fact, J.D. Power said that Caliber's three-circle score is "about average," which means you most likely aren't going to get exceptional service but not necessarily bad service.
In general, we believe this lender is a good choice if your credit is below 640 and you want to explore multiple options for mortgages.
If you think that Caliber will be the best fit for you but you want to keep your options open, remember that you can get pre-qualifications from multiple lenders without hurting your credit too badly.
In most cases, the FICO scoring equations used to calculate your credit score will count the multiple mortgage-related credit checks as one provided you do all your loan shopping in a two-week period.
Think twice

By Justin M.

,

Glen Burnie, MD

,

Nov 27, 2019
Verified Reviewer

I bought a brand new house, new construction, and Caliber was the mortgage handler. The process, which I have experience with, was far more involved than with my previous home purchase. Every day was a request for a new form or more documents to digitally sign. Then, after a year, the interest rates dropped and I was bombarded with refinance requests. These came from everywhere but Caliber was far more pushy. Daily emails, mailings every 3 days, and then the phone calls. First they were weekly then twice a week until I caved and listened to their script. I agreed and the process started. I am now 3 months into the process. The refinance has been approved. The forms, digitally signed, and re-signed, signed some more, and then even more. A closing meeting was scheduled, they never showed. So I get more forms to sign and re-sign...Honestly, you can do better going to your own bank.

Bottom Line: No, I would not recommend this to a friend

---

Advertisement

---